News & Activity Report for the Month of September 2017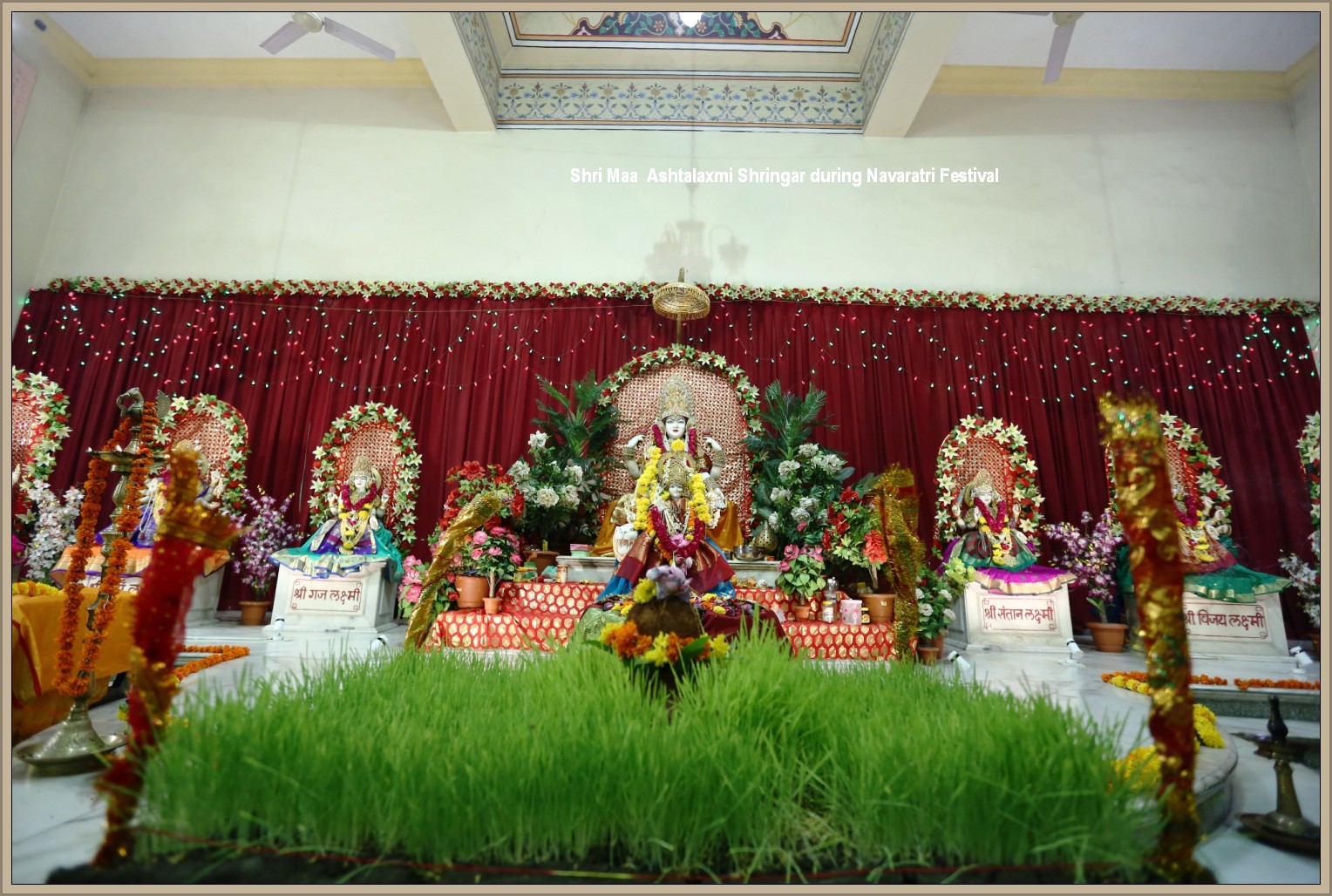 On Sept 1, 2017 Worshipful and Revered Sri Swami Adhyatmanandaji Maharaj landed at Delhi airport from his tour to USA, Canada and UK ( June 27, 2017 - Sept 1, 2017). From Delhi, He had a quick visit to Sivananda Ashram, Rishikesh. In the evening Swamiji returned to Ahmedabad via Dehradun and Delhi. A large group of devotees received Revered Sri Swamiji Maharaj at the airport and came to the Ashram. They all had satsang and prasad.
On Sept 3, 2017 Trustees' meeting of Sri Divya Jivan Sangh, Sri Divya Jivan Sanskrutik Sangh and Gujarat Divya Jivan Sangh was held at ashram. Annual General Body Meeting also was held, in which Sri Vijay Soni, Secretary, Divya Jivan Sanskrutik Sangh was graciously elected as a Trustee of the Ashram.

Honoring humble invitation of H. H. Sri Mahant Swami Ramswaroopanandaji Maharaj of Dholeshwar, Gandhinagar, a group of devotees paid homage to the Lord Dholeshwar and had satsang as well as Maha Prasad at noon.

On Sept 8, 2017 130 th Birth Anniversary of Gurubhagwan Sri Swami Sivanandaji Maharaj was celebrated with grand Paduka Poojan, satsang and Narayana Seva (Poor feeding). Vice President of Divya Jivan Sanskrutik Sangh, Sri Marutbhai Dave shared his precious memories of Gurudev Sri Swami Sivanandaji Maharaj.

Navaratri Festival ( Sept 21, 2017 - Sept 29. 2017): Navaratri festival at the Ashram is a spiritual treat indeed for the devotees. Entire nine days, a special worship of Sri Maa continued at the Ashram. Devotees joined for the holy chanting of Gita Parayan in the forenoon and Sri Durga Saptasati Parayan in the afternoon. Nights were rejoiced in traditional Devi worship (Garba) in praise Maa by devotees.
On astami day, (eight day) of the Navaratri a special worship with Havan, Kanya Poojan were performed to young girls. on Vijaya Dashami was celebrated with Vidyarambhanam (recitation from all ancient and modern traditional holy scriptures). Educational materials were distributed for school going kids at the culmination of program.
Garba was a great attraction at every night and mammoth crowd participated every day. Educational materials were distributed for school going kids at the culmination of program.
On Sept 20, 2017 Hindu Spiritual and Service Foundation organized satsang and get together of Saints of different faiths and organizations at the Ashram. It was nice to see all saints sitting together on the same platform. The goal of organizing a grand fair is to promote the very thought of protection of Hindu culture of mother India, to protect ecology, save rivers, tree plantation, reverence towards parents, teachers, respecting girls and woman and our moral duty towards our mother land. About 150 saints and 75 organizers joined meeting from 10.00 am. to 1.30 p.m. Maha Prasad was organized for all of them. The next meeting is scheduled on January 5, 2018 - Jan 8, 2018.

On Sept 24, 2017 101st Happy Birth Anniversary of Most Worshipful and Revered Gurudev Srimat Swami Chidanandaji Maharaj was celebrated with great devotion and enthusiasm with Paduka Poojan, Narayan Seva ( Poor feeding ) also was organized. Free dental check up camp also was organized by Dr. Srivastava and his team from 9.00 a.m. to 2.00 p.m. 45 patients were benefited from the free Dental check up.
Satsang & Tours of H. H. Sri Swami Adhyatmanandaji Maharaj during the Month of September 2017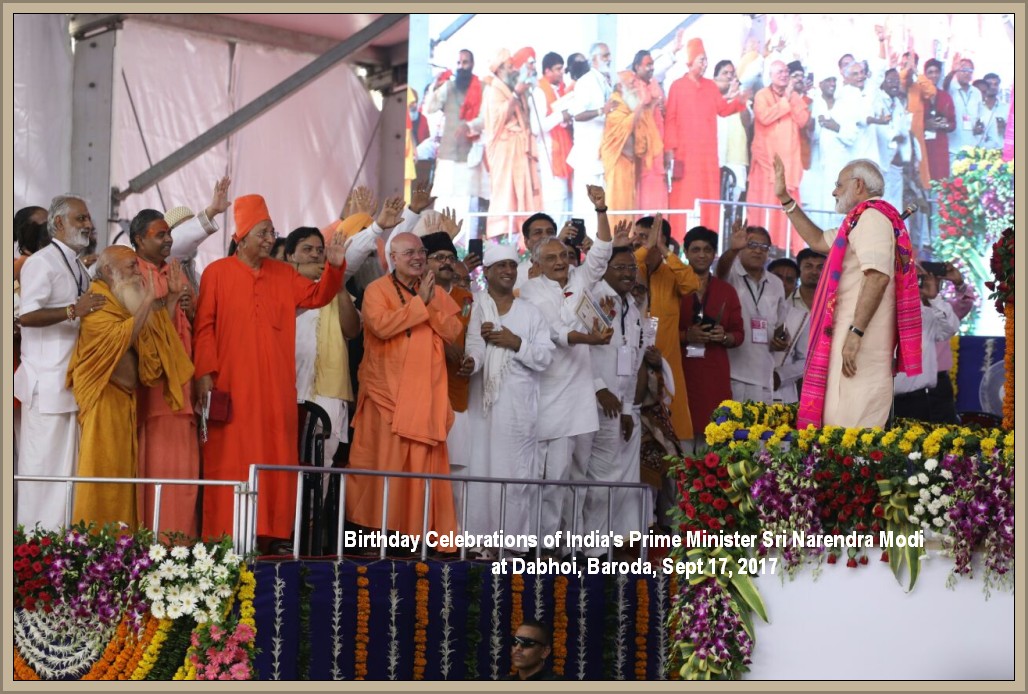 On Sept 9, 2017 Mr. John Geevargese of YMCA invited Revered Sri Swamiji Maharaj for inauguration of "Onam" Festival. A group of devotees from the Ashram joined Pujya Swamiji. Onam festival is celebrated in Kerala. It is a traditional ten days harvest festival that marks the homecoming of the mythical King Mahabali. People strikingly decorate the ground in front of their houses with Flower arranged in beautiful pattern (pookalam) to welcome the King. The festival is also celebrated with new clothes, feasts served on banana leaves, dancing, sports, games etc.

Nadiad (Sept 3, 2017): Very ancient and famous temple of Sri Mai Mandir organized Srimat Bhagvat Katha by Shankaracharya of Bhanupura Peeth, Sri Swami Diyanandaji Maharaj. Revered Sri Swami Adhyatmanandaji Maharaj was invited to concluding function. During his Nadiad visit, Rev. Sri Swamiji paid homage to the holy shrine of Sri Sant Ramji Maharaj also.

Maninagar, Ahmedabad (Sept 14, 2017): A well-known Yogi Sri Nathuram Sharmaji of Bilkha Ashram (Junagadh, Saurashtra ) having a branch named "Ananda Ashram" at Maninagar. Pujya Swami Maharaj was invited to inaugurate the Bhagvat Saptah.
Reverd Swamiji was invited to grace the seminar on Breast Cancer between 5.00 pm and 6.00 pm at Jawaharlal Nehru auditorium. Sri Swamiji inaugurated the camp "Ayurogum" at Maninagar.

Rajkot ( Sept 15, 2017): Respected Sri Harivadanbhai Antaniji, Trustee of Gujarat Divya Jivan Sangh is sick for last one and half month. Sri Swamiji Maharaj and Sri Arun Oza, Trustee of Gujarat Divya Jivan Sangh visited Sri Antaniji.
All India Radio, Rajkot took opportunity to record five short talks of Sri Swamiji for their morning broadcast, while HE was in Rajkot.

Jamnagar(Sept 15, 2017): Revered President of Sri 5 Navtanpuri Dham, Khijda Mandir celebrated 400 th Birth anniversary of their founder Most worshipful and Revered Sri Prannathji Maharaj. Pujya Swami Adhyatmanandaji Maharaj and Sri Arun Oza graced the occasion which was attended by mammoth crowd of devotees from all over India and around the globe also. After the function, Sri Swamiji went to see sick devotee. After home satsang, Sri Swamiji returned back to Ashram late at 2 am.

Himmatnagar ( Sept 16, 2017) : Blind Association of Sabarkantha District invited Revered Sri Swamiji Maharaj to preside over their annual function.Awards were presented to bright students as well as teachers also of extra ordinary performance. Tree plantation was done by Swamiji. After having mid-day meal with Sri Dilip Gandhi, President of Blindmen Association, Sri Swamiji, Smt. Dr. Varshaben Dave and Sri Marutbhai Dave returned back to the Ashram.

Dabhoi Disttrict, Baroda (Sept 17, 2017) : 67 th Happy Birth Day of most respected Prime Minister of India Sri Narendra Modi JI was celebrated at Dabhoi. Worshipful Sri Swami Adhyatmanandaji Maharaj also was invited to grace the occasion and to bless him.

Godhamji (Idar) Sept 19, 2017 : Honoring humble invitation from Sri Virabapa of Godhamji, Revered Swamiji visited Godhamji. A grand satsang was organized and mammoth crowd of devotees attended the function. After the satsang, Sri Swamiji paid homage at holy Samadhi shrine of Sri Jesing Bavji.

On Sept 23, 2017 Blind Men Association of Gujarat organized its annual function from 4.00 pm. to 5.00 pm. Revered Sri Swamiji Maharaj presided over the function. Awards were presented to bright students as well as teachers.

Srimat Swamiji Maharaj laid the foundation stone of Sri Arun Oza's proposed bunglow. At the same time, Sri Swamiji inaugurated and Sri Kamlesh Thakkar's new garments business named "Sivananda Fabrics".

Rishikesh (Sept 25, 2017): Sri Swamiji Maharaj visited Sivananda Ashram and paid homage to the holy shrine of Sri Guru Bhagwan Swami Sivanandaji Maharaj and also had a dip in holy ganga and returned to Ahmedabad.

Somnath (Sept 30, 2017): After Vidyabharanam, the holy and auspicious muhurt of Vijyadashmi, Sri Swami Maharaj visited the famous Somnath temple in the west coast. It was planned upon very earnest request of Sri P. K. Laheri (IAS), trustee of Somnath Temple committee, as newly constructed Sri Rama temple. It was three days of festivity at this occasion. Sri Swamiji Maharaj was invited for inaugural session.
Om Shanti!
Latest Additions.........

Please subscribe to Divyajivan Mailing List. We will update you with new uploads of spiritual literature on the web of Holy Master Sri Swami Sivanandaji Maharaj, saints of his lineage and other saints. We will also update you about the Sivananda Ashram, Ahmedabad website and facilitate communication with Sri Swami Adhyatmanandaji Maharaj.

Please enter your email address and click Subscribe button
To manage your subscription, please visit Subscription Page. You can also subscribe and unsubscribe from this page. You may unsubscribe by yourself anytime you wish. You will be required to send confirmation link that you will get in your e-mail to complete this subscription.

[ Home ] [ News ] [ Upcoming Events ] [ What's New? ] [ Services ] [ Swami Adhyatmananda ] [ Multimedia ] [ Publications ] [ Administration ] [ Saints and Sages ] [ Photo Gallery ] [ Contact ] [ Guestbook ] [ Important Links ] Webmaster: webmaster@divyajivan.org