Sivananda Ashram , Ahmedabad
News & Activity Report for the Month of February 2017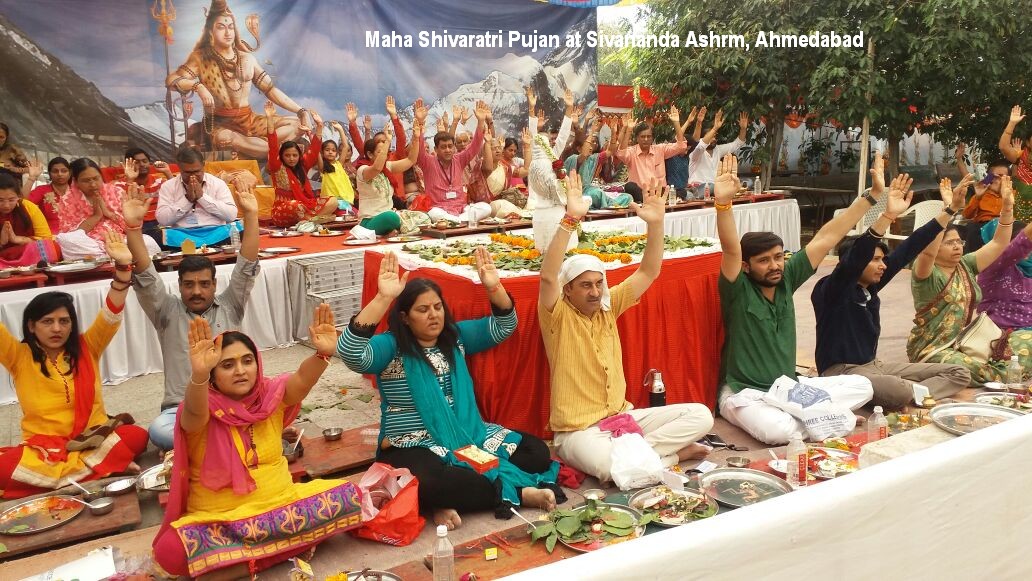 Holy Shivaratri Celebration (February 24, 2017): Vedik Hymns and chants of "OM Namah Shivaya" filled the air with Divine vibrations as they celebrated Sacred Maha Shivratri on February 24, 2017. Holy Shri Vishwanath Temple was agog with worship of Lord Shiva. Pujya Swami Adhyatmanandaji Maharaj offered a first pooja & Abhishek at 3.45 am for the peace of Word. It started with Shodshopachar Pujan at 3.45 am and continued until the next day 4.00 am. Continuous flow of devotees came to the Lord Vishvanath Temple to pray and seek the blessings of Lord Shiva – who is considered Ashutosh. The Siva Lingam was worshipped by washing it with milk, curd, honey and rose water as the chants of Vedic Hymns, Namakam, Chamakam, Rudram, Ashtadhyaayi Rudra, Purushasuktam in praise of Lord Shiva. Shiva Lingam was adorned with special Shringar, Bilva leaves. Bilva leaves are believed to be very sacred and considered the best offering to Lord Shiva. There is a strong belief that sincere worship of Lord Shiva on the auspicious day of Shivaratri, absolves person of sins and liberates him from the cycle of birth and death. Bhakti Sangeet (Devotional Songs) in praise of the Lord through out the night by outstanding singers namely Dr.Vasavda gruop, Smt. Dr. Monica Shah of Aradhana School and Pandit Sri Nirajchandra Parikh brought a special fervor to already charged atmosphere. Next day morning on March 25, 2017 a grand mahaprasad was served to the thousands of devotees at the ashram and Narayan seva in the form of food offering to the needy in the evening.
Revered Sri Swamiji Maharaj was invited to bless Laghu Rudra Yajna organized by "Sri Eklingi" foundation of Mevada Brahmans. Blood donation camp was organized at this occasion. Aashirwad Trust organized "Dharati Ratna" award presentation program on the holy Shivratri day. Honorable Chief Minister of Gujarat, Mr.Vijay Rupani and Revered Swamiji Adhyatmanandaji Maharaj graced the occasion.
Satsang and Tour of Pujya Swami Adhyatmannadaji Maharaj during the month of February 2017
Vastrapur, Ahmedabad (February 1, 2017) : Anoopam Mission of India has inaugurateda new shrine ' Upasana Dham ', a holy place of worship on Wed Feb 1, 2017 forenoon with all traditional rituals in a vaidik order. Function was organized from Jan 30, 2017 to Feb 1, 2017. Sri Swamiji Maharaj graced the entire festival upon the loving invitation of most worshipful and Revered Sri Sahebdada of Sri Anoopam Mission.
Bhimapur (February 3, 2017) Revered Sri Swamiji Maharaj graced the holy Samyam Saptah organized by Sri Maa Anandamayi Sangh at Bhimpura, Gujarat.
Bhuvaneshwar, Puri, Kendrapada (Feb 5, 2017) : Upon humble invitation of Most Worshipful Swamini Mataji Divyanandaji of The Divine Life Society, Kendrapada (Odisha ), worshipful Sri Swami Adhyatmanandaji Maharaj and Sri Swami Devbhaktanandaji Maharaj (Sivananda Ashram, Rishikesh ) were received cordially with traditional welcome to both the Gurubhais. On his way to Kendrapada, a few devotees came to greet Swamiji at Mumbai and Bhubaneshwar airports and it instantly turned into satsang. After having holy darshan of Lord Sri Jagannath at Puri, Swamiji graced the holy kutir of Sri Swami Brahmanishthanandaji Maharaj.
Kendrapada (Odisha) Feb 2, 2017 to Feb 10, 2017 : Swamini Divyananda Mataji at Kendrapada, Divya Jivan Sangh, is running school for orphans caring about one hundred and seventy students and senior's home (Vriddha Ashram) caring about 20+ seniors. For the last thirty two years they have been conducting Akhanda Harinam Sankirtan. Swami Adhyatmanandaji Maharaj keeps on visiting this ashram and inspire, support and praise such noble work and people instrumental in continuing this noble work. Revered Swamiji graced Sri Vishnu Mahayog on Feb 8 & Feb 9, 2017. At the same time, during his stay, Sri Swamiji and Sri Swami Devbhaktanandaji Maharaj visited number of educational institutes in nearby villages and shared the gospel of Sivananda and His message of the Divine Life.
Sanchi (MP) (Feb 11, 2017 - Feb 14, 2017) : Asian Philosophy Conference and 91 st session of Indian Philosophical Congress was organized with the title of " Philosophy is a way of life " at Sanchi University of Buddhist Indic Studies, Vidisha (MP) in the presence of Mr. Sundarlal Patwa, Hon. Minister of Culture and Tourism, Govt. of M.P. Rev. Ven. Banayala Upatissa Nayaka Thero ( President, Mahabodhi Society of Sri Lanka and Chief Sangh Nayaka of Japan ). More than 200 participants came from all the four corners of the world. Rev. Sri Swami Adhyatmanandaji addressed the gathering on planate session about concept of Philosophy for betterment of Asian environment. Six planate sessions, three Symposiums and twelve technical sessions were organized in which altogether 192 papers were presented and more than 50 learned scholars pursued their heart for betterment of future of world.

Mumbai (Feb 15, 2017 - Feb 18, 2017): During the four days stay at Mumbai, Revered Swami Maharaj graced the installation of New Successor of Sri Gulabnathji Maharaj of Sri Goraksha Dham, Borivali (East) together with Pujya Sri Swami Adityanathji Maharaj, from MP and head Acharya of Nath Sampradaya
Sri Swamiji attended Ayushya Homa at Sri N. V. Suchak hospital, Malad (East) which was organized to celebrate ten happy and healthy years after liver transplant of Dr, Anil Suchak, an ardent devotee of Guru Maharaj Sri Swami Chidanandaji Maharaj. Sri Swamiji was invited for home by devotees to their home in Malad, Kandivali, Juhu and more.

Rajkot (Feb 22, 2017) Upon knowing very critical condition of Sri Pranbhai Mehta, CEO of Sivananda Mission at Virnagar, Sri Swamiji visited Rajkot. After having satsang at Upasanadham, Swamiji came back to Ahmedabad at late night on Feb 24, 2017 to Ashram.
Chharodi, Ahmedabad ( Feb 26, 2017) Sunday, 26 th morning, Rev. Sri Swami Adhyatmanandaji Maharaj was invited in the "Festival of Yoga " organized by Sri Lakulish Yoga University,
Latest Additions.........

Please subscribe to Divyajivan Mailing List. We will update you with new uploads of spiritual literature on the web of Holy Master Sri Swami Sivanandaji Maharaj, saints of his lineage and other saints. We will also update you about the Sivananda Ashram, Ahmedabad website and facilitate communication with Sri Swami Adhyatmanandaji Maharaj.

Please enter your email address and click Subscribe button
To manage your subscription, please visit Subscription Page. You can also subscribe and unsubscribe from this page. You may unsubscribe by yourself anytime you wish. You will be required to send confirmation link that you will get in your e-mail to complete this subscription.

[ Home ] [ News ] [ Upcoming Events ] [ What's New? ] [ Services ] [ Swami Adhyatmananda ] [ Multimedia ] [ Publications ] [ Administration ] [ Saints and Sages ] [ Photo Gallery ] [ Contact ] [ Guestbook ] [ Important Links ] Webmaster: webmaster@divyajivan.org