Sivananda Ashram, Ahmedabad
News & Activity Report for the Month of March 2017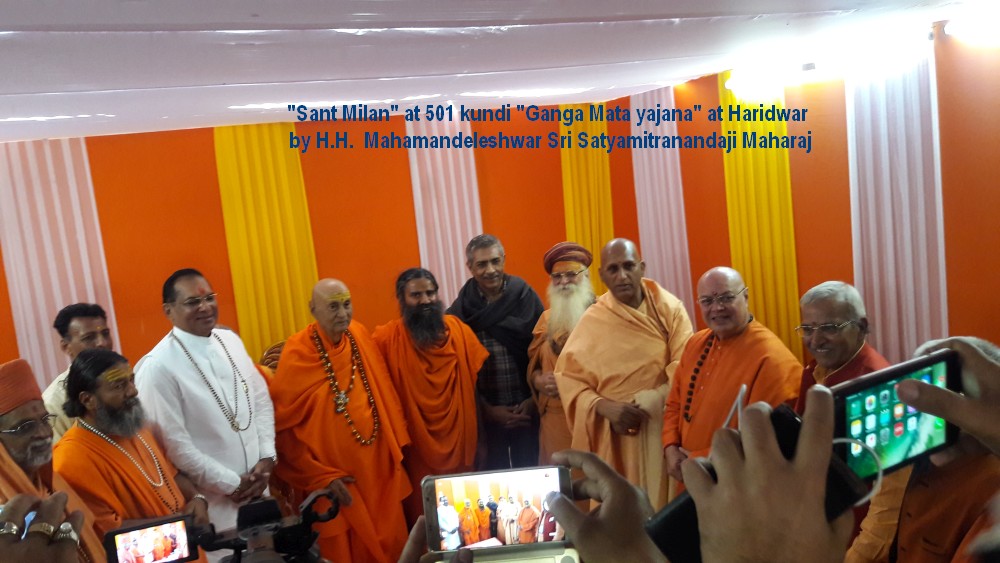 Sivananda Udyan (garden) at the Ashram is a cooling and soothing place in the midst of scorching heat. It seems that summer has started a little early in March this year here in Ahmedabad.
Jnana Yajana at Ashram (March 19, 2017 - March 26, 2017): Daily discourses by Pujya Swami Adhyatmanandaji Maharaj on Shakara's Text "Atma Both" was a treat for devotees at the Ashram.
Chaitra Navaratri Worship (March 28, 2017 - April 5, 2017) - It is Sadhana time during nine days of Chaitra Navaratri at the Ashram. A group recitation of Sri Ramcharit Manas has commenced daily from 4.30pm to 7.30pm by Devotees at the Ashram with Pujya Sri Swami Adhyatmanandaji Maharaj. On the eighth day holy Yajna is planned and the nine days worship will culminate in Sri Ramnavami utsav, rejoicing the Birth of Lord Sri Rama. A special archana, aarti, prasad will be offered to Lord Sri Rama at Holy Sri Rama Temple of the Ashram.
On this festival of Ramnavami.........
"Lord Rama is the supreme idol of the man of dharma, dutifulness and discipline. He shone more with the adornment of virtues than with royal reign. His grand personality and his flawless life of supreme dignity, humility and rectitude are a perennial inspiration to mankind for all times. Rama's reign has become immortal as the welfare state par excellence based upon ethical conduct of life. The secret of the glory of Rama's rule is the conception of duty that holds sway over all other factors. The people of the time, from the highest the Monarch Rama, down to the humblest and the lowest and the least of the citizens were governed by their sense of duty in their walk of life, private as well as public. The Ramayana is presented with the unique spirit. More than anything else this earnest urge is to fulfill one's moral obligations and do one's own duty at any cost in the interest of dharma and human welfare which inspired each one of the main personalities in this divine drama of Sri Rama Leela that was witnessed in the golden age of the Solar Dynasty, Raghuvansha.
Man today speaks of the Law and order. In Rama Rajya the duty prevailed. This rule of duty governed even the personal life of Sri Rama himself. This is the need of the entire world today, the need to turn your attention more and more towards what you have to do for you. What is your duty? Not what is due to you should be your prime concern of life. Human relations were regulated by the feelings of duty and obligation and not emphasis on rights and privileges. The former made the later unnecessary. Duty calls for sacrifice. Sacrifice is possible through Selflessness. Selflessness springs forth from love for others. Such love arises in a pure heart. Purity of life is the greatest treasure. It is the root and fountain source of human welfare, peace and progress. A pure life is a rich mine of untold blessings. Dharma and devotion to God form the basis and the source of pure life. The fulfillment of dharma purifies your heart. Worship of God is the supreme purifier and destroys the defects of mental and moral imperfections of man. Thus through a life of faith, devotion and dharma grow one into the ideal man. Sow the seeds of permanent human welfare and supreme dutifulness. 'Usher is the Rama Rajya of truth, love and service unto mankind. This is the silent message of Sri Rama's life and reign. This is the immortal and eternal loving message of Sri Ramnavami, the sacred day that commemorates this Divine Superman of holy Ayodhya by Sarayu Stream." - Swami Sivananda
In Loving memory of Revered Sri Patani Saheb (March 23, 1922 -March 6, 2017)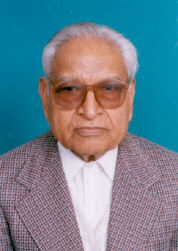 Having served various colleges in the capacity of a professor and retired as a principal of C. U. Shah Science College, Ahmedabad in 1982, Rev Sri Dr. Patani Saheb has served as a trustee of Gujarat Divya Jivan Sangh, Divya Jivan Sankrutik Sangh and Divya Jiven (Navarangpura branch) for the past three decades. His contribution to the Divya Jivan Sangh and Sivananda Ashram in the form of administrative duties, publication work, management are immeasurable. He has served also an associate editor of "Divya Jivan" Gujarati Monthly Spiritual Journal of Gujarat Divya Jivan Sangh. He has been a life member of the Divine Life Society and was given Mantra Diksha by Gurudev Sri Swami Chidanandaji Maharaj.
He earned respect and regards of all at the Ashram and at the colleges (he served) with his simple, pure, kind hearted and gentle nature. He passed away at the age of 94 on March 6, 2017 and until his departure, he continued serving Sivananda Ashram and Divya Jivan Sangh. We at the Ashram will miss him. Our Namaskara to him and heartfelt condolences to all the members of his family.
During the Month of March regular Yoga classes for the beginners and advanced yoga students carried out with good numbers of new enrollment.
Food for children through Narayana Seva, monthly 600 kg grain distribution to the needy families through Vishwanath Seva Kendra, Daily Satsang & Puja Archana in the temples was performed at Ashram. Sunday satsang, Purnima's Sri Satyanarayan Vrat Katha and Sri Lalita Sahasranam Parayana are regular part of the Ashram's activities.
Upcoming Utsav
Join with us in Utsav Ganga at the Sivananda Ashram starting from Chitra Navaratri (March 28, 201 - April 5, 2017), Ramnavami Utsav on April 5, 2016 (10 am -12.pm), Maruti Yajna on Sri Hanuman Jayanti (April 11, 2017), Navchandi yajana on Patotsav of Sri Maa Ashtalaxmi Adishakti Peeth Utsav (April 29, 2016), Divya Jeevan Sangh Annual Meeting on April 30, 2017, Bhakti Sangeet and...............

Srimad Bhagawat Katha by H. H. Swami Adhyatmanandaji Maharaj on Vyasapeeth ( April 21, 2017 to April 27, 2017 (4.30pm to 8.00pm) - It is a blessed occasion to listen to Srimad Bhagawata through Pujya Swamiji's Maharaj. << Further details >>.

Satsang and Tours of Pujya Swami Adhyatmannadaji Maharaj during the month of February 2017
Haridwar ( March 1, 2017 to March 5, 2017) : Padma Bhushan Maha Mandaleshwar, past Shankaracharya, Sri Swami Satya Mitaranandaji Maharaj organized 501 Kundi Sri Ganga Mata Yajna at Sri Sapta Rishi Ashram ground, Haridwar. Honoring the invitation, Pujya Swami Adhyatmanandaji Maharaj with ashram devotees group attended this sacred Yajana. During this stay at Haridwar, entire group visited holy Sri Sivananda Ashram, Rishikesh and had darshan of holy Samadhi Shrine of Gurudev Sri Swami Sivanandaji Maharaj and darshan & satsang with President of Divine Life Society (HQ) H. H. Sri Swami Vimalanandaji Maharaj, Vice President H. H. Sri Swami Yogaswarupanandaji Maharaj and other Saints.

On March 5, 2017 evening Sri Swamiji was invited by Bharat Heavy Electric Ltd (BHEL) at Shivaliknagar. Here, Sri Swamiji addressed large group of devotees, engineers and managers on the practical subject of "Self Management". Sri Swamiji stressed the importance of daily sadhana together with worldly duties, not to waste time, as each moment we are nearing to death. He said that study life and teachings of Saints and Sages, it is so inspiring and pray to the Lord sincerely. Do Japa regularly, Do meditation and dive deep in the recess of the heart. Regular Spiritual discipline is must that only will lead you to peace and establish you in the Absolute, in this very Birth.

Ranchi, Jharkhand (March 6, 2017 to March 14, 2017): Upon very sincere invitation of Rev. Sri Swami Achyutanandaji Maharaj, International President of Sri Sri Ma Anandamayi Sangh, Sri Swami Adhyatmanandaji and his group of singers and musicians visited Ranchi (Jharkhand) for a week long holy Sri Bhagavad Katha. During his stay Sri Swamiji and his devotees group paid homage to Revered Sri Yogananda Paramhamsa 'Yogada' ashram, Head Quarter of Yogada Satsanga Society at Ranchi.

Pethapur, Gandhinagar ( March 17, 2017) : A Vedanta Sammelan was organized on the occasion of 10 th Mahasamadhi of Brahmleen Sri Swami Raj Rajeshwarananda Maharaj of Pethapur at Bhimnath Mahadev. Revered Sri Swami Maharaj in his service and homage said that Sri Swami Raj Rajeswaranandaji Maharaj was a real Vedantin. He was real phenomenon of 'Advaita'. One day he lifted 'Shiva Lingam' from the temple and established it on out skirt of the ashram, so to be in meditation and not get disturb by devotees coming for Shiva Lingam darshan, puja, archana etc. Sri Swamiji Maharaj was Self Realized. To remember Him or meditate upon Him is to meditate upon absolute only."

Rancharda, Sanand ( March 18, 2017) : 600 Institutes, about 1200 animal lovers attended two days conference to "Save Animals & Save Forest" at Ranchard. Chief Minister of Gujarat Mr. Vijay Rupani inaugurated the gathering. Mayor of Ahmedabad Municipal Corporation Mr. Gautam Shah, Sri Swami Adhyatmanandaji Maharaj and more saints from Hindu and Jain organizations attended and addressed the gathering. Sri Swami Adhyatmanandaji in his address said, "In the name of the development of the Society, residential housing, Industries are grooming up very fast. Agriculture land is being sold on very high cost. But, money which comes, is not been digested by new generations, and gambling, alcoholic drinks and drug is becoming a house hold matter, which is ruining the harmony and peace of society resulting in decreasing the free land for existence of our animals. Cow is revered as mother by Hindus, are dying with insufficient proper food and by eating excess of garbage, plastics, polythene bags etc. It is high time to take care of our animals and take necessary actions to save them."

Maninagar, Ahmedabad : On March 19, 2017 Sri Swamiji Maharaj inaugurated 'Save Kidney" a medical Camp organized by Mahant Sri Swami Vivekanandaji Maharaj of famous Gita Mandir of Ahmedabad.

On March 26, 2017, well-known Institute of Ahmedabad "Mental Health and Education Research Trust' organized a program at Parimal Garden. The doctors those who are awarded with 'Padmashri' award by Goverment of India were recognized for their services. Sri Swamiji Maharaj praised them and in his speech said, " We are not honoring doctors but our awards are getting honored by accepting the awards by such brilliant & blessed doctors. They are the jewels of the Society. By receiving Padmashri award from Govterment of India, they have glorified the name of our city and us all. We pray for them. May their hand be nectar oozing hands ! May any one comes to them, go with new hope, new life and satisfaction of treatment !".

Latest Additions.........

Please subscribe to Divyajivan Mailing List. We will update you with new uploads of spiritual literature on the web of Holy Master Sri Swami Sivanandaji Maharaj, saints of his lineage and other saints. We will also update you about the Sivananda Ashram, Ahmedabad website and facilitate communication with Sri Swami Adhyatmanandaji Maharaj.

Please enter your email address and click Subscribe button
To manage your subscription, please visit Subscription Page. You can also subscribe and unsubscribe from this page. You may unsubscribe by yourself anytime you wish. You will be required to send confirmation link that you will get in your e-mail to complete this subscription.

[ Home ] [ News ] [ Upcoming Events ] [ What's New? ] [ Services ] [ Swami Adhyatmananda ] [ Multimedia ] [ Publications ] [ Administration ] [ Saints and Sages ] [ Photo Gallery ] [ Contact ] [ Guestbook ] [ Important Links ] Webmaster: webmaster@divyajivan.org