News & Activity Report for the Month of August 2018
Sivananda Ashram - Ahmedabad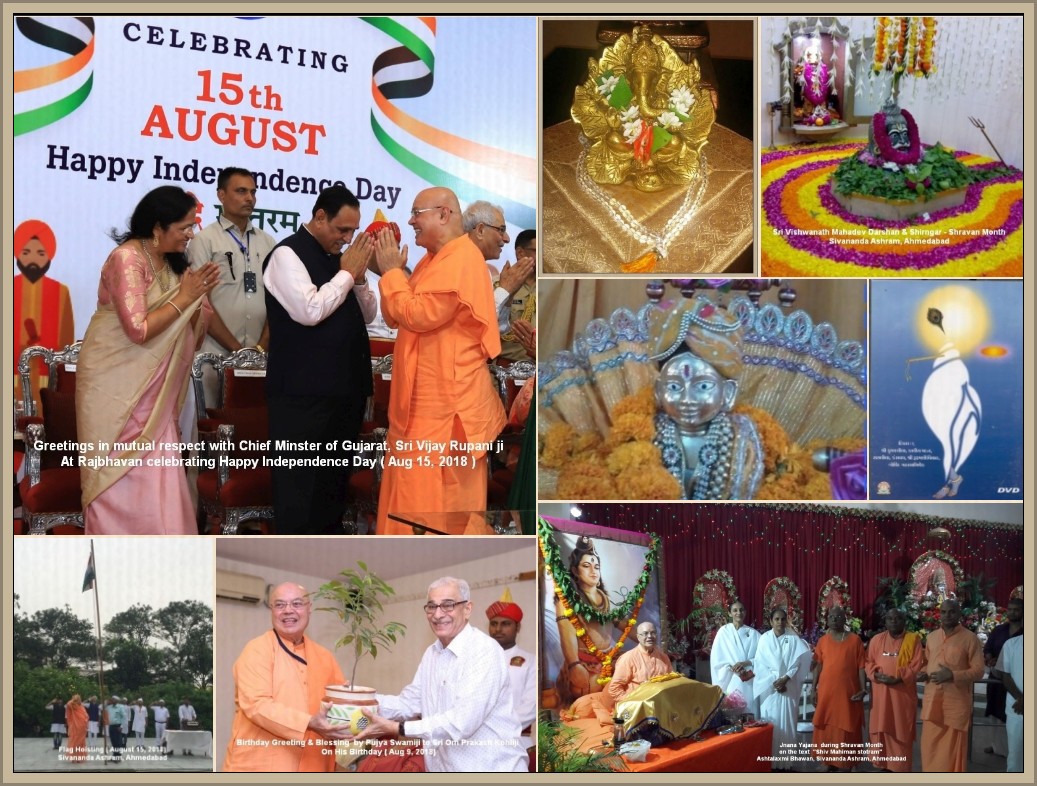 Services Render Through Ashram

The Sivananda Ashram is very active in providing the services to the poor and the sick in the society. "Manav Seva, Madhav Seva" has been the guiding principle for whoever has been associated and working at the ashram. The Holy Master Sri Swami Sivanandaji Maharaj used to take the great pleasure in serving one and all and the tradition continues.

Project Manav Seva is an extensive program that focuses on holistically helping the needy and indigent population. Project Manav Seva has been carried out by the Bhagwan Shri Vishwanath Mahadev Seva Kendra, Sivanand Ashram, Ahmedabad for over fifteen years and continues to grow by leaps and bounds in the advancement of current programs which address the alleviation of human suffering. The ultimate goal of this program is to further spiritual growth for both those served and those providing service while simultaneously making a difference in people's lives.
Three times/ month nutritious full meal are being served to the children in the slum area of the town through Narayana seva project run by the Ashram.

Sivananda Ashram, Ahemdavad has taken up the Project READ (Rural Educational Aid Distribution) for underprivileged & needy children of Rural area of Gujarat. It is an extensive program that focuses on providing educational aid to the under served Children in the form of distributing Slates, Black boards, chalk, Chalk Eraser pads to junior grade students ( of 1st through 4th grade) and notebooks of 150 & 200 pages to higher grade students ( of 5th through 12th grade).

This year one lakh and ten thousands exercise note books were printed and distributed at the start of new school year in first week of June to the under privileged school going children in the Tribal areas of Gujarat, Maharashtra and Rajasthan Border. Ashram's selfless volunteers' are doing wonderful work in coordinating, funding, printing & distributing for this project. Also, many thanks to the selfless workers at various centers who goes to schools and make it possible to reach to the needy children.

The continuation of such comprehensive programs has been possible only because of the unstinting devotion and generous financial assistance provided by selfless devotees of the Lord.

Yoga Through ( SIVA) Sivananda institutes of Yoga-Vedanta Academy

At Ashram regular Yoga classes in seven batches for beginners and advanced yoga students carried out this month, as usual.

Sivananda Clinic at the Ashram: Dr.Snehal Amin's consultation on how to cure diseases by yogic science continues and number of patients who got benefited increasing day by day.

Many devotees participated in regular religious worships at the Ashram namely Guru Paduka Pooja on Thursday, a special evening worship at Sri Ashtalaksmi Bhavan on Friday, Sri Sunderkand Path on Saturday, a special Satsang on Sunday and daily night satsangs. Also Sri Lalita Sahasranam at Sri Ashtalakshmi Bhavan and Sri Satyanarayan pooja on full Moon day were performed.
On Aug 4, 2018 Aradhana day of worshipful and Revered Holy Master Sri Swami Sivanandaji Maharaj was celebrated solemnly with Satsang, Prayers, Paduka Poojan and Narayan Seva.
Jnana Yajana - on Shankara's text "Atma Bodh" (Aug 8, 2108, to Aug 11, 2018) : The discourses by Pujya Swami Adhyatmanandaji Maharaj series on Shankara's text " "Atma Bodh" continued for the last few months whenever Swamiji is in the Ashram. Seventy-five days Discourses concluded on Aug 11, 2018. A large number of devotees took benefits of the wisdom shared by Pujya Swamiji of this difficult text.
Independence Day celebration ( Aug 15, 2018): In the morning, Flag hoisted in ashram's lawn garden. Revered Sri Swamiji Maharaj hoisted the national flag with the national anthem. On this occasion in His speech, Rev. Swamiji said, " Let us be true to our own self. Let us be loyal and faithful to our family members. When each individual will be uniting to one and all, our country will be united automatically. What we need is to love our nation. Love our Culture, love our heritage. That itself will make our nation strong. Nation first and nation last. This should be our Spirit and self is last or least. Maintenance of cleanliness and sanitation of our homes, institutes, villages or cities is very essential, but, at the same time, we must wipe out mental garbage also. For helping and changing of ecology, tree plantation is must. How much space you can provide have plenty of greenery in and around your homes. Do not waste your time in ideal gossiping and scandal back biting. Be positive, think positive, act positive, you will live a life of inner peace and Supreme Bliss ". After patriotic songs by neighboring school children, function was concluded with inner happiness. A large number of yoga students, teachers and devotees of ashram attended this great occasion.

In the evening, Rev. Sri Swamiji, Sri Arun Oza, Smt. Poonam Thawani and Sri Vijay Soni of Sivananda Ashram were invited for get to gather and high tea at Governor House, Gandhinaga
Holy Shravan Month satsang (Aug 12, 2018 - Aug 29, 2018): Holy Shravana month is dedicated to the worship of Lord Shiva. Ashram's air is filled with divine vibrations. While Rudrabhishek and special Pooja, Bilva Patras Archna is going on at the Ashram's Sri Vishvanath Mahadev, Sri Ashtalaxmi Adishaktipeeth is crowded with devotees for Pujya Swami Adhyatmanandaji Maharaj's satsang discourses going on daily in the evening from 5 pm to 7pm on the subject of "Shiva Mahimanstotra".
Shiva Mahimna Stotra (शिवमहिम्न:स्तोत) "Hymn about the greatness of Shiva" is a Sanskrit composition (Stotra) in devotion of Shiva that is believed has been authored by a gandharva (heavenly being) named Pushpadanta.
On Aug 26, 2018 as always, sacred thread changing ceremony for Brahman community was organized in Chidananda Yoga and meditation hall. In the evening satsang, a group of Brahma Kumari's visited the ashram for Raksha Bandhan and tied Rakhi to Sri Swamiji Maharaj.

Satsang & Tours of H. H. Sri Swami Adhyatmanandaji Maharaj During the Month of August 2018
Bhat, Gandhinagar : On Sept 7, 2018 Tree Plantation of about 100000 saplings was organized by TOI, Govt. of Gujarat, Hero Motors and Municipal Corporation. Chief Minister of Gujarat Sri Vijay Rupani, Asst.C. M. Sri Nitin Patel, Forest Minister, CEO of Hero Motors, Sivananda Ashram, Ahmedabad and many more organizations participated in this great enthusiasm. Govt. of Gujarat will take care of this plantation for three years and in future, there will be a park and cycling tracks will be made by Municipal Corporation and Hero Cycles' joint venture. H. H. Sri Swami Adhyatmanandaji Maharaj accompanied by thirty Yoga Teachers participated for the tree plantation function.
On Aug 9, 2018 happened to be 84 th Birthday of H. E. Governor of Gujarat, Sri Om Prakash Kohli. on this occasion, celebration was organized at Raj Bhavan, Gandhinagar. At this function, he invited and felicitated all centurion blood donors of Gujarat. Two hundred twenty seven donors attended the function. Respected Deputy Chief Minister Mr. Nitin Patel, Health Minister, Mrs. Ravi Jayanti, Commissioner Health, Secretary Health. Govt. of Gujarat, President of Indian Red Cross, Vice President of Indian Red Cross and Rev. Sri Swami Adhyatmanandaji Maharaj adorned the stage. Revered Swamiji presented sapling of BORSALI (a flowering and fruit-bearing tree, which has a life of about 350 yrs) and greeted Mr. Kohli ji and prayed for his excellent health, long life and many more years of his Public Service. The function went on for over three hours which was followed by photo function and tea.

On Aug 18, 2018 Sri Akhil Hind Trivedi Mewada Brahman Parishad organized annual meet and cultural program at Sri Din Dayal Upadhyay Cultural Hall in the evening from 4 pm to 8 pm. Revered Sri Swami Adhyatmanandaji Maharaj lit the lamp and graced the occasion. On this occasion Pujya Swamiji said that remember highest power and strength on the earth is meditation and Japa of Gayatri Mantra with Sandhya Vandan. More the mantras goes into your inner being, you will shine. Nothing will lack in you. The very light of your purity and power of Japa will be blooming on your face and help you for inner awakening. May you all cultivate practice of family prayer at home! Family will be united, new generation will understand the higher values of the life and keep up your spirit of harmony and love for community which will help long way to keep our nation intact. Many leading Brahmans from all over Gujarat attended this get to gather function.
On Aug 19, 2018 Blind Men Association and Society of Handicaps with collaboration of "Sadvichar Parivar" group organized motivational program for the under privileged young generation. Sri Swami Maharaj inaugurated the function and addressed to the large gathering and encouraged them to arrange such inspiring programs more often and regularly.

On Aug 29, 2018 a book "Moksh Prapti no Punya Marg"( gujarati) by Dr. Vinu Patel was released by Revered Swamiji before concluding evening satsang.

On Aug 30, 2018, a grand felicitation program for renowned motivator Dr. Shailesh Kothariji was organized at Ahmedabad Management Association in evening from 5.30pm to 8 pm. Revered Swamiji Maharaj was invited to chair the function and bless the occasion. Late evening, Sri Swamiji left for his cultural tour to Taiwan upon humble and sincere invitation of Sri James Lo, President of Taiwan Yoga and Sports Federation and founder President of Sivananda Yoga Studio, Taipei, Taiwan.


Upcoming Program at the Ashram .................... All are welcome

Bhagavad Katha by Dr. Krishna Kumar Mehta ( Shastri ), President Gita Vidyalaya, Rajkot Sat, Sept 1, 2018 to Sun Sept 8, 2018 (4pm - 7.30 pm)

Day - 1 Sri Krishna Janmashtami Utsav
Bharat Natyam and Kuchipudi Dance by Nartan School of Indian Classical Dance of Smt. Smita Shastri (8.30 pm to 10 pm)

Day - 2 Sept 3, 2018
Sri Krishna Janmashtami Utsav
Bharat Natyam by Smt. Suchi Buch 8.30pm to 9 pm
Devotional Vocal Music by Dr. Jayant Vasavada ji's Sri Hatkesh Swar Gunjan Group 9 pm to 12 midnight
Maha Nisha Dhyan and Nanda Mahotsava 12 am
Hawan everyday from Sept 16, 2018 to Sept 18, 2018 8 am to 10 am
Friday, Sept 7, 2018
10th Holy Maha Samadhi Aradhana Day of Worshipful Gurudev Sri Swami Chidanandaji Maharaj and Sri Swami Pavitranandaji Maharaj
Paduka Poojan and Satsang – 8.30am to 10 am
Saturday Sept 8, 2018
131st Happy Birth Anniversary Holy Master Sri Swami Sivanandaji Maharaj
Paduka Poojan and Narayan Seva – 6 pm to 8 pm

Sunday Sept 9, 2018
Homatmak Laghu Rudra 9.30am to 6.30pm
Bhasma Arti – 7pm
Bhandara – 7.30 pm to 8.30 pm

Monday, Sept 24, 2018
Worshipful Guru Bhagwan Srimat Swami Chidanandaji Maharaj's 103 Birth Anniversary 6 pm to 8 pm
Holy Navaratri Puja Wednesday, Oct 10, 2018 to Thursday, Oct 18, 2018
Gita Parayan every day 9 am to 11am
Sri Durga Saptasati Parayan - 4 pm to 7 pm
Navratri Garba - every day 9 pm to 11 pm
Kanya Puja Wednesday, Oct 17, 2018 10 am to 11.30 am
Om Shanti !
Latest Additions.........

Please subscribe to Divyajivan Mailing List. We will update you with new uploads of spiritual literature on the web of Holy Master Sri Swami Sivanandaji Maharaj, saints of his lineage and other saints. We will also update you about the Sivananda Ashram, Ahmedabad website and facilitate communication with Sri Swami Adhyatmanandaji Maharaj.

Please enter your email address and click Subscribe button
To manage your subscription, please visit Subscription Page. You can also subscribe and unsubscribe from this page. You may unsubscribe by yourself anytime you wish. You will be required to send confirmation link that you will get in your e-mail to complete this subscription.

[ Home ] [ News ] [ Upcoming Events ] [ What's New? ] [ Services ] [ Swami Adhyatmananda ] [ Multimedia ] [ Publications ] [ Administration ] [ Saints and Sages ] [ Photo Gallery ] [ Contact ] [ Guestbook ] [ Important Links ] Webmaster: webmaster@divyajivan.org