News & Activity Report for the Month of
Sivananda Ashram - Ahmedabad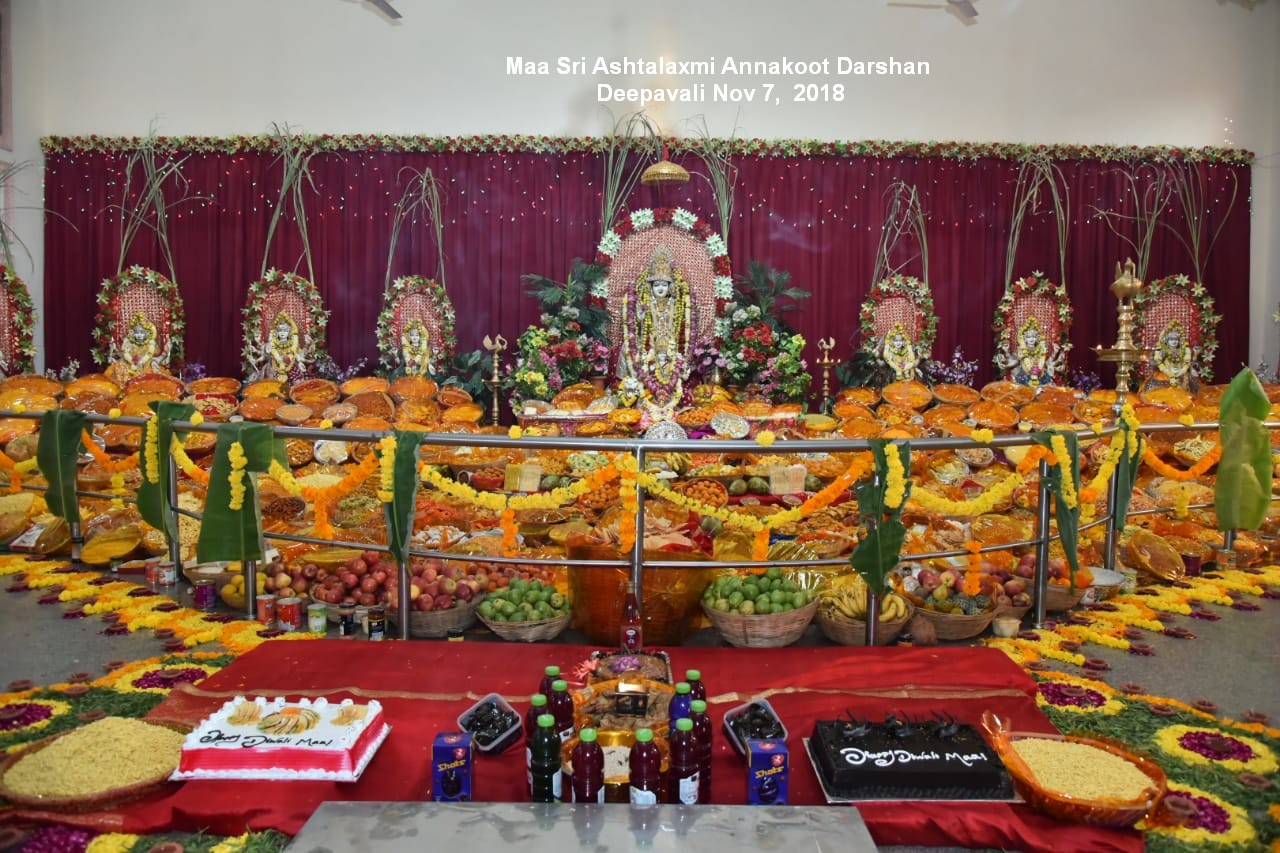 Deepavali Celebrations ( Nov 5, 2018 - Nov 7, 2018): We had joyous Deepavali Celebrations and Annakoot darshan ( Nov 5, 2018 - Nov 7, 2018) at the Ashram. Deepavali is a special time, it brings such joy & festive spirit to all. Here at the Ashram, a grand group Lakshmi Poojan was organized at Sri Ashta Lakshmi Bhawan on the evening of Lakshmi Trayodashi (Dhanteras) on Nov 5, 2018. Sri Sri Sri Ashta Laxmi Bhavan was decorated with lighting, rangoli, pushpamala during Deepavali and group Laxmi (Sri Yantra) Pujan was performed by 108 couples at Sri Sri Ashta Laxmi Bhavan. On Diwali day grand Annkoot was offered to Maa Ashtalakshmi. A few weeks of planning and preparations of about thousand varieties of food items by so many devotees culminated in Grand Annakoot offering to Sri Ashtalaxmi Maa on Deepavali day. Entire day over thousands of people came to the ashram for the Annakoot Darshan and evening aarti. At night about 1600 devotees were serve dinner and about thousand prasad packages of sweets, snacks, chocolates & other goodies were made to be distributed to under served families in slum area of the town, the next morning.

On the New Year day (as per Indian calendar) a continuous flow of devotees for the darshan & receiving blessings of Sri Maa Ashta Laxmi from morning till night.
On Nov 17, 2018 H. H. Sri Swami Anubhavanandaji Maharaj, head acharya of the institute "Mauj me Raho" visited the ashram and his discourse was organized at Sri Chidananda Dhyan Mandir from 6.30 pm to 7.45pm. He talk about key to be happy all the times. It was well appreciated by the devotees.
All the activities of the ashram, mainly Spiritual, Yoga and Seva projects are based on the ideals and teachings of Holy Master Sri Swami Sivanandaji Maharaj. Daily worship services at Lord Vishvanath Temple and at Sri Sri Maa Ashtalakshmi Bhavan create Divine vibrations at the Ashram. Prayers & Meditation at Sri Chidananda Dhyan Mandir bring peace & joy to countless Sadhakas. Daily Evening Satsang (9.00pm –9.45pm), Sunday satsang (8.30 am -10.00 am) and 'Paduka Pujan' on Thursday, Satyanarayan Puja on Purnima day, Gayatri Yajana on first Sunday, Lalita Shashra Nama & Yoga activities: all these have made Sivananda Ashram a pilgrimage place (Yatra Dham) in the midst of noisy and busy city life. More & more people, inspired by Spiritual head of the ashram, H. H. Sri Swami Adhyatmanandaji Maharaj are involving themselves in selfless services carried out through Ashram's Seva Projects.
Through our SIVA Yoga Center countless people are learning Yoga and get benefited. Yoga, Meditation and Pranayam Camps by Swami Adhyatmanandaji's are favorite of all. Through YTTC ( Yoga Teachers Training Course) over thousands of Yoga teachers have been graduated and teaching others all over the globe. Regular Morning Yoga classes for the beginners (5.30am - 7.00 am), Yoga classes for Established and Advanced students in different batches at 5.30 am, 7.00 am and 10.00 am in the morning get well attended. In the evening Yoga classes are run for women group and a special group from 4:00pm, 6:00pm and 7:00 pm. Thanks to the team of dedicated and selfless yoga teachers of the ashram.
As always, wheat & grain distributions to needy families on first Sunday of the month and feeding poor on 3rd of each month through "Vishwanath Seva Kendra" get accomplished. Thanks to Gurudev for working behind the scene for running smoothly all the activities at the Ashram.
Adhyatma Tour 2018 of H. H. Sri Swami Adhyatmanandaji Maharaj to USA Canada & UK (Sept 15, 2018 - December 1, 2018)
Adhyatma Tour 2018 - Photos / Adhyatma Tour Movie presentation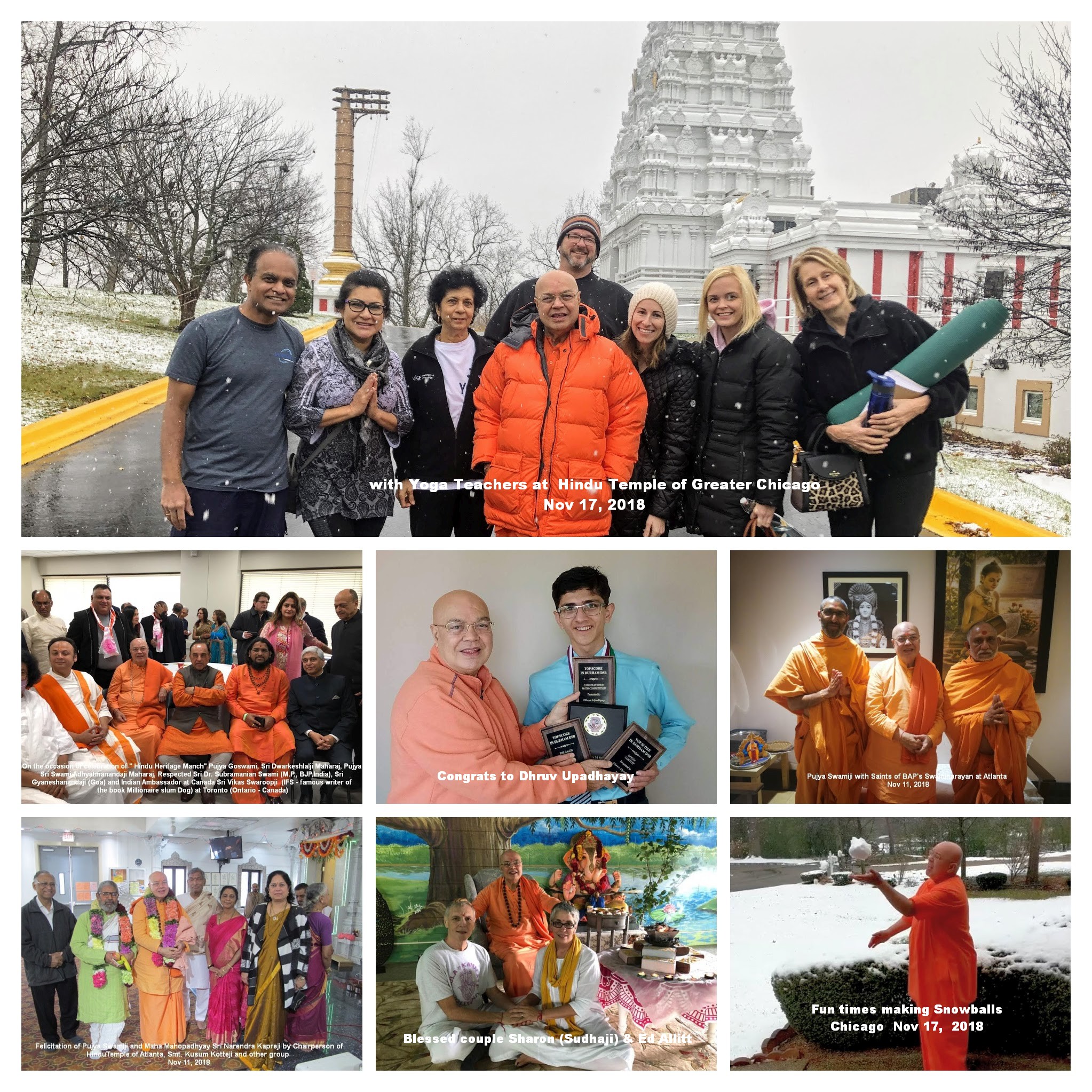 Pujya Swamiji's holy presence and Divine satsang have brought peace & joy to the countless spiritual aspirants & yoga enthusiasts in the West. His prayers have brought solace & healing touch to the sick ones. He received warm welcome everywhere he went. Pujya Swamiji's day typically started early with morning yoga session, home satsangs, home visits, bhiksha to honor devotees' wishes, evening satsangs, special requests, press interviews, paying a visit to sick ones, prayer for depressed ones and more till the late at night most of the days. His Mission is service to humanity, service to known and unknown. HE has been continuously spreading the message of sages of the yore and sharing the spiritual wisdom and cultural & scientific heritage of India through Yoga, Pranayama, and Meditation.

Highlights of the Tour are Ganesh Chaturthi celebration at Hindu Temple of Greater Chicago, Yoga Retreat at Happiness Yoga Center, Janmasthami Celebrations at Kul Kamala Ashram, Jana yajna at Bharat Sevashram(NJ), "Yoga Refresher Course" at Troy, "Hindu Heritage day" celebrations at Canada, Deepavali Celebration at Milwaukee, Brahmotsavam at Hindu temple of Atlanta and more......The Tour took (Sept 15, 2018 - Nov 30, 2018 ) him to Chicago, Lorton, kul Kamala Ashram (PA), New Jersey, Houston, Troy Toledo, Toronto and to the last segment to Minnesota, Milwaukee, Atlanta, Charlotte, Chicago and to the UK. Sri Swamiji has reached back to the Ashram on Dec 1, 2018.
Chicago (Sept 15, 2018 - Sept 20, 2018): Besides daily Yoga Seminar at Hindu Temple of Greater Chicago, Satsang by Pujya Swamiji were organized at Sri Arbindo Centre, Swadhyay Parivar, Bhartiya Temple of North West Indiana Universal Sprit Yoga studios and other satang group. Pujya Swamiji left for Washington D. C. on Sept 20, 2018.

Madison, WI (Sept 16, 2018): Temple of Madison has been founded by the motivation of Pujya Swamiji. Its disciples honor Pujya Swamiji as their Master. Patotsava of the temple, Sri Balaji Kalyanam and Rathotsavam were organized in the holy presence of Pujya Swamiji.

Lorton, VA(Sept 20, 2018 - Sept 25, 2018): A couple, who has successfully graduated as Yoga Teachers from Sivananda Ashram, Ahmedabad have moved to USA in Lorton, Virginia state near Washington, DC. Five days full program were arranged at their Happiness Yoga Studio. Yoga seminars, Kriyas, Meditation and other Satsang were organized in and around the city from early morning to late evening. Pujya Swamiji did tree plantation also. Congratulations to Yogacharya Smt. Sunita and Sri Shaishav Shah for their beautiful arrangement during the entire period.

Kul Kamal Ashram, Reading PA (Sept 25, 2018 - Oct 1, 2018): Yoga Seminar and festivals of Sri Krishna Janmotsava, Sri Radha Ashtami were organized at Kul Kamal Yoga Institute run by Smt. Dr. Sharon Ellit (Sudha Mataji) and Sri Ed. Pujya Swamiji gave four discourses on the subject of "Upanishad Amrut and Gitamrutam". Silver Jubilee of marriage of Smt. Sharon and Sri Ed was also celebrated with full of joy. With lectures on Patanjal Yoga Sutras, tree plantation was also done by Pujya Swamiji. Plants planted by Pujya Swamiji in past have become big trees now and this year, big numbers of fruits like Peach, Apple, Cherry, Plum were given by these trees.

Allen Town, PA (Oct 1, 2018): 14 years have been completed for Big Temple of Allen town. Pujya Swamiji visits this place every year. He gives and takes benefit of Katha & Satsang. After Mid-day Aarti, Rajbhog and Satsang. Pujya Swamiji enjoyed hospitality of Revered Mahant Sri Jayesh Kumar ji and left for New Jersey.

New Jersey (Oct 1, 2018 - Oct 8, 2018): Pujya Swamiji reached Smt. Pappu Sodhani (Treasurer, Vishwa Hindu Parishad, USA) and Sri Vimal Sodhani ji on Oct 2, 2018 late night after accepting hospitality of Smt.Tejal & Sri Amit Shah and discourse of two hours on Ashta Lakshmi Mahatmya at Karni Temple.
Yoga classes and lectures were arranged at Sri Bharat Seva Sangh at New Jersey. Pujya Swamiji also remained present in the Prakatyotsava of Mahamandaleshwar Srimat Swami Nityanandaji Maharaj at Shanti Mandir (New York) on Oct 7, 2018.

Houston, TX(Oct 9, 2018- Oct 13, 2018): Pujya Swamiji's Satsang at famous Shiv Shakti Temple, Yoga Classes at Sri Swaminarayana Temple and Satsang at Huston Brahma Samaj were arranged. All these programs were organized by Sri Dhaval Trivediji. A seminar on "Stress Management " was also arranged for managers of his office.

Little Rock, AR: (Oct 14, 2018 - Oct 18, 2018): There is one branch of India's famous "welspun Industries" here also. Thoughtful lecture for the officers of the company, on the subject of Management, Behavior and Planning was given by Pujya Swamiji in the Hall of the factory. Pujya Swamiji did tree plantation also. One Satsang was organized at Sri Mihir Desai's house.
Troy, MI (Oct 18, 2018 - Oct 21, 2018): Pujya Swamiji's Satsang on the subject "Aditya Hraday Stotra" was organized at the residence of Smt. Meera & Sri Anil & Lal, President of Divya Jivan Sangh, USA branch. They planned Ravan Dahan on the day of Dusshera. Daily Yoga Classes were arranged in the morning at big Hall of Bharatiya Temple of Troy. Pujya Swamiji did Satsang at the residents of many disciples and all were very grateful to Swamiji for blessings.

Toledo, OH (Oct 21, 2018 - Oct 23, 2018): Besides morning Yoga Classes, Pujya Swamiji gave discourse on Ken, Kath and Mandukya Upanishads. Durga Pooja was concluded with the Aarti and Prasad distribution by Pujya Swamiji
Windsor,Canada (Oct 23, 2018 ): Pujya Swamiji arrived here at mid-day. After Satsang, Pujya Swamiji left for Ontario.
Toronto, Canada (Oct 24, 2018 - Nov 4, 2018): Pujya Swamiji's Satsang and lectures were organized at different places of Ontario State of Canada. Satsang was arranged by and at the residences of Smt. Nilu Mayur Upadhyay, Sri Pritesh Patel, Smt. & Sri Ram Gogiaji and Vrundavan Dham, Guru Mandir. Over and above these, there were lectures by Sri Subramanian Swami, Pujya Swamiji, and Pujya Sri Dwarkeshlalji Maharaj and other saints in the program of Hindu Heritage Munch declared by Ontario State. Indian Ambassador, Respected Sri Vikas Swaroop ji (IFS) also graced the occasion. Pujya Swamiji was invited for an interview by famous TV channel ATN. Smt. Kanta Aroraji was grateful to have three interviews of 22 minutes each. All successful program at Canada were arranged by Sri Kamlesh Dave family. Thanks to them.
Minnesota (Nov 4, 2018 - Nov 7, 2018): Pujya Swamiji arrived at Minnesota on the invitation of Smt. Smita and Sri Pranavji. Lakshmi Poojan was arranged at their holy residence on the day of Dhanteras. Pujya Swamiji's Satsang was organized at BAPS Satsang Group on the occasion of Diwali.

Milwaukee, WI (Nov 7, 2018 - Nov 9, 2018): Smt. Aparna and Sri Hari Raghavacharilu have taken training of Yoga at Sivananda Ashram, Ahmedabad and are senior officers of famous G.E Company. They arranged Satsang at Respected Sri Navinbhai Patni's house. Pujya Swamiji did Darshan and Satsang at BAPS Temple on the occasion of Annakoot on Diwali.

Atlanta, GA( Nov 9, 2018 - Nov 13, 2018 ): Three discourses of Pujya Swamiji were organized at the big Hall of Sri Ganesha Temple of famous Global Mall. Pujya Swamiji was accorded a warm reception with Nad Swaram and Drums. Pujya Swamiji graced the occasions of Kalyanam on Sri Ramlingeshwar Mahadev Patotsava and Rathotsava. Pujya Swamiji delivered the lectures on all the days here. Satsangs were arranged at Dr. Raghu, Guard of Chinmaya Mission. Thanks to Sri Ravi Ji & Sri Shiv Aggarwalji for the Atlanta program coordination for the benefits of many.
Charlotte, NC (Nov 13, 2018 - Nov 15, 2018): Big Satsang of Pujya Swamiji was organized on Nov 13, 2018 at the residence of Smt. Bhavani and Sri Shantanu Sarkar, unique disciple couple of Swamiji. Sri Ganpati and Sri Lakshmi Homam were concluded in the Mastership of Pujya Swamiji at the residence of Smt. Ila and Sri Paresh Patel on Oct 14, 2018. In the evening, Pujya Swamiji gave lecture on the subject of "Mansik Shantina Sachot Upayo". Pujya Swamiji left for Chicago in the morning of Nov 15, 2018.

Chicago (Nov 15, 2018 - Nov 17, 2018 ): Sri Jalaram Jayanti was celebrated on the occasion of birth anniversary of Sri Jalaram Bapa, in the presence of Pujya Swamiji. After motivational lecture, Pujya Swamiji did soul stirring Kirtan also. Next day, morning satang on Patanjali Yoga Sutra with Gita Study Group at Naik's residence was inspiring. The evening satsang was arranged by Yogi Divine Society of Chicago.
On the last day of concluding of Adhyatma Tour 2018, it was beautiful snowfall at Chicago, as if nature was showering blessings on Pujya Swamiji. It put swamiji into childhood mood, he had fun playing in the snow making snow balls. The Tour 2018 concluded with a grand yoga session at Hindu Temple of Greater Chicago. In spite of a snowy day large numbers of Yoga lovers attended the morning session from 8.30 am to 10.30 am. The Tour continued to UK from Nov 17, 2018 to Nov 30, 2019.
London (Nov 18, 2018 - Nov 30, 2018 ): Besides Shakotsava, Satsangs of Pujya Swamiji at every day night were arranged at Sri Anoopam Mission. Swamiji stayed at Afa Bridge, Bristol, Northern Hith and Arshalton. Pujya Swamiji gave great happiness by his holy presence and Satsangs by visiting residences of many disciples. Pujya Swamiji arrived at Ahmedabad in the morning of December 1, 2018.
Om Shanti!
Latest Additions.........

Please subscribe to Divyajivan Mailing List. We will update you with new uploads of spiritual literature on the web of Holy Master Sri Swami Sivanandaji Maharaj, saints of his lineage and other saints. We will also update you about the Sivananda Ashram, Ahmedabad website and facilitate communication with Sri Swami Adhyatmanandaji Maharaj.

Please enter your email address and click Subscribe button
To manage your subscription, please visit Subscription Page. You can also subscribe and unsubscribe from this page. You may unsubscribe by yourself anytime you wish. You will be required to send confirmation link that you will get in your e-mail to complete this subscription.

[ Home ] [ News ] [ Upcoming Events ] [ What's New? ] [ Services ] [ Swami Adhyatmananda ] [ Multimedia ] [ Publications ] [ Administration ] [ Saints and Sages ] [ Photo Gallery ] [ Contact ] [ Guestbook ] [ Important Links ] Webmaster: webmaster@divyajivan.org