News & Activity Report for the Month of September 2018
Sivananda Ashram - Ahmedabad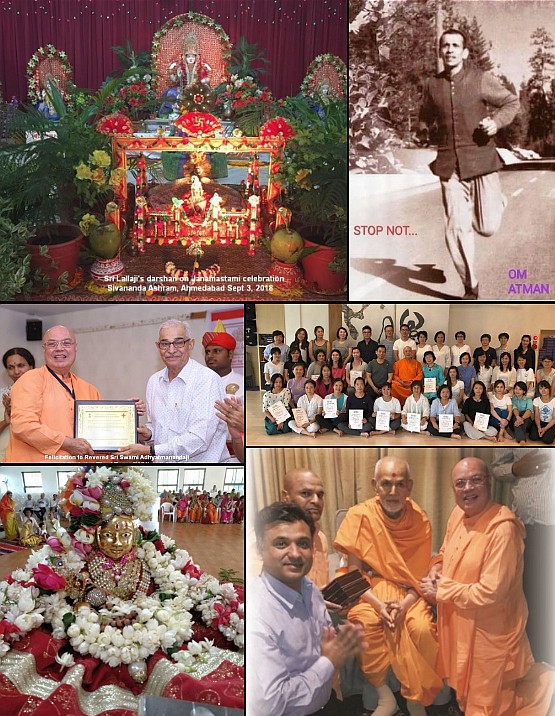 Krishna Janmotsav (Sept 3, 2018): Lord Sri Krishna's Prakatya Ustav was celebrated with great enthusiasm at Sri Ashta Lakshmi Adi Shakti Peeth. Bhakti Sangeet by Dr. Sri Vasavda ji's Gunjan hatkesh group from 9 pm to 12 am filled Ashram's air with Divine vibrations just before Sri Lalaji's pragtya at midnight followed maha aarati in Sri Ashtalaxmi Bhavan, which was packed with the devotees. All the devotees had Darshan of Sri Lalaji in the decorated cradle.
On Sept 8, 2018 131 st Birth Anniversary of Gurubhagwan Sri Swami Sivanandaji Maharaj was celebrated with grand Paduka Poojan, satsang and Narayana Seva (Poor feeding). Large numbers of devotees participated in this special satsang.
On Sept 24, 2018 102nd Happy Birth Anniversary of Most Worshipful and Revered Gurudev Srimat Swami Chidanandaji Maharaj was celebrated with great devotion and enthusiasm with Paduka Poojan, and remembrance of GuruMahraj. Narayan Seva, Poor feeding also was organized.
Holy Shravan Month Celebration - Holy Shravana month was celebrated in the worship of Lord Shiva at Sri Vishvanath Mahadev temple here at the Ashram. During this month Rudrabhishek and special Pooja were performed. Devotees participated in Savalkshya Bilva patras Archna, Abhishekatmak Laghurudras performed at Holy Shrine on each Monday during the Shravan month. Srimad Bhagawat Katha from Sept 1st to Sept 8th by Bhagawatachrya Dr. Sri Krishnakant Mehta (Sri Shashtriji) of Rajkot Gita Vidyalaya on Vyasa Peeth was well received and attended by a large number of devotees at the ashram. Concluding on Sept 9th was a grand shirngar darshan of Lord Vishvanath Mahadev aarati & prasad served to about eleven hundred devotees.
On Sept 13, 2018 sacred Ganesh Chaturthi was celebrated at Ganesha Mandir at the ashram. Devotees in large numbers participated in worship of Ganesh puja and bhajans/kirtan.
Yoga Through ( SIVA) Sivananda institutes of Yoga-Vedanta Academy : Ashram regular Yoga classes in seven batches for beginners and advanced yoga students carried out this month, as usual. A team of dedicated yoga teachers conduct and coordinate all the classes.

As always, on third of the month wheat and grain were distributed to poor and needy families through "Vishwanath Seva Kendra".

Many devotees participated in regular religious worships at the Ashram namely Guru Paduka Pooja on Thursday, a special evening worship at Sri Ashtalaksmi Bhavan on Friday, Sri Sunderkand Path on Saturday, a special Satsang on Sunday and daily night satsangs. Also Sri Lalita Sahasranam at Sri Ashtalakshmi Bhavan and Sri Satyanarayan pooja on full Moon day were performed.
Satsang & Tours of H. H. Sri Swami Adhyatmanandaji Maharaj During the Month of Sept 2018.
Tour to Taiwan (Sept 1, 2018 - Sept 9, 2018): Honoring an invitation of Yogi James Lo, Founder of Sivananda Yoga Studio and Chairman of Taiwan Sports and Yoga Ministry, Pujya Swami Adhyatmanandaji Maharaj Toured to Taiwan from Aug 31, 2018 to Sept 9, 2018. Yoga classes, lectures on Patanjal Yoga Sutras, Pranayama – Meditation and classes of Shankh Prakshalan, Yoga Nidra & Tratak by Pujya Swamiji were organized at Keelung, Taipei and Hot Water Fall. Tree plantation was also done. Mayor of Taiwan Smt. Angela, interestingly, remained present in all these programmes. Yoga workshop was organized at China Yoga Association also.

From Sept 11, 2018 Pujya Swamiji is away from the Ashram on the Tour. The Full report will be followed after the concluding of the Tour.......................
Latest Additions.........

Please subscribe to Divyajivan Mailing List. We will update you with new uploads of spiritual literature on the web of Holy Master Sri Swami Sivanandaji Maharaj, saints of his lineage and other saints. We will also update you about the Sivananda Ashram, Ahmedabad website and facilitate communication with Sri Swami Adhyatmanandaji Maharaj.

Please enter your email address and click Subscribe button
To manage your subscription, please visit Subscription Page. You can also subscribe and unsubscribe from this page. You may unsubscribe by yourself anytime you wish. You will be required to send confirmation link that you will get in your e-mail to complete this subscription.

[ Home ] [ News ] [ Upcoming Events ] [ What's New? ] [ Services ] [ Swami Adhyatmananda ] [ Multimedia ] [ Publications ] [ Administration ] [ Saints and Sages ] [ Photo Gallery ] [ Contact ] [ Guestbook ] [ Important Links ] Webmaster: webmaster@divyajivan.org