News Report for the Month of January 2021
Sivananda Ashram, Ahmedabad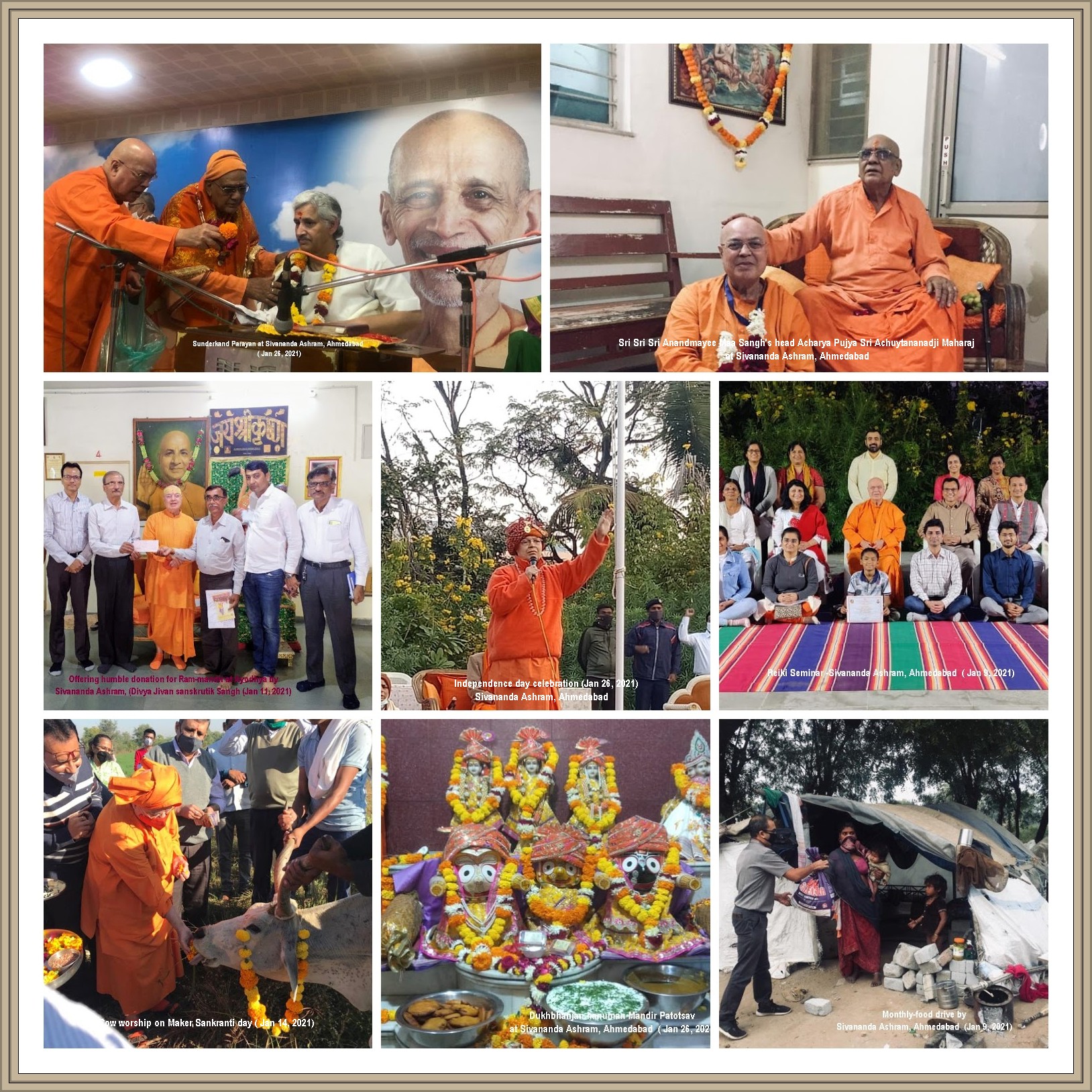 "Manav Seva, Madhav Seva" has been the guiding principle for whoever has been associated and working at the ashram. The Holy Master Sri Swami Sivanandaji Maharaj used to take great pleasure in serving one and all and the tradition continues.

All the Activities at the Ashram were curtailed due to Covid pandemic for the last 9 months. Except, the food drive to the underserved families of the town......Ashram's Karmayoga team diligently worked towards food & groceries distribution seva activity all through the Pandemic, from the very beginning with all the cautions even in the Covid lockdown.

Now slowly but surely, after nine months of break, the ashram has restored with cautions the regular activities namely, Yoga classes, Yogasana Camp, Satsang, Religious worship services for people at large and even more getting organized.
814th Yogasana Camp (Jan 18, 2021 - Jan26, 2021): 814 th Yogasana Camp was inaugurated by H. H. Sri Swami Kamlanandaji Maharaj of Sivananda Ashram and it was conducted by H. H.Sri Swami Adhyatmanandaji Maharaj. Ashram has very cautiously allowed /restricted the admission in the camp for a large group. Pranayama, Asana, Relaxation, and Trataka (Candle Meditation) was taught during the camp.
On Jan 9, 2021, Ashram hosted Reiki Seminar first degree after a lapse of one year due to COVID. More than 15,000 people have learned and certified Reiki first and a second degree in Sivananda Ashram under the guidance of Reiki Grand Master Mrs. Rupa Manish Majmudar.

On Jan 12, 2021 - The ashram executive team made a humble donation check Rs.1,25,000/ for sacred Sri Ram Mandir Sewa at Ayodhya.

Bhagawad Gita Jnana Yajna at the Ashram (Jan 18, 2021 - Jan 26, 2021) - Ashram hosted Srimad Bhagawad Gita Jnana Yajna by a well-known Kathakar Sri Jignesh Dada at Sivananda ashram to raise the fund for his Krutarthi Vidyalaya, in Saurashtra – GIR. Pujya Swamiji Maharaj graced the occasion and attended the Katha every day.

Ashram Devotees were Blessed by Most Worshipful and Revered H. H. Srimat Swami Sri Achyutanandaji Maharaj, President of Sri Sri Maa Anand Mayi Ashram with HIS Divine stay from Jan 18, 2021 -March 2, 2021.

Republic Day Celebration at the Ashram:
Jan 26, 20221 marked 72
nd
Republic Day of India. It was celebrated by Flag Hoisting at the Ashram Lawn Garden by H. H. Sri Swami Adhyatmanandaji Maharaj. He gave a thundering Message on this the occasion on moral & ethical duties of the citizens of India towards the Nation. He denounced the destructions, looting, national property damage and like in the name of expressing displeasure and protest against the Government policy. He advised against the destruction of the natural resources. He said, "Exercise discipline, Conserve the resources, Live the disciplined life, Protect your Nation, Love your Nation. You belong to the Nation and the Nation belongs to you. See oneness in all. Live in the awareness of harmonious coexistence with nature, plants, animals & birds, the environment and ecology.
Honor all life equally. The Life Principle (Chaitanya) is the same in All. God pervades the entire universe. The Lord is within you and all around you. Open your eyes and behold HIM everywhere. Behold the Lord in all beings, all objects, plants, animals, actions, feelings & Thoughts. Lead the Divine Life. "Be good Do Good" "Serve, Love, Give, Purify, Meditate & Realize", says Sri Swami Sivananda
Anniversary Day Celebration of Sri Hanuman Mandir at the Ashram (Jan 26, 2021): In the forenoon, Maruti Yajna was performed on the sacred occasion of the 15 th annual day of the ashram's Sri Hanuman Temple. The evening was filled with memorable and devotional songs & "Sunderkand Recitation" by Sri Ajay Yagnik Ji from Delhi.
Pujya Sri Swamiji Maharaj's daily satsang discourses are inspiring on "Patanjali Yoga Darshan" text of Maharshi Sri Patanjali. And " Gitamrutam" on Bhagawad Gita every Sunday is a blessings to all. Thanks to Sivananda Ashram Parivar to organize through Sivananda Ashram Face Book page. Visit
Sivananda Ashram Face Book page
for more details.
Satsang & Tours of Pujya Swami Adhyatmanandaji Maharaj During the Month of January 2021

Visnagar (Jan 9, 2021): A grand congregation was organized on 16 th Mahasamadhi day of late President Sri Baldevgiriji Maharaj of Sri Sivadham place (in North Gujarat). Revered Sri Swami Adhyatmanandaji Maharaj was invited to preside over the function. About thirty thousand monks and about one Lakh devotees attended the function in HIS honor to give Tribute to their Beloved Saint. It was followed by serving a grand prasad to all.

Revered Swamiji in the company of other Saints initiated the new Chief Mahant Sri Jayram Giriji Maharaj. Late Swami Baldevgiriji Maharaj was initiated as Chief at the tender age of TWELVE years only, and His Holiness attained the Supreme abode at the age of 103 years. HE graced His position for 91 years. He was honored by all around the globe in His Organization.

Para Mehsana:
In the memory of the late Mahant H. H. Sri Shivnathpuriji Maharaj of Bhimnath Mahadev, a congregation was held on 16
th
day of His Mahasamadhi (Shodashi) – Bhandara was organized under the guidance of Pujya Sri Swamiji Maharaj. Revered Sri Prakash Puriji was initiated as the new Mahant of the ashram.
A grand Diabetes Conference (Virtual) was organized by the renowned Diabetologist Dr. Mayur Patel of "Swasthya Health Center" which was attended by about twenty thousand doctors around the Globe. Pujya Sri Swamiji Maharaj attended the inauguration ceremony & lit the lamp, blessed the event, and gave a speech on this occasion.

Ramnagar Kampo, Khedbrahma, Ambaji (North Gujarat) (Jan 14, 2021: As the sun moves on its northern region - called Uttarayan, India celebrates festivity with charity, worship of cows, and pilgrimages. A group of about 25 devotees with Pujya Swamiji Maharaj from the Ashram went to Rampur, Kampo & Pilgrimage to sacred Ambaji. At their first stop at Rojanto, Pujya Swamiji Maharaj was invited to bless and grace the community function of 'Cow worshipping". Approximately two hundred fifty plus cows from nearby villages grazed the open field all day up to the dusk. Sri Swamiji took great pleasure in feeding the cows and tended the cows with all Cowmen, the owner of the cows. Also, Sri Swamiji's Satsang was organized and attended by a large number of villagers, which followed serving food to all.

After that Sri Swamiji with the devotee's group went to Ambaji. They had Darshan of Maa Sri Ambaji in all her divine Swarupa. There was a mammoth crowd over there, devotees from tribal areas, who got fortunate to have Pujya Swamiji's Satsang. The group returned back to home in the evening.
Latest Additions.........

Please subscribe to Divyajivan Mailing List. We will update you with new uploads of spiritual literature on the web of Holy Master Sri Swami Sivanandaji Maharaj, saints of his lineage and other saints. We will also update you about the Sivananda Ashram, Ahmedabad website and facilitate communication with Sri Swami Adhyatmanandaji Maharaj.

Please enter your email address and click Subscribe button
To manage your subscription, please visit Subscription Page. You can also subscribe and unsubscribe from this page. You may unsubscribe by yourself anytime you wish. You will be required to send confirmation link that you will get in your e-mail to complete this subscription.

[ Home ] [ News ] [ Upcoming Events ] [ What's New? ] [ Services ] [ Swami Adhyatmananda ] [ Multimedia ] [ Publications ] [ Administration ] [ Saints and Sages ] [ Photo Gallery ] [ Contact ] [ Guestbook ] [ Important Links ] Webmaster: webmaster@divyajivan.org