News Report for the Month of January 2020
Sivananda Ashram, Ahmedabad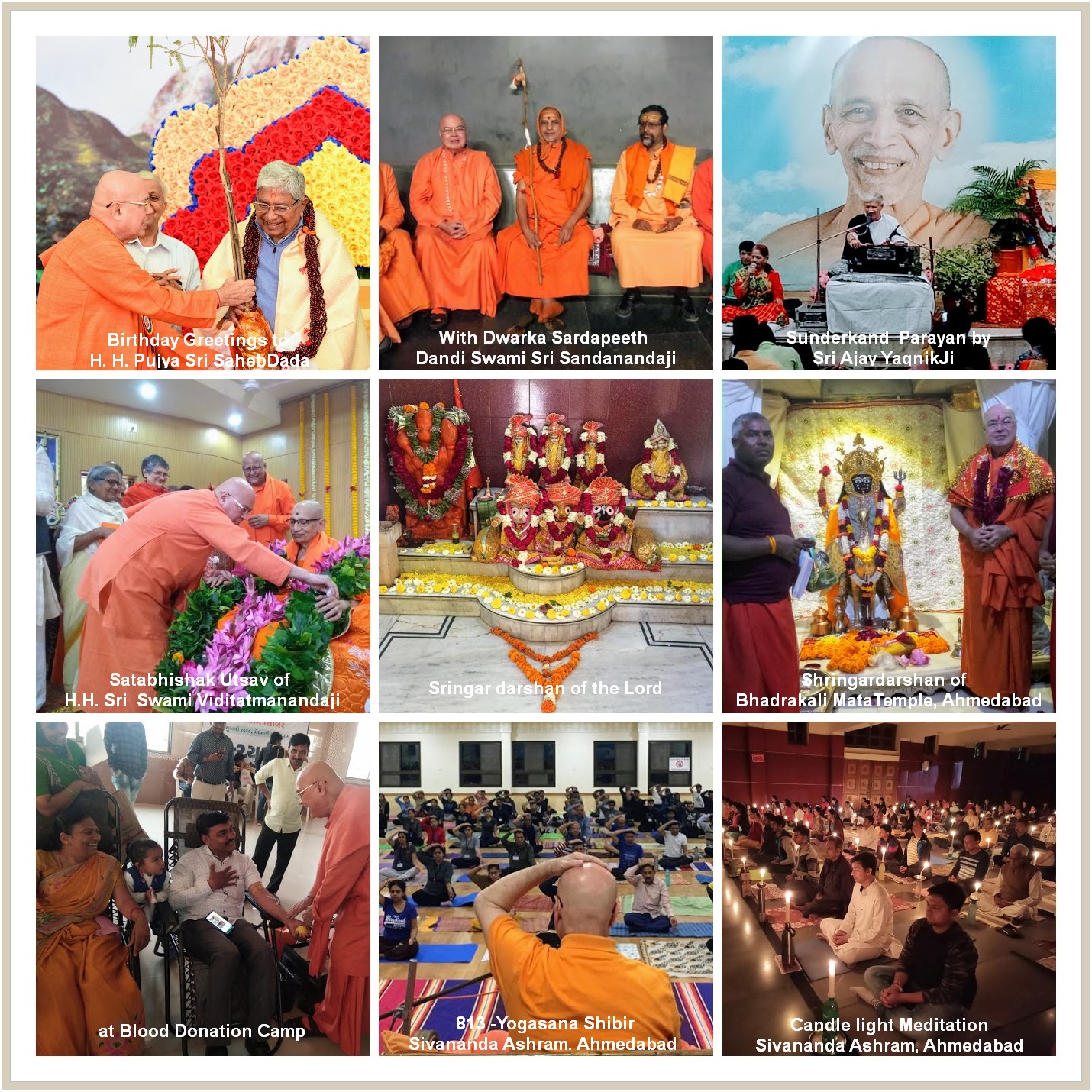 As always, daily five Yogasana practice classes and two Yogasana - Meditation classes for beginners, Reiki training for Level I and II, YTTC twice/year, Yogic consultation went on smoothly during the month. Food for Children through Narayana Seva, Monthly grain distribution to needy families through Vishwanath Seva Kendra, Daily Satsang & Puja Archana in the temples are being regularly performed at the Ashram. Also, Group recitation of Sunderkand, Gayatri Yajna on First Sunday, Purnima's Sri Satyanarayan Vrat Katha and Sri Lalita Sahasranam Parayana are a regular part of the Ashram's activities. All these activities have made Ashram a sacred place, a Yatradham (pilgrimage place) that attracts people to visit Ashram from all over the Globe.
Last month, we had many devotees visited from the USA to the Ashram that also included Minal & Bharat from Chicago, they are a part of extended Sivananda Family. They felt blessed to start their New Year 2020 (Dec 31 /Jan 1) with Darshan, Pujan, Archana at the Ashram temples and in satsang with Pujya Swami Adhyatmanandaji Maharaj. Their India visit always includes a visit to sacred Sivananda Ashram at Ahmedabad. It is a matter of such joy for us here at the Ashram that more & more people, inspired by the spiritual head of the ashram, His Holiness Sri Swami Adhyatmanandaji Maharaj are involving themselves in selfless services carried out through Ashram's Seva Projects.
It is all the Grace & Blessings of God Gurudev Sri Swami Sivanandji Maharaj and Gurumaharaj Sri Swami Chidanandaji Maharaj!
Youth Program at the Ashram (Jan 5, 2020): Ashram hosted drawing competition for children suffering from Cleft lip and Palate problem organized by "Smile Train", an institution helping such, who are born with Cleft Lip & Cleft Palate. 135 children of grade 4 th to 9 th participated in this competition. A group of doctors from Dept. of Burns and Plastic Surgery, B. J. Medical College and Civil Hospital, Ahmedabad came to Sivananda Ashram to spread awareness about this problem. Padma Sri Joravarsinh Jadav, Managing Trustee of Gujarat Lok Kala Foundation, Ahmedabad, Sri Devang P. Desai. IAS, Director of School Education, Gandhinagar and other dignitaries graced the occasion. Pujya Sri Swami Kamalanandaji Maharaj from Sivananda Ashram, Ahmedabad blessed the program. All were served Prasad from the ashram.
813 th Yoga, Pranayama and Meditation Camp (Jan 16, 2020 – Jan 25, 2020) was organized under the guidance of Pujya Sri Swami Adhyatmanandaji Maharaj. 252 students attended in spite of the bitter cold wave of the year 2020 and expressed their gratitude to Pujya Swamiji Maharaj.. On Jan 19, 2020 a special Yogic kriya session was held lead by Yoga teacher Ms. Sangeeta Thawani and helped by other yoga teachers of the Ashram in which ShankhPrakshalan, Jal Dhauti and Neti Kriya were carried out. About 72 Yoga students participated from Ahmedabad, Baroda, Bharuch and Valsad.
On Jan 26, 2020, Republic Day of India National flag was hoisted by Sri Swamiji at the Ashram Lawn Garden. Also, Upon a kind and generous invitation of H. E. Governor of Gujarat, Mr. Devvrat Acharya Pujya Swamiji Maharaj and trustee of ashram attended "AT HOME" function at Governor's House. This function is being organized to celebrate National Independence Day. A group of Srimali Brahmans of Saurashtra celebrated their annual conference. Sri Swami Ji was a guest of honor. He honored senior citizens.
15 th Patotsav of Ram-Hanuman Temple (Jan 26, 2020) - Devotees joined with great devotion in Maruti Yajan, Sri Hanuman Chalisa Parayan and Sri Sunderkand Parayan on sacred patotsav of Sri Ram Hanuman temple at Sivananda Ashram. Revered Sri Ajay Yajnikji of Delhi presided over and conducted the program. Satsang was followed by Maha Prasad.
Please join us in upcoming utsav...........
"Worship of Lord Shiva" On Mahashivratri Utsav (Feb21, 2020) - Continuous twenty four hours Worship services at Lord Vishvanath Temple. Satsang and Bhajans starting from evening and continuous through the night. You are invited to join the celebration of holy Shivaratri & worship services at Sivananda Ashram. Mahaprasad on Feb 22, 2020 .
We humbly request the devotees, who would like to stay at the ashram during the Shivaratri Utsav to inform us in advance so that it will facilitate proper arrangements for the guests. Please write email to sivananda_ashram@yahoo.com. Please visit the Guest Information page for the details and help us make your stay comfortable and memorable.
Free Acupressure Learning Shibir from Feb 15, 2020 to Feb 21, 2020
Pilgrimage to Vaishanvo Devi - Siddhabari (March 3, 2020 to March 9, 2020) : Please contact the Ashram office by e mail sivananda_ashram@yahoo.com or by Telephone # 079-26861234 Fax # 079-26862345
Concluding of Amrut Mahotsav celebrations of H. H. Sri Swami Adhyatmanandaji Maharaj (April 29, 2020 - May 3, 2020) details to follow ..............Please send us write up, article, your experiences expressing gratitude to Pujya Swamiji Maharaj if you wish, for Amrut Mahotsav Souvenir by email to sivananda_ashram@yahoo.com
Satsang & Tour of H. H. Sri Swami Adhyatmanandaji Maharaj during the Month of January 2020
Vahelal (Jan 1, 2020): Most worshipful and Revered Swamini Maa Anantananda Mataji's 75 th Birth Anniversary was celebrated with great enthusiasm which was graced and blessed by many Prominent saints and sages. Pujya Sri SwamiJi Maharaj also graced and blessed the occasion. She is known for her knowledge in Ayurvedic medicine.
On Jan 1, 2020 Sri Narayan Guru Cultural Mission, Ahmedabad celebrated its 50 th Golden Jubilee of its organization in Ahmedabad. Five days function was graced by many eminent sages, saints from Gujarat as well as Kerala. Revered Swamiji Maharaj also graced the occasion.
Anand (Jan 5, 2020): H. H. Sri Swami Madhawananda Tirthji Maharaj of Omkar Ashram's 87 th Happy Birthday festival was celebrated with Yajna, Guru Paduka Poojan and Bhandara. Revered Sri Swamiji was one of the main speakers of the occasion. On their way to Omkar Ashram, Sri Swamiji and dvotees group of the ashram paid a humble visit to Revered Sahebdada at Anoopam Mission, Mogri.
Mogri (Jan 7, 2020 – Jan 9, 2020 ): Sri Anoopam Mission, Mogri celebrated its founder's 80 th Birth Anniversary in grand way. Thousands of devotees from all over the Globe came over to greet their beloved Sri Sahebdada and to receive his divine grace. Lord Sri Swami Narayan idol was installed and pran-pratishtha ceremony was performed with grand Yajna, spectacular procession, culture program and award presentation. It was a joyous occasion for all and about two thousand mango saplings were distributed to the devotees. Revered Sri Swamiji Maharaj with group of devotees of the ashram graced the occasion.
On Jan 1, 2020 10 TH exhibition of Gold Ornaments and get together function of Gold-Merchants was inaugurated (9 th time) by H. H. Sri SwamiJi Maharaj.
Mandal(Jan 12, 2020); In honor of Revered Sri Swami Adhyatmanandaji Maharaj's 75 th Birth Anniversary year, Meghmani family of the ashram organized a grand Blood Donation and Medical camp at Mandal. 704 volunteers donated blood and a team of sixteen doctors served 1287 patients with varied medical problems namely Orthopedic, Gynec, Dental, Cardiac, Ophthalmic, and General ailments. All patients were given food, all blood donors were given token of appreciation gift package. Tree Plantation by Pujya Swamiji was done also.
In the evening, Sri Swamiji presided over 30 th Anniversary of Sri Karuna Trust. All prominent donors of the trust were honored by Sri Swamiji Maharaj.
Rojanto, Shamalaji, Ambaji Pilgrimage (Jan 14, 2020): As the sun moves on its northern region - called Uttarayan, India celebrates festivity with charity, worship of cows and pilgrimages. A group of about 100 devotees visited village Rojanto. The Cows were worshipped and Satsang by Revered Swamiji. After Rojanto, Sri Swamiji Maharaj and His big group of devotees visited Shamlaji Tirth at the hill of Dharoi Dam. After Satsang and a big lunch, everyone arrived at Ambaji Temple. Here Ayushya Homam and Sunderkand Parayan was organized followed by evening worship of the temple and dinner. By late-night,group returned to the ashram.
Gandhinagar (Jan 26, 2020): Upon a kind and generous invitation of H. E. Governor of Gujarat, Mr. Devvrat Acharya, Rev. Swami Adhyatmanandaji Maharaj and trustee of ashram attended "AT HOME" function at Governor's House. This function is being organized to celebrate National Independence Day. A group of Srimali Brahmans of Saurashtra celebrated their annual conference. Sri Swami Adhyatmanandaji Maharaj was a guest of honor. He honored senior citizens.
Ahmedabad (Jan 27, 2020 – Jan 30, 2020): Vidyamandir Tattva Tirth organized Satabhishak Utsav on 80 th Birth Anniversary of Most worshipful and Revered Sri Swami Viditatmanandaji Maharaj. Devotees had spiritual feast to received Mahatma's darshan and satsang for three days. Revered Swami Adhyatmanandaji Maharaj graced all the programs. All saints and guests were hosted at Sivananda Ashram, Ahmedabad.
Om Shanti!
Latest Additions.........

Please subscribe to Divyajivan Mailing List. We will update you with new uploads of spiritual literature on the web of Holy Master Sri Swami Sivanandaji Maharaj, saints of his lineage and other saints. We will also update you about the Sivananda Ashram, Ahmedabad website and facilitate communication with Sri Swami Adhyatmanandaji Maharaj.

Please enter your email address and click Subscribe button
To manage your subscription, please visit Subscription Page. You can also subscribe and unsubscribe from this page. You may unsubscribe by yourself anytime you wish. You will be required to send confirmation link that you will get in your e-mail to complete this subscription.

[ Home ] [ News ] [ Upcoming Events ] [ What's New? ] [ Services ] [ Swami Adhyatmananda ] [ Multimedia ] [ Publications ] [ Administration ] [ Saints and Sages ] [ Photo Gallery ] [ Contact ] [ Guestbook ] [ Important Links ] Webmaster: webmaster@divyajivan.org