News Report for the Month of July 2020
Sivananda Ashram, Ahmedabad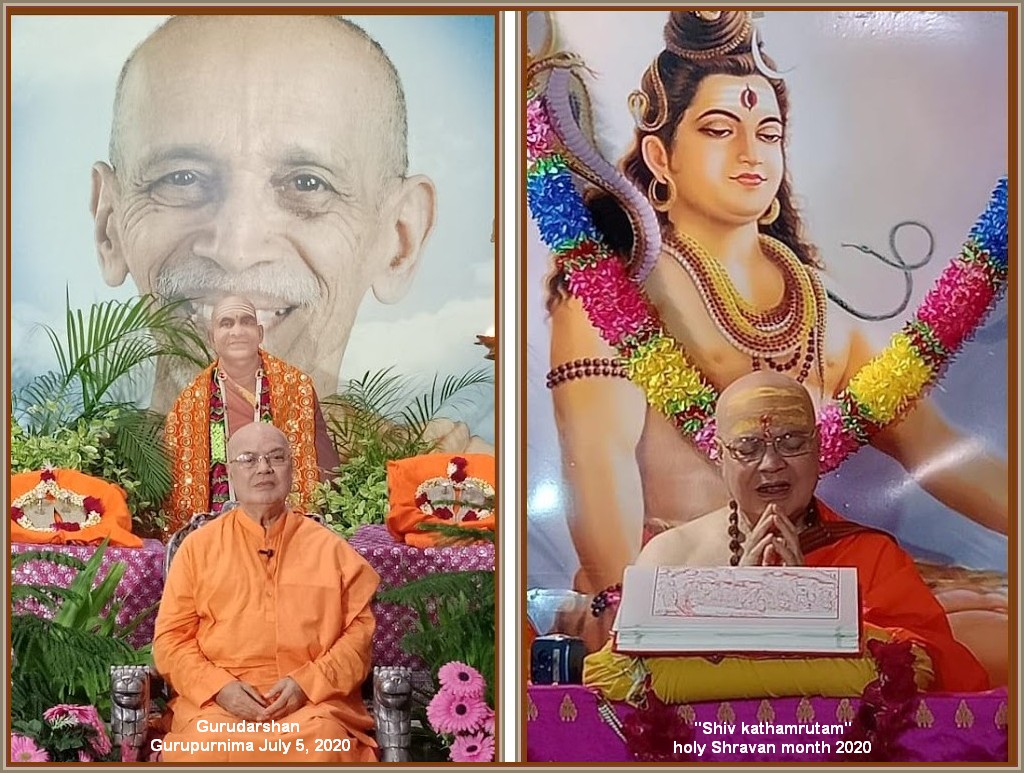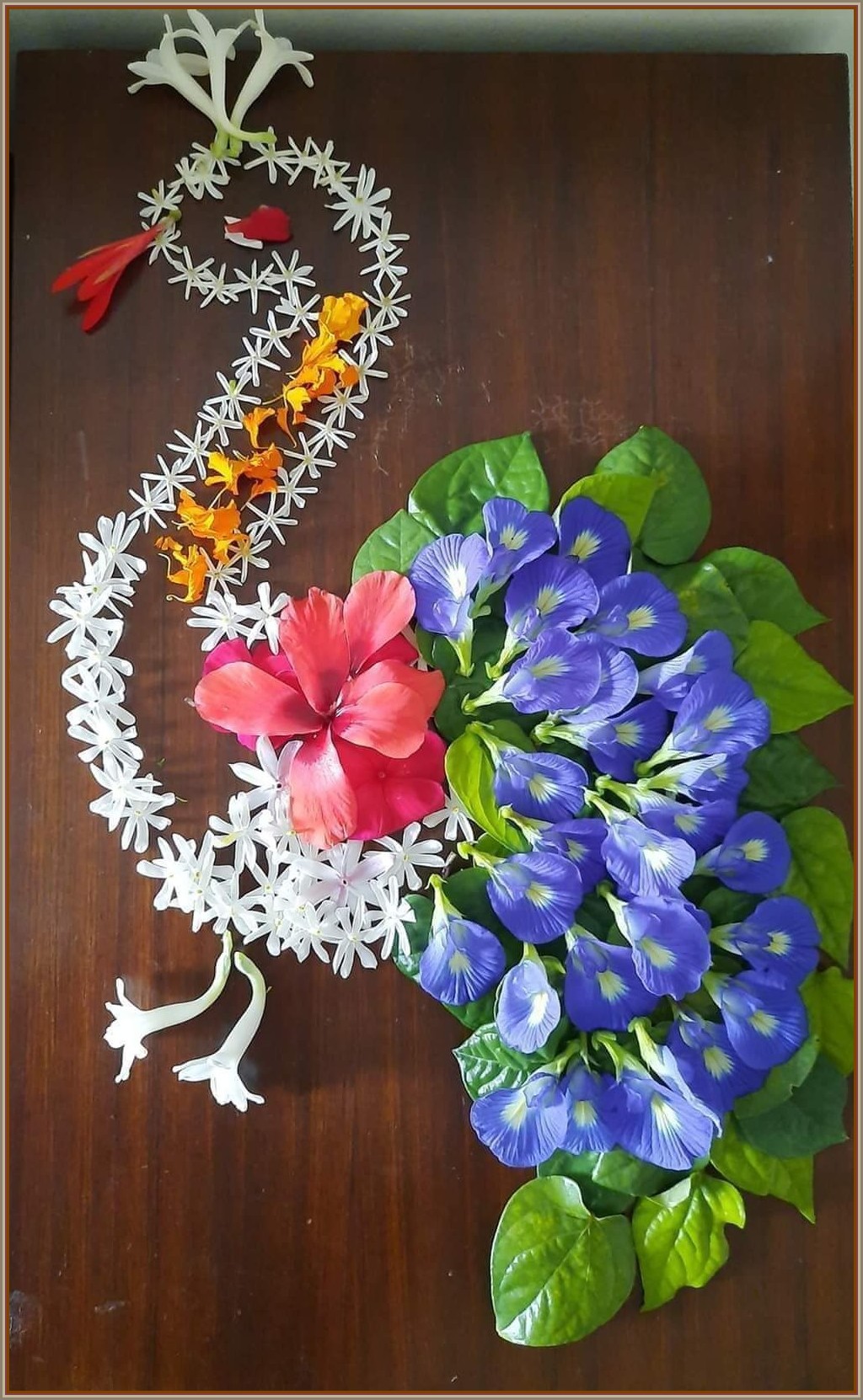 Sacred Gurupurnima Celebrations (July 5, 2020): Under the Covid Pandemic restriction, still all the regular activities Spiritual & Yoga Ashram are still closed but we had observed solemnly sacred Gurupurnima celebration on July 5, 2020. It commenced at early morning in Brahma Muhurta with Prayer & Meditation. In the forenoon holy Guru Paduka poojan was performed by inmates of the ashram. In the evening live online Satsang was organized at Sri Chidananda Dhyan Mandir, from 5.30 pm to 7.00 pm and it was attended by only inmates & members of the Board of Management at the ashram but, devotees from far & wide attended on line. The program commenced with Jai Ganesh Prayer, Guru Stotra, Sri Suktam and Devotional vocal singing in the glory of Sri Gurudev by Mrs. Upali Dash & Mrs. Mayurika Oza. Worshipful Revered Sri Swami Adhyatmanandaji Maharaj conducted guided meditation brought peace breeze to all in present situation of Covid crisis. Smt. Rupa Manish Majmudar shared her gratitude sentiments for Gurudev. Revered Sri Swami ji Maharaj enlightened devotees on the subject of "Guru Tattva" and He shared his sweet memories with Gurudev Sri Swami Chidanandaji Maharaj. Satsang concluded with peace chant.
On July 8, 2020, Daridra Narayan Seva was organized in the afternoon at village of Vichhia, 32 Kilo Meter far from the ashram, it is a habitation of Snake Charmer families. To 150 families one month groceries and Potatoes were distributed with the help of an efficient team of ashram's yoga teachers.
On July 13, 2020,
57th holy MahaSamadhi/Aradhana day of most Worshipful & Revered Holy Master Sri Swami Sivanandaji Maharaj
was observed with satsang,
prayers & Paduka Poojan
at the ashram. Sri Marut Dave, vice president of DJSS Sivananda Ashram, shared his gratitude to Gurudev Sri SwamiSivanandaji Maharaj.
Shiv Katha by H.H Sri Swami Adhyatmanandaji Maharaj during Shravan Month (July 21, 2020 - Aug 18, 2020): Ashram's air is filled with peaceful and divine breez from Shiv Kathamrutam in the midst of COVID crisis. It is organized by Sivananda Ashram Parivar in collaboration with Amadavadtak TV media during the Holy Shravan Month. It has commenced on July 21, 2020 and will conclude on Aug 18, 2020. Even though there is not a usual devotees crowd attending live satsang at the Ashram, hundreds of devotees are watching, listening to Shiv kathamrutam on line sitting at their own home in the present fearful crisis of the COVID Pandemic! It is a blessing indeed!
And Ashram's Vishvanatha Mahadev temple Prahar Puja, archana, Rudrabhishek and special Pooja, Bilva Patras Archna all are going on by Ashram's priest.
Also, Ashram provide services for Devotees wishing to request puja and the Priest will perform on their behalf...... Your humble offerings for the services will be appreciated. Your support & donation are used for Ashram's seva projects.You can send emailSivananda Ashram <sivananda_ashram@yahoo.com> or contact Ashram on phone # Telephone # 079-26861234 Fax # 079-26862345
Twelve Jyotirling Shiv Temple @ Sivananda Ashram : Devotees are inquiring and dropping in cautiously for Shiva Pooja on Monday throughout the month of Shravan So, ashram administration have decided to have side by Twelve Jyotirling Shiv Temple at ashram premises. So, people can perform Puja, Archana, Aarti & receive the blessings of the Lord.
Your valuable contribution may please be donated by a check /draft drawn in favor of "Gujarat Divya Jivan Sangh" and mail to our office at Gujarat Divya Jivan Sangh, Sivananda Ashram, Jodhpur Tekra, Ahmedabad 380015.

We promote digital payment and you can also directly remit your donation by RTGS/NEFT in our bank account as follows. (The donation to the ashram is exempted under Sec.80 G of IT Act.)

Beneficiary Name: "Gujarat Divya Jivan Sangh"

Bank Name: Bank of Baroda.

Branch name: BODAKDEV- Ahmedabad.

Account Number: 03410100003337

IFSC Code: BARB0BODAKD (5th character is "Zero")

Please do let us know by email or phone when you remit the fund towards your donation in the captioned account. Donations from outside India is also accepted:

Please note that we also accept a donation for the noble cause from countries outside India through the banking channel.For remitting donation directly in Banks's account with Axis Bank, the details are as under.

For USA Residents:

Account Name: "Shri Divya Jivan Sanskrutik Sangh"

Account Number:10795855 / Bank Routing Number: 075901341 /Bank Name : Waukesh State Bank

(DJSS is registered as non-profit in USA Federal Tax id 06-1780159) DJSS USA is Section 501(c)(3) organization.

Residents of countries other than the USA:

Beneficiary Account name "Shri Divya Jivan Sanskrutik Sangh" Bank's Name and Branch: Axis bank-Vastrapur Branch. Bank Account No: "032010100003174" Bank's Swift Code: "AXISINBB032" (Please do let us know by mail or phone when you remit donation in the captioned account.)

You can also send donations from foreign countries by check/draft drawn in favor of Axis Bank a/c "Shri Divya Jivan Sanskrutik Sangh" and send at the captioned address.

Please feel free to contact us through email or contact directly Shri Vijay Jajal: Phone # +91 937 6105 554.
Ashram Parivar, a regular inmates of the Ashram were Tested for COVID. The health team including doctors from Government's health department visited ashram on Ashram's request. 47 People were checked and tested negative for COVID 19.
Temples, Yoga Classes, Reiki Classes are closed since mid-March, but it may be reopen in mid-August ?
Om Shanti !
Latest Additions.........

Please subscribe to Divyajivan Mailing List. We will update you with new uploads of spiritual literature on the web of Holy Master Sri Swami Sivanandaji Maharaj, saints of his lineage and other saints. We will also update you about the Sivananda Ashram, Ahmedabad website and facilitate communication with Sri Swami Adhyatmanandaji Maharaj.

Please enter your email address and click Subscribe button
To manage your subscription, please visit Subscription Page. You can also subscribe and unsubscribe from this page. You may unsubscribe by yourself anytime you wish. You will be required to send confirmation link that you will get in your e-mail to complete this subscription.

[ Home ] [ News ] [ Upcoming Events ] [ What's New? ] [ Services ] [ Swami Adhyatmananda ] [ Multimedia ] [ Publications ] [ Administration ] [ Saints and Sages ] [ Photo Gallery ] [ Contact ] [ Guestbook ] [ Important Links ] Webmaster: webmaster@divyajivan.org