News Report for the Month of November 2020
Sivananda Ashram, Ahmedabad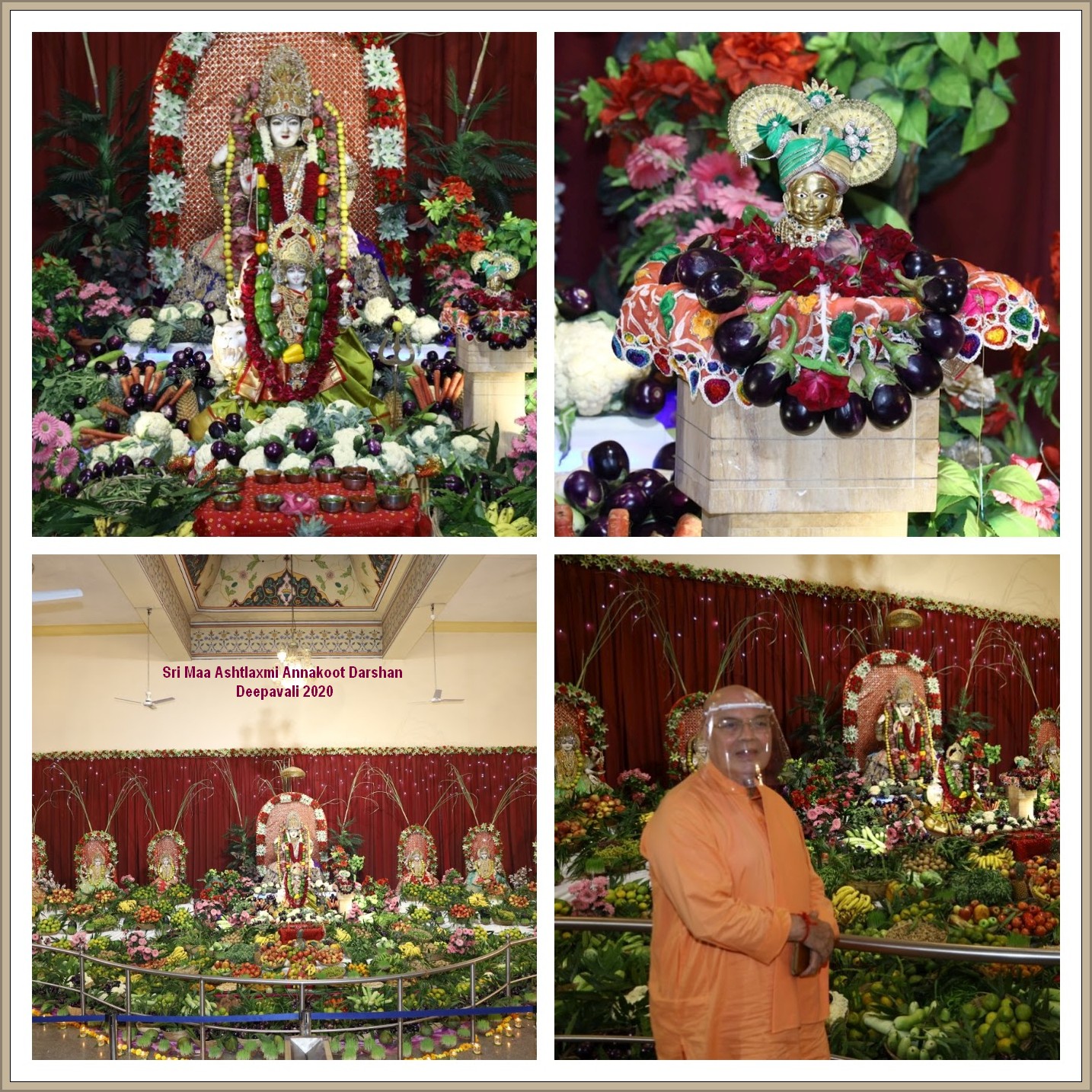 Deepavali Celebrations at the Ashram : As always, it was a ""Bhavya Annakut of Maa Ashtalaxmi for special Shakambhari pujan this year which included offering of all kind of vegetables and fruits. You name it any and we had it from vegetable and fruit Kingdom, the normal, exotic and, rare ones too. Because of Covid restrictions, we didn't have a regular flow of devotees at the Ashram, but countless devotees offered their share and felt fortunate to get an opportunity to be a part of this Grand Annakut offering to Maa Asthalaxmi. And the joy was to distribute the Prasad of Annakut offering to the needy families the next day on the New Year day, a real Deepavali celebrations.
On Nov 13, 2020 a special Pooja was organized in the ashram on the auspicious day Dhanteras. Under the Covid restrictions, very few families could join the group Pujan this year.
Sri Yantra Pooja and Abhishek were performed by Sri Swami Adhyatmanandaji Maharaj, Sri Swami Kamalanandaji Maharaj, and SriSwami Narayanandaji Maharaj.
0n Nov 14, 2020 for the occasion of Diwali, big Shakeshwari – Shakambhari Pooja was organized. Considering Corona time, sweets and snacks were avoided and vegetables, fruits, and dry fruits were arranged as a Naivedya. 7000 kgs. of vegetables and fruits were distributed to 813 needy families living in the slum area, on the next day of New Year. All types of vegetables like potato, tomato, brinjal, beans, carrot, cabbage, cauliflower, beans, and much more were part of the Naivedya and Narayana Seva. And fruits include orange, banana, papaya, dragon fruit, apple, pineapple, watermelon, Chiku, coconut, kiw ietc.
Almond, cashew,kismis, pista were amongst the dry fruits. Cooked food like Dudhpak, Mohanthal, Halva, Laddu, rice – dal and vegetables of lady fingers, brinjal, dragon fruit, tomatoes, etc were part of the Prashad.
Chikki, chocolate, biscuit, grams, etc children's favorites were also included. Narayana Seva. Devotees of the ashram and Yoga teachers prepared 813 food packets with 5 kgs. Vegetables, 3.5kgs. fruits and other items liked by the children, till 2 am. These packets were distributed to the families living in the outskirts of the city and slumareas on the next day morning. 813 families of these areas were provided with food packets as Narayana Seva: Vinchhia – 125,Rethal – 35, Gibpura – 53, Telav – 59, Shela – 350, Bopal – 50, Bodakdev – 100and Thaltej – 41.
On Nov15, 2020: Numerous devotees, turn by turn, visited Sri Sri Sri Ashtalaxmi Bhavan –Sri Adi Shakti Peeth from early in the morning till late night. This flow continued on Nov 6, 2020, also. Shivananda Literature books like How to get peace of mind?, Human Touch, Points to remember before starting Yoga and In Tune with Infinite were distributed to devotees by Sri Kamalanandaji Maharaj and, Sri Narayananandji Maharaj.
On Nov 22, 2020 happened to be 19th Maha Samadhi Day of Param Bhagvatiya, Pujya Sri Brahmalin Srimat Swami Sri Krishnanandaji. Pujya Sri Swami Adhyatmanandaji Maharaj shared thoughts of Sri Swami Krishnanandaji Maharaj's Life incidences and enlightened the devotees through on line satsang.
On Nov 30, 2020 Tulsi Vivah on Dev Diwali and Kartik Purnima was performed at the Ashram.
Narayana Seva to the needy families is a regular seva carried out through Ashram for the last many years on 8th of each month in which 150-160 families are given 5 kgs. of rice, 2 kgs. of Toor dal, 2 kgs. potatoes, 1 ltr. of edible oil to the families living within a radius of 40 km from Ashram. Approximately Rs.80,000-90,000 are spent on this seva. Ashram is thankful to the generous donation Rs. 97,100 from Balsara family of London and Rs. 51,000 from the Kapoor family of Ahmedabad for this month Narayan Seva.
Ashram make humble request to the devotees of the Lord to join to this noble activity by check to 'Divya Jivan SanskrutikSangh'. Donation given to Divya Jivan Sanskrutik Sangh is exempted u/s. 80 G ofIncome Tax Act. b l
Latest Additions.........

Please subscribe to Divyajivan Mailing List. We will update you with new uploads of spiritual literature on the web of Holy Master Sri Swami Sivanandaji Maharaj, saints of his lineage and other saints. We will also update you about the Sivananda Ashram, Ahmedabad website and facilitate communication with Sri Swami Adhyatmanandaji Maharaj.

Please enter your email address and click Subscribe button
To manage your subscription, please visit Subscription Page. You can also subscribe and unsubscribe from this page. You may unsubscribe by yourself anytime you wish. You will be required to send confirmation link that you will get in your e-mail to complete this subscription.

[ Home ] [ News ] [ Upcoming Events ] [ What's New? ] [ Services ] [ Swami Adhyatmananda ] [ Multimedia ] [ Publications ] [ Administration ] [ Saints and Sages ] [ Photo Gallery ] [ Contact ] [ Guestbook ] [ Important Links ] Webmaster: webmaster@divyajivan.org