News Report for the Month of April 2020
Sivananda Ashram, Ahmedabad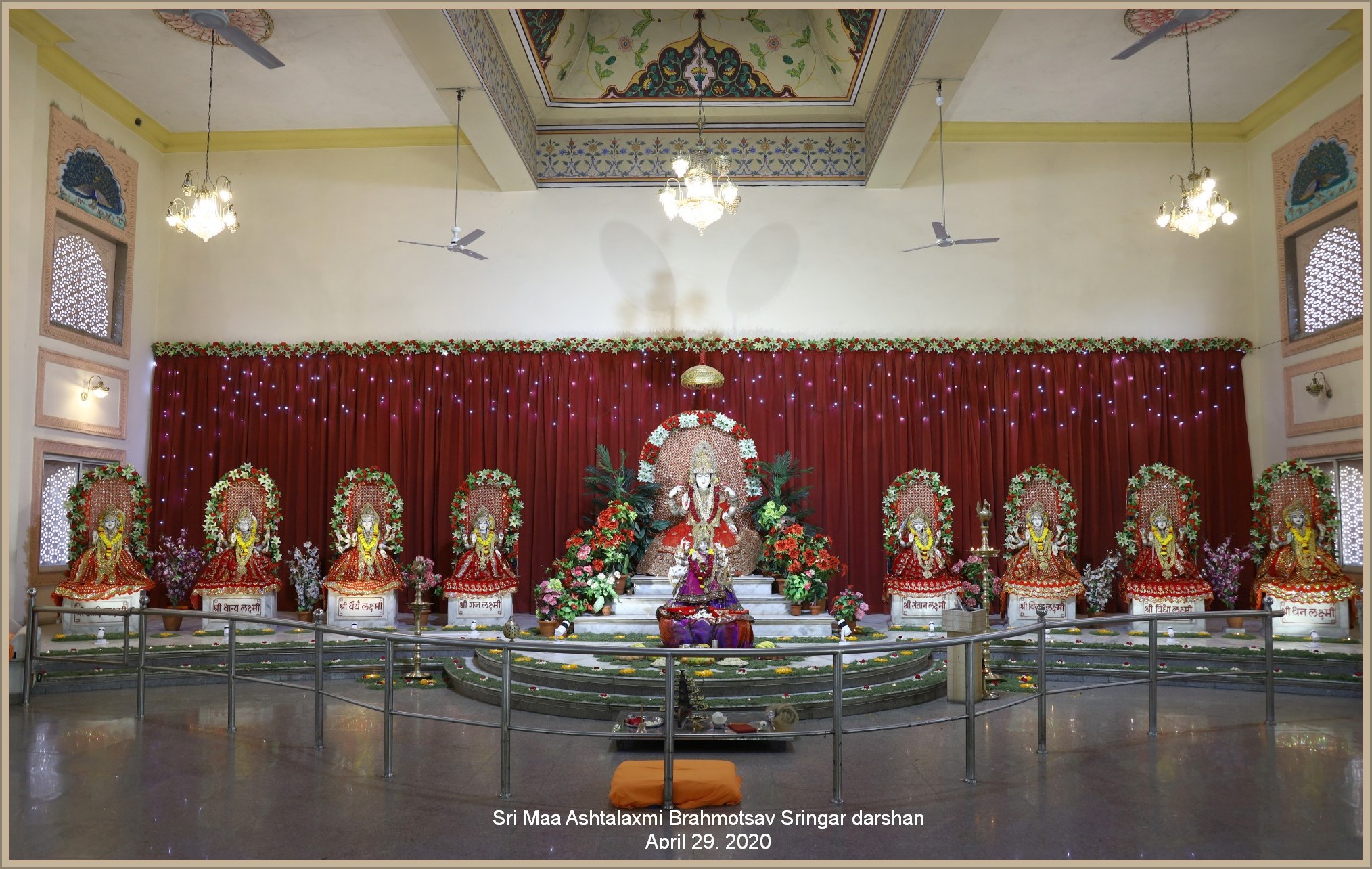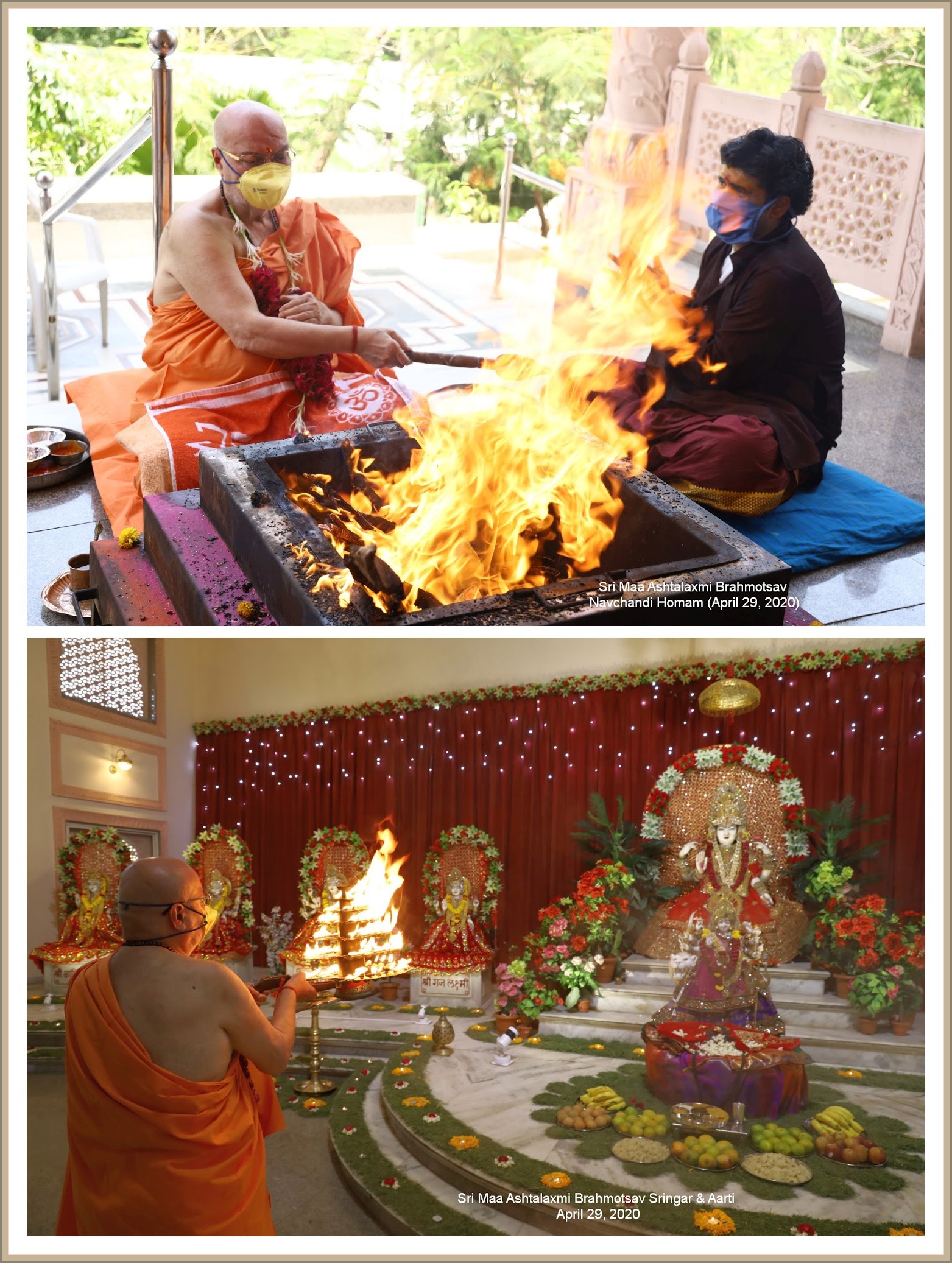 "WILL Power Wins ALL Powers"- Swami Adhyatmananda. How powerful and inspiring these words are at the present time of Gobal COVID -19 Crisis!

All the worship services at all the Ashram Shrines are performed by the Ashram priest daily and on special occasions. Ashram Parivar (inmates) are engaged in regular Ashram activities, night Satsang, Covid-19 relief efforts, providing food to Doctors & health care workers, who have come from out of town and serving the sick on daily bases under the guidance of Pujya Swami Adhyatmanandaji Maharaj.
Chaitra Navaratri (April 1, 2020): April 1 st was Ashtami, the eighth day of holy Navaratri of Chaitra Shukla Paksha, special worship was offered to Sri Sri Sri Ashta Lakshmi Bhavan of Sivananda Ashram, Ahmedabad. Sri Durgasaptasati Parayan is regular worship at the Temple.

Sri Ramnavami Worship (April 2, 2020): Sri Ramcharit Manas's Nawahna Parayan was concluded early morning. In the forenoon of Sri Ram Navami (Happy Incarnation day of Sri Lord Ram) was celebrated with special worship and holy Yajana (Homam), fire worship at Sri Ram Temple of the Ashram. Temple priest with Sri Swami Narayananandaji Maharaj of Sivananda order and inmate of Sivananda Ashram, Ahmedabad, lead the Homam. After special Poojan, Archana & Arati, Prasad was distributed to Ashram Parivar during the lunch hours. with all precautions of social distance/isolation maintained at the ashram.

On April 8, 2020 Sri Hanuman Jayanti was celebrated at Sri Ram Hanuman temple of the Ashram. Special worship and Archana offered, which followed Sri Maruti Yajana and prasad was distributed during lunch.

On April 13, 2020, happened to be 75 th Birth anniversary day of H. H. Sri Swami Adhyatmanandaji Maharaj, as per Hindu calendar, the sixth day of half-dark of Chaitra (Chaitra Krushna Shasti). Pujya Swamiji offered special worship at Sri Vishwanath Temple in the morning from 5 am to 6.30 am and at Sri Sri Sri Ashta Lakshmi Bhawan from 7 am to 8.30 am, which followed Aayushya Homam up to 10.45 am by Pujya Swamiji and Ashram Priest only. No other ashram inmates could join because of COVID -19 restriction. Pujya Sri Swamiji Maharaj very generously gave charity to Swamijis, Sevaks of the ashram and Leprosy Colony in Banars Kantha district, where about 1300 inmates are staying, including mentally retarded children. A special mid-day meal was served to Ashram's Parivar.

On April 25, 2020, happened to be 98 th Birth anniversary of Brahmleen H. H. Sri Swami Krishnanandaji Maharaj. He served as an Acharya & General Secretary of the H. Q. of the Divine Life Society. Pujya Sri Swami Adhyatmanandaji Maharaj spoke about his reminiscence with His Holiness Swami Krishnanandaji Maharaj during the night Satsang with Ashram Parivar.

On April 26, 2020, a special worship was organized being Akshya Trutiya sacred day as per Hindu calendar in the month of Vaishakh.

On April 29, 2020, Sri Brahmotsav of Sri Sri Ashta Lakshmi Adishakti Peeth was celebrated with all traditional rituals and Navchandi Homam. Pujya Sri Swami Adhyatmanandaji Maharaj performed Maha Aarti and Poojas of Sri Yantra at the holy altar of lotus Sri Yantra seat. Because of lockdown and curfew, devotees could not join at the ashram and Bhandara was not organized, also.
On April 30, 2020, Holy Ganga Saptami believed to be descending of river Ganges on the earth planet, was ceremoniously celebrated at Ashram's holy Sri Vishwanath Temple.

Special Note
Ashram has started relief efforts in the distribution of food packages to about 3100 needy families in the underprivileged area of the town. It can serve them about 10 days of groceries. Also, each food package contains Pou-roti, a pouch of Milk, bananas, cooking spices, potatoes, onions, grains & oil pouch, etc...These services to the needy will continue, as long as it is essential.
Upon the request of Municipal Commissioner of Ahmedabad city, group of Doctors & Paramedical staff, who came from out of town and serving the sick patients the people, the ashram has provided lodging & boarding with great love and sincere feeling of service to the Nation.
All Yoga classes, as well as Reiki Classes, remain closed during the month. Yoga teacher, Ms. Sangeeta Thawani conducted online yoga classes.
Also, the planned upcoming Satsang programs, Yoga camp, and scheduled Mangal Utsav celebrations of H. H. Sri Swami Adhyatmanandaji's Amrut Mahotsav from April 13, 2020, to May 31, 2020, all are canceled.
46 th YTTC ( May 11, 2020 - May 30, 2020) has been canceled.
Upcoming Satsang Programs.
If God permits, we will have.........
Chariot Festival (Rath Yatra Utsav) will be on June 23, 2020
Guru Purnima Satsang will be on July 5, 2020, and on July 14, 2020, 57 th holy Aaradhana day Satsang of H.H. Gurudev Sri Swami Sivanandaji Maharaj.
OM Shanti!
Latest Additions.........

Please subscribe to Divyajivan Mailing List. We will update you with new uploads of spiritual literature on the web of Holy Master Sri Swami Sivanandaji Maharaj, saints of his lineage and other saints. We will also update you about the Sivananda Ashram, Ahmedabad website and facilitate communication with Sri Swami Adhyatmanandaji Maharaj.

Please enter your email address and click Subscribe button
To manage your subscription, please visit Subscription Page. You can also subscribe and unsubscribe from this page. You may unsubscribe by yourself anytime you wish. You will be required to send confirmation link that you will get in your e-mail to complete this subscription.

[ Home ] [ News ] [ Upcoming Events ] [ What's New? ] [ Services ] [ Swami Adhyatmananda ] [ Multimedia ] [ Publications ] [ Administration ] [ Saints and Sages ] [ Photo Gallery ] [ Contact ] [ Guestbook ] [ Important Links ] Webmaster: webmaster@divyajivan.org