News Report for the Month of September 2020
Sivananda Ashram, Ahmedabad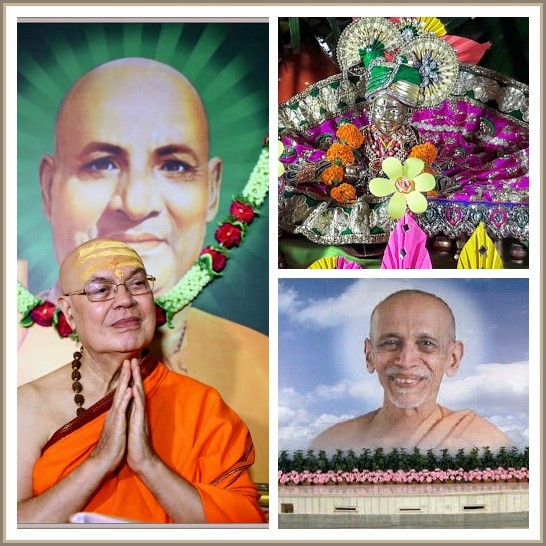 Janmashtami Celebration (Aug 12, 2020): Lord Sri Krishna's Prakatya Ustav was celebrated at Sri Ashta Lakshmi Adi Shakti Peeth and devotees attended on line. Live Bhakti Sangeet by Dr. Sri Vasavdaji's Gunjan hatkesh group added a special fervor, as always. Just before Sri Lalaji's Pragtya at midnight, Pujya Swamiji's soul-stirring kirtan "Aa Gaya Bansiwala" & "Suswagatam Krishna" touched the hearts of one and all who attended the Satsang. That followed maha aarti, midnight meditation by Swamiji with the small group of devotees in Sri Ashtalaxmi Bhavan. BAL KRISHNA adored in the decorated cradle. Devotees felt blessed with the beautiful darshan of Sri Lalaji Maharaj.
74th Independence day celebrations (Aug 15, 2020): Independence day was graciously celebrated at Sivananda Ashram, Ahmedabad with a small group of people attended live. Flag hoisting was done at 6.45 am. by Pujya Swamiji and people at large attended on line. After the national anthem and patriotic songs, Revered Swamiji gave a patriotic speech. In his speech, Swamiji remembered all who fought & gave scarifies for our Nation's freedom, starting from 320 B.C. King Puru, King Chandra Gupta Maurya, His mentor scholar Chanakya, then Maharana Pratap, Chhatrapati Shivaji, Rani Laxmibai of Jhansi, and finally just in last century, Shahid Bhagat Singh, Guru Govind Singh and father of the nation Mahatma Gandhiji. He continued, "they lived, they breathed, they fought and survived only for the freedom of India from Mogal kingdom and British ruling. We should be loyal & faithful to our nation. Never say that I am from Gujarat, Maharashtra or Bengal. Always feel and proclaim that I am a proud Indian. It was a great struggle of Sri Sardar Vallabhbhai Patel to unite India. A century before, Chanakya, Puru, and Chandra Gupta also dedicated their lives for the mission to Unite India. Talking about our National flag colors and what it represent Swamiji said that the top is orange (color of renunciation ), the middle one is white (color for peace, harmony, mutual love, and harmony ), and below is green asking for protection of ecology. Plant trees. Save Woods, rivers, mountains and keep as well preserve the beautiful world for the forthcoming generations."
At present, COVID-19 pandemic has caused the disruption in the lives of people. It is a Global Crisis. Each one of us has a duty to perform. Stay home, Stay Safe! Wear a mask, play your part in the whole to prevent the spread of the virus. Pray for all Doctors, paramedical staff, police, army, Ministers, Municipal personals and a team of our nation Prime Minister of India and all those who are fighting like warriors against Corona to protect the nation.
"May God bless you all! May God bless India! Vande Mataram. Jai Hind."
After five months of COVID-19 lockdown, the ashram has opened temple Darshan for the community. Visitors are permitted to enter the ashram with all the precautions with wearing MASK, maintaining an essential social distance, and ashram's volunteers are checking the temperature, everyone, before entering and use hand sanitizer, etc. NO PRASAD or crowd permitted during Aarti. Regular Yoga classes are still not yet started.
Pujya Swami Adhyatmanandaji Maharaj's daily Satsang & Spiritual discourses are going on through Sivananda Ashram in collaboration with Amadavadtak facebook TV media. Thanks to Sri Harshendubhai Oza for this service for the benefits of devotees.
"Shiv Katha" by H. H Sri Swami Adhyatmanandaji Maharaj during Shravan Month (July 21, 2020 - Aug 18, 2020) is concluded and now "Upanishad Amrutam" has commenced on "Kathopnishad" from Aug 23, 2020. Even though there is not usual devotees crowd attending live Satsang at the Ashram, hundreds of devotees are watching, listening online sitting at their own home in the present crisis of the COVID Pandemic! It is a blessing indeed! Please find the link to facebook page
Project Manav Seva - Narayan Seva to poor & needy families through Ashram in the form of Grocery distribution
at the outskirts of the city at the distance of 40 kms. A packages containing 5 kgs rice, 3 kgs lentiles, 2 kgs Potatoes and edible oil, spices, to expenses of about Rs.75000 were distributed as humble seva in the name of Gurudev Sri Swami Sivanandaji Maharaj. Thanks to the ashram's Yoga teachers team lead by Miss Sangeeta Thawani for their selfless services.
The continuation of such comprehensive programs has been possible only because of the unstinting devotion and generous financial assistance provided by selfless devotees of the Lord. Refer for the details...........also please feel free to contact us through email sivananda_ashram@yahoo.com or contact directly Shri Vijay Jajal: Phone # +91 937 6105 554.
OM Shanti
Latest Additions.........

Please subscribe to Divyajivan Mailing List. We will update you with new uploads of spiritual literature on the web of Holy Master Sri Swami Sivanandaji Maharaj, saints of his lineage and other saints. We will also update you about the Sivananda Ashram, Ahmedabad website and facilitate communication with Sri Swami Adhyatmanandaji Maharaj.

Please enter your email address and click Subscribe button
To manage your subscription, please visit Subscription Page. You can also subscribe and unsubscribe from this page. You may unsubscribe by yourself anytime you wish. You will be required to send confirmation link that you will get in your e-mail to complete this subscription.

[ Home ] [ News ] [ Upcoming Events ] [ What's New? ] [ Services ] [ Swami Adhyatmananda ] [ Multimedia ] [ Publications ] [ Administration ] [ Saints and Sages ] [ Photo Gallery ] [ Contact ] [ Guestbook ] [ Important Links ] Webmaster: webmaster@divyajivan.org