News Report for the Month of February 2020
Sivananda Ashram, Ahmedabad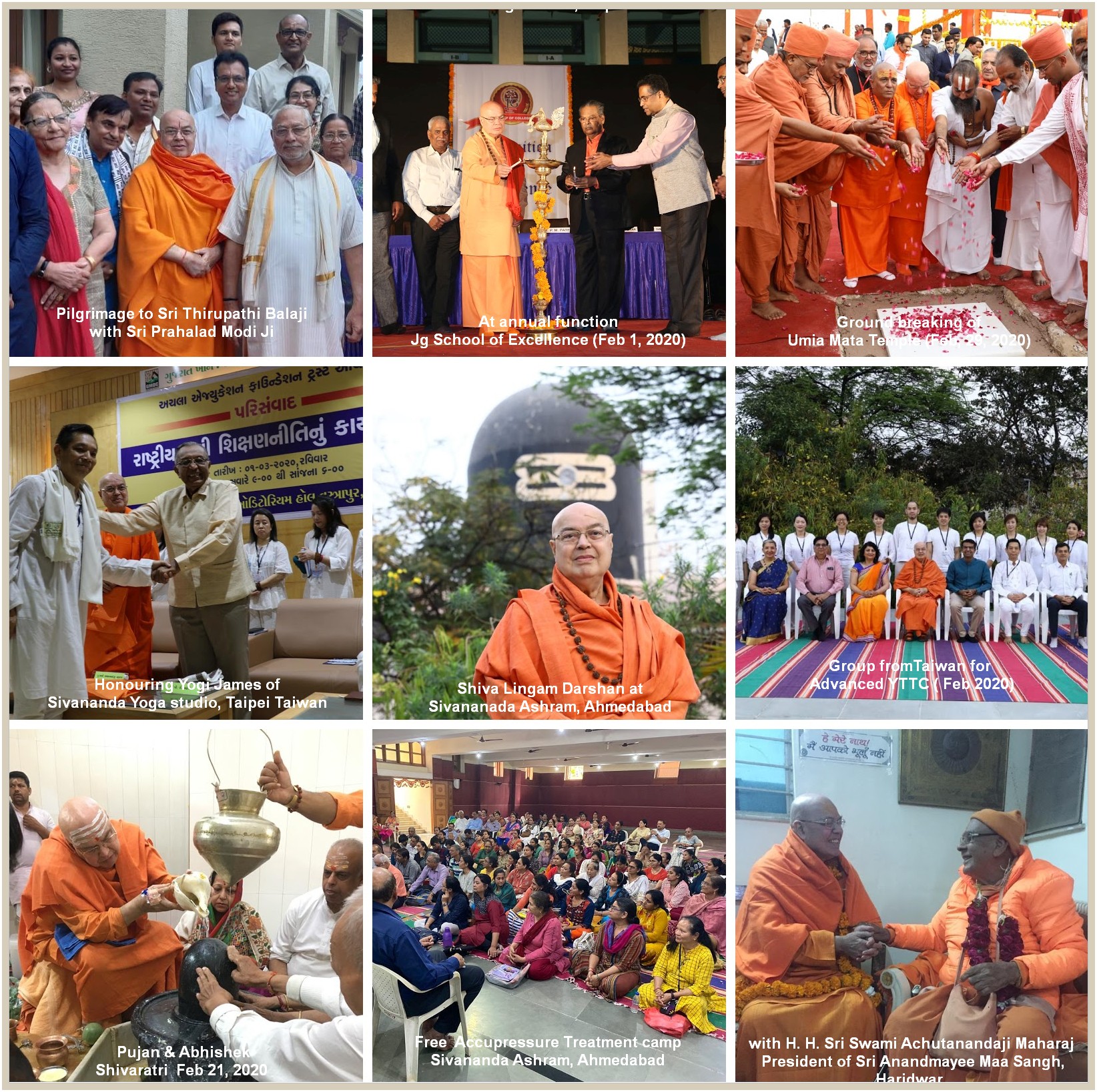 All the activities of the ashram, mainly Spiritual, Yoga and Seva projects are based on the ideals and teachings of Holy Master Sri Swami Sivanandaji Maharaj. Daily worship services at Lord Vishvanath Temple and at Sri Sri Maa Ashtalakshmi Bhavan create Divine vibrations at the Ashram. Prayers & Meditation at Sri Chidananda Dhyan Mandir bring peace & joy to countless Sadhakas. Daily Evening Satsang (9 pm - 9.45pm), Sunday satsang (8.30 am -10.00 am) and 'Paduka Pujan' on Thursday, Satyanarayan Puja on Purnima day, Gayatri Yajana on first Sunday, Lalita Shashra Nama & Yoga activities: all these have made Sivananda Ashram, Ahmedabad a pilgrimage place (Yatra Dham).
Advanced Yoga Teachers Training Course (Feb 11, 2020, to March 4, 2020): Respected Yogi James Lo, President of Yoga and Sports Federation of Taiwan and founder President of Sivananda Yoga Studio, Taipei, Taiwan visited the ashram with 13 of his Yoga students. They came for Advanced Yoga Teachers Training Course affiliated with Gujarat University. This capsule course is of 20 days and 220 hrs. Upon their request, ashram organized the presence of Yoga Teacher Yogi Sri Sunil from the BKS Iyengar' group.
Other than Yogasan, they learned pranayama, Kriyas, Mudras, Bandhas, Tratak, Yoga Nidra and Shankh Prakshalan Kriya. They also learned Anatomy from Dr. Ashok Nirwan, Sanskrit from Scholar Dr. Mihir Upadhyay, Ayurveda from Vaidya Bhavdeep Ganatra, Reiki ( Science of Natural Healing ) from Reiki Grand Master Mrs. Rupa Majmudar and Yoga Philosophy and Psychology from Ms.Sangeeta Thawani. Rev. Sri Swami Adhyatmanandaji Maharaj shared the knowledge of Bhagwad Geeta and Patanjali Yoga Sutras.
Maha Shankh Prakshalan with Kunjal and Neti Kriya was conducted on Sunday, Feb 23, 2020. Revered Swamiji conducted a special class of Yoga Nidra and Tratak Kriya. The course will continue till on March 4, 2020.
5th Free Acupressure Treatment and training camp (Feb 15, 2020 - Feb 21, 2020): It was organized at Sivananda Ashram with the courtesy of Sri Jay Bhagwan Trust of Mumbai. Sri Guruji and eight disciples camped in Ashram and with the help of other local disciples of Sri Guruji conducted the camp. The camp was inaugurated by Sri Swami Adhyatmanandaji Maharaj and concluded by Sri Swami Kamalanandaji Maharaj of Sivananda Ashram. 1372 patients received free treatment and 132 people were trained for this very useful selfless service. On Tuesday, Thursday and Saturday, regular free treatment is given at the ashram and a large number of ailing people are treated for various physical problems. Sri Pancholi Mama of the ashram coordinated the entire program.
Shivaratri Utsav at Ashram (Feb 21, 2020): Sivananda Ashram, Ahmedabad celebrated sacred Shivratri utsav with great enthusiasm and devotion. Vedik Hymns and chants of "OM Namah Shivaya" filled the air with Divine vibrations. Holy Shri Vishwanath Temple was agog with worship of Lord Shiva. Pujya Swami Adhyatmanandaji Maharaj offered a first pooja & Abhishek at 3.45 am. It started with Shodshopachar Pujan at 3.45 am and continued until the next day 4.00 am at the Temple. Continuous flow of devotees came to the Lord Vishvanath Temple to pray and seek the blessings of Lord Shiva – who is considered Ashutosh. The Siva Lingam was worshipped by washing it with milk, curd, honey and rose water as the chants of Vedic Hymns, Namakam, Chamakam, Rudram, Ashtadhyaayi Rudra, Purushasuktam in praise of Lord Shiva. Shiva Lingam was adorned with special Shringar, Bilva leaves. Bilva leaves are believed to be very sacred and considered the best offering to Lord Shiva.
In the evening, Devotees in large numbers sat in front of the temple in grandly decorated Pandal. Bhakti Sangeet (Devotional Songs) in praise of the Lord started by outstanding singers namely Smt. Dr. Monica Shah with her 80 students of Aradhana School from 5 pm to 7 pm and Dr. Vasavda with his Hatkesh Swar Gunjan group up to 10 pm, that followed Pandit Sri Nirajchandra Parikh and Ami Devi's singing that brought a special fervor to already charged atmosphere. Holy Mrutyunjay Mantra chanting was continued for four hours from midnight 12 am till 4.00 am. Thanks to Smt. Mayurika Oza, Smt. Rupa and Sri Manish Majmudar coordinated this seva. At 4.00 am there was a grand Arati and Prasad was distributed by Sri Swami Narayananandaji. At midday of Feb 22, 2020 over 500 devotees took Maha Prasad breaking their Shivaratri fast.
Pilgrimage to Tirupathi Balaji (Feb 24, 2020 - Feb 25, 2020): As a part Pujya Swamiji's Amrut Mahotsav celebration a few devotees of the ashram went for pilgrimage to Sri Sri Sri Tirumala Tirupati Balaji Darshan on Feb 25, 2020 at early dawn. They feel blessed to have a wonderful darshan of the LORD. At Tirupati Airport, a very warm welcome was accorded to Revered Sri Swamiji and his entire team. Also, warm reception to Tirupati town, Media's interview at the Tirumala mountains, accommodation, Darshan of the Lord Sri Tirupathi Balaji, prasad and more......everything was great with Divine Grace. This entire tour was organized by Respected Prahlad Modi, younger brother of Sri Narendra Modi, P. M. of India. The entire Devotee group returned back to the ashram in the late evening on Feb 25, 2020.

Satsang & Tour of H. H. Sri Swami Adhyatmanandaji Maharaj During the Month of February 2020
Uvarsad, Ahmedavbad (Feb 1, 2020): Pujya Sri Swami Adhyatmanandaji Maharaj was offered graciously the membership for the Board of the Directors of famous J. G. Schools of Excellence. Now, it is J G University, having twenty-one colleges and serving 10,000 students. On February 1, 2020, Swamiji was invited as a Chief Guest of their annual function at the university. Revered Swamiji inspired the youth with his words of wisdom on his inaugural speech. He said the you are the future of India. Make your life physically, morally and ethically strong. This is the time for making solid foundation and a value-based education that will make you shine & prosper and your name and fame will naturally come to you. Find time for daily practice of physical exercise, Yogasan, Pranayam and Meditation. These will open your inner avenues of the eternal unfolding BLISS.
Revered Swamiji awarded and honored teachers who have completed 10 years of service in the J G School of Excellence. At the same time, awards were presented to all bright students for achieving top ranks in their class and extraordinary career amongst inter-university competition also. Swamiji thanked the management, especially Sri John Geevarghese, Vice-Chancellor of J G University and student-body, who accorded Him warm and memorable hospitality.
Dehradun, Haridwar, Rurki & Rishikesh (Feb 2, 2020 - Feb 4, 2020): Honoring humble invitation from the devotees at The Divine Life Society, Branch BHEL, Haridwar, Sri Swami Maharaj attended a special satsang there.
Sri Swamiji paid homage and had darshan of Sri Sri Holy Samadhisthan of Guru Bhagwan Sri Swami Sivanandaji Maharaj and had a darshan and satsang with H. H. Sri Swami Yoga Swaroopanandaji Maharaj, present President of DLS, H.Q. Rishikesh.
Sri Swamiji had darshan and satsang with M. M. Sri Swami Avadheshanandaji Maharaj as well as H. H. Sri Swami Achyutanandaji Maharaj, President of Sri Sri Maa Anandmayee Sangh.
Also, Rev. Swamiji went for satsang with H.H. Sri Swami Chidananda Saraswatiji (Muniji) of Parmarth Niketan. On Feb 4, 2020 Swamiji returned back at night to the Ashram.
Koba, Gandhinagar (Feb 14, 2020): In memory of Most Worshipful and Rev. Sri Swami Atmanandaji Maharaj (Dr. Soneji ), three days long spiritual retreat was organized at Srimad Rajchandra Adhyatma Sadhana Kendra at Koba, Gandhinagar. Pujya Swami Adhyatmanandaji Maharaj was invited to share words of wisdom for the occasion. Dr. Soneji was an admirer of Sivananda Literature. He was a regular visitor of Sivananda Ashram, Ahmedabad. He was in family relations with Dr. Varsha Dave, Trustee of Sri Divya Jivan Sanskrutik Sangh.
Sri Swami Atmanandaji, in his later life, became a follower of Srimad Rajchandra, a pure Vedantin, a path of Knowledge to Realized the SELF. Vedanta teaches, you are not this body, nor the restless mind, but the essence Immortal Atman. To establish in the Eternal unfading beauty of the SELF is the reality of life.
Green Park, Gandhinagar – Himmatnagar road( Feb 22, 2020, to Feb 23, 2020): A conference of Indian Company Secretaries Conference (ICSC) ) was organized for two days at Green Park at Health and Water Park Resort. On the first day, the second session was addressed by Sri Swami Adhyatmanandaji Maharaj. Pujya Swamiji in his speech said that in any organization or business company, secretary is the backbone of the Company, as you are the connecting link between floor work and higher authorities at the corporate level. The moment you think I am the corporation, your entire thinking, reasoning, and attitude will change.
Most of the time, the company secretary 's work is intense. The target of completing the task of given work in the fixed time, pressure from higher authorities etc put Company secretary in turmoil. It is all in the Mind. Remember, your mind is your real friend. Train your mind to Adjust, Adapt and Accommodate. Don't bring your family problem at business or office & business at home. Find time to sit with the members of your family. Eat with them, pray with them. Find some time for your personal introspection. Get up early in the morning. Practice Yoga, Pranayam, Meditation. Pray everyday without fail. You will gain inner strength. A great fountain of energy is within you. Tape it. You will concur the world. God Bless You". After some question and the answer session, Pujya Swamiji was honored with a Tri-colored scarf and sapling of the tree.
Sola, Ahmedabad ( Feb 29, 2020): A Grand function was organized by Sri Umiya Mata Temple Committee at Ahmedabad. It was a groundbreaking ceremony. H. E. Chief Minister of Gujarat Sri Vijay Rupani, Deputy Chief Minister Sri Nitin Patel, H. H. Sri Mahant Swamiji Maharaj of BAPS, Sri Sri Ravi Shankar of Art of Living, Pujya Sri Swami Adhyatmanandaji Maharaj, and many more saints graced the occasion.
Om Shanti!
Latest Additions.........

Please subscribe to Divyajivan Mailing List. We will update you with new uploads of spiritual literature on the web of Holy Master Sri Swami Sivanandaji Maharaj, saints of his lineage and other saints. We will also update you about the Sivananda Ashram, Ahmedabad website and facilitate communication with Sri Swami Adhyatmanandaji Maharaj.

Please enter your email address and click Subscribe button
To manage your subscription, please visit Subscription Page. You can also subscribe and unsubscribe from this page. You may unsubscribe by yourself anytime you wish. You will be required to send confirmation link that you will get in your e-mail to complete this subscription.

[ Home ] [ News ] [ Upcoming Events ] [ What's New? ] [ Services ] [ Swami Adhyatmananda ] [ Multimedia ] [ Publications ] [ Administration ] [ Saints and Sages ] [ Photo Gallery ] [ Contact ] [ Guestbook ] [ Important Links ] Webmaster: webmaster@divyajivan.org