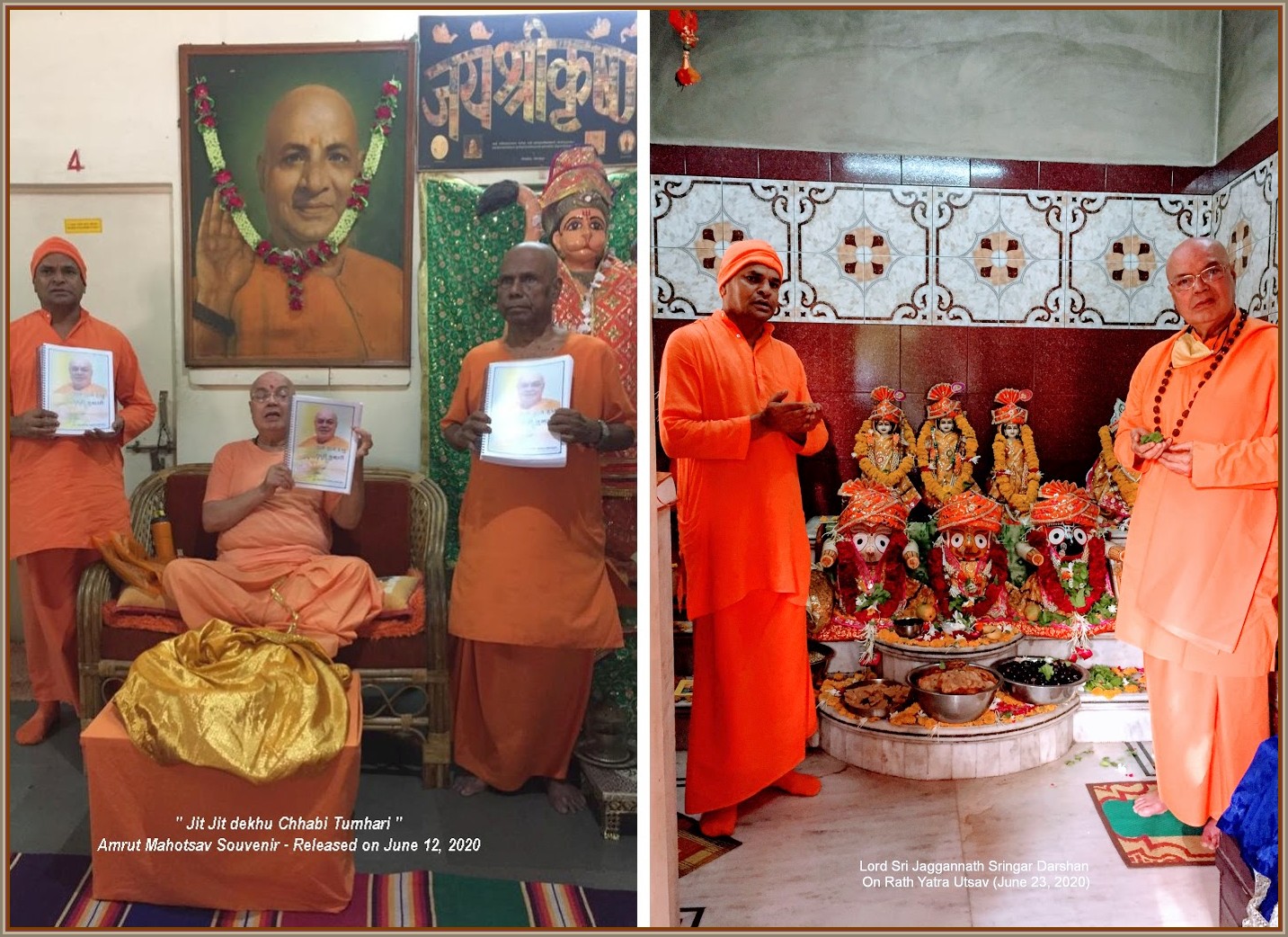 June 1 st being holy Sannyas Diksha Day of Most Worshipful Revered Holy Master Sri Swami Sivanandaji Maharaj, a special satsang, prayers and Narayan Sewa was organized. Three hundred and eighty families in slum area were benefited by this humble service in the name of Gurudev Sri Swami Sivanandaji Maharaj. Food packages of Rice, Pearls (Tuver Dal) and Potatoes were distributed which will serve about fortnight per family.
On June 11, 2020 Revered Sri Swamiji Maharaj with Ashram team planted about 125 big trees and 400 small flowering plants in the ashram campus. During diamond jubilee celebration of Sri Swami Adhyatmanandaji Maharaj planted 250 Tulsi plants, 75 Drumsticks and 25 Blackberry plants. They all have blossomed and are giving plenty of fruits throughout the year.
A new release of Amrut Mahotsav Souvenir ( June 12, 2020):
"A treasure volume" (digital copy) of core sentiments of love & gratitude of Pujya Swami Adhyatmanandaji Maharaj's devotees from the East & the West. Simply Heart touching & Memorable...... It is an initiative of Smt. Rupa Manish Majmundar, an ardent devotee of Pujya Swamiji Maharaj on the occasion of Amrut Mahotsav Celebrations ( May 3, 2019 - May 3, 2020) of H. H. Sri Swami Adhyatmanandaji Maharaj. It was released on her Birthday, Jun 12, 2020. She is editor of Gujarati monthly journal of Sri Divya Jivan Sanskrutik Sangh. She is a member and joint Secretary of the board of management of DJSS. Also, a Reiki Grandmaster, giving selfless service at Sivananda Ashram.
Thanks to all the Devotees from all over India, Taiwan, USA, Canada & UK for their contribution & Thanks to Rupaben for her wonderful gesture of love & gratitude.
Please find the link of Complete Book (PDF).
There is a second souvenir on the way soon.............with COVID Lockdown it has gotten delayed in printing by the Press.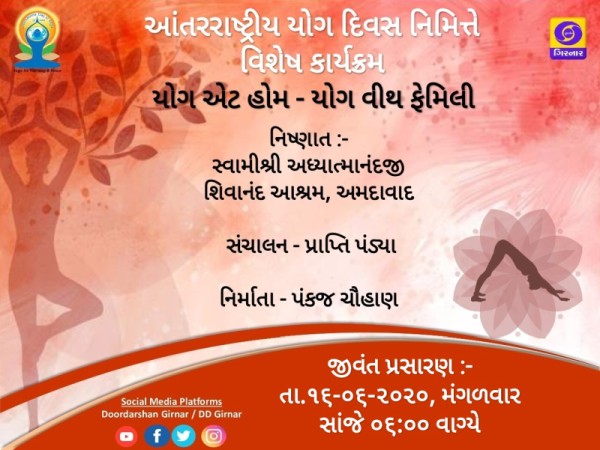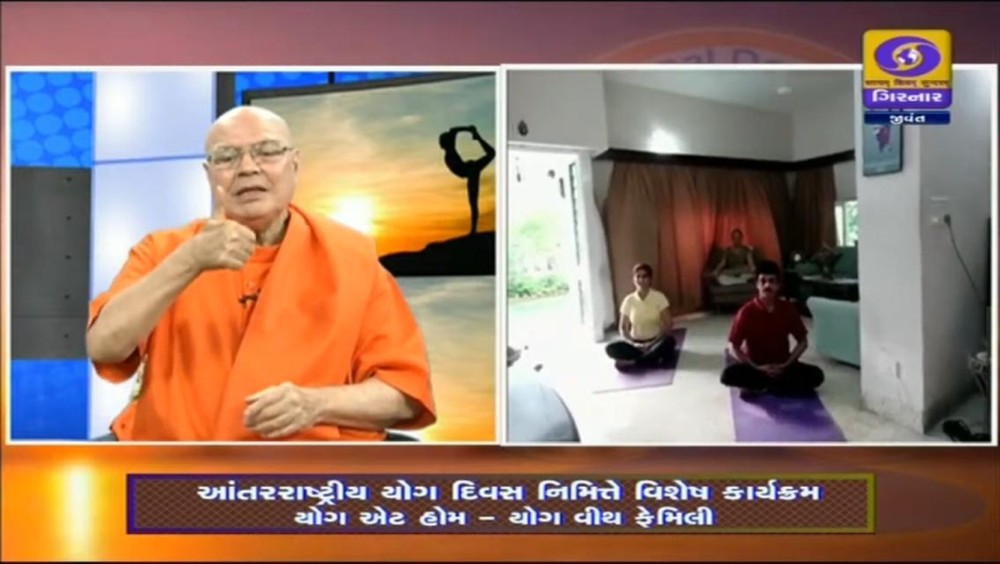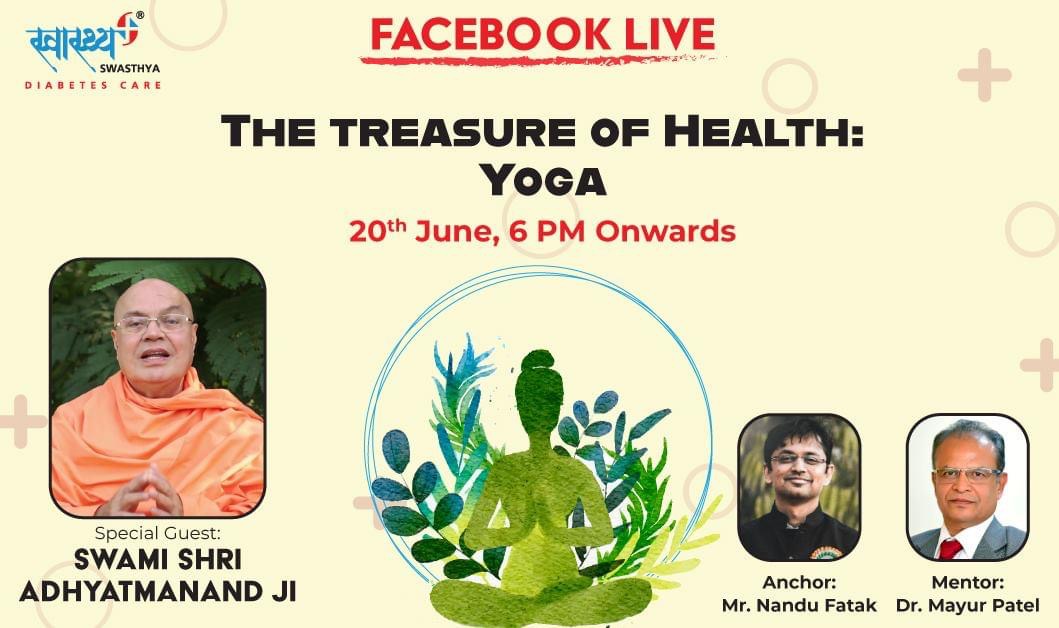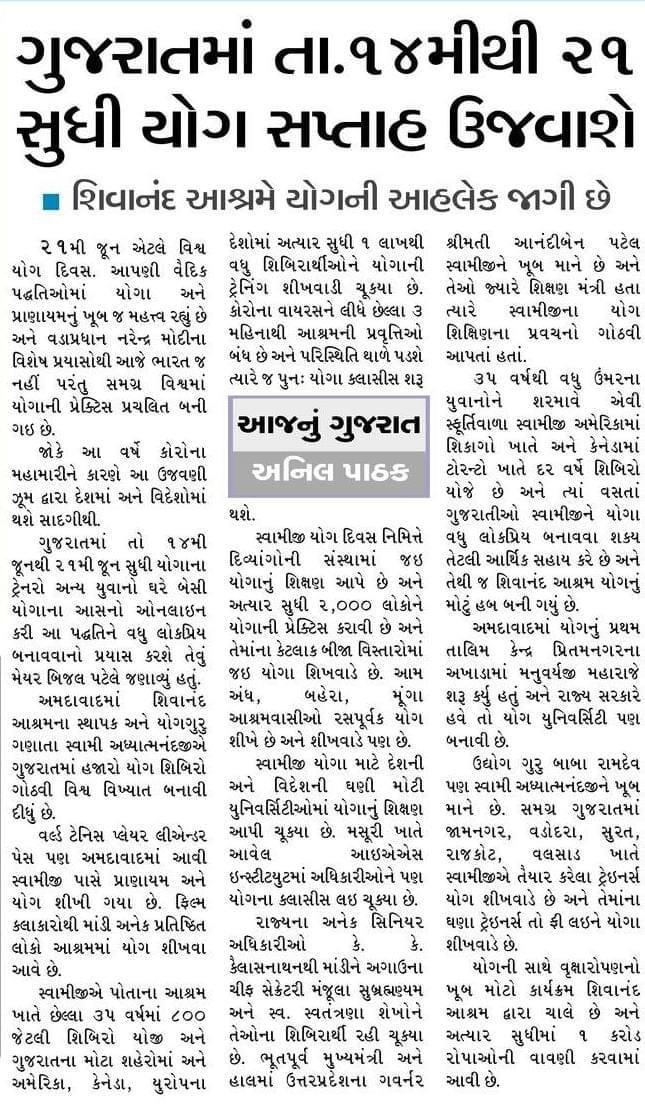 6 th International Yoga Day was celebrated through Television Media under COVID -19 Pandemic restriction. Revered Sri Swami Adhyatmanandaji, a Yoga Guru of Global repute had many TV programs on this occasion. Dur Darshan Girnar (DD Girnar), Amdavadtak, and other local organizations invited Sri Swamiji...... Sri Swamiji conducted Yoga & Pranayam sessions, Guided Meditation, talked about Yoga in daily Life, Health and Happiness through Yogic Lifestyle, Yoga to boost up the Immunity, and more.....Countless people from all walks of life, Young & Old, Yoga lovers & Yoga beginners all attended Yoga at Home & Yoga with family through TV media and got benefited.
On June 20, 2020, for the International Yoga day celebration, Door Darshan, Television center of Government of Gujarat (D.D. Girnar, Gujarat) invited Revered Swami Maharaj for a live telecasted interview. The subject was "Yoga in Daily Life".
Face book Ahmedavadtak telecasted live yoga class for the beginners & advanced practitioners in daily routine. This live telecast was conducted on June 20, 2020 & June 21, 2020 and was attended by 5.5K people at large from all walks of life. Sri Mukesh Choudhary, Sri Vikram Mistry, Sri Kinnar Parekh, Sri Sunil Patel & Yogi Pavan demonstrated the Yoga postures.
Renowned medical unit "SWASTHYA" of Dr. Mayur Patel (Diabetologist) was inaugurated by H. H. Sri Swami Adhyatmanandaji Maharaj on June 20, 2011. It was 10th Anniversary on June 20, 2020, of this medical unit. Dr. Mayur with his family and members of "Swasthya" center visited Sivananda Ashram and one hour long live interview was telecasted on the Face book page of Swasthya, which was attended by 3000 sincere well-wishers of "Swasthya" Medical center.
On June 21, 2020, other than morning live yoga class, famous Udgam School telecasted Guided Meditation session by Revered Sri Swamiji Maharaj for their school kids and parents. It was about half an hour session, well received by about 5000 viewers
The evening of 6 th International Yoga Day was celebrated by the Indian Yoga Association, Gujarat, Ahmedabad chapter, where Sri Swami Maharaj's pre-recorded talk was telecasted on the subject of "Health and Happiness Through Yogic Lifestyle". Famous yogi Sri Bhander, Smt. Hamsa Jaydev (Mumbai), Sri Subodha Tiwari (Lonavala) & Dr. Ananda Balyogi Bhavnani (Poona) also graced the occasion. This program was sponsored by Gujarat Tourism (Govt. of Gujarat).
Rath Yatra Celebrations (June 23, 2020 ): Because of COVID -19 Pandemic restriction Rath Yatra, a Chariot Festival was not celebrated in the usual festive way in Ahmedabad at large. And so did we at the Sivananda Ashram, not announced the festivity which is normally every year attended by 600 to 700 devotees. But all the worship including Sri Vishnu Sahasranam Parayan, Archana, Aarti & prasad to the Lord was offered. And lastly, without a big crowed of Devotees or pomp & show, God came out of the temple and had a car ride silently in the nearby area of the town on that day. As always a traditional prasad dish containing Dudhapak, Malpuwa, Blackberries (Jamun) grown in the ashram garden, and sprouted green lentils were prepared & offered to the Lord and distributed to the devotees.
Honoring the humble request of one of the Divine Life Society branchs, on their Thursday satsang on June 11, 2020 & June 25, 2020, Pujya Sri Swami Adhyatmanandaji Maharaj gave discourse on the subjects of "How to Practice Sadhana" and "Glory of our Gurudev" organized online which was attended by a large number of devotees.
The Sadguru is Brahman Himself. He is an ocean of bliss, knowledge, and mercy. He is the captain of your soul. He is he fountain of joy. He removes all your troubles, sorrows, and obstacles. He shows you the right divine path. Guru is the Moksha-dvara (door to liberation). Worship the Guru with the flowers of faith and devotion. Satsanga with the Guru is the first pillar in the temple of Self-realisation. Grace of God takes the form of Guru. To see the Guru is to see God.- Swami Sivananda
Sivananda Ashram, Ahmedabad has hosted Gurupurnima Celebration (July 5, 2020) - Please Click the Link for the details