News Report for the Month of March 2020
Sivananda Ashram, Ahmedabad
Sivananda Ashram, Ahmedabad announces.......At this unprecedented time of Global Crisis due to Corona Virus Pandemic, all the regular Yoga & spiritual activities are canceled at the Ashram until further notice. Also, the planned upcoming Satsang programs, Yoga camp and scheduled Mangal Utsav celebrations from April 13, 2020, to May 31, 2020, all are canceled.

Ashram has started relief efforts in the distribution of food packages to the needy in the underprivileged area of the town and joined in helping hands, whatever best possible under the circumstances. Each food package contains Pou-roti, a pouch of Milk, two bananas, cooking spices, potatoes, onions , grains & oil pouch, etc...

In a time like this people go through emotional stress, panic, sadness.......Feel free to call ashram If, you wish to receive Pujya Swamiji's blessings & support. Also, Ashram's priest will provide worship services on request & perform a special Pooja on your behalf.
Once again, please note,
All yoga classes at the Ashram are closed.
Chaitra Navratra Retreat & Parayan (group recitation) of Sri Ramcharit Manas at Sri Sri Ashtalaxmi Bhavan has been canceled.
Sri Ramnavami Utsav, Sri Hanuman Jayanti (Maruti Yajana) are canceled.
Ashram's Priest performs daily worship at all the shrines but all the temples are closed for casual visitors.
We regret to announce that all the ASHRAM'S Satsang programs from April 13, 2020, to May 4, 2020, are canceled.
Be safe, stay healthy and play your part in the whole to prevent the spread of Corona Virus!
While humanitarian relief efforts are active all over, it is time for us to do our part at the individual level to overcome this crisis and think about what can I do to prevent the Coronavirus disease at home and people around you ?....... Avoid close contact with people who are sick. Stay home when you are sick, except to get medical care. Cover your coughs and sneezes with a tissue. Clean frequently touched surfaces and objects daily (e.g., tables, countertops, light switches, doorknobs, and cabinet handles) using regular household detergent and water.

We pray for the Global Crisis to resolve soon.......... here, sharing thoughts "Call to Krishna" from "Heart to HEART"
Relief Efforts- In Action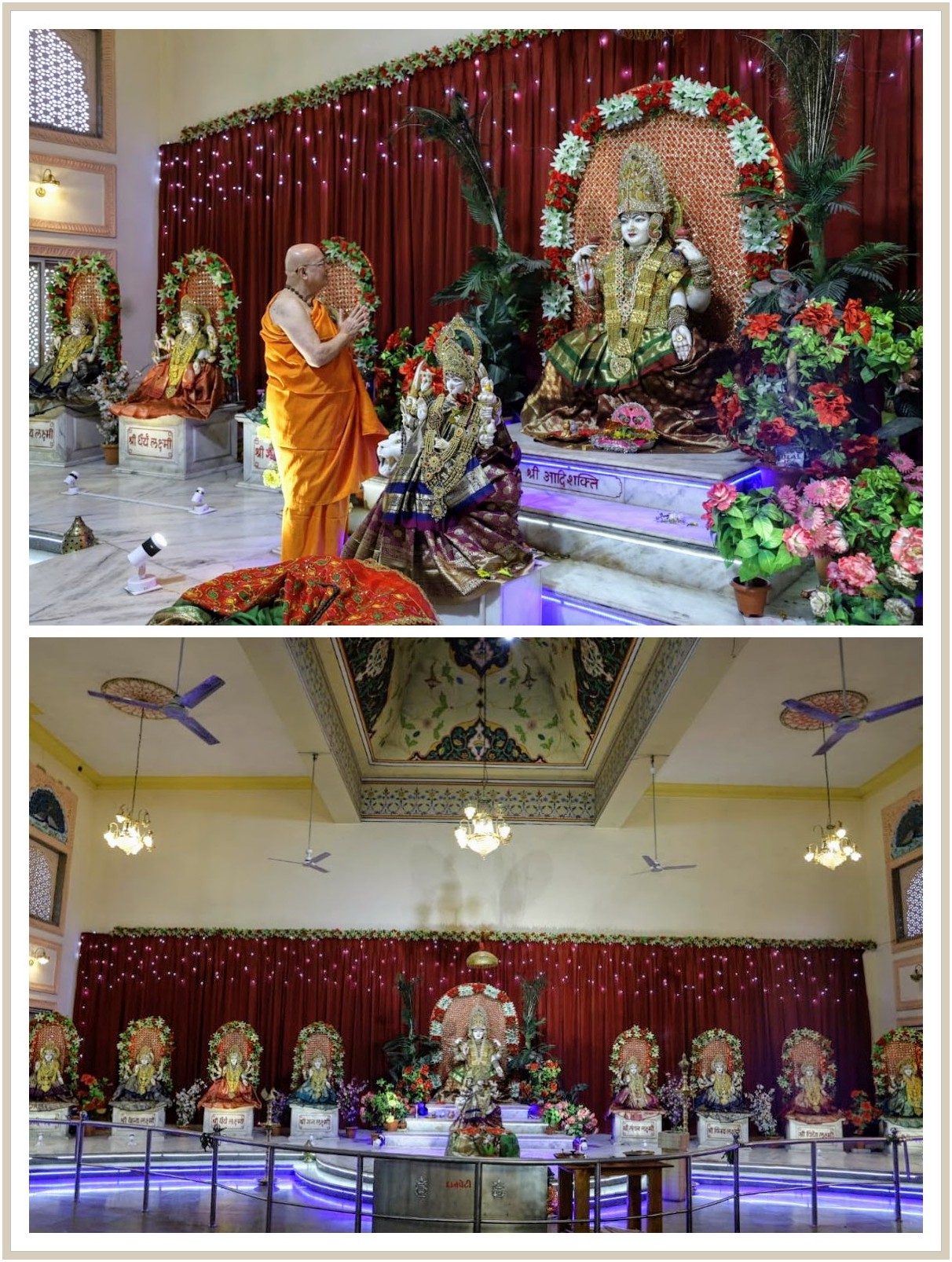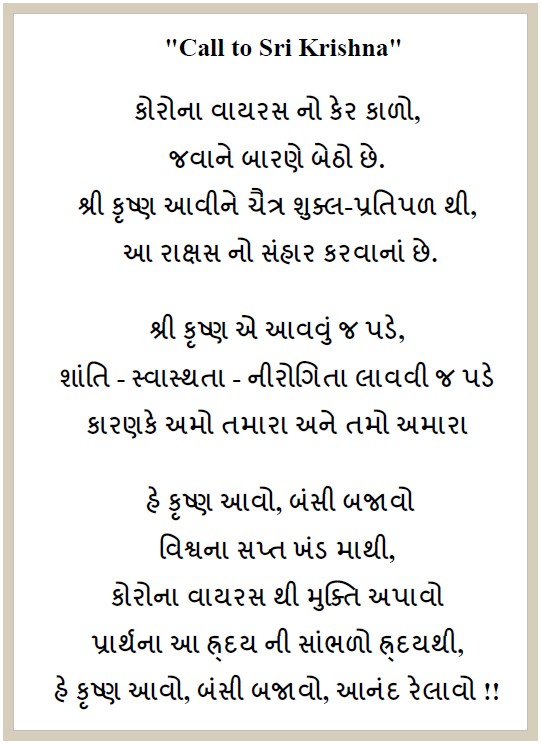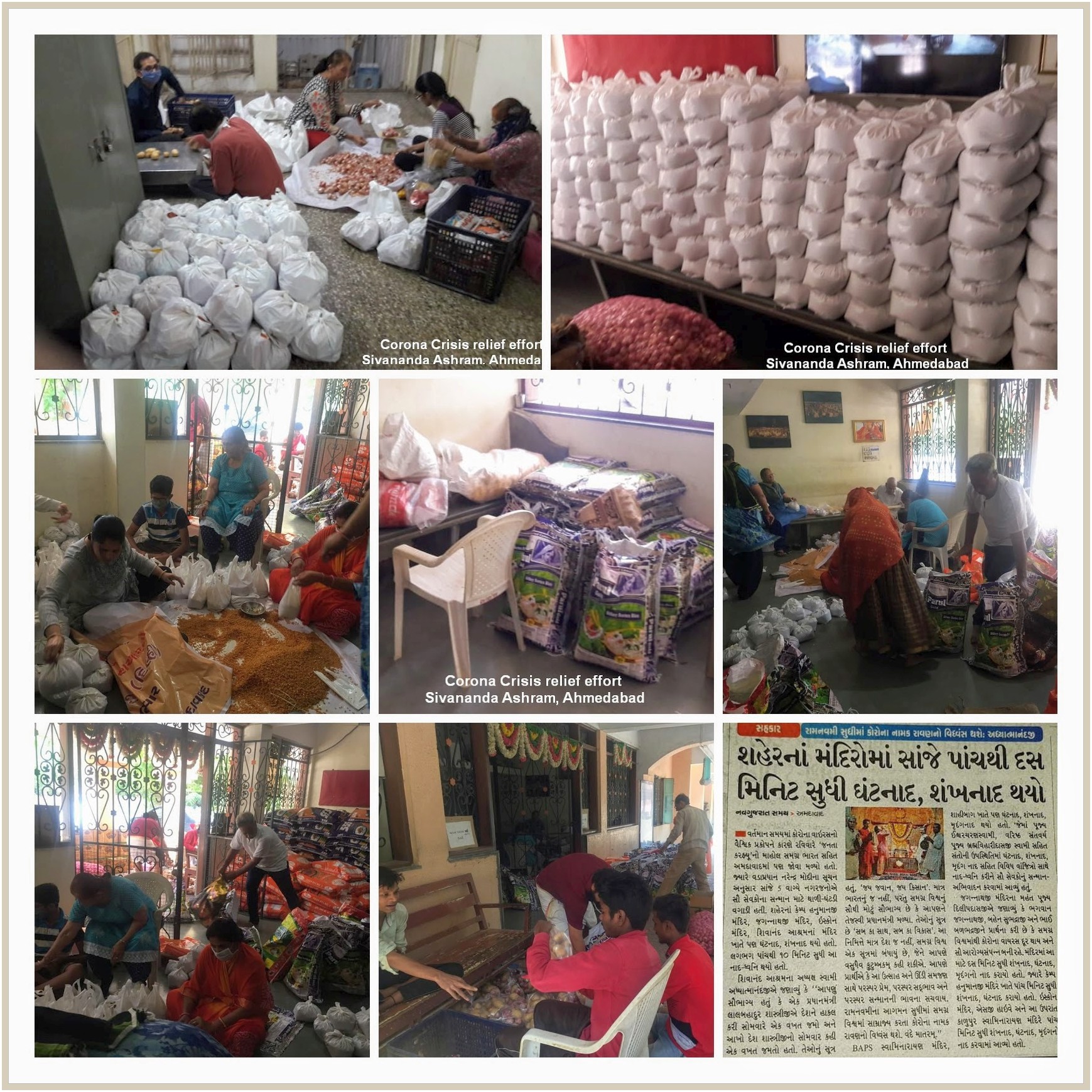 In the month of March, a few pre-planned Satsang programs at the ashram and pilgrimage to Sri Vaishno Devi successfully got completed before the Corona Crisis "Lock Down". It is all the Grace !
Advanced Yoga Teachers Training Course (YTTC) from Feb 11, 2020 to March 4, 2020: Respected Yogi James Lo, President of Yoga and Sports Federation of Taiwan and founder President of Sivananda Yoga Studio, Taipei, Taiwan visited the ashram with thirteen of his Yoga students. They came for Advanced YTTC affiliated with Gujarat University. This capsule course was of 20 days covering 220 hrs. Upon their request, ashram organized the presence of Yoga Teacher Yogi Sri Sunil from the BKS Iyengar Yoga foundation. The Advanced YTTC was successfully completed on March 4, 2020. Their award ceremony was coordinated on March 1, 2020 at Achala Education Foundation. The group departed for their scheduled short Bharat Darshan Tour.
On March 1, 2020 Achala Education Foundation organized an annual award-giving function. Pujya Sri Swami Adhyatmanandaji Maharaj graced the function with other dignitaries Sri P. K. Laheriji and famous writer Sri Devendra Patel, Dr. Mafatbhai Patel, Smt. Anar Patel, Sri Sanjay Patel, and others. Best five teachers of the year in Gujarat and best ten books for education in Gujarati writers were awarded by the worthy hands of Revered Sri Swamiji Maharaj. Two young Pandits from Gurukul, Shatavadhani and experts in 64 arts were given special honor by Sri Swamiji Maharaj. In his speech on this occasion Pujya Swamiji emphasized the need for Value-based ethical education instead of business-oriented education. "Without ethical teaching, present youth will go astray and a number of unwanted episodes take place in the society – Nation too", He said.
Pilgrimage to Sri Sri Vaishnvo Devi- Katra - Siddhabari - Dharamsaha (March 5, 2020 - March 9, 2020): Pujya Swamiji and a group of devotees had Pilgrimage to Sri Vaishnvo Devi. Respected Sri Surendraji Vasudeva and his family from Yamuna Nagar and Revered Swamini Shraddhananda from Kula Kamala Yoga Foundation, PA (USA) joined the group also. On March 6, 2020 weather was not in the favor. Only one trip of six persons was taken to the upper hill by helicopter with Pujya Sri Swami Adhyatmanandaji's group. The rest of the people went on foot, climbing up to "Mata ka Darbar". Some of them went by pony ride and other means. It was great satisfaction of having Darshan of Maa Vaishno Devi for all. From Katra, the entire group traveled to Sri Chinmaya Tapovanam at Siddhabari by bus. On the way, they had darshan of Chamunda Mata, Chichi Mata, Kangadaji, Vajreshwari Devi and finally Jwala Devi. Whether God was very much in the favor and darshan was possible at every Shrine. Pujya Swamiji Maharaj was in ecstasy mood after the darshan of Maa, He played drum (nagara) and got devotees in the mood of Garba, singing the glory of Maa Durga.

At night, the group arrived at Chinmaya Tapovanam, Siddhabari Ashram. Here, there was heavy rain and snowfall. But the next morning was a beautiful Sunrise and it was a treat for all to see peaks of the snow covered mountains shining in the Sunrise. After paying homage and silent meditation at holy Samadhi Shrine of Most Worshipful & Revered. His Holiness Sri Swami Chinmayanandaji Maharaj and darshan at Sri Ram Mandir, Hanuman Shrine at the Ashram, they all had a visit to Sri Dharamshala, the holy abode of H. H. Dalai Lamaji. Because of the Corona virus outbreak, He was in isolation hence group had darshan of temples and Satsang with other Senior Lamas.

At night Satsang, Revered Swamiji shared the memory of his visit to Siddhabari when Brahmleen Sri Swami Chinmayanandaji Maharaj attained Mahasamadhi / BHU Samadhi. Sri Swamiji cherished his first darshan of Revered Sri Swamiji Maharaj on Sept 8, 1965 at Sivananda Ashram, Rishikesh when Swamiji arrived from Uttar-Kashi and on his way visited Sivananda Ashram with Sri Sri Maa Anandmayi Maa. On March 9, 2020, a group had a long drive to Pathankot to catch a train for Delhi.
Satsang & Tour of H. H. Sri Swami Adhyatmanandaji Maharaj During the Month of March 2020
Delhi (March 10, 2020): Pujya Sri Swamiji Maharaj spent a day with Respected Sri Anjani Nandan Sharanji (IFoS) and had home Satsang with all senior officers of Govt. of India.
Hydrabad (March 11, 2020): Here, Sri Swamiji Maharaj was invited by a Yoga group "Samarpan". They all have learned Yoga from Pujya Sri Swamiji in 1992- 93. Here also, Sri Swamiji Maharaj visited sick and ailing devotees of Guru Bhagwan Sri Swami Sivanandaji Maharaj. After two days' stay and attending functions in the morning of March 13, 2020, Sri Swamiji went to Patna, Bihar by air.

Patna, Bihar (March 13, 2020): Pujya Swamiji visited Maha Mahopadhyaya Sri Dr. Ramji Singhji, who had gone through recent surgery, brought joy and solace to him with his presence and prayers for his quick & complete recovery. Revered Swamiji visited devote family who were seeking Pujya Swamiji's darshan and blessings. After lunch – Prasad at their home Swamiji had a long eight hours drive to Kahalgaon via Bhagalpur.
Revered Swamiji was at Kahalgaon upon sincere invitation of H. H. Sri Chaturanan Babaji, President of 'Mai Hi Sant Mat Satsang', Maniyarpur, Bihar. A grand satsang was organized here for about 2.5 to 3 lakhs devotees and arrangement was done for such a big crowd, but because of heavy Rains and Corona crisis "Lockdown" order of Government of India, the entire function was canceled. The next morning, Sri Swamiji returned to Patna, again traveled by road and arrived at Delhi late at night.

Delhi (March 14, 2020): At Delhi, Revered Swamiji was given warm welcome by Sri. A. N. Sharanji (IFOS) and his Res. Wife Dr. Ameeta Sharan, HOD of Research Dept, AIIMS, Delhi. In the late evening, Rev. Swamiji arrived at Ahmedabad at the holy abode of Guru Bhagwan Sri Swami Sivanandaji Maharaj.

Ahmedabad (March 16, 2020): Rotary Club, Ahmedabad Metro, a branch of International Rotary Club organized a function at Sivananda Ashram, Ahmedabad where Prosthetic Upper limbs were donated free to the needy from ages 10 years to 60 +. Patients came from all over India including Gujarat, Haryana, Jharkhand, Mumbai, Rajasthan and Uttar Pradesh. A total of 81 patients were brought to happiness and enjoy the rest of life. Thanks to Sri Atulbhai Parikh, past president of Rotary Club as well as a member of the advisory board of Sivananda Ashram, Ahmedabad.
Vadodara (March 19, 2020): As always, Pujya Swamiji had his Annual medical check-up under Dr. Mrugank Merchant's care. Sri Mrugankbhai and family hosted a grand Satsang with their Gita study group at his abode "Adhyatm". It was enlightening discourse on the subject of Chapter seven of Bhagawad Gita " Jnana Vijana yoga - The Yoga of Knowledge and Realization".
OM Shanti!
Latest Additions.........

Please subscribe to Divyajivan Mailing List. We will update you with new uploads of spiritual literature on the web of Holy Master Sri Swami Sivanandaji Maharaj, saints of his lineage and other saints. We will also update you about the Sivananda Ashram, Ahmedabad website and facilitate communication with Sri Swami Adhyatmanandaji Maharaj.

Please enter your email address and click Subscribe button
To manage your subscription, please visit Subscription Page. You can also subscribe and unsubscribe from this page. You may unsubscribe by yourself anytime you wish. You will be required to send confirmation link that you will get in your e-mail to complete this subscription.

[ Home ] [ News ] [ Upcoming Events ] [ What's New? ] [ Services ] [ Swami Adhyatmananda ] [ Multimedia ] [ Publications ] [ Administration ] [ Saints and Sages ] [ Photo Gallery ] [ Contact ] [ Guestbook ] [ Important Links ] Webmaster: webmaster@divyajivan.org