News and Activity Report
Sivananda Ashram, October- 2007
Holy Janmashtami Festival (Sept 4, 2007)
Sri Krishna Janmashtami was celebrated with great devotion and enthusiasm on Sept 4, 2007 at the Ashram. Devotees celebrating the birthday of Lord Sri Krishna enjoyed devotional songs presented by Smt. Sima Trivedi & Sri. Jayesh Naik. Mammoth gathering including dignitaries namely Chief Secretary of Gujarat, Mr. P.K. Lahari, and Judges from Guajarat High court all were overwhelmed by interpretation of each devotional song by Rev. Sri Swami Adhyatmanandaji Maharaj. The culmination of the evening was mid night "Hari-Bol "kirtan by all the devotees chanting and dancing joyously that created Divine atmosphere.
Celebration of Birth Anniversary of Holy Master (Sept 8, 2007)
Most Worshipful and Revered Guru Bhagwan H. H. Sri Swami Sivanandaji Maharaja's 121st Birthday was celebrated at Sivananda Ashram with Prayers, Meditation, Satsang, Paduka Poojan and feeding to about three hundred underprivileged children on Sept 8, 2007. The local leading newspapers namely Times of India, Sandesh and Gujarat Samachar etc published "Life and Teachings" of Sri Swami Sivanandaji Maharaj.
Concluding of Shravana Month (Sept 11, 2007)
On Sept 10, 2007, discourses on Holy Sri Shiva Puran Katha concluded. The last day of Shravana month, Sept 11th a grand " Laghu Rudra Yajna " was performed by sixteen learned Brahmins together with eleven couples, who gave oblation. Thousands of devotees participated the holy Yajana, which concluded with "Bhashma Aarati" and Maha Prasad served to more than Twelve hundred devotees.
Ganesh Chaturthi Celebration (Sept 15, 2007)
On Sept14th & Sept 15th were a special worship for "Kavdatrij" and holy Ganesh chaturthi of Lord Sri Ganesh.at Sri Vishwanath Temple. Sri Swami Adhyatmanandaji Maharaj explained the Glories of Sri Ganesh Worship. Indo-Taiwan Cultural Friendship Group headed by Mr. Jeffrey Wu visited Ashram on Sept 15, 2007. A special satsang and garba's were organized for them.
Satsang on 92nd Birthday (Sept 24, 2007) of Most Worshipful & Revered Sri Gurumaharaj
On Sept 24, 2006, Gurumaharaj Sri Swami Chidanandaji Maharaj's 92nd birthday was celebrated with early morning prayers, meditation and feeding to Daridranarayans at mid-day. In the evening, a satsang was held at Sri Swami Chidananda Dhyan Mandir and Guru Paduka Pujan was performed.
News from Yoga Center
This month, Sri Snehal Amin, a Yoga teacher and a Physician, along with his yoga lessons for the beginners, attended a few chronically sick people and gave them yogic therapy to suit their health conditions on one to one bases.
-Fifty five years old, Mr. Leonard J. Carlson, from USA with multiple health problems namely, Acute Gout arthritis, Hiatus- Hernia resulting in GERD (Gastrointestinal Reflux Disease), Spastic colon, Pulmonary Fibrosis and Hypertension, on multiple medicines including strong pain medication like codeine. After attending ten days of Yoga course, learning gentle yoga posture and a few simple pranayams, felt rejuvenated and learned to manage his health problems in holistic way.
- Forty year old Sri Vasudev Shah, a cardiac patient with s/p Coronary Bypass surgery was taught gentle yoga postures keeping in consideration his special need.
- Fifty five years old Mahendrabhai Shah with chronic Rheumatism got benefited by learning yoga and relaxation technique.
- Fifty five years old Sri Menon with Melancholia & overweight problem felt better after attending classes and counseling.
- Forty two years old Sri Koteshwarbhai with chronic breathing problems received teaching of simple pranayams and savasan technique.
- Sixty five years old Smt. Gangadevi with stress related health problems and arthritis pains learned relaxation techniques
Ms. Sageeta Thawani conducted a yoga class for a special group & Mr. Thakka Arishan, Tokya Nippon. They learned simple Flexibility exercises, light yoga postures including Surya Namaskar and a few Pranayamas. They all felt benefited.
Upcoming Yoga Teachers Training Course (YTTC) Dec 11, 2007 - Dec 30, 2007. Enhance your skill in Yoga, be a teacher and spread the knowledge to others. You can accomplish all that by systemically learning from a Master. Join YTTC at Sivananda Ashram, Ahmedabad. Please download the registration form. Upcoming YTTC. (Dec 11, 2006 to Dec31, 2006)
Tours of H. H. Sri Swami Adhyatmanandaji Maharaj during the month of September 2007
691 Yoga camp at Ranpur, Surendranagar (Sept 17, 2007 – Sept 23, 2007)
A week long Yoga Shibir was organized at Ranpur in Surendranagar district. Daily discourses by Sri Swamiji Maharaj on chapter nine of Srimad Bhagavad Gita, "Kingly Science of Kingly Secret" were attended by large numbers of devotees in the evening. Swamiji's address to about two thousand students at Polytechnic College. He gave practical tips for Success in Life. Sri Swamiji was invited to Industrial and devotees home as well.
Visit to Sarangpur
On Sept 22, 2007 Sri Swami Adhyatmanandaji and group of devotees visited Sri Hanuman Temple and Sri Swami Narayan Temple of BAPS Institute at Sarangpur . They all have a satsang with Revered Doctor Swamiji Maharaj of BAPS.
Visit at Trivendrum
Honoring invitation of H. H. Sri Martanda Verma Maharaja of Travancore, Sri Swami Adhyatmanandaji Maharaj and Sri Arun Oza arrived at Thiruanantha Puram on Sept 26, 2007. After having darshan at Sri Anantha Padmanabha Swami, Swamiji had a satsang and dinner at Royal palace with King's family.
Visit to Cochin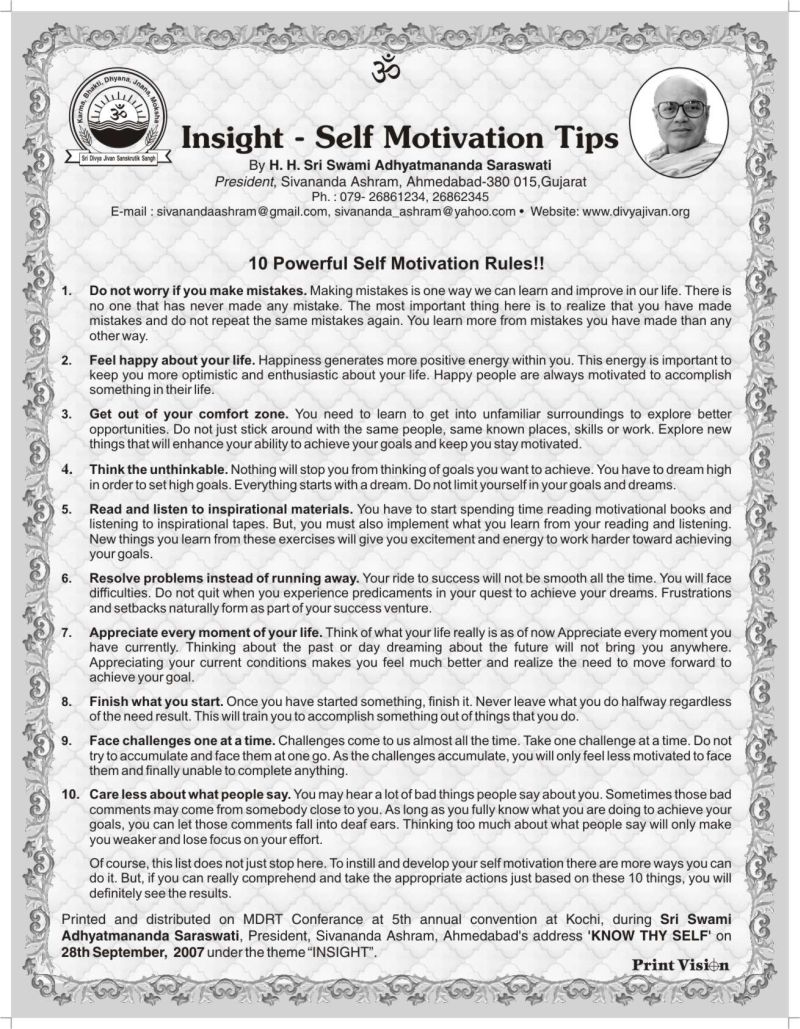 On Sept 28, 2007, fifth Convention of LUGI was inaugurated by H. H. Sri Swami Adhyatmanandaji Maharaj at COCHIN. The theme of the conference was 'INSIGHT'. Sri Swamiji Maharaj shared his thoughts on the subject of 'KNOW THYSELF'.
Visit to Guruvayur
On Sept 29, 2007 early morning, Rev. Sri Swami Maharaj and Sri Arun Oza visited Sri Guruvayur. They had darshan of the Lord and satsang with H. H. Sri Swami Bhajanandaji Maharaj.
Back to Ashram (Sept 30, 2007)
On Sept 30, 2007 Sri Swami Adhyatmanandaji Maharaj was invited to the Prof. Dr. B.A. Shah's Centenary Celebration. His work on Solid Mathematics was released by Sri Swamiji Maharaj at Sri Gujarat Vidhyapeeth Bhawan.
Latest Additions.........

Please subscribe to Divyajivan Mailing List. We will update you with new uploads of spiritual literature on the web of Holy Master Sri Swami Sivanandaji Maharaj, saints of his lineage and other saints. We will also update you about the Sivananda Ashram, Ahmedabad website and facilitate communication with Sri Swami Adhyatmanandaji Maharaj.

Please enter your email address and click Subscribe button
To manage your subscription, please visit Subscription Page. You can also subscribe and unsubscribe from this page. You may unsubscribe by yourself anytime you wish. You will be required to send confirmation link that you will get in your e-mail to complete this subscription.

[ Home ] [ News ] [ Upcoming Events ] [ What's New? ] [ Services ] [ Swami Adhyatmananda ] [ Multimedia ] [ Publications ] [ Administration ] [Saints & Sages] [ Photo Gallery ] [ Contact ] [ Guestbook ] [ Important Links ]

Webmaster: webmaster@divyajivan.org