News &Activity Report for the Month of January 2019
Sivananda Ashram, Ahmedabad
Amrut Mahotsav Year Of H. H Sri Swami Adhyatmanandaji Maharaj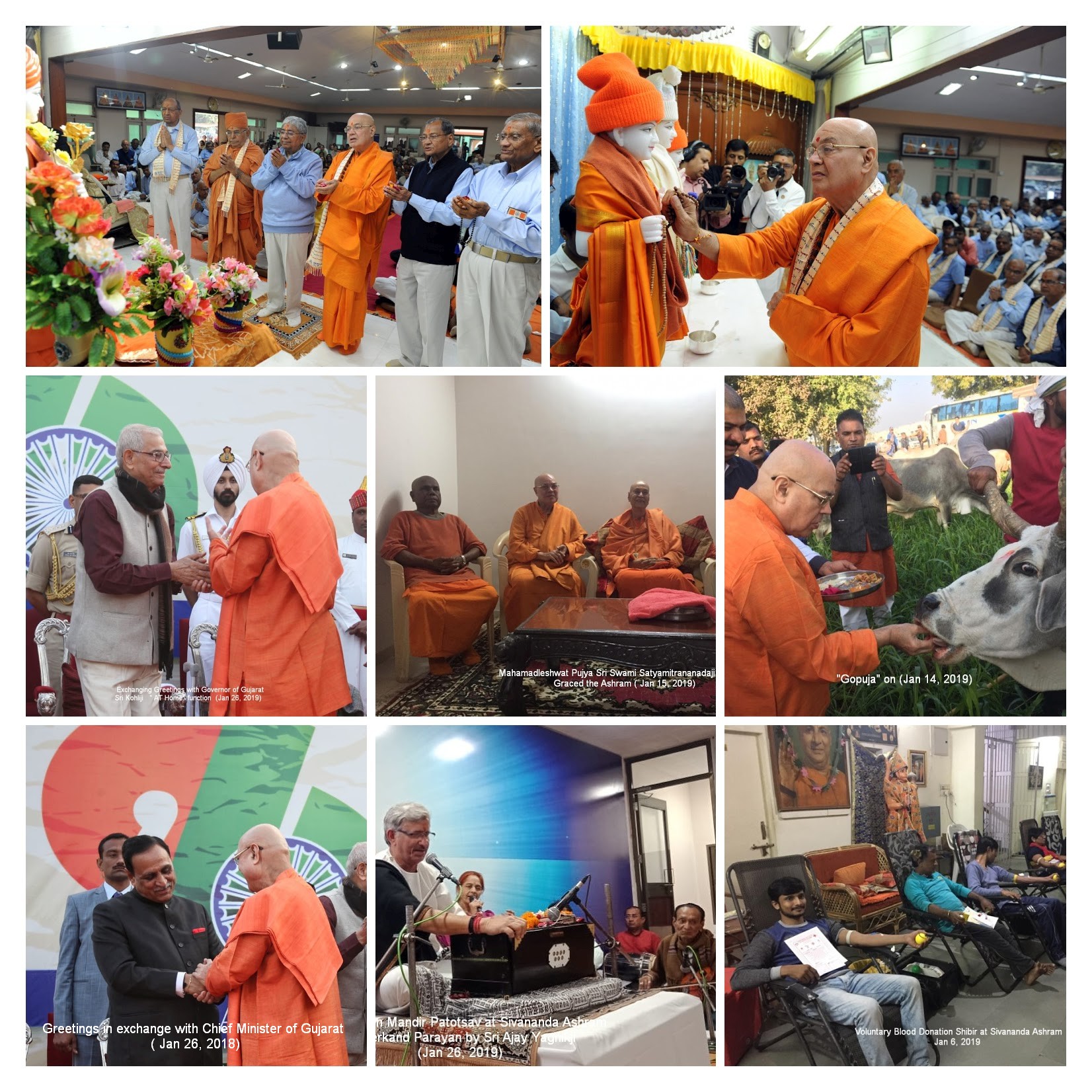 With the Grace and Blessings of the God Gurudev Sri Swami Sivanandji Maharaj and Gurumaharaj Sri Swami Chidanandaji Maharaj Spiritual & Yoga activities are flourishing at Sivananda Ashram, Ahmedabad. More & more people, inspired by the spiritual head of the ashram, Pujya Sri Swami Adhyatmanandaji Maharaj are involving themselves in selfless services carried out through Ashram's Seva Projects.

The New Year 2019 began with satsang and prayers here at the sacred ashram of Gurudev Swami Sivananda. Prayers for the peace and harmony of the world at large. Peace in the East & West, Peace in the North & South. Peace abides amongst the individuals as well as Nations.
804th Yogasan, Pranayam, Meditation Camp: Ashram organized Yogasana camp guided and conducted by H. H. Sri Swami Adhyatmanandaji Maharaj from Jan 3, 2019 to Jan 9, 2019. A large number of people attended the camp.
On Jan 5, 2019, sacred Sri Navchandi Yajna was performed in the Sivananda Ashram's Yajna Shala in front of Sri Vishwanath temple. It was sponsored by Dr. Chirag Pandya family.
On Jan 6, 2019, Voluntary blood donation drive was organized at Sri Sivananda Ashram and at Paldi location where total 378 donors donated blood.
On Jan 12, 2019 "Swashtya" a well known health institute organized its third International Diabetic Conference at Sri Deen Dayal Upadhyay Hall. Revered Sri Swami Adhyatmanandaji Maharaj inaugurated the function and lit the lamp. Number of doctors from all over India and Abroad attended the conference. The next day, a special Yoga session was conducted for all delegates of the International Diabetic Conference under the guidance of Pujya Swami Adhyatmanandaji Maharaj with a group of yoga teachers from Sivananda Ashram taking a lead role.
On Jan 15, 2019, His Holiness Sri Swami Satyamitranandaji Maharaj, a past Shankaracharya and founder of Sri Bharatmata Mandir as well as the recipient of "Padma Bhushan" award graced Sivananda Ashram in the evening and blessed the Ashram devotees with his holy satsang.
On Jan 26, 2018 (69th Republic Day of India) National flag was hoisted by Sri Swamiji at the Ashram Lawn Garden in the morning.
In the forenoon, Patotsav of Sri Dukha Bhanjan Hanuman Temple was celebrated by Sri Hanumant Maha Yajna at Yajna Shala of theashram. In the evening, a grand annual Sri Sundarkand Parayan was organized at the Ashram. Sri Ajay Yajnikji of Delhi adorned the stage and graced the occasion with his melodious singing and total devotion.
On Jan 27, 2019, Shankha Prakshalan Kriya (Total cleansing of Elementary Canal ) was organized at the ashram from early morning which continued up to mid-noon. Yoga teacher Ms. Sangeeta Thawani led the group on process and Mrs. Amala Mataji served at the kitchen. About 64 participants took part from all over Gujarat.
On Jan 28, 2019, His Holiness Sri Swami Achyutanandaji Maharaj, International President of holy Sri Sri Ma Anandmayi Sangh, graced the ashram and left on Jan 29, 2019 to Sri Maa's ashram at Bhimjipura (Chandod) at the bank of Narmada.

Satsang & Tour of H. H. Sri Swami Adhyatmanandaji Maharaj during the Month of January 2019

Jan 1, 2019, Sri Ram Katha was organized in favor of Senior Citizen home for Sri Raghuvanshi family. Pujya Sri Swamiji Maharaj inspired people with his sincere appeal and a good amount of the fund got collected for this noble cause.

On Jan 3, 2019, Sri holy Bhagawat Katha was inaugurated by Rev. Sri Swami Adhyatmanandaji Maharaj at Lambe Hanuman temple of Sri Nardipur,

On Jan 3, 2019, Happy Birthday function was organized for three days for the founder of brail science for Blind People. Revered Sri Swamiji Maharaj inaugurated the festival. People were honored and recognized for they provide selfless services to physically disabled people.
On Jan 4, 2019 For the last nine years, Institute for golden ornaments organizes its annual golden ornaments exhibition at Gujarat University Convention Centre Hall. Revered Sri Swamiji was invited to inaugurate the function. This gold exhibition was started with 68 participants from Gujarat. This year about 780 participants joined for the exhibition from all over India.

On Jan 5, 2019, In holy memory of Late Mahant of Sri Nilkhantha Akhada, the grand congregation was organized at Akhada at Asarwa, Ahmedabad. Function was organized under the patronage of Pujya Sri Swami Maharaj followed by Maha Prasad to all.
Lions Club- Mains organized it annual meet at Ahmedabad Management Association. Revered Sri Swamiji Maharaj gave a key note address and inspired people on the subject "Dil Se - From the Heart" with his words of wisdom.
J. G. School of Performing Arts, Andhra Maha Sabha, South Indian Samajam etc. jointly organized dance ballet " Sri Goda Devi Kalyanam ". Revered Sri Swamiji Maharaj was the guest of honor and he felicitated groups director as well as a choreographer, Mr. K. S. Satyanarayana and artists who all came from the U.S.A.

On Jan 12, 2019, on the occasion of 2 nd Convocation Program of Sri Lakulesh Yoga University at Jakhan (Limbadi), 132 graduates, post graduates and PHD students were felicitated and awarded by Pujya Sri Swamiji Maharaj. Other than India, there were students from Taiwan, U. K. and U.S.A. Also. Swamiji had satsang with Sri Rajarshi Muniji Maharaj who is the founder of the University
Rojanto, Ramnagar campo & Ambaji, (Jan 14, 2018): A large group of devotees in the holy company of Pujya Sri Swami Adhyatmanandaji Maharaj visited Rojanto at the Dist. of Khedbrahma, Gujarat. As always traditional Go-puja, worshipping the cows was performed and cows were allowed to feed free in the corn crop field. A grand satsang attended by about 2000 people at Ramnagar Campo followed by ceremonial lunch. In the afternoon, the entire group paid homage to Sri Sri Sri Ambaji Temple of Goddess Durga. On their way back to the ashram, Sri Swamiji Maharj visited newly coming up Gift city and paid homage at Sri Koteshwar Mahadev at Gandhinagar. The group returned back to the ashram around 10.30 pm.

Bakrol, Baroda, Anand, Mogari (Jan 6, 2019 to Jan 21, 2019) : Upon pressing invitation of Most Worshipful Revered Sri Jashubhai Saheb, lovingly addressed by devotees " Saheb Dada", Sri Swamiji Maharaj spent six days in his divine company. During these days, Pujya Swamiji Maharaj availed the facilities of their Nature Cure Centre as well as conducted Pranayam Classes in the morning and shared the words of wisdom in the evening on Chapter Sixteen of Bhagawad Gita.

Rev. Sri Swamiji Maharaj attended 87 th happy birthday of H. H. Sri Swami Madhav Tirthaji Maharaj of Omkar Ashram, Lambavel, Anand. Sri Swamiji accompanied Revered Saheb Dada had a short trip and satsang at Baroda also.

Ahmedabad (Dec 21, 2019):5 th Maha Samadhi day of worshipful Atal Peethadhishwar Acharya Mahamandaleshwar H. H. Sri Swami Mangalanandaji Maharaj was celebrated by Gita Parayan and blessings by saints and sages. Maha Prasad was organized for sadhus and devotees. In the evening, Pujya Sri Swami Maharaj was invited for concluding ceremony of Srimad Bhagawad Maha Puran.
At Sri Dholka road, Sarkhej -Ahmedabad (Jan 26, 2019): Pujya Sri Swamiji Maharaj presided over the Sadhu Sammelan at Sri Ved Mandir (Kankaria), Ahmedabad. Meeting was followed by Bhandara.
Lucknow (Jan 29, 2019 - Feb 1, 2019): Honoring invitation of Dr. Sri Anil Srivastavaji, Cardiologist, C.M.O of Lucknow Civil Hospital, Pujya Sri Swami Maharaj made a short visit to Lucknow for 3 days function. He returned back on February 1, 2019, at the late night.
Om Shanti !
Latest Additions.........

Please subscribe to Divyajivan Mailing List. We will update you with new uploads of spiritual literature on the web of Holy Master Sri Swami Sivanandaji Maharaj, saints of his lineage and other saints. We will also update you about the Sivananda Ashram, Ahmedabad website and facilitate communication with Sri Swami Adhyatmanandaji Maharaj.

Please enter your email address and click Subscribe button
To manage your subscription, please visit Subscription Page. You can also subscribe and unsubscribe from this page. You may unsubscribe by yourself anytime you wish. You will be required to send confirmation link that you will get in your e-mail to complete this subscription.

[ Home ] [ News ] [ Upcoming Events ] [ What's New? ] [ Services ] [ Swami Adhyatmananda ] [ Multimedia ] [ Publications ] [ Administration ] [ Saints and Sages ] [ Photo Gallery ] [ Contact ] [ Guestbook ] [ Important Links ] Webmaster: webmaster@divyajivan.org