News & Activity Report for the Month of March 2019
Sivananda Ashram, Ahmedabad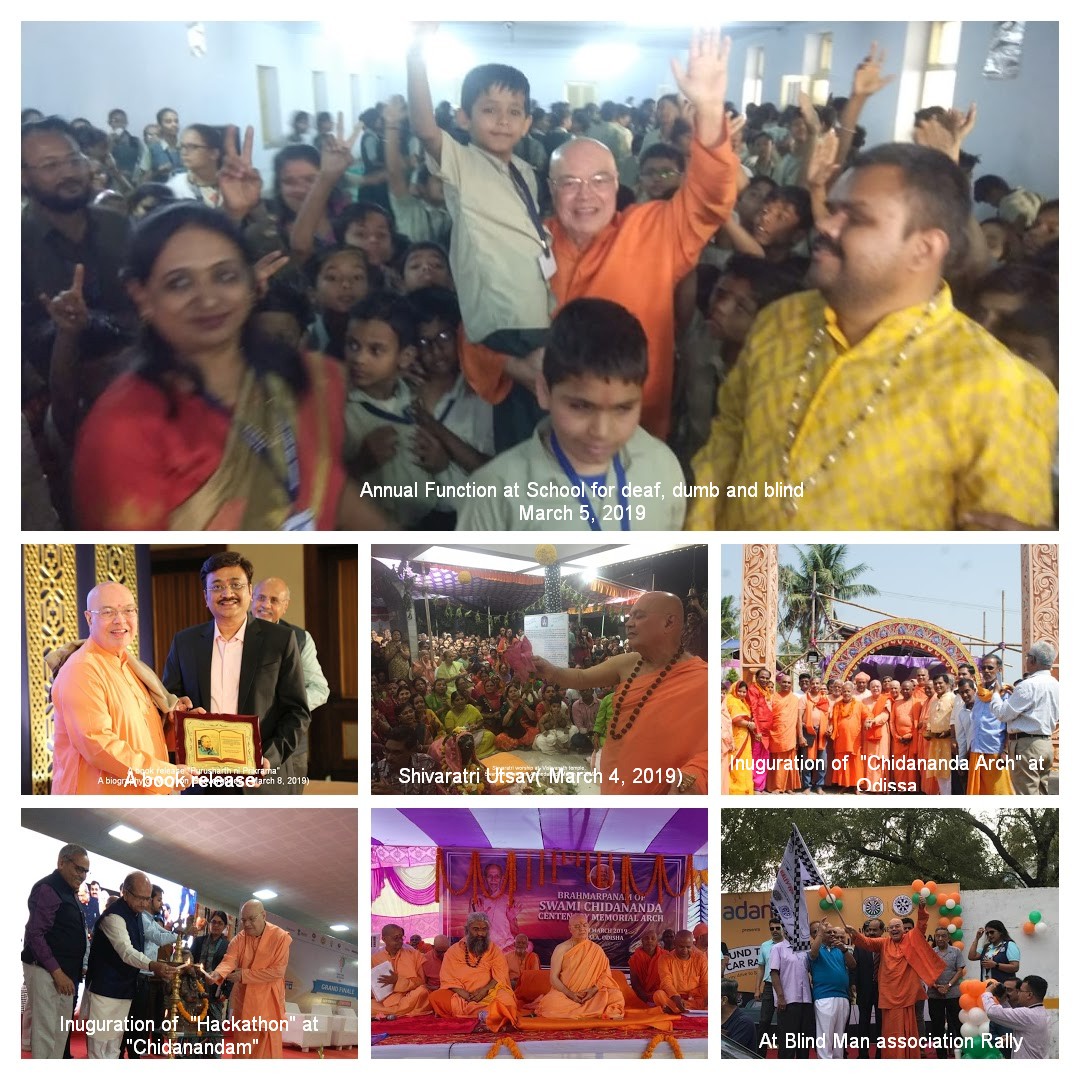 Shivaratri Festival at the Ashram ( March 4, 2019): Sivananda Ashram, Ahmedabad celebrated Holy Shivratri festival with great enthusiasm and devotion. Vedik Hymns and chants of "OM Namah Shivaya" filled the air with Divine vibrations. Holy Shri Vishwanath Temple was agog with worship of Lord Shiva. Pujya Swami Adhyatmanandaji Maharaj offered a first pooja & Abhishek at 3.45 am. It started with Shodshopachar Pujan at 3.45 am and continued until the next day 4.00 am. Continuous flow of devotees came to the Lord Vishvanath Temple to pray and seek the blessings of Lord Shiva – who is considered Ashutosh. The Siva Lingam was worshipped by washing it with milk, curd, honey and rose water as the chants of Vedic Hymns, Namakam, Chamakam, Rudram, Ashtadhyaayi Rudra, Purushasuktam in praise of Lord Shiva. Shiva Lingam was adorned with special Shringar, Bilva leaves. Bilva leaves are believed to be very sacred and considered the best offering to Lord Shiva. There is a strong belief that sincere worship of Lord Shiva on the auspicious day of Shivaratri, absolves person of sins and liberates him from the cycle of birth and death. Devotees in large numbers sat in front of the temple in grandly decorated Pandal. Bhakti Sangeet (Devotional Songs) in praise of the Lord through out the night by outstanding singers namely Dr.Vasavda with his Hatkesh Swar Gunjan group, Smt. Dr. Monica Shah of Aradhana School and Tabla master Nakul Maharaj, Pandit Sri Nirajchandra Parikh and Ami Devi brought a special fervor to already charged atmosphere. Next day morning on March 5, 2019 a grand mahaprasad was served to the thousands of devotees at the
In the fore-noon Trivedi Mewada Brahman Samaj organized Laghurudra and community group worshiping program out side the Ashram. Pujya Swamiji Maharaj graced and blessed the grand gathering and joined the community group worship.
In the evening a special Shringar was adorn to Lord Shiva at Sri Viswanath Mahadev and Bhashma Aarati was performed by Revered Sri Swamiji Maharaj. Devotees in large numbers sat in front of the temple in grandly decorated Pandal. Vishvanath Temple was crowded with devotees and devotional music was presented through out the night by Dr. Jayant Vasavada's group of Sri Hatkesh Swar Gunjan Mandal, Dr. Monica Shah of Aradhana Sangeet Academy, Pandit Niraj Parikh & Pandit Vikash Parikh & group. Next day morning on March 5, 2019 a grand mahaprasad was served to the thousands of devotees at the ashram.
On March 18, 2019 on Holi day, classical vocal music by Surmani Dr. Monica Shah was organized at ashram. A large number of music lovers attended the program, it was one of the programs of 75th birth anniversary of H. H. Sri Swami Adhyatmanandaji Maharaj
Holy pilgrimage of Sri Vaishnavo Devi & Amritsar (March 23, 2019 - March 26, 2019): A group of sixty-two devotees with Pujya Swami Adhyatmanadnaji Maharaj from the ashram paid homage to Sri Vaishnavo Devi shrine in Jammu Kashmir range. It was a treat for the devotees.They also paid homage to Holy Sri Durbar Saheb Golden Temple, Jaliwala Baugh, Shitala Mandir and Wagha Border.
Yoga at Udhampur (March 29, 2019 -March 31, 2019): Pujya Sri Swamiji and his team of yoga teachers conducted capsule curse at H.Q. of Northern Command Udhampur.
Elocution Competition: Annual Elocution Competition for the colleges of Gujarat University was organized. Fifteen colleges came forward for the competition. L. D. Engineering College was found the best. Dr. Niranjana Vohra & Dr. Prashant Dave were the Judges. H. H. Sri Swami Kamalanandaji Maharaj & H. H. Sri Swami Narayananandaji lit the lamp. Dr. Varsha Dave, a trustee of the ashram gave out award to the winners.
Spot painting competition for primary & secondary school children was also organized on this occasion. Master Poojan N. Panchal of Seth C. N. Vidyalaya, Ms. Najiba Fatima Dhukka of Hiramani Primary School, Miss. Riddhi Patel of Sri K. N. Primary School were the winners. In middle school's group Sri Dishit C. Shah, Miss Yesha N. Shah of the Divine Life School, Miss Forum Doshi of Little Flower Higher Secondary School were the winners.
Professor Mr. Jay Pancholi & Mr. Prashant Patel were expert judges for the competition. Credit goes to Professor Chirag Pandya & Smt. Kadambini Pandya of Gujarat University for planning the entire program. All participants were awarded certificates. Also, food, prasad and Sivananda literature were gifted to all.
Satsang & Tour of H. H. Sri Swami Adhyatmanandaji Maharaj During the Month of March 2019
March 1, 2019, to March 3, 2019 Government of India, Minister of Human Resource Mr. Prakash Jawadekar organized "Hackathone" program for continuous 36 hours in the field of research work done by young scientists and technocrats. About 12 different states of India, 380 candidates joined the program at Sivananda Ashram, Ahmedabad. In fact 42 cities, among 2 lacks entries and 11,000 research scholars were selected in this Hackathone program.
Prime Minister of India Mr. Narendra Modi gave inaugural video conference speech. Mr. Prakash Jawdekar gave welcome speech. Minister of education Mr. Bhupendrasingh Chudasama from Government of Gujarat, Vice-Chancellor of Government Technology University and Director Space Research Institute ISRO, Ahmedabad graced the occasion.
There were 38 teams were to solve the problem given to them regarding nations number of projects for number of States. Best winner team was awarded Rs. 1,00,000. Revered Sri Swami Adhyatmanandaji Maharaj was invited to grace the opening and closing sessions.
Ahmedabad: On March 2, 2019, Revered Sri Swamiji Maharaj was invited for Sri Morari Bapu's katha as well Shiv Puran Katha at Zydus ground. Revered Swamiji consecrated 35 ¼ inches high Shivlinga made of 1,25000 Rudraksha.
Vastrapur (Ahmedabad) : On March 3, 2019 Pujya Sri Swamiji Maharaj was invited to car rally organized by Blind Man Association. Driver will be driving the car guided by blind man with the help of navigation through the "BRAIL" instructions. Revered Swamiji praised and motivated to all participants and organizers.
Haridwar (March 7, 2019): Bharat Mata Yanja was organized by H. H. Sri Swami Satyamitranandaji Maharaj. Revered Sri Swami Adhyatmanandaji Maharaj graced the inaugural session. Swamiji returned back to Ahmedabad the next day on March 8, 2019.
On March 9, 2019 Pujya Swamiji Maharaj attended a book release function of Mr. John Geevergeese. Book "Purushartha Ni Parikrama" by Kinjal Oza Vaidya is a story of struggle for perfection.
Haridwar (March 10, 2019) A grand gathering of Saints and Sages was organized. The subject of the meeting was Unity of Nation. "Love India", India first, society next and self is last or least. Revered Sri Swami Maharaj said that look back even birds, animals, children also have shown their loyalty and patriotism towards the nation. Never say I am Gujarati or Marathi, say I am Indian. We belong to this great land of Himalaya, Ganga, Sages, Saints, Gita, Rama and Krishna. Feel proud to be born in Bharat, stay united and strengthen the power of Mother India.
Ahmedabad (March 3, 2019): Rotary Club Ahmedabad Metro organized Artificial Limbs Donation Program at Sivananda Ashram, Ahmedabad. About 153 Handicaps people from all over India, Dubai & Bangladesh were served with love. Thanks to Smt. Jyoti Daftari, President and Sri Atul Parikh, Secretary of Rotary Club Ahmedabad Metro for choosing the ashram as venue for this noble cause.
Berhampur, Odissa (March 11, 2019): Worshipful Swamini Divyaswarupananda Mataji of Sivananda Ashram, Kendra Pada and H. H. Sri Swami Brahmanishthanandaji Maharaj from Sri Jagannath Puri received Revered Sri Swamiji Maharaj and after lunch they went to Berhampur.
Evening satsang was organized at Sri Vishnu Temple and next morning Simhala Village. "Chidananda Marg" and "Swami Chidananda Memorial Arch"was inaugurated by Revered Sri Swami Adhyatmanandaji Maharaj. On March 13, 2019, after having darshan of Sri Sri Sri Lord Jagannath, Swamiji Maharaj travelled Bhubaneswar, Kolkata, and Agartala.

Agartala (March 13, 2019): At Agartala Sri Sri Sri Ma Anandamayi ashram, Sri Sri Sri Ma, Sri Didi Ma, Babu Bholanathji and Goddess Saraswati's idols were installed.
Sri Swamiji stayed here and at Sri Jagannath Temple for celebration of "Daul Purnima", Holi and Happy Birthday of Sri Sri Lord Chaitanya Mahaprabhu.
Kheora, Bangladesh (March 17, 2019) : On early morning Sri Swamiji Maharaj had a quick visit to Bangladesh. Sri Swamiji visited ashram and temples at Kheora. On March 18, 2019, Sri Swamiji arrived back to Ahmedabad.
Dholka (March 22, 2019): Upon a humble & sincere request of Sri Arun Oza, President, Sri Vidya Prachar Mandal Dholka, Revered Sri Swami Adhyatmanandaji Maharaj graced the function organized to felicitate 18 bright sports kids those who were able to win state level & National level silver and bronze medals. Swamiji praised them for their achievements and said, "Bravo ! Keep it up your spirit of shining. Now shine at the Global level. Plod on steadily. Bright future awaits you all."
Om Shanti!
Join us in Sri Maa Ashtalaxmi Patotsav & Anand Utsav. Refer to Upcoming Events for details....................
Latest Additions.........

Please subscribe to Divyajivan Mailing List. We will update you with new uploads of spiritual literature on the web of Holy Master Sri Swami Sivanandaji Maharaj, saints of his lineage and other saints. We will also update you about the Sivananda Ashram, Ahmedabad website and facilitate communication with Sri Swami Adhyatmanandaji Maharaj.

Please enter your email address and click Subscribe button
To manage your subscription, please visit Subscription Page. You can also subscribe and unsubscribe from this page. You may unsubscribe by yourself anytime you wish. You will be required to send confirmation link that you will get in your e-mail to complete this subscription.

[ Home ] [ News ] [ Upcoming Events ] [ What's New? ] [ Services ] [ Swami Adhyatmananda ] [ Multimedia ] [ Publications ] [ Administration ] [ Saints and Sages ] [ Photo Gallery ] [ Contact ] [ Guestbook ] [ Important Links ] Webmaster: webmaster@divyajivan.org