News & Activity Report for the Month of April 2019
Sivananda Ashram, Ahmedabad
Amrut Mahotsav of H. H. Sri Swami Adhyatmanandaji Maharaj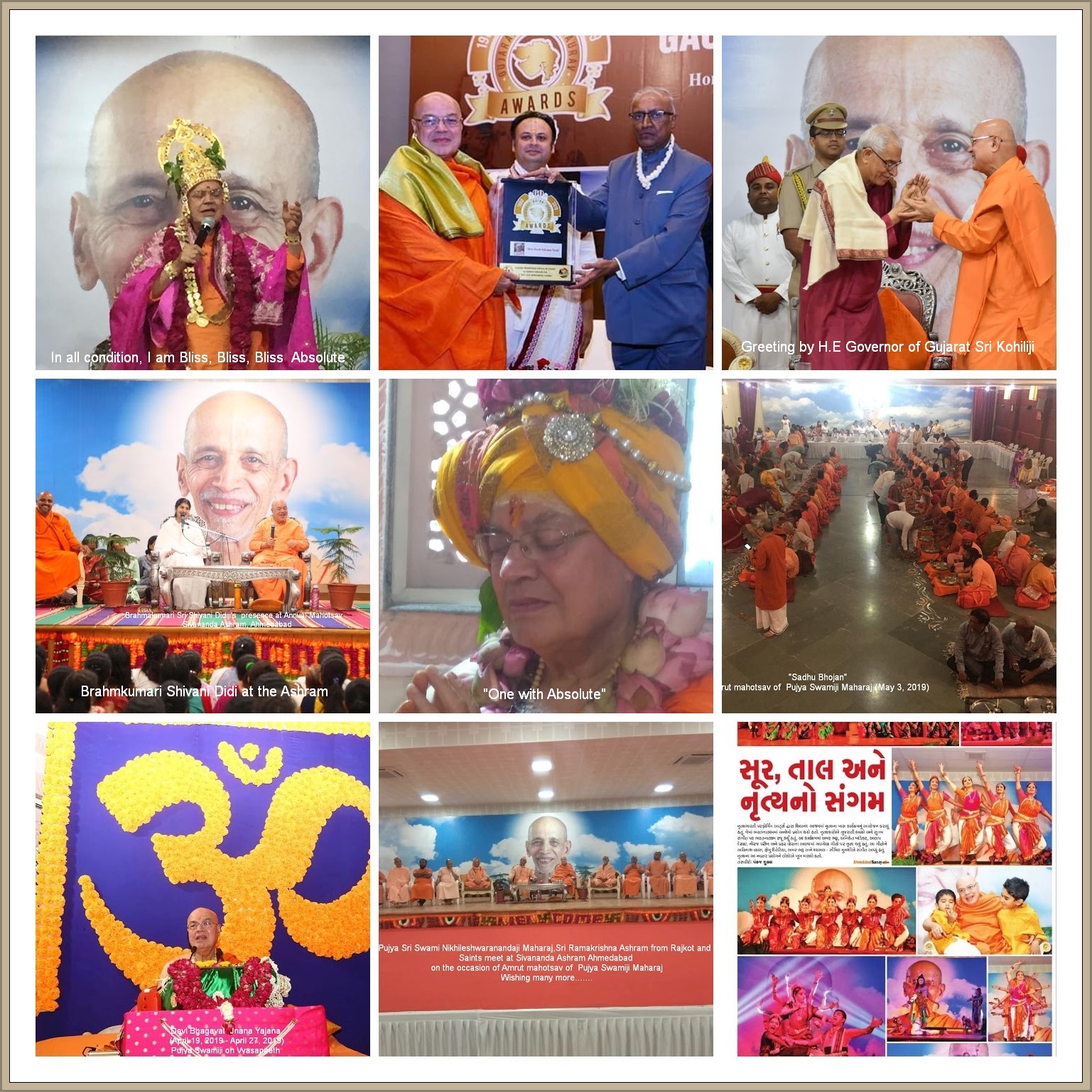 The Annual Function of Divya Jivan Sanskrutik Sangh & Amrut Mahotsav celebrations at the Ashram commenced from April 19, 2019, and concluded on May 3, 2019. It indeed was a spiritual feast for the devotees. The satsang with Mahatama, Yajana worship, Bhakti Sangeet, Devi Worship at night with Garba, and more.... filled the entire fifteen days of festivity.

Chitra Navaratri & Sri Ramnavami Utsav at the Ashram (April 6, 2019 to April 14, 2019) : It is Sadhana time during nine days of Chaitra Navaratri at the Ashram. Group recitation of Sri Ramcharit Manas commenced daily from 4 pm to 7 pm by Devotees lead by Temple priest Sri Kamleshbhai Maharaj at the Ashram. It culminated with Ramnavami Utsav on April 14, 2019, with holy Ram Yajna worship, archna, offering special bhog, Arati and rejoicing the Birth of Lord Sri Rama. More than hundred and fifty devotees participated and feel blessed.

Devi Bhagawat Katha (April 19, 2019 to April 27, 2019) : Annual function of Sivananda Ashram commenced with discourses on Sri Devi Bhagavat by Sri Swamij Adhyatmanandaji Maharaj on Vyas Peeth at Sri Sri Sri Ashta Laxmi Bhavan. A great number of devotees attended the daily discourses for nine days on Devi Bhagavata Purana. Nirvana Peethadhishwar Acharya Maha Mandaleshwar Srimat Swami Vishokanandaji Maharaj remained present in Sri Devi Bhagavat Katha and blessed the devotees. Also, Sanyasini Sri Anand Murti Guru Maa visited Sivananda Ashram during Sri Devi Bhagavat Katha and her presence was honored. Her holy presence was appreciated by all.

805 th Yogasana, Pranayam & Meditation camp (April 18, 2019 to April 29, 2019): Early Morning Yogasana, Pranayam and Meditation shibir by Pujya Swamiji began on April 18, 2019 and was attended by about 750 yoga lovers. In the evening, Sunderkand parayan was organized in the voice of Shri Nandkishorji.

Sri Hanumant Yajna and Archana were arranged on the occasion of Hanuman Jayanti on April 19, 2019.

On April 21, 2019, Garaba, Devi worship in praise of Maa was organized. Bansariben Bhatt's vocal brought a special favor and enjoyed by all.

On April 23. 2019 "Mata Ki Chowki" was organized in the voice of famous bhakti Sangeet singer Sri Ajay Yajnikji from Delhi. A large number of people from Punjab, Uttar Pradesh – Hindi speaking class participated and took benefit of this holy recitation in praise of Maa Ashtalaxmi.

On Sunday, April 25, 2019 Voluntary blood donation camp was organized at the ashram. 90 people donated blood.

On April 27, 2019 Ladies artists from " Nartan School of Performing Arts" founded by Srimati Smita Shastri ji, who has received " Gujarat Ratna Gaurav" presented Nrutyanjali program, that was amazing.

On April 28, 2019, Annual Regional Conference of "Gujarat Divya Jivan Sangh" commenced early morning and continued till 8.30 night. The morning session was started with Jay Ganesh Prarthana and then there was a very inspiring lecture by Sri Shyam Sundar Paliwalji, Sarpanch of Piplantri village of Rajasthan. After that, the interspecific lecture by Dr. Nirja Gupta, Principal, Bhavan's College was welcomed by all.

The first session of the conference was concluded with meditation at noon. After lunch, the second session began with the group recitation of "Sri Vishnu Sahasranam." Sri Arunbhai Oza, an Institute's senior disciple discussed our Monthly spiritual journal "Divya Jivan" circulation drive to enable it to reach to more and more people. Sri Arunbhai with Vice President Sri Atulbhai Parikh has been working hard towards it and recently have enrolled 750 schools for one year and having 75-lifetime subscribers.

Concluding of this session was Pujya Swamiji's discourse on the subject "Achar Prabhavo Dharmah" enlightened everyone.

After that, Dr. Sri Swami Muktanandaji Maharaj, President of Sri Harkesh Ashram, gave a very inspiring speech on the subject of "Our duties in the context of current national situation" was well received.

The evening session was presided over by Brahmakumari Sri Shivani Didiji. Since morning, more than 1000 devotees were present for the session. The special arrangement of audio facilities was arranged on the first floor of the building for those who could not find the place in Chicananda Hall, the main venue on the second floor of "Chidanandam". 1650 devotees were served prasad dinner (Bhandara) at the conclusion of the day.

On April 29, 2019, Eighteenth Brahmotsava of Sri Sri Sri Ashta Laxmi Bhavan was celebrated. Navchandi Laxmi Homam and then mid-day Prashad (Bhandara) was organized in the morning. A discourse on the subject "Atha Ken Prayuktoayam Papam Charati Purushah" by Revered Sanyasini Pujya Sri Vidyaprakashananda Mataji well received by all.

Manipuri, Kathak, Bharat Natyam dances were presented by artists from Ahmedabad, Assam, Manipur, Kolkata, Jaipur, Delhi, and Trivandrum in the International Dance Festival celebrated at Sivananda Ashram, Ahmedabad.

On April 30, 2019, evening satsang high lighted with a thought-provoking discourse on the subject of "Two wings of Adhyatma – Discrimination and Patience".was delivered by (Vahelal's) Pujya Swamini Sri Anantananda Mataji.

After that, Kathak, Mohini Attam, Kuchipudi, Bharat Natyam, and Odissi dances were presented on the second day of International Dance Festival. This dances were sponsored by Sri J. G. College of Performing Arts, Indian Council for Cultural Relations and Sivananda Ashram, Ahmedabad. Sri John G. Varghese, Director of J. G. Performing Arts and President of Y. M. C. A., Ahmedabad remained present on both days.

On May 1, 2019 Pujya Swamiji was honored with "Gujarat Ratna Gaurav" award jointly by Gujarat Public Affairs Council of Canada (GPCA ) and Gujarat Samaj (USA) on the occasion of "Gujarat Day" in the evening at 5.30 pm in the auditorium of Ahmedabad Management Association (AMA).

Pujya Sri Swami Asanganandaji Maharaj, President of Jnan Vihar Ashram, Heranj, delivered enlightening discourse on the subject of "Inner travel" from 6 pm to 7 pm in the evening. After that memorable dance performance by artists of Nrutya Bharati Institute was performed.

On May 2, 2019, we had with us Srimat Swami Nikhileshwaranandaji Maharaj, President of Sri Ramakrishna Ashram from Rajkot. He gave inspiring discourse on the subject of "The Visible Form of Adhyatma Darshan - Sri Ramakrishna Dev".

Garba in Sanskrit was sponsored by "Eklavya Sanskrit Academy" at night and that enchanted everyone.

On May 3, 2019 Annual function culminated in 75th Prakatya Mahotsav of His Holiness Sri Swami Adhyatmanandaji Maharaj. Shehnai Vadan early in the morning, by Gayekwad Brothers, brought divine & peaceful vibrations. After morning prayers and meditation, Sri Swami Adhyatmanandaji Maharaj expressed his hearty feelings on "Guru Mahima". Yoga teachers and devotees felicitated Pujya Sri Swamiji Maharaj.
After breakfast, everyone visited temples of the ashram for prayers and Paduka Poojan of Guru Bhagwan Sri Swami Sivanandaji Maharaj and Srimat Swami Chidanandaji Maharaj, Pad Poojan of Sri Swami Adhyatmanandaji Maharaj by devotees of their beloved Swamiji's Maharaj was performed, followed by Ayushya Homam, Narayan Seva and Bhandara at noon.

The evening festivity began with Shehnai Vadan and Prayers from boys and girls students of Dr. Shivaniji's Institute. Honorable Sri Laheriji and Dr. Mihir Upadhyay was awarded "Manav Bhushan" and "Sanskrit Bhushan" respectively by His Excellency Governor of Gujarat Respected Sri Om Prakash Kohliji. Sri John G. Varghese welcomed Pujya Swamiji. Honorable Governor of Gujarat Sri Kohliji gave an enlightening discourse on the subject "Manavata Se ".

A Bhakti sangeet by Pandit Sri Vikas Parikh, Sri Niraj Parikh and Sri Matang Parikh family charged the atmosphere with divine vibrations and it continued till midnight. That followed midnight meditation with the background Sahnai music. The festivity concluded with Shringar worship by the devotees of their beloved Pujya Sri Swami Adhyatmanandaji Maharaj. They dressed him up with Mukut and yellow silken rob in the image of the Lord himself and Pujya Swamiji honoring the devotee's sentiments, let it happen without a least touched by all that outside Shaw.

During all the days of this annual function, Japa of Maha Mrutyunjay Mantra chanting for two hours in the morning and Bhandara-Maha Prashad after night program was arranged.

On April 5, 2019, Annual function of Sivananda Ashram, Divya Jivan Sanskrutik Sangh and Gujarat Divya Jivan Sangh, Ahmedabad was concluded with Sadhu Bhojan, Bhandara in the morning and Sunderkand by Sri Shastri ji Bharatbhai Sadhu in the evening.

The brief of everyday satsang during the Annual function is being published in the "Divya Jivan" monthly magazine of May-June 2019 issue. Ashram was Blessed by Saints of Guru Bhagwan Srimat Swami Sivanandaji Maharaj's lineage and Mahatma's from Gangotri, Badrinarayanaya, Jagannath Puri, Sri Rameshwaram, Rishikesh, Haridwar and Narmada shore. They all stayed and blessed the occasion. Devotees were blessed by their holy presence and satsanga.

32 yoga lovers lead by Sri James Lo from Sivananda Yoga Studio, Taipei, Taiwan, many devotees from Lucknow, Delhi, Bhubaneshwar, Barhampur and all over Gujarat, Maharashtra, Rajasthan, and Punjab came to be a part of this momentous occasion of Pujya Swami Adhyatmanandji Maharaj's Amrut Mahotsav Celebrations. Ashram administration thanks them all.

Satsang & Tour of H. H. Sri Swami Adhyatmanandaji Maharaj During the Month of April 2019

Ludhiana, Punjab (April 1, 2019 to April 4, 2019) : Revered Sri Swami Adhyatmanandaji Maharaj has been invited for Satsang and conferences by Universities in Punjab since 1975. Revered Swamiji's program ' Yoga – health and my village – my farm ( Mera pind – Mera khet )' have been telecasted by Jalandhar Door Darshan many times. This year also, Revered Swamiji was invited for three days Satsang on "Inner Awakening" and other important events at Rakhbag. Smt. Darshan Jain and Shri Rajkumar Jain have been organizing Pujya Swamiji's programs there for the last 44 years.

Shri Jayantilal Jethalal Kachwala is the disciple of Pujya Sri Swami Satyamitranandaji Maharaj. His Nav Dashabdi year celebration was organized in Pandit Dindayal Upadhyay Auditorium. Pujya Swamiji was invited to greet and bless dear "KAKA" in the auditorium which was fully packed on the occasion. Ex-Chief Minister of Gujarat Sri Dilipbhai Parikh & MPs, many Saints, and dignitaries were also present.
Om! Shanti!
Latest Additions.........

Please subscribe to Divyajivan Mailing List. We will update you with new uploads of spiritual literature on the web of Holy Master Sri Swami Sivanandaji Maharaj, saints of his lineage and other saints. We will also update you about the Sivananda Ashram, Ahmedabad website and facilitate communication with Sri Swami Adhyatmanandaji Maharaj.

Please enter your email address and click Subscribe button
To manage your subscription, please visit Subscription Page. You can also subscribe and unsubscribe from this page. You may unsubscribe by yourself anytime you wish. You will be required to send confirmation link that you will get in your e-mail to complete this subscription.

[ Home ] [ News ] [ Upcoming Events ] [ What's New? ] [ Services ] [ Swami Adhyatmananda ] [ Multimedia ] [ Publications ] [ Administration ] [ Saints and Sages ] [ Photo Gallery ] [ Contact ] [ Guestbook ] [ Important Links ] Webmaster: webmaster@divyajivan.org