News & Activity Report for the Month of August 2019
Sivananda Ashram, Ahmedabad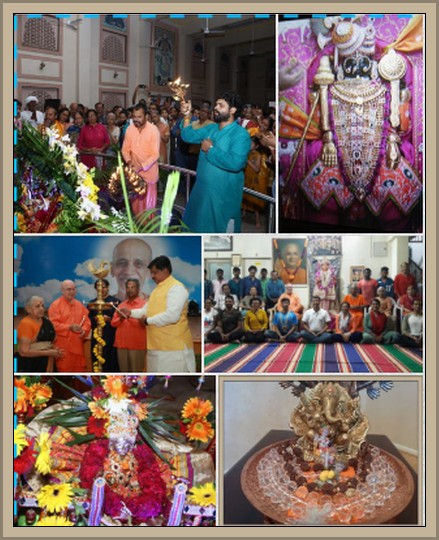 Mahabharat Katha during Holy Shravan Month Celebration (Aug 1, 2019 - Aug 29, 2019) - Holy Shravana month was celebrated in great enthusiasm and devotion in the worship of Lord Shiva at Sri Vishvanath Mahadev temple here at the Ashram. During this month Rudrabhishek and special Pooja were performed. Devotees participated in Savalkshya Bilva patras Archna, Abhishekatmak Laghurudras performed at Holy Shrine on each Monday during the Shravan month.
On first day of Shravan, Pujya Swami Adhyatmanandji Maharaj enlightened devotees on the subject of Shiv Pujan & worship of the Lord Shiva during holy Shravan. On Aug 2, 2019 Panchamved Mahabharata Katha by famous Manbhatt Shri Dharmiklal Pandya commenced at Sri Ashtalaxmi - Adi Shaktipeeth.
73rd Independence day celebrations (Aug 15, 2019): Independence day was graciously celebrated in Sivananda Ashram, Ahmedabad. Flag hoisting was done at 6.45 a.m. by Revered Shri Dhamiklal Pandya Ji. Sri Swami Adhyatmanandaji Maharaj gave very inspiring speech invoking the nation. Sri Swamiji said, " There cannot be peace in the society till maliciousness and selfishness are not removed. When each citizen of India feels that he represents INDIA then our nation will sure rise and prosper. Over and above keeping individual cleanliness, we need to clean our mind and let go our ego. Nation first, society second and selfishness never- that should be the spirit each one has to carry in the heart".
Sri Swamiji and a group of devotees from ashram participated in the Independence Day program at Governor House on the invitation of Governor Sri Acharya Devvratji.
On Aug 16, 2019, A grand dance performance "Prabuddh Bharat" was organized by Nritya Bharti at Sivananda Ashram. Senior B. J. P. member Sri Amit Thakar, Sri John Geevargese from YMCA and other senior artists and dignitaries attended the function. This dance performance was presented and directed by Sri Chandan Thakor and Smt. Nirali Thakor.

On Aug 18, 2019 Annual General body meeting of Trustees of Sri Divya Jivan Sanskrutik Sangh and meeting of trustees of Gujarat Divya Jivan Sangh was held at the ashram from 9.30 to 11.30 a.m. Respected Sri Arunbhai Oza took the initiative to enroll 750 life time members in honor of 75 th birth anniversary of Pujya Swami Adhyatmanandaji Maharaj.
Janmashtami Celebration ( Aug 24, 2019): Lord Sri Krishna's Prakatya Ustav was celebrated with great enthusiasm at Sri Ashta Lakshmi Adi Shakti Peeth. Bhakti Sangeet by Dr. Sri Vasavda ji's Gunjan hatkesh group, Bharat Natyam by Smt. Binal Himanshuvala followed by Haveli Music by Pandit Sri Vikas Parikhji filled Ashram's air with Divine vibrations just before Sri Lalaji's pragtya at midnight followed maha aarati in Sri Ashtalaxmi Bhavan, which was packed with the devotees. All the devotees had Darshan of Sri Lalaji in the decorated cradle. Pujya Swamijii was at Dwarka from Aug 23, 2019 to Aug 25, 2019 honoring an invitation for live commentary of Krishna Janmashtami from Devbhumi Dwarka to be telecasted by Door Darshan Girnar. Sri Swamiji described Krishna Janmotsava in Gujarati, Hindi for Delhi station and Bengali for Kolkata station.
11th Mahasamadhi day of Guru Maharaj Sri Swami Chidanandaji Maharaj (Aug 28, 2019) -Guru Paduka Pujan and special satsang was held and attended by a large number of devotees.
On Aug 29, 2019 Mahabharata Katha which was organized during entire Shravan Mas was concluded and Pulpitarian Manbhatt Sri Dharmiklal Pandya was felicitated on the occasion.

Aug 30, 2019 Homatmak laghurudra was arranged on the last day of Shravan Amavasya day. Grand Bhandara was also arranged on the conclusion of Havan.

As always, Narayan Seva, feeding to underprivileged residing in the slum area of the town was carried out on 3 rd, 8 th & 24 th this month. A complete meal was served, including Puri, vegetable, pulav, khichdi, sukhadi and milk. At the Ashram clinic, free medical service was offered to the sick and needy patients by honorable Sri Dr. Snehal Aminji on each Wednesday and Friday between 7.30 pm. to 9.00 pm.

During the month, Yoga Teaching in six batches for twenty days and five batches for ten days are running regularly at the Ashram. Reiki teaching on first and last Saturday of each month directed by Smt. Rupaben Majmudar has been continued for the last twenty years. Adding to these regular services, acupressure treatment is given free of charge on each Tuesday, Thursday and Saturday benefiting many patients. Grain distribution was done on the first Sunday of the month to the needy families and that has been going on for 25 + years..
Satsang & Tour of H. H. Sri Swami Adhyatmanandaji Maharaj During the Month of August 2019
Ganghinagar (Aug 4, 2019) : A grand gathering of saint meet at Dholeshwar Mahadev. Sri Swami Adhyatmanandaji Maharaj presided the function in the newly built Hall by Sri Swami Ramswaroopanandaji Maharaj. It was followed by Maha Prasad served to all.
Ahmedabad (Aug 11,2019): Dr. Mayur Patel, a well-known Diabetologist and his team celebrated Diabetes Treatment Week at his institution named ' Swasthya. It began with Pujya Swamiji lighting the lamp. Shri Hasmukh Patel(MP) and many doctors attended this function. Dr. Yash Patel presented the activities of the institution by slide show.
Ankleswar: There is organization of book readers at Ankleshwar. They organize Book Reader Forum program frequently. In 50 th , 100 th , 150 th and 222 nd lecture of the forum, Sri Swami Adhyatmanandaji Maharaj was invited. Sri Swamiji had a discourse on the subject "Sustainable Living".

Somnath (Aug 31, 2019 - Sept 7, 2019): At Somnath, 806 th Yogasana Camp in the Morning 6.am -7.00am and Holy Shiv Puran katha in the afternoon from 3.00 pm. to 7.30 pm. commenced.
OM Shanti!
Latest Additions.........

Please subscribe to Divyajivan Mailing List. We will update you with new uploads of spiritual literature on the web of Holy Master Sri Swami Sivanandaji Maharaj, saints of his lineage and other saints. We will also update you about the Sivananda Ashram, Ahmedabad website and facilitate communication with Sri Swami Adhyatmanandaji Maharaj.

Please enter your email address and click Subscribe button
To manage your subscription, please visit Subscription Page. You can also subscribe and unsubscribe from this page. You may unsubscribe by yourself anytime you wish. You will be required to send confirmation link that you will get in your e-mail to complete this subscription.

[ Home ] [ News ] [ Upcoming Events ] [ What's New? ] [ Services ] [ Swami Adhyatmananda ] [ Multimedia ] [ Publications ] [ Administration ] [ Saints and Sages ] [ Photo Gallery ] [ Contact ] [ Guestbook ] [ Important Links ] Webmaster: webmaster@divyajivan.org