News & Activity Report for the Month of July 2019
Sivananda Ashram, Ahmedabad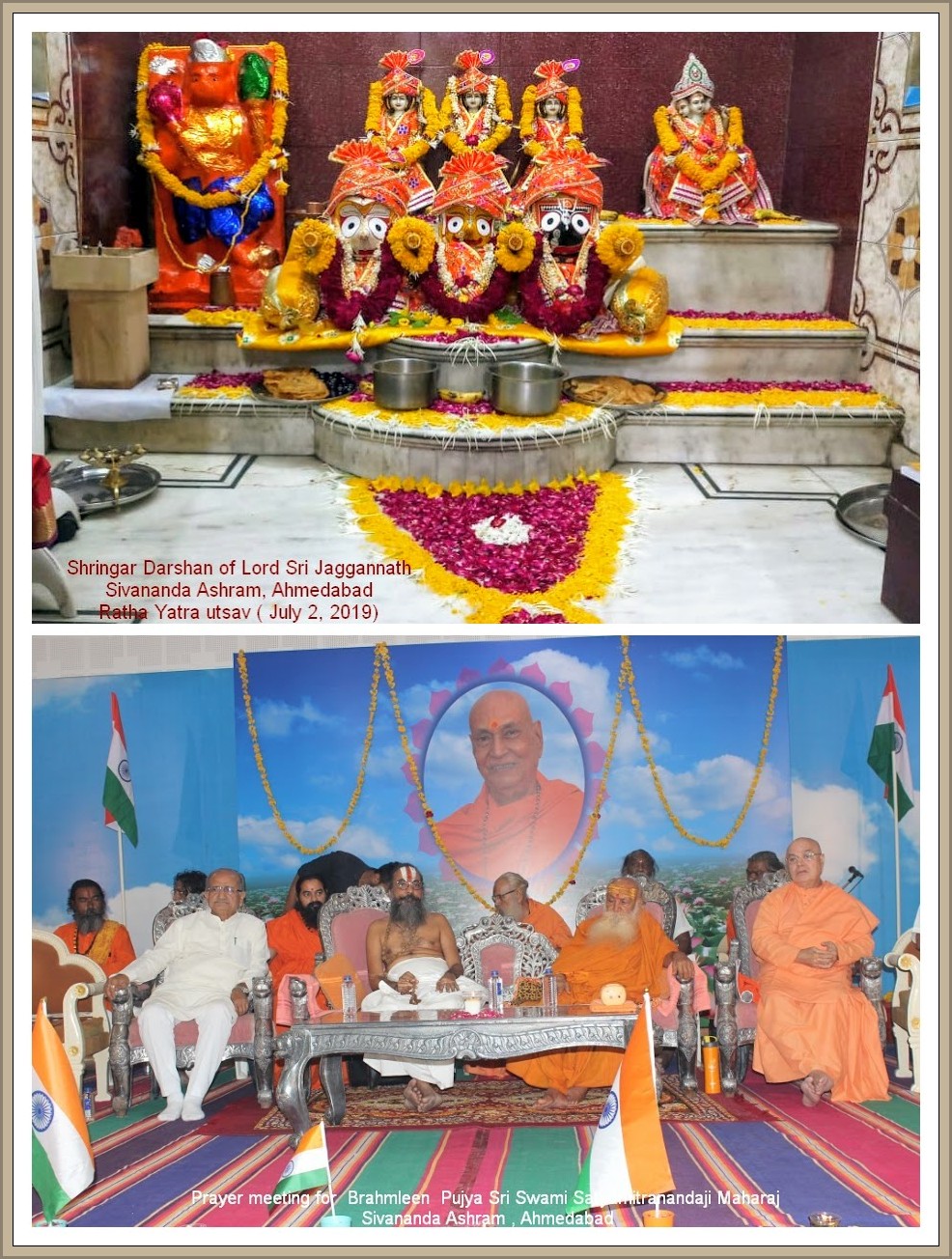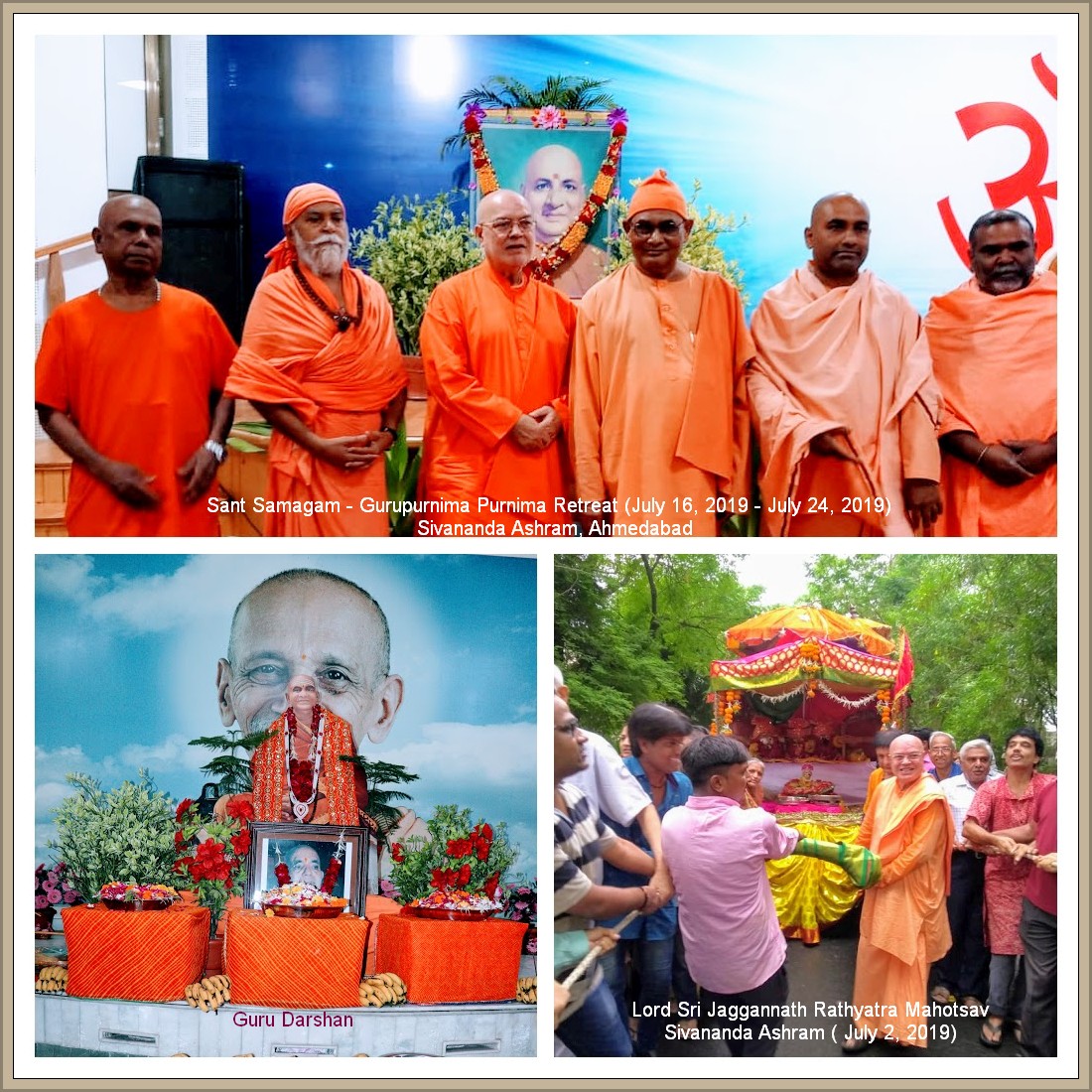 Chariot Festival (Ratha Yatra) of the Lord Jaggannatha at theAshram (July 2, 2019): As always, we had a graceful Ratha Yatra at the Ashram. The Idols of Lord Sri Jagannatha, brother Balaramji & sister Subhadraji were adorned splendidly after ceremoniously worshipped by the temple priest. Then the idols were mounted on the silver thrown in a decorated chariot and brought out for the procession. It was a joyous occasion for all. Revered Sri Swami Adhyatmanandaji took a lead to pull the chariot and Harinam chanting Devotees were singing and dancing in the praise of the Lord. Devotees present on the occasion experienced the Divine Presence of the Lord. More than six hundred devotees had grand Prashad Dudhpak & Malpuva and more. It was a feast enjoyed by all.
Pujya Sri Swami Adhyatmanandaji was invited by DD Girnar television channel for the running commentary for holy Chariot Festival of Sri Jagannath Temple of Ahmedabad. Home Minister of Indian Govterment Sri Amit Shah, Chief Minister Sri Rupaniji and many more ministers and dignitaries, attended morning worship service of the temple started at 4.00 am and there after. Thousands of devotees flocked from early morning at 2.30 am onwards. Ratha Yatra of Lord Sri Jaggannath completed 14 km route of Ahmedabad city. Pujya Swamiji commented from 3.50 am to 7.50 am and in the late evening from 8.30 pm to 10.00 pm.

Gurupurnima Sadhana Saptah (July 16, 2019 - July 24, 2019): It indeed was a spiritual feast for the Devotees at the Ashram to celebrate GuruPurnima in the satsang with Mahatmas. Nine days of Sadhana Saptah commenced on Gurupurnima day (July 16, 2019) with a grand Paduka Pujan of Holy Master Sri Swami Sivanandaji Maharaj & GuruMaharaj Sri Swami Chidanandaji Maharaj........ Each day began with prayers at 6 am and morning satsang included group chanting of Vishun Sahshranama, Bhagawad Gita and spiritual sharing. In the afternoon, chanting of Durga Saptasati and evening satsang included spiritual discourses & sharing the thoughts on glories of Guru by different speakers namely H. H. Sri Swami Adhyatmanandaji Maharaj, Sri Bhagyesh Jha, Dr. Amish Kshtriya, Sri Swami Brahmnisthanandjimaharaj from Divya Jivan Sangh (Jagganathpuri), Swamini Vidya Prakashananda Mataji, H. H. Sri Swami Asangananadaji Maharaj, H. H. Sri Swami Nikhileshwaranandaji Maharaj, H. H. Sri Swami Parmatmanandaji Maharaj.....Culmination was on 56th Aradhana day (July 24, 2019), Mahasamadhi day of worshipful Gurubhagawan Sri Swami SivanandaJi Maharaj. A large number of devotees participated in a grand Paduka Pujya & Guru worship which was followed by Bhajan and discourse by Pujya Sri Swami Brahmanishthanandaji Maharaj (Puri) and Smt. Rupa Majmudar, an ardent devotee of Gurudev. Narayan Seva (poor feeding) and serving Maha prasad to all during mid-day.
Yoga Through (SIVA) Sivananda institutes of Yoga-Vedanta Academy: At the Ashram regular Yoga classes in seven batches for beginners and advanced yoga students carried out this month, as usual.

Many devotees participated in regular religious worships at the Ashram namely Guru Paduka Pooja on Thursday, a special evening worship at Sri Ashtalaksmi Bhavan on Friday, Sri Sunderkand Path on Saturday, a special Satsang on Sunday and daily night satsangs. Also Sri Lalita Sahasranam at Sri Ashtalakshmi Bhavan and Sri Satyanarayan pooja on full Moon day were performed.
Satsang & Tour of H. H. Sri Swami Adhyatmanandaji Maharaj during the Month of July 2019
Ahmedabad (July 1,2019): Founder President of Gita Mandir Brahmleen Pujya Sri Swami Vidyanandaji Maharaj's Mahasamadhi day was celebrated with great devotion and reverence. Pujya Sri Swamiji Maharaj presided over a grand gathering of saints and sages. Satsang was followed by mahaprasad served to all.
Ahmedabad (July 3, 2019): Sanskrit Literature Forum of Gujarat organized a grand gathering of santskrit scholars, professors, students and others. The chancellors from five universities, Governor of Gujarat and Revered Swamiji Maharaj were special guests. Sanskrit scholars were recognized and awarded by H. E. Governor of Gujarat.
Sanskrit is a language of ancient India with a 3,500-year history. It is the primary liturgical language of Hinduism and the predominant language of most works of Hindu philosophy as well as some of the principal texts of Buddhism and Jainism.
Haridwar (July 7, 2019 - July 10, 2019): The Spiritual leader, His Holiness Sri Swami Satyamitranandaji, a founder of Sri Bharat Mata Temple at Haridwar attained Mahasamadhi on June 24, 2019. His holiness rendered invaluable services and established Samanvaya Seva Foundation to serve poor people from tribal and hilly areas by providing free education and medical facilities. He lived for the nation, downtrodden poor and sick. A prayer meeting for sixteen days were organized by Bharat Mata Temple. It was attended by grand gathering of saints, sages, religious head of all religions, Governors of different states and many more. Revered Sri Swami Adhyatmanandaji Maharaj gave heart touching tribute to His Holiness. Also prayer meetings were organized at KADI and at Sivananda Ashram, Ahmedabad which was attended by a number of sages, ministers from Government of Gujarat and devotees.
During the visit of Haridwar, Pujya Swamiji paid homage and adorations to holy Samadhi Shrine of Holy Master Sri Swami Sivanandaji Maharaj, Ganga and Guruniwas at Sivananda Ashram, Rishikesh.

Mehsana (July 12, 2019 - July 18, 2019): For installation of a new incoming team of Rotary Mehsana and Lion Club, Ahmedabad, Pujya Sri Swamiji Maharaj was invited. At Rotary, Swamiji gave inspiring speech to connect Rotary with the world and at Lions Club for which Lions stands for the last 102 years.

On July 14, 2019 Swetambar Murty Poojak Jain Sangh of Jodhpur village at Ahmedabad invited Puyha Sri Swamiji Maharaj for its Chaturmas inaugural function at Jain Upashraya. Sri Swamiji shared the words of wisdom. A large number of Jain Sadhus and Sadhviji's and devotees attended the program.

Gandhinagar (July 15, 2019): H. E. Governor of Gujarat Sri Om Prakash Kohliji took retirement and left for Delhi. Pujya Swamiji and a group of devotees went to see him upon a courtesy visit. He had a special honor for Sri Swamiji and the activities run by Sivananda Ashram.

Ahmedabad (July 18, 2019): Tree plantation was done by Sivananda Ashram's inmates in the space allotted by Municipal Corporation, Ahmedabad to plant about 80 trees of Margosa. Pujya Sri Swami Adhyatmanandaji Maharaj; Deputy Commissioner, Mr. Vishal Khanama from Ahmedabad Municipal Corporation graced the occasion and participated in the
plantation of trees. Sri Vijay Jajal of Sivananda Ashram has to take care for three years on behalf of ashram with the help of other lovers of trees.

Upcoming events

Mahabharat Katha: During holy Shravan month ( Aug 1, 2019 - Aug 29, 2019) Mahabharat Katha with music is being organized every day from 5.30 pm to 7.00 pm at Sivananda Ashram, Ahmedabad by Padmsri Dharmiklal Pandya ji with music. All are cordially invited.

Janmashtami Festival (Aug 24, 2019):
Devotional singing by Sri Hatkesh Swar Gunjan Mandal of Res. Jayant Vasavada from 8.00 pm to 9.30 pm
Indian classical dance, Bharat Natyam by Respected Binalji from 9.30 pm to10.00 pm
Pandit Vikas Parikhji will be singing Indian classical vocal music from 10.00 pm to12.00 pm
Latest Additions.........

Please subscribe to Divyajivan Mailing List. We will update you with new uploads of spiritual literature on the web of Holy Master Sri Swami Sivanandaji Maharaj, saints of his lineage and other saints. We will also update you about the Sivananda Ashram, Ahmedabad website and facilitate communication with Sri Swami Adhyatmanandaji Maharaj.

Please enter your email address and click Subscribe button
To manage your subscription, please visit Subscription Page. You can also subscribe and unsubscribe from this page. You may unsubscribe by yourself anytime you wish. You will be required to send confirmation link that you will get in your e-mail to complete this subscription.

[ Home ] [ News ] [ Upcoming Events ] [ What's New? ] [ Services ] [ Swami Adhyatmananda ] [ Multimedia ] [ Publications ] [ Administration ] [ Saints and Sages ] [ Photo Gallery ] [ Contact ] [ Guestbook ] [ Important Links ] Webmaster: webmaster@divyajivan.org