News & Activity Report for the Month of September 2019
Sivananda Ashram, Ahmedabad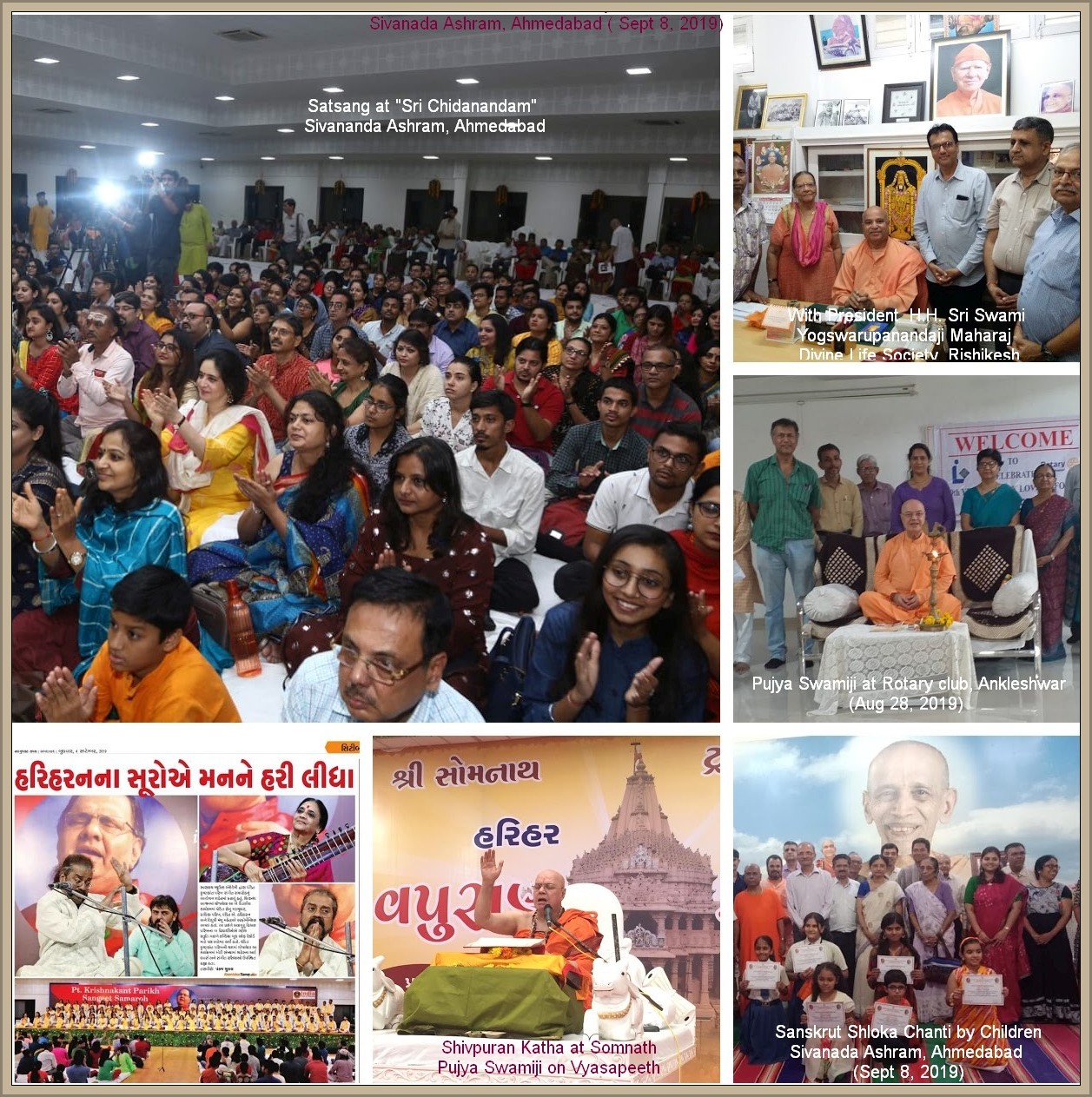 The month of September commenced with the sacred Lord Ganesh Chaturthi celebration at the Ashram on Sept 2, 2019. The festival celebrates Lord Ganesha as the God of New Beginnings and the Remover of Obstacles. Lord Ganesh is the symbol of wisdom, prosperity and good fortune.
On Sept 2 & Sept 3, 2019 Late Pandit Krishnant memorial classical music recital program was organized by his sons Parikh Trio, this year also at Sivananda Ashram. Respected Manju Mehta, Shri Ronu Majmudar and Pandit Hariharanji presented Sitar, Flute and Indian classical vocal recital. The entire program was attended by a very large music-loving audience.

On Sept 8, 2019, 132nd Birth Anniversary of Gurubhagwan Sri Swami Sivanandaji Maharaj was celebrated with grand Paduka Poojan, Satsang and Narayana Seva (Poor feeding). After the morning prayer and meditation holy Paduka Poojan was organized at Shri Swami Chidananda Yoga Meditation Hall, which was followed by Sanskrit Shloka recital competition for children. Group A was for children from 3 years to 8 years of age and group B was from 9 to 15 years. A total of 96 children participated for which six learned scholar judges attended the program. All participants were awarded certificates and Sivananda literature. Along with them. their parents also were served food prasad. First, second & third winners of both groups were awarded a special prize. The entire program was planned and conducted by Dr. Chirag Pandya. Worshipful and Revered H. H. Shri Swami Kamlanandaji Maharaj and H. H. Shri Swami Narayananandaji Maharaj graced the occasion and awarded prize and certificates to participants and honored to a respected panel of judges also. Narayan Sewa - poor feeding followed in the evening.
On Sept 24, 2019, Happy Birth Anniversary of Most Worshipful and Revered Gurudev Srimat Swami Chidanandaji Maharaj was celebrated with great devotion and enthusiasm with Paduka Poojan and remembrance of GuruMahraj. Narayan Seva, Poor feeding also was organized.
Navaratri Festival or Devi worship (Sept 29, 2019 - Oct 7, 2019): The month of October began with a spirit of the Navaratri festival. Ten days of Devi worship commenced on Sept 29, 2019. Devotees joined in a group chanting of Bhagavad Gita all eighteen chapter in the forenoon from 9.30 am to 11.30 am and Sri Durga Saptasati recitation in the afternoon and Garba at night in Sri Sri Ashtalaxmi Bhavan. Dr. Jayant Vasavada organized all 9 days singing with his Shri Hatkesh Swar Gunjan group. In spite of heavy rains during Navaratri, a large number of devotees attended this wonderful program. Temple priest Shri Kamlesh Maharaj conducted both recitations.
The ashram is preparing for Deepavali celebrations, a Group Dhateras Pujan and for a Grand Annakoot offering on Deepavali day.
Satsang & Tour of H. H. Sri Swami Adhyatmanandaji Maharaj During the Month of September 2019

Somnath (Sept 1, 2019 - Sept 8, 2019): Somnath Trust invited Revered Shri Swami Adhyatmanandaji Maharaj for Shri Shiv-Puran Katha which commenced on Aug 31, 2019, and continued up to Sept 8, 2019. During Katha a number of stories enacted by professional artist groups from Bhopal. In spite of heavy and pouring rains katha was attended by a large number of devotees from all over Gujarat, Mumbai and also Delhi. Managing trustee and secretary of Shree Somnath trust welcomed Revered Swamiji and all devotees for this wonderful and auspicious occasion of Shiv-Puran Katha at Somnath, which is one of the Jyotir Lingam among the twelve Jyotir Lingams. With kind permission of Somnath trust and security Department, all devotees recited Shri Shiv Mahima Stotra with orchestra, just inside the temple, in front of the deity "Itself". Katha concluded with very pious tone of, "Now we shall abide in HIM - SOMNATH only".

Adhyatma Tour 2019 : On Sept 9, 2019 evening Pujya Shri Swami Adhyatmanandaji Maharaj departed for his USA, Canada and UK tour.
Chicago, IL : (Sept 10, 2019 – Sept 14, 2019): Gurudev Shri Swami Sivanandaji Maharaj's ardent devotees at Chicago Respected Dr. Minal and Dr. Bharat Naik organized Revered Shri Swami Adhyatmanandaji Maharaj's Chicago area program from Sept 10, 2019 to Sept 14, 2019

Each morning -day commenced with yoga classes at Hindu Temple of Greater Chicago (HTGC). Rev. Shri Swamiji's discourses were organized at Bharatiya temple of NW Indiana, Gayatri Pariwar, Study Group, Satsang Group, Universal spirit yoga studio, Shri Arbindo Devotee group and at Jalaram Mandir. During all satsang places, Rev. Swamiji spoke on different subjects like yoga, meditation, pranayama, stress management through yoga, the glory of Gayatri Mantra, Love and Devotion for the Peace, Sri Vishnu Sahastranam, Awakening the SELF and bhakti-yoga.
Madison, WI (Sept 15, 2019): Smt. Manjesh and Shri Jagdish Agrawal invited Rev. Shri Swamiji Adhyatmanandaji Maharaj to grace and to bless their activity of Mandir of Madison at Wisconsin. Revered Shri Swamiji was received by temple priest with traditional Purna Kumbha and 'Shesha Vistram'. A wonderful Archana Pooja and Arati were organized which followed by Prasad. Devotees from Chicago, Minnesota, and Milwaukee also participated in the function.

Milwaukee, WI (Sept 15, 2019): Sri Hari is a member of the board of directors of Sri Divya Jivan Sanskrutik Sangh (USA), Smt. Aparna and Sri Hari are very pious couple and sincere devotee of the Lord. Revered Shri Swamiji blessed them and had home Satsang in the evening.
Reading, PA ( Sept 16, 2019- Sept 18, 2019): Dr. Sharon (Sudha ji ) Allit is a founder president/director of Kulkamal Yoga at Readings, PA. At the same time, she is an ardent devotee of Revered Shri Swamiji Adhyatmanandaji Maharaj. Upon her very sincere and generous invitation, Shri Swamiji arrived at Readings. On Sept 16, 2019, satsang Revered Swamiji spoke on the subject of "Hanuman: An Exemplary Devotion ". Listening to Pujya Swamiji on the glory of Lord Hanuman was truly enlightening for all. The Satsang on Sept 17, 2019, was on the subject of "Inquire Who Am I".
During his stay, Shri Swamiji Maharaj was invited by Albright College of Readings, PA. Unfortunately, one of the professor's son of the College got killed in recent gunfire in the University. Rev. Shri Swamiji planted a tree in his name and spoke upon the subject "How To Live Non- violence In The Atmosphere Of Violence". A large number of students attended the session and also prayed for peace and harmony in the world at large. During his stay Shri Swamiji attended home Satsang at devotees of Revered Gurudev Shri Swami Sivanandaji Maharaj.
Allentown, PA ( Sept 18, 2019): On his way to New Jersey Revered Swamiji with devotee group visited Shri Anoopam mission Allentown (PA). They had Satsang, darshan and prasad, which was served by saints of Anoopam mission with so much of love and generosity. Revered Swamiji in his Satsang talked about the glories of Lord Shri Swami Narayan and Saints of his divine order and Head & Acharya of Anoopam Mission Worshipful and Revered Shri Sahebdada and his love for Revered Shri Swamiji Maharaj.
New Jersey (Sept 18, 2019 to Sept 22, 2019): Honoring sincere invitation of Shri Vishwa Hindu Parishad of North America ( VHPA), Revered Shri Swamiji arrived at New Jersey, known as the city of the garden. Vishwa Hindu Parishad of North America (VHPA) organized North America Hindu Temples and their executive's annual conference in New Jersey. The conference commenced with an invocation by Revered Shri Swamiji Adhyatmanandaji Maharaj and concluded with his keynote address. In his speech, Shri Swamiji thanked all the organizations and requested them to keep followup their discussions made during three days of meetings. Nearly 150 organizations took part in the conference.
Also, Shri Swamiji's Satsang was organized at Shri Bharat Sevasharam Sangha of North America at Kendall Park NJ. Most worshipful & Revered Sri Swami Amarnathanandaji Maharaj generously organized this Satsang meeting, which was the attended by the large number of devotees. Swamiji shared the thoughts on the subject of "Aim For Human Life in Hindu Scripture". Thanks to Shri Umesh Suklaji, Prabha Shukla, Shri Vimal & Pappu Sodhani, Shri Sunil Bagaria, Mrs. & Mr. Kodhari, Smt. Tejal & Amit Shah for organizing New Jersey Programs.
On Thursday, Sept 19, 2019 Shri Swamiji's Satsang was organized at Sanatan Mandir of the Parsippany area. Here Swamiji spoke on the subject "Be True to Thy Own Self". Sri Ajitbhai Kothari, the trustee of the temple welcomed as well thanked Revered Swamiji for his generosity and to be with them every year.
Toronto, Canada (Sept 22, 2019 - Sept 25, 2019): At Toronto Shri Swamiji had a very hectic tour of Canada. On Sept 22, 2019 afternoon Shri Swamiji addressed the devotees of the Hindu Heritage Temple of Mississauga. A grand flag hosting was organized before the Swamiji's Satsang. During his stay, Swamiji had several home Satsangs at different areas of Toronto honoring devotees' request. Thanks to Archaryaji of Hindu Heritage Temple, Shri Kamlesh Dave, Shri Mayur Upadhyaya, Shri Balkrishna Lodhia, Sri Hitesh Patel and Shri Ram Gogia for organizing this quick trip to Canada. On his way to Troy (MI) America by road Shri Swamiji had home Satsang at Smt. Nivedita and Shri Jayesh Bhatt's holy abode at Windsor (Canada).
Troy, MI (Sept 25, 2019 - Sept 27, 2019): Sri Anil Lal, President of the Divya Jivan Sanskrutik Sangh (USA) and Smt. Meera Lal and the member of Board organized a vibrant program at Troy that included yoga classes at Bharatiya Temple of Troy and home settings. Thanks to Dr. A. U. Patel, Smt. and Shri Nitin Desai, Smt. and Shri Sunil Shekhari for their valuable time and generous organizing capacity.

Toledo, OH (Sept 27, 2019 - Sept 29, 2019): The Hindu Temple and Heritage Hall of Toledo organized two days satsang of Pujya Swamiji on very important subjects "The Need of the Hour" & "Power Of Positive Thinking". Swamiji conducted pranayama and meditation class for three days. Home satsangs were organized upon the request of devotees. Thanks to Smt. Dr. Bina and Shri Rajesh Laungani, Smt. Bindu and Dr. Arvind Mistri and Temple Acharya Shri Anant Dikshit for their valuable time sharing and organizing functions.

Tampa, FL (Sept 29, 2019 - Oct 1, 2019): After 15 years Revered Swamiji Adhyatmanandaji Maharaj visited Tampa, FL invitation of Res. Dr. Gaurangi and Shri Nikunj Patel of Indian Culture Center and Shri Arvind Patel of Gujarati Samaj. Swamiji conducted Morning Meditation session and at evening Satsang Swamiji talked about the spiritual significance of Navaratri and Durga Worship & it's relevance in our day-to-day life.
Atlanta, GA (Oct 1, 2019 - Oct 3, 2019): At Hindu Temple of Atlanta, Revered Shri Swamiji Maharaj received warm welcome by President Smt. Sheela and Dr. Krishna Mohan Sharma, Member of Board of Directors of temple. It was a Navaratri time, a festival dedicated to Goddess Durga and her nine Avatars. It is associated to the prominent battle that took place between Durga and demon Mahishasura and celebrates the victory of Good over Evil. On Oct 1, 2019 happened to be a fifth day of Navaratri Temple offered performed Durga worship and Shri Durga Saptasati recitation in presence of Pujya Shri Swamiji Maharaj that lasted for about five hours. Shri Swamiji Maharaj is a regular visitor of Atlanta for about twenty years invited by Shakti Mandir, Sanatan Temple, Gujarati Samaj & Hindu Temple of Atlanta.
On October 2 marks the special day in Indian calendar for It is of Mahatma Gandhiji's Birth Anniversary. It happened to be 150 th Gandhi Jayanti this year. It was celebrated with great love and devotion at Consulate General of India at Atlanta, GA. At Consulate Office, Consulate General H.E Dr. Swati Kulkarni welcomed Shri Swamiji in great honor. Swamiji offered fresh flowers garland in prayerful mood to Mahatma Gandhiji's photo at the Consulate House and addressed also to the audience present for this occasion.
In the afternoon Revered Swamiji was invited by Gandhi Foundation at the function organized at Martin Luther King (Junior) memorial. Here also Dr. Swati Kulkarni, Consulate General of India at Atlanta and Shri SwamiJi Maharaj offered fresh flowers garland to Rev. Bapuji Mahatma Gandhiji's statue. Four-hour long program was organized by Gandhi Foundation at Law college auditorium at downtown of Atlanta. Revered Shri Swamiji conducted all religion prayer and addressed the gathering. He said "We need Gandhiji, not only in India but around the globe. Unfortunately, we are losing the values and value-based educations. No plane can fly without 2 wings as well as wheels to
run on runway for takeoff and landing. With Truth and Non-violence supported by loyalty towards the nation and backed by a sincere prayer only, we can live the life of peace and
integrity. Parents of Gandhiji Res. Mother Putalibai, father Karamchandji, chest wife and life- long partner Kasturba, they all need applause because of making Gandhiji life sublime. Today there is also a Happy Birthday of Shri Lal Bahadur Shastri, Shri Nelson Mandela, Martin Luther King (Jr), they all lived for the nation or community. There was no selfish motive and because of that only, they are adored after so many years. Before going to the UK for higher education Gandhi was given vow by his divine mother. "No meat, woman or wine" midst of in all temptation Gandhi stuck to these vows. Because he had a high aim in his life. Years will roll Gandhiji would be known as incarnate divinity. In case we need peace, harmony, love, no-hate, non-violence… we need Gandhi… Now and forever…"
OM Shanti !
Latest Additions.........

Please subscribe to Divyajivan Mailing List. We will update you with new uploads of spiritual literature on the web of Holy Master Sri Swami Sivanandaji Maharaj, saints of his lineage and other saints. We will also update you about the Sivananda Ashram, Ahmedabad website and facilitate communication with Sri Swami Adhyatmanandaji Maharaj.

Please enter your email address and click Subscribe button
To manage your subscription, please visit Subscription Page. You can also subscribe and unsubscribe from this page. You may unsubscribe by yourself anytime you wish. You will be required to send confirmation link that you will get in your e-mail to complete this subscription.

[ Home ] [ News ] [ Upcoming Events ] [ What's New? ] [ Services ] [ Swami Adhyatmananda ] [ Multimedia ] [ Publications ] [ Administration ] [ Saints and Sages ] [ Photo Gallery ] [ Contact ] [ Guestbook ] [ Important Links ] Webmaster: webmaster@divyajivan.org