News & Activity Report for the Month of May 2010
Sivananda Ashram, Ahmedabad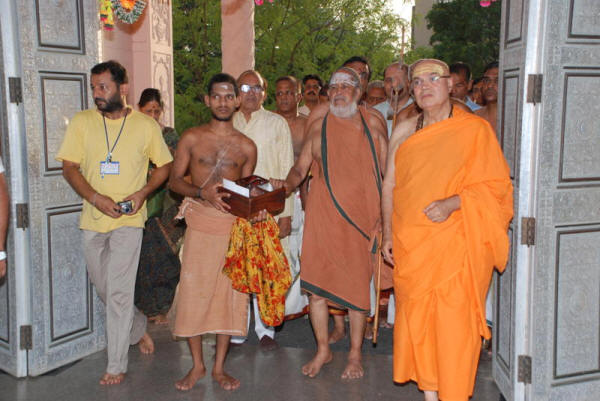 It was a spiritual feast in the form of satsang with many Saints for all at the ashram during Utsav Triveni from April 25, 2010 to May 3, 2010.
Children's Camp (May 4, 2010 to May 9, 2010 ) Children's sweet sound filled the ashram's campus as the children's camp for self-development was conducted during May 4, 2010 to May 9, 2010 . Other than Yogasan, Pranayam, Meditation, Reiki, Karate, Indian Classical Music, Painting, Story Telling, Games, Japa & Mantra Chanting were taught during the camp.
On the evening of May 9, 2008, a grand valedictory function was held, which was attended by the parents. All the children were bubbling up with joy. They presented a small show, classical music & demonstrated yogasana, which they had, learn during the preceding five days. Certificates were awarded to the participants.
20th YTTC ( May 20, 2010 to May 30, 2010) - 20th YTTC was held through "SIVA Yoga Center" at Sivananda Ashram, Ahmedabad, under the guidance and leadership of Sri Swami Adhyatmanandji. Our team of Yoga Teachers including Sri Swami Adhyatmanandaji Maharaj, Dr. Varsha Dave (Gynecologist), Dr. Bharat Trivedi (Dean, VS Medical College), Dr. Amish Kshatriya (Orthopedic Surgeon), Dr. Vishal (Diabetologist), Dr. Ira Patel (Pathologist), Mrs Chiidrupini Kshatriya (Dietician), Smt Roopa Majumdar (Reiki Master), Ms. Sangeeta Thawani (Yoga teacher) conducted the classes during the course. Participants came from different parts of India and one from Winnipeg Canada. On May 30, 2010, Dr. Manoj Soni, Vice-chancellor of Ambedkar Open University awarded certificates to participants on successful completion of the course.
743 rd Yoga camp It was organized from May 24, 201 0- June 2, 2010 at the ashram and large numbers of new people were enrolled.
15th Lord Sri Vishwanath Mahadev Patotsav (May 20, 2010) - A grand Laghu Rudra Yajana was organized from early dawn to mid day. At holy Sri Abhijat muhurta, final oblation was offered by Sri Swami Adhyatmanandaji. At the dusk holy Bhasma aarati was performed. Large number of devotees received Maha Prasad (Bhandara) after the evening Arati.
On May 15, 2010 Ashram was graced by the visit of H. H. Sri 1008 Jagat Guru Shankaracharya of Sri Kanchi Kam Koti Peetam, Sri Sri Sri Jayendra Saraswati Swamigal. His Holiness was received with traditional worship and was lead to Sri Sri Sri Ashta Lakshmi Bhavan and to Swami Chidananda Yoga Dhyan Mandir.
With His worthy hands Dr. M.J. Patani saheb was given honor of "Guru Bhakti Ratana". Revered Shri Patani Saheb is blessed indeed to receive Mantra Diksha from Guru Maharaj Sri Swami Chidanandaji Maharaj on March 23, 1981 and had many occasions to be in HIS company. Inspired by GuruMaharaj, Patani Saheb has been selflessly serving the Divya Jivan Sangh for the past three decades. His contribution to the Divya Jivan Sangh in the form of administrative duties, publication work and overall management of the ashram is immeasurable over all these years and it is still continued even at the age of 89 years. He has been a life member of the Divine Life Society. He is also an associate editor of "Divya Jivan" Gujarati Monthly Journal of Gujarat Divya Jivan Sangh.
In His address to devotees Sri Swamigal Maharaj expressed His overwhelming joy to visit Sivananda Ashram, Ahmedabad. He continued that Swami Sivananda was born at one remote corner in South India. He meditated in remote corner of Garhwal, but HIS disciples are all over the world. Here, a beautiful spiritual center in the midst of busy big city of Gujarat serving people though the ashram activities and so many people are involved in selfless services. This was the spirit of holy Master Swami Sivananda; this was the aim of Adi Shankara. See God in all. Serve all. Love all. Unite India. He expressed His thanks to Sri Swami Adhyatmanandaji, who invited him here. He, especially blessed Dr. M.J. Patani saheb for his meritorious and self-less services to the welfare of mankind towards the mission of Gurudev Swami Sivananda. Next day during public meeting in presence of Shri Narendra Modi, Chief-Minister, Gujarat again Sri Swamigal remembered and acknowledged his visit to Sivananda Ashram.

On May 17, 2010 the holy incarnation day of Sri Adi Shankaracharya a very special satsang was organized at ashram and Sri Swami Adhyatmanandaji shared his thoughts about life and teachings of Adi Shankar.

On May 27, 2010 H.H. Chandra Swamiji, a Tantra Yogi of international fame visited Sivananda Ashram. A special satsang and devotional music was organized in his honor.
Vadodara-: Indian Institute of Material Management and Quality Circle Forum of India jointly organized a symposium in presence of Pujya Sri Swami Adhyatmanandaji. Program was organized at the Sri Raman Patel auditorium of M. S. University, Vadodara.
Ambaji-: On May 7, 2010 Pujya Sri Swami Adhyatmanandaji with the group of devotees from the ashram visited Ambaji and had a darshan of enlightened soul, Shri Prahalad Soni ( aged 82 years), who has not eat or drink for the last sixty five years. His life is a miracle on the earth. People from all over the world come for His darshan and blessings. Sivananda Ashram's devotees were blessed by His visit to the Ashram on May 4, 2010.
Ramnagar Kampa.-: On May 7, 2010 and May 31, 2010 Sri Swami Adhyatmanandaji Maharaj visited Ramnagar Kampa to the holy abode of Late Sri Swami GuruKrupanandaji Maharaj, There was satsang followed by Prasad served to all.
Nadiad-: On May 26, 2010 Sri Swamiji with group of devotees paid homage and visited the holy Santram Mandir at Nadiad. Sri Nirgunanandaji welcomed them all. On 26th mid-day Sri Swamiji was invited to the program organized by Gujarat Government's Sardar Patel Institute of Public Administration for "Red tepisim and positive attitude in governance" at SPIPA, Ahmedabad.
Dakor-: Honoring sincere invitation of Sri Kanubhai Doshi, Secretary Balaji friends club, Dakor, Sri Swamiji and group of devotees visited Dakor the holy land of Lord Krishna. After holy darshan of Lord Sri Krishna at Sri Dakor temple, Swamiji addressed the gathering at the annual function of Sri Balaji Friends Club.
OM Shanti!
Latest Additions.........

Please subscribe to Divyajivan Mailing List. We will update you with new uploads of spiritual literature on the web of Holy Master Sri Swami Sivanandaji Maharaj, saints of his lineage and other saints. We will also update you about the Sivananda Ashram, Ahmedabad website and facilitate communication with Sri Swami Adhyatmanandaji Maharaj.

Please enter your email address and click Subscribe button
To manage your subscription, please visit Subscription Page. You can also subscribe and unsubscribe from this page. You may unsubscribe by yourself anytime you wish. You will be required to send confirmation link that you will get in your e-mail to complete this subscription.

[ Home ] [ News ] [ Upcoming Events ] [ What's New? ] [ Services ] [ Swami Adhyatmananda ] [ Multimedia ] [ Publications ] [ Administration ] [ Saints and Sages ] [ Photo Gallery ] [ Contact ] [ Guestbook ] [ Important Links ] Webmaster: webmaster@divyajivan.org