News & Activity Report for the Month of July 2010
Sivananda Ashram, Ahmedabad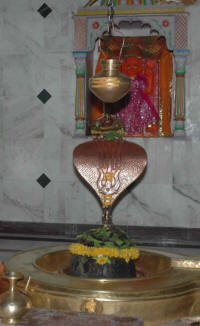 Shivaling Darshan at Lord Vishvanath Temple
At last, after a long hot summer in Gujarat , rain has brought a sigh of relief. Yes, Monsoon has begun in full swing. For the past one month, we have rain almost every day. It seems that it has brought with it the smile and shine everywhere, the birds, the trees and even the grass is happy.

Gurupurnima Celebration ( July 25, 2010 ) Ė A festival of surrender unto Thee in the form of GURU. At the Ashram, devotees celebrated Guru Purnima with great enthusiasm & devotion. It started with group recitation of Sri Jaya Ganesh Kirtan, Guru Stotras, Shanti path, Paduka Pujan of Sri Gurudev and meditation lead by Pujya Sri. Swami Adhyatmanandaji Maharaj. Sri Gurudev's Paduka Pujan, sharing of Holy Master's teachings & devotional Bhajans brought their living presence in the hearts of all the devotees. In spite of heavy rain over 650 devotees participated for Guru Paduka Poojan
In traditional Indian myth from mid July to mid November is ĎCHATURMASí. Especially, Jain Saints do not travel during these months. They stay at one place attached to their community temples and do their sadhana. But, honoring the invitation H. H. Sri Hitruchi Vijayji Maharaj, jain saint with his fourteen disciples decided to observe CHATURMAS stay at holy Sivananda Ashram. On July 21, 2010 at early dawn ( Dev Shayani Eakadashi) they arrived. The Elephants with elaborate decoration, Camel cart, Bullock cart, Horse cart and traditional temple orchestra entered in the ashram. This colorful procession was culminated in public meeting. All Acharya of different ashram of Hindu tradition were invited to grace and bless the occasion. It was a memorable satsang. Mahaprasad was served to all after satsang. Sri Arun Oza trustee and Vice-President of the ashram welcomed all. Dr. Smt. Monika Shah sang melodious devotional song. Revered Swami Adhyatmanandaji Maharaj said, ď having Saints at home is Diwali or Dashera. It is a a spiritual treat for all the devotees. Mahamandaleshwar Sri Swami Vishwambhar Bharatiji Maharaj also blessed the large gathering.
Revered Acharya Sri Hitruchi Vijayaji Maharaj conducted four sessions everyday on the variety of spiritual subjects namely Acharang Sutra, Ten Vaikalik Sutra, Nav Tatwa Prakaran granth and Meditation upon inner values of realization of absolute. Classes on Sanskrit learning are also conducted everyday and people attend with great enthusiasm. Jainís traditional worship temple is also established in the ashram and traditional worship services are being performed everyday. Devotees enjoyed satsang of Rev. Sri Swami Adhyatmnandaji Maharaj and Revered Sri Hitruchiji Maharaj.
Chariot Festival July 13, 2010 happened to be holy Chariot festival. Revered Sri Swamiji Maharaj and group of devotees went to for the darshan of Lord Jagannath. Sri Swamiji Maharaj was invited to give running commentary of Rath Yatra and glories and history of Lord Sri Jagannath, it was covered by TV media on channel Nine.
In the evening, at ashram also there was great enthusiasm. A beautiful Chariot was decorated by Mrs. Rupa Majmudar and Pandit Vikramís team, with temple orchestra, singing and dancing procession of the Lord moved around ashram. About 750 devotees joined for singing of the glory of the Lord and dancing in ecstasy. Prasad of Malpua and Dudhpak was served to all.
Daily Yogasana teachings to beginners and advanced yoga students, medical consultations, Yoga counseling, grocery distribution to the needy and poor senior citizens, healthy food distribution to under privileged children's of city were carried this months also. Day long chanting of Mrityunjaya Mantra on Sunday, Paduka Pujan on Thursday and a daily satsang at night were the regular activities of the ashram during the month.
In the month of July, 600 kg.of grains and wheat was distributed in forty needy families. As always third of the month nutritious food packages were distributed to underprivileged children of slum area. Nutritious food was provided to children under Narayana Seva
On July 8, 2010 Sri Swami Adhyatmanandaji Maharaj was invited by Sardar Patel Institute of Public Administration for yoga & management workshop for senior administrators of Government of Gujarat. Tree plantation was done in campus by Sri Swamiji and He praised the wonderful work done by the institute.
Sri Swami Adyatmanandaji Maharaj was invited by Res. Dr. Bhagatís Polio foundation and medi care center. This group of medicos is serving the society, especially to needy, poor and down trodden since last 23 years in the heart of city, known as Shamal Sani pole.They started their service by one polio operation a day. Then slowly and gradually they have conducted more than 12000 operations for the polio victims. Fortunately because as Polio vaccine it has been reduced. Now, this group of doctors have commenced the service to Cerebral Palsy, Diabetic foot treatment, Prosthetic and Orthotic Centre. Prevention of eye forum the heaviness of Sugar in the system and Pediatrics Orthopedic center. By seeing the wonderful selfless service a generous donor Sri Indu Kaka of famous IFFCO company donated Rupees Twenty Million and hence new building has been build for the service of the man kind. Revered Sri Swamiji Maharaj graced, blessed and addressed the august gathering at this wonderful temple of service to the Mankind.
Satsangs & visits of Pujya Sri Swami Adhyatmanandaji during Month of July 2010
Madhaper- Bhuj To celebrate the birth centenary of Revered Sri Rambhai Baxi, his devoted son Dr. Sri Arun Baxi invited Sri Swamiji for the grand Gayatri Yajna and public satsang which was organized at Bhuj (Kutch) by Akhil Bharatiya Nagar Parishad on July 17, 2010 . The gorgeous building of this parishad was inaugurated by Sri Swamiji Maharaj in the year 1995. Sri Swamiji addressed a mammoth gathering upon need of spirituality in daily sadhana. By night train Sri Swamiji Maharaj returned back to Ahmedabad.
Bharasar On July27,2010 in worthy memory of Late Mr. Surya Varsani, his generous parents organized unmemorable satsang and confluence of Saints and Sages of different sects. After a long and wonderful satsang every one was served elaborate meal and was presented precious gifts also. Bharasar is 15 KM from Bhuj. May God bless the departed soul Surya. May his divine soul rest in supreme peace and bliss absolute.
Dhaneti Revered Sri Swamiji visited Dhaneti after 40 years. He stayed here for six months to serve the scarcity effected villages in the year 1970-1971. The young kids of 12 years & 15 years now turned 52 and 55 years. The shape, size and color of the village has practically changed after the generous assistance of Earth Quack Service. Sri Swamiji visited so many families and brought smile on them.
Adipaur On July 27, 2010 from Bharasar and Dhaneti visit, Sri Swamiji Maharaj traveled to Adipur. Itís a pilgrimage to him. Because the Divine Life Society, Adipur is running beautiful Sivananda Hospital for the last 32 years. Most worshipful and revered H. H. Sri Swami Chidanandaji Maharaj, H.H. Sri Swami Krishnandaji Maharaj and many more Saints of Sivananda order have graced this temple of self-less service at many occasions. Satsang was organized at Sri Radha Krishna temple in the hospital premises. After visiting hospital and meeting with medical staff of the hospital at late night Swamiji returned back to Ashram.
OM Shanti!
Latest Additions.........

Please subscribe to Divyajivan Mailing List. We will update you with new uploads of spiritual literature on the web of Holy Master Sri Swami Sivanandaji Maharaj, saints of his lineage and other saints. We will also update you about the Sivananda Ashram, Ahmedabad website and facilitate communication with Sri Swami Adhyatmanandaji Maharaj.

Please enter your email address and click Subscribe button
To manage your subscription, please visit Subscription Page. You can also subscribe and unsubscribe from this page. You may unsubscribe by yourself anytime you wish. You will be required to send confirmation link that you will get in your e-mail to complete this subscription.

[ Home ] [ News ] [ Upcoming Events ] [ What's New? ] [ Services ] [ Swami Adhyatmananda ] [ Multimedia ] [ Publications ] [ Administration ] [ Saints and Sages ] [ Photo Gallery ] [ Contact ] [ Guestbook ] [ Important Links ] Webmaster: webmaster@divyajivan.org