Yoga Camps at Taiwan (Sept 2005)
Report of H. H. Swami Adhyatmanandaji 's Tour to Taiwan. (Sept 8, 2005- Sept 21, 2005)
On Sept 8, 2005 Sri. Swami Adhyatmanandaji Maharaj and his team including yoga instructors Ankur and Ms. Sangeeta Thawani arrived at Taipei (Taiwan). A warm welcome and floral reception was given to Swamiji at the airport. It was a 118th Birth anniversary of Holy Master Swami Sivanandaji Maharaj. Rev. Swamiji Maharaj led the prayers at Taipei Airport itself with the devotees.
At Keelung, Taiwan
Morning of Sept 9, 2005 a grand civic reception was organized to welcome Rev. Sri Swami Adhyatmanandaji Maharaj by the H. E. Mayor of Keelung (TAIWAN) at Evergreen Laurel Hotel. In the afternoon Swamiji addressed to Yoga students at Mrs. Joe's yoga school. Late in the evening Swamiji visited news press "CHINA POST" at the request of the Chief Editor Mr. Helan Chu.
On Sept 10, 2005 morning Rev. Swamiji inaugurated the opening ceremony of Annual National Sports and Yoga Competition program at famous Municipal Corporations Sports Complex. Mid-day entire team came to Youth Center at sea shore. About three hundred Yoga enthusiasts were gathered for two days yoga retreat organized by Yoga Master Mrs. Joe's (Keelung). Taiwan Television and local news media gave coverage of this event.
.

Yoga retreat at Dajia, Taipei (Sept 12, 2005- Sept 15, 2005)
Rev. Swamiji with his team arrived on Sept 12, 2005 to Dajia for three day Yoga retreat, which was organized by Mrs. & Mr. Shu.
Yoga workshop at Kaioshyng (Sept 15, 2005 –Sept 18, 2005)
Two hundred twenty-five-yoga enthusiastic attended three days yoga workshop at Buddha Monastery (Fo Guang Yuan) at Kaioshung. It was organized by Mr. Wu and Mrs. Thong. H. H. Lama Su Cheng Li Mung Greeted Rev. Swamiji and gave him a floral welcome.
Buddha Monastery (Fo Guang Yuan)
Sept18, 2005 Taiwan celebrates Moon Festival. Swamiji and his team were invited for the celebration to rejoice moon festival from observatory gallery of 101 stories Tower (Taiwan). During His stay in Taiwan, Swamiji was invited by number of yoga schools. A press conference and interactive session with local media were arranged by Mr. Jeffrey Wu.
Mrs. Margaret David organized the entire two weeks tour of Taiwan. Mr. Thomas Kao from Beijing and Mrs. Rose Wang from Singapore came to assist her in organizing and help interpreting the talks. Many thanks to all of them. People gave warm welcome wherever Swamiji went and were grateful to Him for teaching them ancient Yoga science. About One thousand five yoga students have been graduated from "Dr. Helen International Yoga Center".
With the grace and blessings of Holy Master Swami Sivanandaji Maharaj Pujya Swamiji's tour to Taiwan was completed successfully.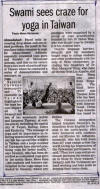 Latest Additions.........

Please subscribe to Divyajivan Mailing List. We will update you with new uploads of spiritual literature on the web of Holy Master Sri Swami Sivanandaji Maharaj, saints of his lineage and other saints. We will also update you about the Sivananda Ashram, Ahmedabad website and facilitate communication with Sri Swami Adhyatmanandaji Maharaj.

Please enter your email address and click Subscribe button
To manage your subscription, please visit Subscription Page. You can also subscribe and unsubscribe from this page. You may unsubscribe by yourself anytime you wish. You will be required to send confirmation link that you will get in your e-mail to complete this subscription.

[ Home ] [ News ] [ Upcoming Events ] [ What's New? ] [ Services ] [ Swami Adhyatmananda ] [ Multimedia ] [ Publications ] [ Administration ] [ Saints and Sages ] [ Photo Gallery ] [ Contact ] [ Guestbook ] [ Important Links ] Webmaster: webmaster@divyajivan.org