Yoga, A Way of Life - DVD, (available in set of Two)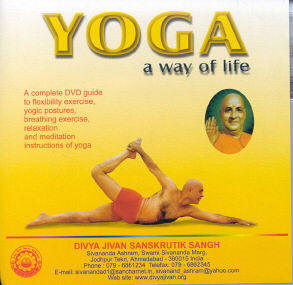 A complete guide to Flexibilities exercises, Yoga Postures, Pranayam & Meditation compiled & directed by renowned teacher H. H. Sri Swami Adhyatmanandaji Maharaj. Swamiji leads Flexibility exercises and gives an in-depth study of Primary Series of postures for students of all ages and fitness level. Demonstration of Yoga Postures are accompanied by clear explanations of alignment and form which is a helpful tool for Yoga learning. You will find simple and systemic teaching of breathing exercises (Pranayamas), Yoganidra (Savasana) & Meditation technique.

Yoganidra is a prolonged Shavasan that leads to relaxation and finally establishes in deep meditation. Swami Adhyatmanandaji's expertise has guided many seekers and this DVD is a boon to those who are seeking a soul within themselves.


Meditation -To recognize the need, the importance, the indispensable necessity of awakening the light within, of banishing the darkness of little "I", which is the source of all problems. Please find guided meditation technique to realize that "I am in the light and the light is within me", and slowly, gradually and finally we realize the real state of the absolute that "I am the Light".

For purchase of Yoga DVD-contact Ashram # 079-26861234 or sivanandaashram@gmail.com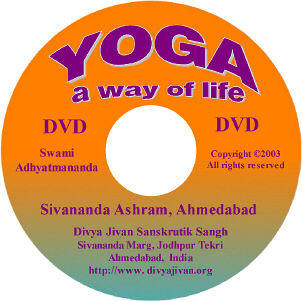 CD
Rebirth & Yoganidra - CD
To recognize the need, the importance, the indispensable necessity of awakening the light within, of banishing the darkness of little "I", which is the prolific source of all problems. Here is a guided meditation technique to realize that "I am in the light and the light is within me", and slowly, gradually and finally we realize the real state of the absolute that "I am the Light".
Yoganidra is a prolonged Shavasan that leads to relaxation and finally establishes in deep meditation. Swami Adhyatmanandaji's expertise has guided many seekers and this cassette will be a boon to those who are seeking a soul within themselves.
For purchase contact Sivananda Ashram, A'bad
email- Sivanandaashram@gmail.com phone # 079-26861234
Latest Additions.........

Please subscribe to Divyajivan Mailing List. We will update you with new uploads of spiritual literature on the web of Holy Master Sri Swami Sivanandaji Maharaj, saints of his lineage and other saints. We will also update you about the Sivananda Ashram, Ahmedabad website and facilitate communication with Sri Swami Adhyatmanandaji Maharaj.

Please enter your email address and click Subscribe button
To manage your subscription, please visit Subscription Page. You can also subscribe and unsubscribe from this page. You may unsubscribe by yourself anytime you wish. You will be required to send confirmation link that you will get in your e-mail to complete this subscription.

[ Home ] [ News ] [ Upcoming Events ] [ What's New? ] [ Services ] [ Swami Adhyatmananda ] [ Multimedia ] [ Publications ] [ Administration ] [ Saints and Sages ] [ Photo Gallery ] [ Contact ] [ Guestbook ] [ Important Links ] Webmaster: webmaster@divyajivan.org