Yoga Teachers Training Camp, ( Dec 15, 2003 – Jan 4, 2004 )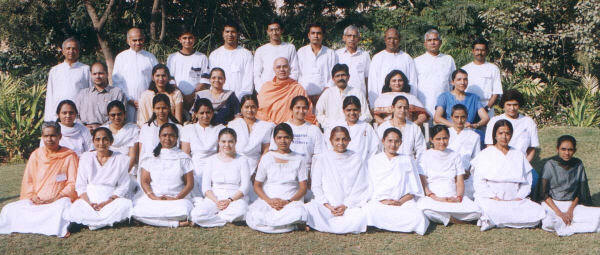 In order to prepare worthy yoga teachers in quest of spreading science of Yoga and making it available to everyone, a residential camp was organized at the Ashram under the leadership of Swamiji Maharaj. Main topics covered were Human Anatomy, Physiology, Yogasanas, Pranayamas, Meditation, Eastern and Western Philosophy, Philosophy of Geeta and Patanjali's Ashtangna Yoga. Thirty participants attended the course.

Teaching staff included, Dr.Snehal Amin (General Medicine), Mrs.Rupa Majumdar (Reiki Master), Ms.Sangeeta Thawani (yoga teacher), Dr.Mayur Patel (Internist & Diabetologist), Dr.Smt. Ina Patel (Pathologist) and Dr.Tejal Modi (ayurveda medicine expert)
Christmas eve (Dec. 24, 2004) was celebrated in the ashram with prayers and meditation.On Dec 25, 2003 evening, the entire group of teachers training course accompanied by Rev Swamiji Maharaj attended holy birthday celebration of Shree Krishnanand Teerth.
On Dec28 Shankprakshalan Kriya (Total Cleansing of gastro-intestinal system) was performed and all the students of Yoga Teacher Training Course (YTTC) had participated and learned it as a part of the curriculum.
Latest Additions.........

Please subscribe to Divyajivan Mailing List. We will update you with new uploads of spiritual literature on the web of Holy Master Sri Swami Sivanandaji Maharaj, saints of his lineage and other saints. We will also update you about the Sivananda Ashram, Ahmedabad website and facilitate communication with Sri Swami Adhyatmanandaji Maharaj.

Please enter your email address and click Subscribe button
To manage your subscription, please visit Subscription Page. You can also subscribe and unsubscribe from this page. You may unsubscribe by yourself anytime you wish. You will be required to send confirmation link that you will get in your e-mail to complete this subscription.

[ Home ] [ News ] [ Upcoming Events ] [ What's New? ] [ Services ] [ Swami Adhyatmananda ] [ Multimedia ] [ Publications ] [ Administration ] [ Saints and Sages ] [ Photo Gallery ] [ Contact ] [ Guestbook ] [ Important Links ] Webmaster: webmaster@divyajivan.org