16th Yoga Teachers Training Course (YTTC) (Dec 10, 2008 – Dec 30, 2008)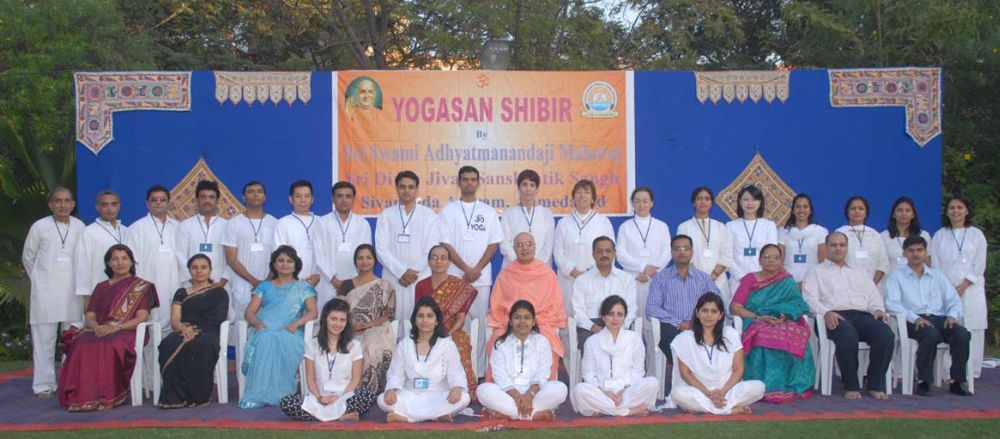 16th Yoga Teacher Training Course commenced on Dec10th evening and concluded on Dec 30th midday. Twenty three participants from UK, USA, Canada and India joined the course. In addition to Yogasan, Pranayam, Kriyas, Mudras, Bandhas and Meditation, Anatomy, Physiology, Education Psychology, Management Behavior, Planning, Patanjali Yoga Darshan, comparative study of Yoga was taught by eminent experts during the YTTC. Examination was taken and certificates were awarded by H. E. the Governor of Gujarat, Pandit Sri Nawal Kishore Sharmaji at Raj Bhavan, Gandhinagar. In his valedictory speech, he praised the services rendered to humanity through Sivananda Ashram under the leadership of Pujya Swami Adhyatmanandaji Maharaj. Here to quote his words, "You all are fortunate to learn the science of Yoga from Sri Swami Adhyatmanandaji Maharaj, a worthy disciple Most Worshipful H.H. Sri Swami Sivanandaji Maharaj. These great Gurus are the very treasure of Mother India to protect our community and the world community too. I know Sri Swami Adhyatmanandaji personally; he has dedicated his life for the betterment of mankind and for the upliftment of society. I have been to Sivananda Ashram a number of times and I feel and experience great peace and tranquility. I am a great admirer of Swamiji. It is not flattering; I am really a great admirer of him and feel happy for all his wonderful activities."
Latest Additions.........

Please subscribe to Divyajivan Mailing List. We will update you with new uploads of spiritual literature on the web of Holy Master Sri Swami Sivanandaji Maharaj, saints of his lineage and other saints. We will also update you about the Sivananda Ashram, Ahmedabad website and facilitate communication with Sri Swami Adhyatmanandaji Maharaj.

Please enter your email address and click Subscribe button
To manage your subscription, please visit Subscription Page. You can also subscribe and unsubscribe from this page. You may unsubscribe by yourself anytime you wish. You will be required to send confirmation link that you will get in your e-mail to complete this subscription.

[ Home ] [ News ] [ Upcoming Events ] [ What's New? ] [ Services ] [ Swami Adhyatmananda ] [ Multimedia ] [ Publications ] [ Administration ] [ Saints and Sages ] [ Photo Gallery ] [ Contact ] [ Guestbook ] [ Important Links ] Webmaster: webmaster@divyajivan.org