Deepavali Greetings 2014
from H.H. Swami Adhyatmanandaji Maharaj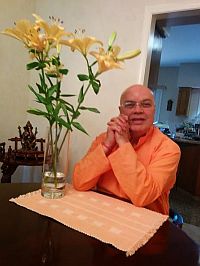 Radiant Immortal Divinities,
Hari Om ! Om Namo Narayanaya!
Loving Pranams ! Happy Diwali !
May Almighty Lord and Sri Gurudev H. H. Sri Swami Sivanandaji Maharaj's grace be ever upon you all! May you all rejoice in the Lord, Sing His Divine Name and abide in Him ! He is HERE and NOW.
Days, months and years come and go. We too grow old. Day by day our energy level comes down. But, so what ? Our understanding grows more and more. Our clarity and concept of life becomes more and more clear. The meaning at the end of the life is brightening each day more and illumining more, vibrantly in every breath.

Seek that eternity of eternal unfading beauty of the PRANA, The very cosmic energy. When there was no Sun, Moon, Jupiter or Saturn, when there were no earth, fire or water, these PRANA and SKY were there.

So, in the light of this tiny lamp delight in Eternity of Absolute Reality, feel that I am walking in the LIGHT, in the light, in the light of LORD, in the Light of the LORD.
This LIGHT is your very nature. You are the LIGHT of the LIGHT, the JOY of the JOY and PEACE of the PEACE. You are born Divine. Seek the Refuge of PRANA, the Cosmic Energy within you . You will abide in that very Divinity and that is the only very aim of your life.
May God, Gurudev bless you in all the efforts and in the right direction of your Life Divine! God be With all of you!
Shine and Prosper, Happy Diwali!
Latest Additions.........

Please subscribe to Divyajivan Mailing List. We will update you with new uploads of spiritual literature on the web of Holy Master Sri Swami Sivanandaji Maharaj, saints of his lineage and other saints. We will also update you about the Sivananda Ashram, Ahmedabad website and facilitate communication with Sri Swami Adhyatmanandaji Maharaj.

Please enter your email address and click Subscribe button
To manage your subscription, please visit Subscription Page. You can also subscribe and unsubscribe from this page. You may unsubscribe by yourself anytime you wish. You will be required to send confirmation link that you will get in your e-mail to complete this subscription.

[ Home ] [ News ] [ Upcoming Events ] [ What's New? ] [ Services ] [ Swami Adhyatmananda ] [ Multimedia ] [ Publications ] [ Administration ] [ Saints and Sages ] [ Photo Gallery ] [ Contact ] [ Guestbook ] [ Important Links ] Webmaster: webmaster@divyajivan.org