H. H. Swami Adhyatmanandaji 's Shashti-Poorti Celebration
(60th Birth Anniversary) May 2004 - May 2005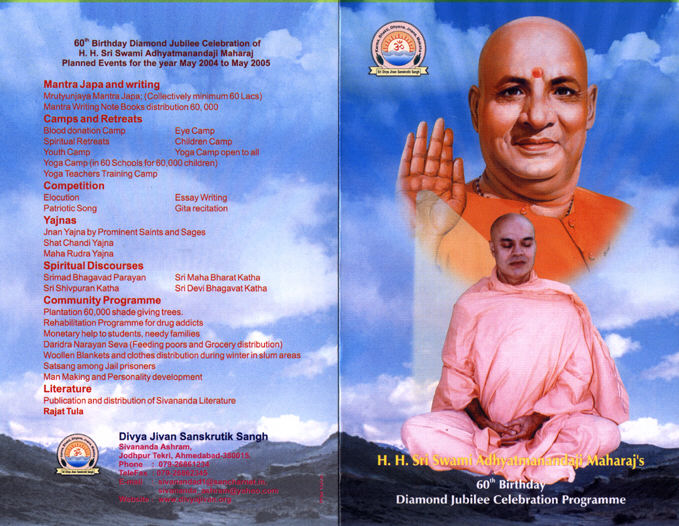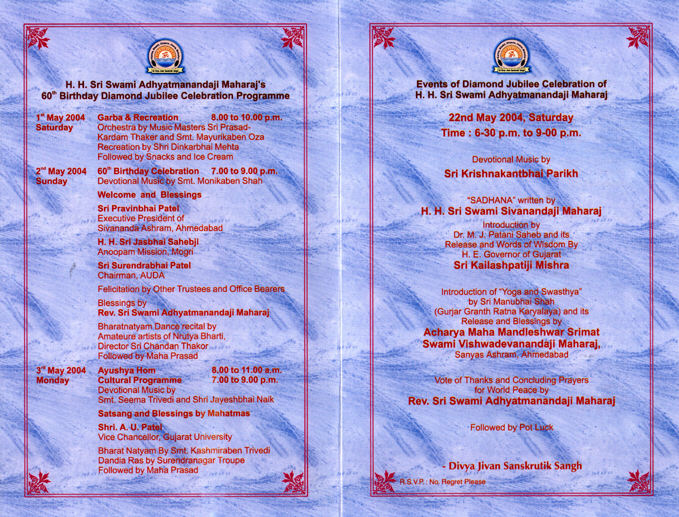 ................................................................................................................
Follow Up........
Shashti Purti Mahotasav (60th Birthday Celebration) of Pujya Swami Adhyatmanandaji Maharaj (May 1- May 3, 2004 )
Devotees from all over India and abroad including USA, UK and Muscat gathered to celebrate Shashtipurti Mahotsav (60th Birthday celebration) of their beloved Swamiji Maharaj. Three day celebration commenced in festive mood with Garba function on evening of May 1, 2004 at campus ground of Sivananda Ashram. On eve of May 2, 2004 after Sri Navchandi Yajana, public meeting to felicitate Pujya Swamiji was organized in august presence of Rev. Sri Jashbhai Patel of well-known ANUPAM Mission, Mogri. Respected Sri Surendrabhai Patel, president of Ahmedabad Urban development association was the chief guest of this function. Both of them gave very heart touching speech in praise of Pujya Swamiji for His Services to the Mankind. 'SURMANI' Smt. Monikaben shah, an accomplished singer, provided opening prayer in her melodious voice and young artist of "Nrutya Bharati" dance school gave enchanting Bharat Natyam dance performance. At the end food was served to all devotees.
Rev. Sri. Jashbhai Patel of Anupam Mission, Mogri with Swamiji in Jovial mood
(May 2, 2004)

Sri Surendrabhai Patel, Chairman of Ahmedabad Urban Development Board wishes on
Swamiji's birthday (May 2, 2004)
The Morning of May 3, 2004 (actual birthday of Pujya Swamiji) "Ayushya Homam" (Yajna for good health and long life) was performed for Beloved Swamiji Maharaj. In the evening public gathering was held & Vice Chancellor of Gujarat University Dr. A. U. Patel presided over the function and shared words of wisdom. As Rev Sri Swamiji has not been accepting flower garlands, devotees presented him a number of saplings for the plantation in the Ashram premises. Also Rev. Swamiji wished the plantation of 60,000 trees during his diamond jubilee year. Efforts will be made to fulfill his wish by the devotees all over.
Feeding to Daridranarayana (Poor and Needy) on 3rd of each month is being done by devotees of ashram for last one year. Weekly chanting of Mrutyunjaya Mantra is part of the regular activities at the ashram.
Diamond Jubilee Celebration Continuation ( May 22, 2004 )
Evening of May 22, 2004 was a continuation of Diamond Jubilee celebration at the Ashram Lawn. H.E Governor of Gujarat Sri Kailaspati Mishraji and Acharya Mahamandleshwar of Sannyas Ashram graced the occasion. Mr. Mukesh Patel, a leading income tax practitioner and past president of AMA, conducted the function. Followings are the highlights of the evening.
1. Two books were released on this occasion.
- Gujarati translation of Granth (Book) "Sadhana" by Gurudev Sri Swami Sivanandaji Maharaj (pages 28 + 580) was released by Governor Sri Mishraji. Eventhough the printing cost of the book is Rs. 250 per copy, it will be available for Rs. 60 per copy during Diamond Jubilee year of Rev. Swamiji.

-"Yoga and Swasthya" (Gujarati) by Swami Adhyatmanandaji printed by Gurjar Granth Ratna Karyalaya was also released by Mahamandleshwar Sri Swami Vishwadevanandaji Maharaj.
2. H. E. Governor Mishraji, being a president of All Gujarat Red Cross Society, presented a special honor to Rev. Sri Swami Adhyatmanandaji Maharaj for his generous services to the mankind by donating blood more than 100 times. He is being declared Centurion
.
3. Divya Jivan Sanskrutik Sangh and Sivananda Ashram awarded well known Indian classical music expert Sri Krishanakantbhai Parikh for his outstanding services to the mankind in the field of music (teaching) for the past forty years. Governor Sri. Mishraji awarded him with "Sangeet Kala Ratna".
4. In the same manner, well known choreographer Prof. Chandan Thakore, Director Nrutya Bharati also were awarded "Nrutya Kala Prachar Ratna" by Governor Mishraji on behest of Sivananda Ashram, Ahmedabad. He is serving his mission of spreading Indian classical dance for the past twenty years with zeal and keenness.
| | | |
| --- | --- | --- |
| Governor of Gujarat Sri. Mishraji released "Sadhana"by Swami Sivanandaji ( Gujarati translation) | "Yoga & Swashthya " by Swami Adhyatmanandaji released by Sri Swami Vishwadevanandaji Maharaj | Artists of Nritya Bharti presents "Surya Rath" Nrityakruti |
| Sri Krushnakantbhai Parikh is being felicitated with "Sangeet Kala Ratna" award by Sri Mishraji | Governor of Gujarat on behalf of Gujarat Red Cross Society felicitated Swamiji Maharaj by giving him the Red Cross Centurion Donor Club Pin | Sri Chandan Thakore is being felicitated with "Nrutyakala Prachar Ratna" award by Sri Mishraji |
The evening was concluded by excellent Bharat Natyam dance performance by artists of Sargam Group and Dandia Ras by devotees from Surendranagar. Sumptuous Dinner was served to all the devotees.
Diamond Jubilee year Itinerary of Pujya Swami Adhyatmanndaji
Maharaj ( 2004 - 2005)
Pujya Swami Adhyatmanandaji's Program Schedule from
June - November 2004
June 1, 2004 – June 6, 2004

Spiritual Retreat at Tithal ( Valsad) Residential Camp

June 7, 2004 – June 13, 2004

616 Yoga Camp – Morning
Srimad Bhagawat Katha at Surendranagar

June 30, 2004 – July 15, 2004

H.Q. Udhampur Northern Command of Indian Army (Yoga camp at Nagrota, Udhampur, Srinagar ) and Darshan of Sri Amarnath

July 23, 2004 – Aug 9, 2004

Sri Mansarovar and Sri Kailash Yatra and Discourses on "Shiv Mahima Stotra"

Aug 16, 2004 – Aug 26, 2004

"Jnan Yajna" discourses on Gita–Upanishad at Rishikesh

Sept- Oct- Nov 2004

Spiritual Tour to Europe, USA, Canada & UK.
Devotees, who wish to arrange Swamiji program, please contact minal_naik@yahoo.com
H. H. Sri. Swami Adhyatmanandaji Maharaj's visit to Europe, USA, Canada & UK
( Sept- Oct-Nov, 2004)
Sept 1, 2004 -Sept 3, 2004

Amsterdam (Netherlands)

Sept 3, 2004 - Sept 14, 2004
Sept 21, 2004 - Oct 14, 2004
Nov 9, 2004 - Nov 28, 2004

USA

Sept 14, 2004 -Sept 21, 2004

Canada

Oct 11, 2004 - Nov 9, 2004
Haiti

Nov 28, 2004 - Dec 12, 2004

UK
For the detail program Schedule, refer to ............
60 Lakhs Mrutyunjaya Mantra Japa Yajna
As a part of Diamond Jubilee Celebration of Rev. Sri Swami Adhyatmanandaji Maharaj's Birthday, likhit japa of Mrutyunjaya Mantra has been started by the Devotees. We request you to inform us the total number of Mantra of Japas you desire to do up to May 2005. Mantra Japa notebooks are available free of charge at Sivananda Ashram, Ahmedabad. You are requested to return the books to Ashram office for the record keeping.
Latest Additions.........

Please subscribe to Divyajivan Mailing List. We will update you with new uploads of spiritual literature on the web of Holy Master Sri Swami Sivanandaji Maharaj, saints of his lineage and other saints. We will also update you about the Sivananda Ashram, Ahmedabad website and facilitate communication with Sri Swami Adhyatmanandaji Maharaj.

Please enter your email address and click Subscribe button
To manage your subscription, please visit Subscription Page. You can also subscribe and unsubscribe from this page. You may unsubscribe by yourself anytime you wish. You will be required to send confirmation link that you will get in your e-mail to complete this subscription.

[ Home ] [ News ] [ Upcoming Events ] [ What's New? ] [ Services ] [ Swami Adhyatmananda ] [ Multimedia ] [ Publications ] [ Administration ] [ Saints and Sages ] [ Photo Gallery ] [ Contact ] [ Guestbook ] [ Important Links ] Webmaster: webmaster@divyajivan.org