Gurumaharaj Attained Mahasamadhi
August 28, 2008

Most Worshipful and Revered Guru Bhagwan, Sri Swami Chidanandaji Maharaj has attained Mahasamadhi and merged into the bliss absolute at the age of 92 years on Thursday, 28th August 2008 at 8:12 PM.
Disciple and Successor of H H Sri Swami Sivanandaji Maharaj and President of the world renowned Divine Life Society for the last four decades, Sri Swami Chidanandaji Maharaj was working and serving the Divine Cause of Sri Gurudev's Mission tirelessly and spreading His Divine Life Message all over the world. He was an embodiment of humility, purity and kindness. He lived a life and ideals of a true renunciate. Service to lepers became His ideal and worship to Lord Narayana. He served them with tender love and compassion. He was inspirer of CHIPKO movement. His work for the protection of Himalaya and Ganges will be cherished for ages to come.
Revered Saint, Mother Teresa considered Him a Living Saint Francis of Assisi. For His own Guru, Sri Swami Sivanandaji Maharaj, He was an incarnation of Buddha.Whereas the entire Europe regarded Him an Uncrowned King. Sri Sri Maa Anandamayi saw in Him Lord Narayana Himself. Most Worshipful and Revered, Sri Pramukh Swamiji Maharaj of BAP'S, has seen in Him His own Guru Pujya Yogiji Maharaj's Holy Presence.
Linguist, perfectionist, full of serenity, divinity, absence of vanity, simplicity, equanimity, non-irritability, humility, integrity and nobility were His laudable virtues that earned Him reverence from the people of all four corners of the world. His service and sympathy to sick and downtrodden, poor and needy, birds and beasts were incomparable. He was oozing love from head to toe forknown and unknown.
His mortal coil was brought to Rishikesh at 1:00 AM and was immersed in holy stream of Ganges before sunrise of 29th August, 2008.
In His will, He has expressed the desire not to make any monument in His name, not to be informed anyone of His passing away, not to organize even any feast and festival traditionally performed when a monk cast away the mortal coil. But in case, if devotees wish, they can feed the poor, sick and street beggars.

Though physically, Beloved & Worshipful Holy Master H H Sri Swami Chidanandaji Maharaj may not be with us, but through His Virat Swaroop, He will be inspiring, guiding and protecting His countless devotees and disciples who are busy serving the Mankind and struggling to achieve the realization of the absolute. OM Shanti !

Swami Adhyatmananda
Prarthnasabha - A Prayer Meeting (August 31, 2008) at Sivananda Ashram, Ahmedabad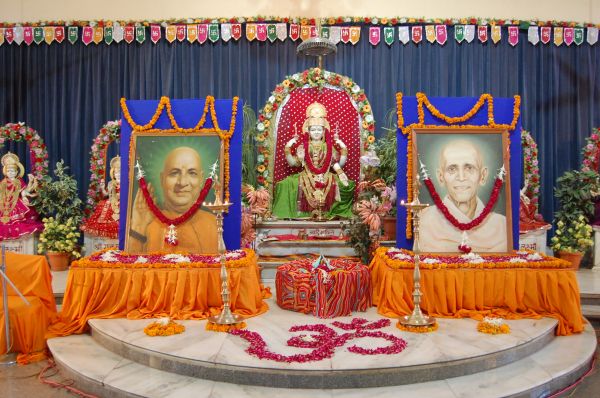 Mahasamadhi of our Beloved Gurumaharaj
On August 26 , 2008, news was received of missing pulse of H. H Sri Gurudev from Dehradun to Sivanand Ashram(Ahmedabad), which was immediately conveyed to Sri Swami Adhyatmandaji, who was on His "Divya Tour 2008" to the west in Milwaukee (USA). Upon Swamiji's instructions, Sri Birendra Das, inmate of Sivananda Ashram, Ahmedabad was sent to Dehradun the same day by air to be for the Darshan and service of Sri Gurudev. At the same time, Rs 100,000 charity was immediately sent to Leprosy Colony near Himmatnagar (Gujarat) and poor feeding was organized simultaneously. Akhand MahaMrityunjaya Mantra Japa was commenced by a large number of devotees at the Ashram Temple. On August 28, 2008, upon receipt of the news of Revered Gurubhagawan's Samadhi, immediately news was announced through Ashram's website as well as to the local newspapers for the information of devotees to join for prayer meetings at the Sivananda Ashram, Ahmedabad.
On July 31, 2008 Divya Jivan Sanskrutik Sangh, arranged a Prarthanasabha, A prayer meeting at 10.00am at Sivananda Ashram, Ahmedabad at Sri Sri Sri Ashta Laxmi Bhawan to pay homage to our Beloved Gurumaharaj Sri Swami Chidanandaji Maharaj. The meeting began with chanting of Ashram's traditional prayer "Jay Ganesh Jay Ganesh………… by devotees. The meeting was conducted by Sri Arunbhai Oza, a Vice President and Trustee of Divya Jivan Sanskrutik Sangh, Ahmedabad. The meeting was attended by renowned saints and large number of devotees. Here are the Tributes from the Saints in their own words.
Sri Swami Atmanandaji Maharaj of Srimat Rajchandra Adhyatmik Kendra, Koba said, 'If you put together the qualities such as devotion to Guru, devotion to God, Universal Love, Service to World and Sadhana (Meditation in Solitude) you will find Sri Swami Chidanandaji Maharaj. It was Sri Swami Sivanandaji, who molded Sri Swami Chidanandaji. In reality Sri Swami Sivanandaji Maharaj and Sri Swami Chidanandaji Maharaj were two separate physical bodies with one common soul.
Sri Swami Ishwarcharandasji Maharaj of Swaminarayan Sect (BAPS) mentioned that Sri Swami Chidanandaji Maharaj and Sri Pramukh Swamiji Maharaj were very good friends. In his presence one used to feel extreme serenity. Even an act of very minor importance was performed by Sri Swami Chidanandaji Maharaj with utmost patience and devotion.
Maha Mandleshwar Sri Swami Kalyanandaji Maharaj of Bharati Ashram Sarkhej, Ahmedabad said that it is indeed rare to find a saint who has merged himself with God. Sri Swami Chidanandaji Maharaj was one of such saints. His Holiness Sri Swami Chidanandaji Maharaj was blessed by his Guru Sri Swami Sivanandaji Maharaj. Such a favour from Guru is obtainable only through the grace of God. Swami Chidanandaji has resolved back into the cause (Brahman) from the effect (Jiva).
Swami Prashant Swaroop Anandaji of Sri Swami Narayan Gadi Sansthan, Maninagar, Ahmedabad recalled the past and said what Chidanandaji had ordered his own disciples years ago. Sri Swami Chidanandaji had said, 'Whenever you come across even a most juniour saint of Swami Narayan Sect you should bow down to him. This shows the humility of Sri Swami Chidanandaji. He also cited the example of Eklavya of Mahabharata fame and said that just as Eklavya acquired Knowledge of Archery by offering devotion to the idol of his Guru Dronacharya, one can attain knowledge by concentrating on the image of his Guru.
Sri Swami Brahma Vihari of B.A.P.S remembered various occasions during which he chanced to come in contact of Sri Swami Chidanandaji. He recalled Chidanandaji's various qualities such as humility, purity, simplicity, equanimity and said that Sri Swami Chidanandaji Maharaj will remain alive in our life so long as we wish him to remain so, with us and within us.
Sri Bhagavat Rishi from Bhagvat Vidhyapeeth Sola, Ahmedabad recalled how Swami Chidanandaji took care of him while he was a child and suffering from high fever. Sri Bhagavat Rishi was at Sivananda Ashram, Rishikesh as his father Sri Krishna Shankar Shashtriji was doing 'Bhagavat Parayan" there. He said one should always remember three things, Slok (Sacred name of God), Punyaslok (A person of Godly Nature) and Uttamslok (the God). Well, Sri Swami Chidanandaji was a 'Punyaslok'.
Sri Gopalbapa representative of Anoopam Mission, Mogri said, 'The real homage to Sri Swami Chidanandaji Maharaj lies in the fact that we tread the path shown by him and pray to him to sit in our heart and inspire us'.
Sri Swami Viditatmanandaji of Tatva Tirth, Ahmedabad opined that Swami Chidanandaji was a 'Realised Soul'. Once someone questioned Swami Chinmayanandaji "Who according to you are the living beings who have attained Realisation?' Swami Chinmayanandaji promptly replied 'Two, one is Swami Chidanandaji and the other is Sri Sri Sri Ma Anandamayee". Sri Swami Chidanandaji was a unique saint thoroughly straight forward, having transparent personality and an embodiment of devotion, knowledge, action and yoga.
Sri Piyushbhai of 'Wagh Bakri Tea' confessed that only after coming in the contact with Sri Swami Chidanandaji that he learned how to live a selfless life.
Honorable Shri Naval Kishor Sharmaji His Excellency, the Governor of Gujarat sent his message expressing deep grief.
Sri Swami Adhyatmanandaji Maharaj could not remain present in the meeting as he was away on his "Divya Tour" to the West. He is a direct disciple of Sri Swami Chidanandaji Maharaj. His message on the occasion today was conveyed through telephone and was heard by the audience. In his message Sri Swami Adhyatmanandaji narrated some incidents highlighting the greatness of Sri Swami Chidanandaji. Sri Swami Sivanandaji used to say, it is only due to the effect of past karmas that Sri Swami Chidanandaji is my disciple. Actually, he deserves to be my Guru. Sri Sri Sri Ma Anandamayee found in him Lord Narayan. She believed that Swami Chidanandaji has attained a state of perfection where one is no more subjected to birth and death. Sri Pramukh Swami experienced in him the presence of his Guru Sri Yogi BAPA.
Shodshi Pujan Sept 12, 2008
After the Gurumaharaj's Mahasamdhi on Aug 28, 2008 till Sept12th for sixteen days Narayan Seva (feeding to poor) was done by the Ashram on daily basis. They were served the nutritious food, sweets, snacks, ice-cream, fruits, chocolates, biscuits, milk, etc. It was extended to various schools, slums; leprosy institute, orphanages, snake charmers, hospitals. Also Narayanseva was extended to wheat & grain ( about 4000kg) distribution to poor & needy families in Surendarnagar district. A group of devotees namely Sri.Marutbhai Dave, Jitu Kaka(greenman) Sri Pravin Gajjar, Sri Vimalbhai Patel, Smt. Nayanaben Dave, Smt.Pramila & Sri Mafatlal Patel, Sri Tejas Bhavsar, Sri Arun Upadhyaya and many more join in this selfless service.

On 16th day, a grand Shodashi Bhandara by worshipping 16 saints and a feeding to poor on large scale, Satsang etc were organized at theAshram on Sept 12, 2008. Other than regular gifts of 16 items to the16 monks namely Srimad Bhagwad Gita, Rudraksha Mala, utensils,(like thaali, katori, glass, kamandal), shawl, pair of clothes, umbrella, walking stick, shoulder bags, etc, a very special gifts were included, i.e. Traveling suitcase with wheels (Pullman), Thermos flasks, tea set, tea leaves, grounded sugar, Gujarati tea masala and Rs 1008/- Dakshina were most humbly offered to all sixteen Saints. This program was attended by a large number of devotees from all corners of Gujarat commencing from Valsad, Navsari, Surat, Bharuch, Baroda, Rajkot, Surendranagar, Jamnagar, Junagad, Bhavnagar, Khedbrahma and of course Ahmedabad. Though worshipful, Gurubhagawan Sri Swami Chidanandji Maharaj, may physically not be with us, but in each brick installed by him, around the globe, HE will be keeping alive, for ages to come. HIS divinity, purity, character and saintly hood was down to earth, which will be cherished by generations to come. Om Shanti.
Latest Additions.........

Please subscribe to Divyajivan Mailing List. We will update you with new uploads of spiritual literature on the web of Holy Master Sri Swami Sivanandaji Maharaj, saints of his lineage and other saints. We will also update you about the Sivananda Ashram, Ahmedabad website and facilitate communication with Sri Swami Adhyatmanandaji Maharaj.

Please enter your email address and click Subscribe button
To manage your subscription, please visit Subscription Page. You can also subscribe and unsubscribe from this page. You may unsubscribe by yourself anytime you wish. You will be required to send confirmation link that you will get in your e-mail to complete this subscription.

[ Home ] [ News ] [ Upcoming Events ] [ What's New? ] [ Services ] [ Swami Adhyatmananda ] [ Multimedia ] [ Publications ] [ Administration ] [ Saints and Sages ] [ Photo Gallery ] [ Contact ] [ Guestbook ] [ Important Links ] Webmaster: webmaster@divyajivan.org