Sri AshtaLakshmi Bhavan
&
Sri Chidananda Dhyana Mandir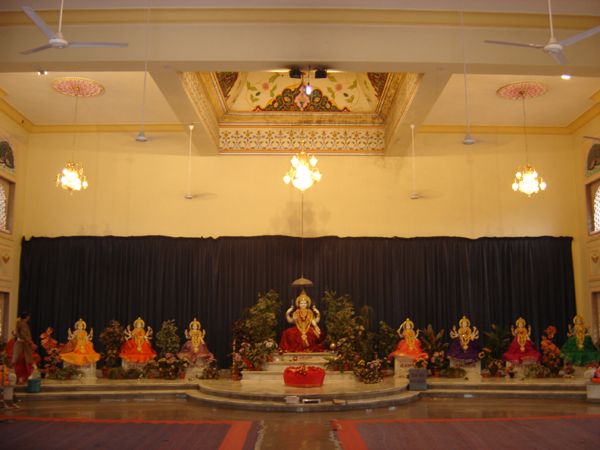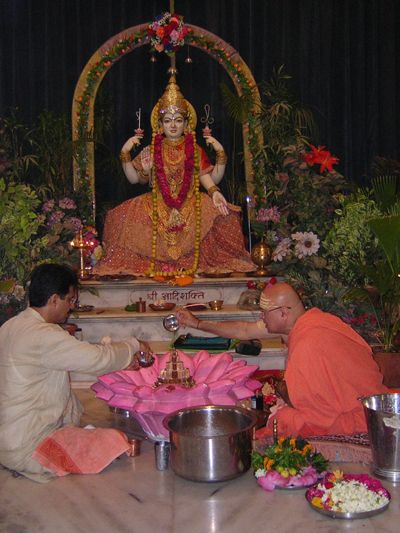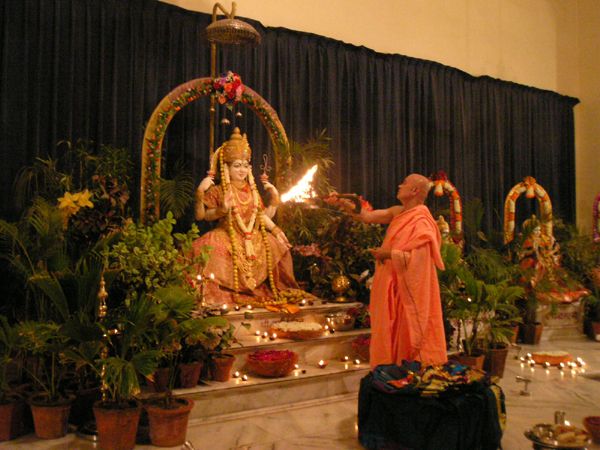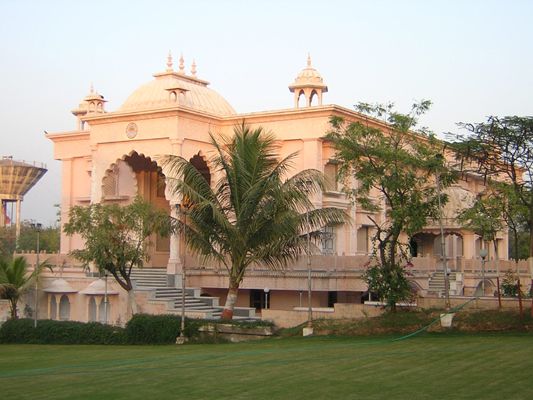 Sri Ashtalaxmi Bhavan

Sri Chidananda Dhyana Mandir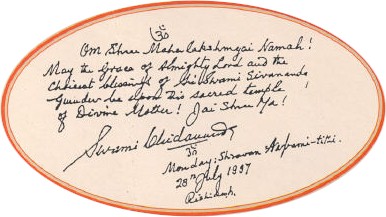 In Sanatan Dharma a great emphasis and importance is given to the Pujan, Archan and Upasana-devotion of GOD as holy Mother. Revered Sri Swami Chidanandaji Maharaj laid the foundation stone of the holy AshtaLakshmi Bhavan on 24th March 1997. With His grace and blessings only it got completed and inaugurated by His Holiness on April 29, 2001. There are eight forms of MahaLakshmiji (1) Adi Lakshmi (2) Dhanya Lakshmi (3) Dhairya Lakshmi (4) Gaja-Lakshmi (5) SantanLakshmi (6) VijayLakshmi (7) VidyaLakshmi (8) DhanaLakshmi. Thus, Lakshmi means not only Dhana-wealth, it also includes intellectual and spiritual wealth. The honest and deep worship of Sri Lakshmi along with Sri Adishakti is needed to achieve all this. In this Bhavan along with idols of eight forms of Sri Lakshmi, In the middle a grand idol of Sri Adishakti is being placed.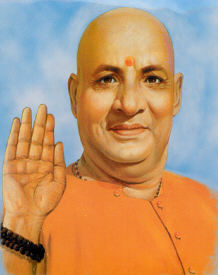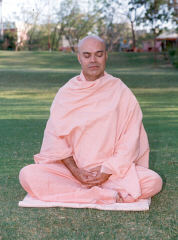 Sri Chidananda Meditation Center
" Srutis" have suggested to attain knowledge of this world (Iha-loka) and the other world ( Para- loka). Sri AshtaLakshmi endow people with the knowledge of this world; while the Chidananda meditation Center - Mauna Mandir, an excellent place for acquiring the knowledge of the other world. People desirous of Moksha, desirous of Knowledge and Sadhaks on their spiritual path have been highly benefited.
Latest Additions.........

Please subscribe to Divyajivan Mailing List. We will update you with new uploads of spiritual literature on the web of Holy Master Sri Swami Sivanandaji Maharaj, saints of his lineage and other saints. We will also update you about the Sivananda Ashram, Ahmedabad website and facilitate communication with Sri Swami Adhyatmanandaji Maharaj.

Please enter your email address and click Subscribe button
To manage your subscription, please visit Subscription Page. You can also subscribe and unsubscribe from this page. You may unsubscribe by yourself anytime you wish. You will be required to send confirmation link that you will get in your e-mail to complete this subscription.

[ Home ] [ News ] [ Upcoming Events ] [ What's New? ] [ Services ] [ Swami Adhyatmananda ] [ Multimedia ] [ Publications ] [ Administration ] [ Saints and Sages ] [ Photo Gallery ] [ Contact ] [ Guestbook ] [ Important Links ] Webmaster: webmaster@divyajivan.org