Glory to Guru
by
Swami Adhyatmananda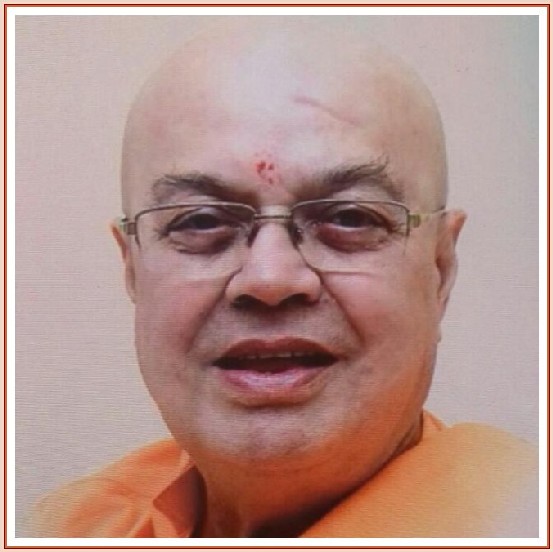 Gurupurnima is known as Vyasa Purnima also. Guru is Vyasa Himself. Guru is not the cage of flesh and bones. He is living God. He is absolute incarnate, clinging to his physical frame and seeing everything in his physical set up is mere ignorance.
Gurupurnima is the day for worshipping the GURU. The Guru is a Master, but He never makes His disciple a slave. Entire mission of Guru is to turn His disciple into none else but great Guru only. The Guru says "AHAM BRAHMASMI", I'm Brahman. But never the less "TAT TWAM ASI" you are that only. This purnima is a full moon day. When there is no hindrance between sun and moon, this moon shines in its full bloom likewise when disciple totally surrenders to His Guru, he too shines with Brahma Vidya. Brahma Vidya is knowledge of Absolute. Brahma Vidya is the highest knowledge after knowing that nothing remains to be known. It is the grace of Guru upon his beloved disciple that after having received Brahma Vidya, disciple has not to strive for any more gain. He becomes full; he becomes contented, he rejoices supreme BLISS. He dives deep in the eternity and divinity.
A Guru is the God on earth. To him, the whole world is a mere straw. To him, gold and stone are alike. To him, pleasure and pain are the same.

A Guru lives in God. He has realized God. He knows God. He has become God. He speaks of God. He shows the way to God. He is God intoxicated. He is God Himself. He is one with God. The Guru is God's messenger on earth. The God reveals Himself in a Guru in His full glory, infinite power, wisdom and bliss.

The Guru constitutes a ladder for the pilgrims to the shrine of God. Wherever the Guru stays even for a half a second, that place becomes sacred place like Varanasi, Prayag or Brindavan.
A Guru is a blessing on the earth. Gurus are the living symbols of religion and are the true benefactors of humanity. Throughout the history, Gurus have played a great role or a part in preserving spiritual values in the world.
The necessity of a spiritual preceptor in flesh and blood and an omniscient, omnipresent and omnipotent God who can be conceived by the mind and therefore worshipped and meditated upon, besides the eternal, non-dual, transcendental Absolute who is beyond the reach of the mind and speech and whose manifestations are the first two, to the spiritual aspirant, can not be overemphasized. Hence, it has become a tradition among the aspirants to pay the greatest respect and adoration to one's spiritual instructor, equivalent to that they bestow on the Deity, their object of daily worship.
To experience the Guru's Grace, one must see Guru as a supreme being, supra-ultra divinity, the manifestation of the Absolute Brahman and see his presence at all times, in all places and in all conditions and act accordingly is the real Guru Worship on the sacred occasion of Guru Purnima.
Om Shanti!!
Gurupurnima
July 16, 2019

Latest Additions.........

Please subscribe to Divyajivan Mailing List. We will update you with new uploads of spiritual literature on the web of Holy Master Sri Swami Sivanandaji Maharaj, saints of his lineage and other saints. We will also update you about the Sivananda Ashram, Ahmedabad website and facilitate communication with Sri Swami Adhyatmanandaji Maharaj.

Please enter your email address and click Subscribe button
To manage your subscription, please visit Subscription Page. You can also subscribe and unsubscribe from this page. You may unsubscribe by yourself anytime you wish. You will be required to send confirmation link that you will get in your e-mail to complete this subscription.

[ Home ] [ News ] [ Upcoming Events ] [ What's New? ] [ Services ] [ Swami Adhyatmananda ] [ Multimedia ] [ Publications ] [ Administration ] [ Saints and Sages ] [ Photo Gallery ] [ Contact ] [ Guestbook ] [ Important Links ] Webmaster: webmaster@divyajivan.org