Sri Rama - An Ideal Man and Path to Blessedness
by
Swami Adhyatmananda
The Story of Sri Rama commences from the life of Ratnakar. Ratnakar was a dacoit. He used to loot, rob and harass passersby. Fortunately one day sage Narada passed by; and caught in the hands of Ratnakar. Having felt for this rogue, sage with all his compassion blessed him with initiation of Sri Rama Mantra.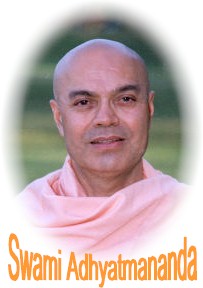 Ratnakar initially was a horrible person; but with his all sincerity he became saint later on known as sage Valmiki. Valmiki means anthill. And Valmiki who came out of that kind of accumulated dust or clay or earth, and wrote the epic "Ramayana" before the birth of Sri Rama. This is the real clue of Sri Rama's life and story. Those who desire to have grace of Sri Rama, they should turn themselves in dust, means should become humble, egoless and simple like dust.
Sri Rama, who was an incarnation of Lord Vishnu for destroying the evils, commenced his own life with slaying of TADKA. In the life of Sri Krishna also immediately after his birth he killed Pootana. One can ask what is the meaning behind this? Actually this Tadka, pootana's are representatives of our evil desires. So anyone who wish to trade the path of blessedness, should be free from all evil desires. He also needs to slay this inner unwanted motives of the individual being.
Every action of Sri Rama is a message to mankind and a light on the pathway to divine life. Breaking of a bow in the court of king Janaka, is breaking of an ego. Reviving the life of Ahalya, the wife of sage Gautama is to bring a hope of new life. Mistake is a part of life. In the world no one is totally pure other than the God Himself. Ups and downs are the part and partial of life. There is a high tide and a low tide. But in all condition one should not give up hope of revival. Nothing is impossible. What one needs is a sincere effort in the right direction. If terrible dacoit like Ratnakar can change himself from a rogue to an ideal saint, why not you and me?
In Rama's visit to Kevat's (Fisherman or Boatman) house and eating tasted berries of a hermit lady devotee named Sabari didn't make any difference to Sri Rama. Sri Rama's life is an ideal life. He brought an ideal into the lime light. Serve and love, give and purify. This is divine life. Divine Life is a life of dedication, devotion, discrimination, determination and dispassion. It's a life of commitment to the Self. With the awareness of this absolute awareness one becomes true to his own Self. Sri Rama lived up to the highest consciousness.
King Ravana, who was killed by Sri Rama, represents lust. Ravana's younger brother Kumbhakaran is an embodiment of "Pramad" or lathery and son of Ravana, Meghnath represents anger. These lust, anger and greed are the principal gates to the hell. Those who love to have grace of Sri Rama; they should get rid of these unwanted evils of life.
Sri Rama is knowledge or Jnana. Sita, the chaste wife of Sri Rama, is Bhakti or devotion and Lakshmana, a younger brother of Sri Rama, is action or Karma. So action, devotion and knowledge all three together are light, power and wisdom of the life. May Sri Rama's birthday festival and feast brings new understanding and awareness of inner consciousness of the realisation of the absolute. May we drink the nectar of Sri Rama's life and teachings and uplift ourselves as an individual one to bring inner peace; unfading inner beauty of the soul and later on merge with the cosmic consciousness and rejoice in the Lord in this life, here and now. Glory to Sri Rama. Hail Sri Rama! Jai Sri Rama!
Latest Additions.........

Please subscribe to Divyajivan Mailing List. We will update you with new uploads of spiritual literature on the web of Holy Master Sri Swami Sivanandaji Maharaj, saints of his lineage and other saints. We will also update you about the Sivananda Ashram, Ahmedabad website and facilitate communication with Sri Swami Adhyatmanandaji Maharaj.

Please enter your email address and click Subscribe button
To manage your subscription, please visit Subscription Page. You can also subscribe and unsubscribe from this page. You may unsubscribe by yourself anytime you wish. You will be required to send confirmation link that you will get in your e-mail to complete this subscription.

[ Home ] [ News ] [ Upcoming Events ] [ What's New? ] [ Services ] [ Swami Adhyatmananda ] [ Multimedia ] [ Publications ] [ Administration ] [ Saints and Sages ] [ Photo Gallery ] [ Contact ] [ Guestbook ] [ Important Links ] Webmaster: webmaster@divyajivan.org