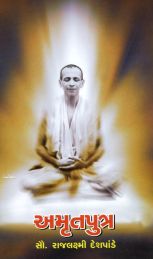 A new book release " Amrut Putra" through " Sri Sivananda Jnana Yajna Nidhi" on May 3, 2011 - " Amrut Putra" is a Life story of Gurubhagwan Sri Swami Chidanandaji Maharaj. It is a Gujarati translation by Pujya Sri Swami Adhyatmanandaji of Smt. Rajlaxmi Pande's original book in Marathi which was translated in Hindi. Going through its pages, you feel as if you are being with Guru Maharaj. The satsang with HIM through reading the book is like bathing in holy stream of nectar and getting rejuvenated. It is offered as a Gurubhakti and made available for token of Rs.10 only through Sri Sivananda Jnana Yajna Nidhi.
" Sivananda Jnana Yajna Nidhi" is a special publishing division established by Sivananda Ashram, Ahmedabad to facilitate spiritual publications. Holy Master Sri Swami Sivanandaji Maharaj has written a wealth of literature for the upliftment of mankind. The Sivananda Jnana Yajna Nidhi has been doing absolutely wonderful job to bring bulk of the literature in local Gujarati language. We are pleased that it was started with approval of Guru Maharaj Sri Swami Chidannadaji Maharaj and it has received His Blessings.

List of publication (Gujarati) through " Sivannada Jnana Yajna Nidhi"

Publications of Sri Swami Adhyamanandaji Maharaj

For the purchase of the book contact Sivanada Ashram # 079-26861234 / sivananda_ashram@yahoo.com
Latest Additions.........

Please subscribe to Divyajivan Mailing List. We will update you with new uploads of spiritual literature on the web of Holy Master Sri Swami Sivanandaji Maharaj, saints of his lineage and other saints. We will also update you about the Sivananda Ashram, Ahmedabad website and facilitate communication with Sri Swami Adhyatmanandaji Maharaj.

Please enter your email address and click Subscribe button
To manage your subscription, please visit Subscription Page. You can also subscribe and unsubscribe from this page. You may unsubscribe by yourself anytime you wish. You will be required to send confirmation link that you will get in your e-mail to complete this subscription.

[ Home ] [ News ] [ Upcoming Events ] [ What's New? ] [ Services ] [ Swami Adhyatmananda ] [ Multimedia ] [ Publications ] [ Administration ] [ Saints and Sages ] [ Photo Gallery ] [ Contact ] [ Guestbook ] [ Important Links ] Webmaster: webmaster@divyajivan.org