Adhyatma Tour 2019
of
H. H. Sri Swami Adhyatmanandaji Maharaj
"Reflection"
Amrut Mahotsav Celebrations Photos (May 3, 2019)
Amrut Mahotsav Celebrations Tour 2019 ( Sept 10, 2019 to Oct 22, 2019)
Zoom Meet Photos (May 3, 2020)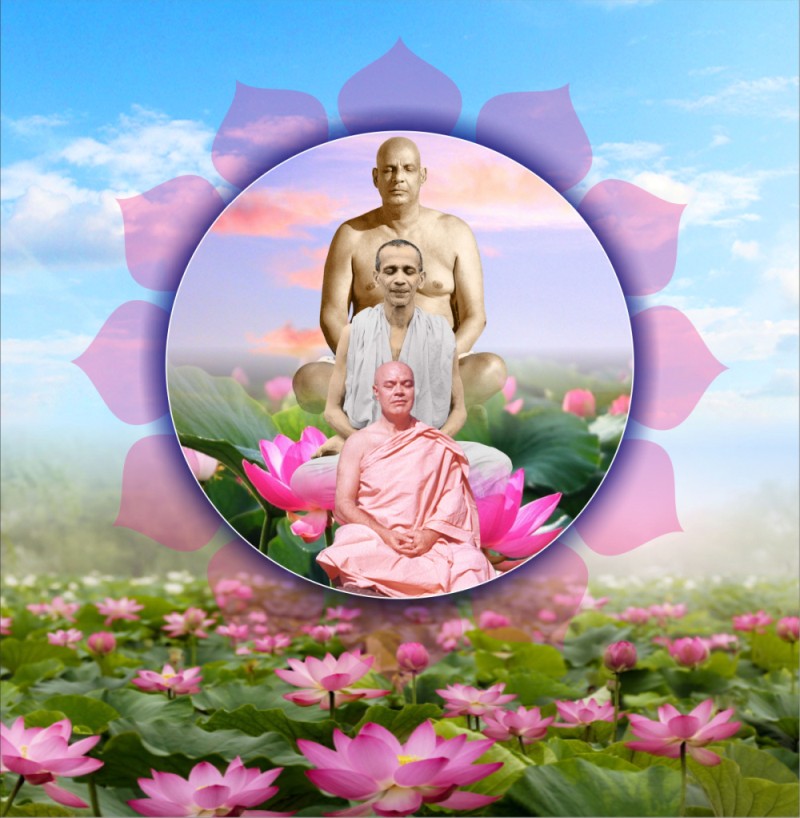 Adhyatma Tour 2019 ( USA, Canada & Toronto) photos
Pujya Swami Adhyatmanandaji's Amrut Mahotsav tour to the West commenced on Sept 10, 2019, from Chicago. Organizers group at various centers expresses their deepest gratitude and love to Swamiji for receiving Pujya Swamiji's Satsang and blessings again this year. It is all the Grace of the Holy Master Sri Swami Sivanandaji Maharaj & Gurumaharaj Sri Swami Chidanandaji Maharaj!
Pujya Swamiji's wisdom teaching has inspired sincere spiritual seekers to go within, do daily Swadhyaya, do regular Japa, and concentrate on their personal Sadhana in their upward, forward and Godward journey in the path of GOD realization. Pujya Swamiji's holy presence and yoga teaching have brought peace & joy to the spiritual aspirants & yoga enthusiasts. His prayers have brought solace & healing touch to the sick ones.
The Highlights of Adhyatma Tour 2019........ Amrut Mahotsav Celebrations of Pujya Swamiji Maharaj at Chicago in a small, simple and special, Pujya Swamiji attended a grand celebration of 150th Birth Anniversary of Pujya Bapuji, Mahatma Gandhi Ji at Atlanta Great coverage in "India Tribune" by Ravi Ponangi, Pujya Swamiji's august presence at Hindu Mandir Executives' Conference at New Jersey, Spiritual Retreat at Kula Kamala Yoga School, Yoga Retreat at Hindu Temple of Greater Chicago (HTGC), Spiritual Retreat at Happiness Yoga Center and more……The Tour took (Sept 10, 2019 – Oct 22, 2019 ) him to Chicago, Madison, Milwaukee, Kul-Kamala Foundation & Yoga center, New Jersey & vicinity area centers, Toronto- Windsor (Canada), Detroit, Toledo, Tampa(FL), Atlanta, Lorton, ( VA), Charlotte, Houston, Chicago and to the UK. Swamiji is back to the Ashram on Oct 23, 2019.
Atlanta, GA: Atlanta community joined in large number in the celebrations of Mahatma Gandhi's 150 th birth anniversary, Gandhi Jayanti hosted by the Gandhi Foundation of USA (GFUSA) and Indian Consulate, Southeast in Atlanta that was held on Wednesday, October2. 150 th Birth Anniversary of Mahatma Gandhi was celebrated in three parts. One in the morning at consulate, the second at The Gandhi statue located in Dr. Martin Luther King jr., Historical site in down town, Atlanta and the commemoration celebration of Gandhi at Knowles Conference Center, College of law, Georgia state University. Pujya Swami Adhyatmananda from India who is not only a staunch believer and follower of Mahatma Gandhi's principles but also experienced the touch of Bapuji whose grandparents were companions of Mahatma Gandhi in Dandi march, Isaac Farris Jr. nephew of Dr. Martin Luther King Jr., and Dr. Swati Kulkarni, Consul General of India in Atlanta graced the Gandhi Jayanti celebrations and shared their wisdom words. 150 th Birth Anniversary celebrations of Mahatma Gandhi in Atlanta included all religion prayers, paying rich floral tributes and garlanding with natural flowers at newly installed Gandhi bust and at Gandhi statue in King Center, Peace walk from Gandhi statue to Kings crypts, singing of Gandhi's favorite bhajans, patriotic songs and a unique theatrical presentation " Gandhi to Mahatma" by Dhoop Chaoon, Hindi theatre group, Atlanta. << More>>
Chicago : (Sept 10, 2019 – Sept 14, 2019): As always, Devotees group here in Chicago received, Pujya Swamiji with great love & devotion. All days here in Chicago was utilized fullest to the benefits of maximum people of Pujya Swamiji's holy presence.
Hindu temple of Greater Chicago organized morning Yoga Retreat. It was grand on the last day. About 70 Yoga enthusiasts attended two hours of Yoga sessions. Pujya Swamiji taught Pranayams, mainstream Yogasana, Suryanamaskar and explained the benefits of the regular practice. President of HTGC honored Revered Swamiji.
At Naik's residence, Pujya Swamiji enlightened Gita Study group seekers by answering their genuine questions on the text of Patanjali Yoga Sutra that they have been studying.
Two hours Yoga session "Stress Management through Yoga" was well received at Bharatiya Temple of NWI. Pujya Swamiji gave practical tips of stress management through the regular practice of Omkara Pranamyam and practice of a few simple Yogasana.
At Gayatri Saktipeeth Swamiji shared thoughts on Power of Faith ("Shraddha") & love for the Lord in the path of Bhakti Yoga. It was very inspiring.
At Arbindo center, Sri Swamiji shared the enlightening thoughts on the subject, "Awakening the Self". Swamiji beautifully explained how to transcend the mind-stuff to be one with ever effulgent SELF within, the witnessing principle. That is possible through the regular practice of " Dhyana" (Meditation), seek within, withdraw the senses and go deeper into the subtler sheets i.e Pranmaya, Manomaya ( mind), Vigyanmaya (intellect), Anandmaya and go beyond all to merge into the SELF.
Swamiji gave the simple analogy of bucket full of dirty water, get automatically cleanse if, you start pouring in the clean water. In the same manner, by pouring in the pure thoughts, Godly thoughts, virtuous & ethical living will automatically achieve the Antahkaran Suddhi and that would lead to INWARD & UPWARD Journey to merge with the ever effulgent SELF.
At Sri Jalaram Mandir satsang Pujya Swamji enlightened devotees on the subject of " Bhakti Yoga" and soaked them in Bhakti, love for the LORD.
A few home Satsang, Bhiksha, listening patiently to some devotees' problem, giving solace to sick ones ...........filled Swamiji's all days.
At the concluding, Pujya Swamiji had satsang at Yogi Divine Society. Devotees celebrated Amrut Mahotsav of Pujya Sri Swamiji Maharaj and Acharya Sri Dinkarbhai Patel in a small, simple and special way.
Madison: A priest at Mandir of Madison received Pujya Swamiji with Purna Kumbham. Shdsopchara Puja was offered to Lord Sri Vayanktesha and Pujya Swamiji offered Aarati & Archana.
Madison, WI (Sept 15, 2019): Smt. Manjesh and Shri Jagdish Agrawal invited Rev. Shri Swamiji Adhyatmanandaji Maharaj to grace and to bless their activity of Mandir of Madison at Wisconsin. Revered Shri Swamiji was received by temple priest with traditional Purna Kumbha and 'Shesha Vistram'. A wonderful Archana Pooja and Arati were organized which followed by Prasad. Devotees from Chicago, Minnesota, and Milwaukee also participated in the function.

Milwaukee, WI (Sept 15, 2019): Sri Hari is a member of the board of directors of Sri Divya Jivan Sanskrutik Sangh (USA), Smt. Aparna and Sri Hari are very pious couple and sincere devotee of the Lord. Revered Shri Swamiji blessed them and had home Satsang in the evening.
Reading, PA ( Sept 16, 2019- Sept 18, 2019): Dr. Sharon (Sudha ji ) Allit is a founder president/director of Kulkamal Yoga at Readings, PA. At the same time, she is an ardent devotee of Revered Shri Swamiji Adhyatmanandaji Maharaj. Upon her very sincere and generous invitation, Shri Swamiji arrived at Readings. On Sept 16, 2019, satsang Revered Swamiji spoke on the subject of "Hanuman: An Exemplary Devotion ". Listening to Pujya Swamiji on the glory of Lord Hanuman was truly enlightening for all. The Satsang on Sept 17, 2019, was on the subject of "Inquire Who Am I".
During his stay, Shri Swamiji Maharaj was invited by Albright College of Readings, PA. Unfortunately, one of the professor's son of the College got killed in recent gunfire in the University. Rev. Shri Swamiji planted a tree in his name and spoke upon the subject "How To Live Non- violence In The Atmosphere Of Violence". A large number of students attended the session and also prayed for peace and harmony in the world at large. During his stay Shri Swamiji attended home Satsang at devotees of Revered Gurudev Shri Swami Sivanandaji Maharaj.
Allentown, PA ( Sept 18, 2019): On his way to New Jersey Revered Swamiji with devotee group visited Shri Anoopam mission Allentown (PA). They had Satsang, darshan and prasad, which was served by saints of Anoopam mission with so much of love and generosity. Revered Swamiji in his Satsang talked about the glories of Lord Shri Swami Narayan and Saints of his divine order and Head & Acharya of Anoopam Mission Worshipful and Revered Shri Sahebdada and his love for Revered Shri Swamiji Maharaj.
New Jersey (Sept 18, 2019 to Sept 22, 2019): Honoring sincere invitation of Shri Vishwa Hindu Parishad of North America ( VHPA), Revered Shri Swamiji arrived at New Jersey, known as the city of the garden. Vishwa Hindu Parishad of North America (VHPA) organized North America Hindu Temples and their executive's annual conference in New Jersey. The conference commenced with an invocation by Revered Shri Swamiji Adhyatmanandaji Maharaj and concluded with his keynote address. In his speech, Shri Swamiji thanked all the organizations and requested them to keep followup their discussions made during three days of meetings. Nearly 150 organizations took part in the conference.
Also, Shri Swamiji's Satsang was organized at Shri Bharat Sevasharam Sangha of North America at Kendall Park NJ. Most worshipful & Revered Sri Swami Amarnathanandaji Maharaj generously organized this Satsang meeting, which was the attended by the large number of devotees. Swamiji shared the thoughts on the subject of "Aim For Human Life in Hindu Scripture". Thanks to Shri Umesh Suklaji, Prabha Shukla, Shri Vimal & Pappu Sodhani, Shri Sunil Bagaria, Mrs. & Mr. Kodhari, Smt. Tejal & Amit Shah for organizing New Jersey Programs.
On Thursday, Sept 19, 2019 Shri Swamiji's Satsang was organized at Sanatan Mandir of the Parsippany area. Here Swamiji spoke on the subject "Be True to Thy Own Self". Sri Ajitbhai Kothari, the trustee of the temple welcomed as well thanked Revered Swamiji for his generosity and to be with them every year.
Toronto, Canada (Sept 22, 2019 - Sept 25, 2019): At Toronto Shri Swamiji had a very hectic tour of Canada. On Sept 22, 2019 afternoon Shri Swamiji addressed the devotees of the Hindu Heritage Temple of Mississauga. A grand flag hosting was organized before the Swamiji's Satsang. During his stay, Swamiji had several home Satsangs at different areas of Toronto honoring devotees' request. Thanks to Archaryaji of Hindu Heritage Temple, Shri Kamlesh Dave, Shri Mayur Upadhyaya, Shri Balkrishna Lodhia, Sri Hitesh Patel and Shri Ram Gogia for organizing this quick trip to Canada. On his way to Troy (MI) America by road Shri Swamiji had home Satsang at Smt. Nivedita and Shri Jayesh Bhatt's holy abode at Windsor (Canada).
Troy, MI (Sept 25, 2019 - Sept 27, 2019): Sri Anil Lal, President of the Divya Jivan Sanskrutik Sangh (USA) and Smt. Meera Lal and the member of Board organized a vibrant program at Troy that included yoga classes at Bharatiya Temple of Troy and home settings. Thanks to Dr. A. U. Patel, Smt. and Shri Nitin Desai, Smt. and Shri Sunil Shekhari for their valuable time and generous organizing capacity.
Toledo, OH (Sept 27, 2019 - Sept 29, 2019):
"On the occasion of Swamiji's 75th anniversary, on behalf of the Hindu Temple of Toledo in Sylvania Ohio, we wish to express our deep gratitude to Pujya Swamiji and all the volunteers who work with him throughout the world. He has been visiting us every year for over 10 years and enlightening us, recharging us and reminding us of our pure nature. We appreciate his simplicity and his Yoga and Meditation sessions, and we hope he can continue to enlighten us in the years to come." - With Gratitude, Rajesh Laungani, secretary of Hindu Temple of Toledo.
The Hindu Temple and Heritage Hall of Toledo organized two days satsang of Pujya Swamiji on very important subjects "The Need of the Hour" & "Power Of Positive Thinking". Swamiji conducted pranayama and meditation class for three days. Home satsangs were organized upon the request of devotees. Thanks to Smt. Dr. Bina and Shri Rajesh Laungani, Smt. Bindu and Dr. Arvind Mistri and Temple Acharya Shri Anant Dikshit for their valuable time sharing and organizing functions.

Tampa, FL (Sept 29, 2019 - Oct 1, 2019): After 15 years Revered Swamiji Adhyatmanandaji Maharaj visited Tampa, FL invitation of Res. Dr. Gaurangi and Shri Nikunj Patel of Indian Culture Center and Shri Arvind Patel of Gujarati Samaj. Swamiji conducted Morning Meditation session and at evening Satsang Swamiji talked about the spiritual significance of Navaratri and Durga Worship & it's relevance in our day-to-day life.
Atlanta, GA (Oct 1, 2019 - Oct 3, 2019): At Hindu Temple of Atlanta, Revered Shri Swamiji Maharaj received warm welcome by President Smt. Sheela and Dr. Krishna Mohan Sharma, Member of Board of Directors of temple. It was a Navaratri time, a festival dedicated to Goddess Durga and her nine Avatars. It is associated to the prominent battle that took place between Durga and demon Mahishasura and celebrates the victory of Good over Evil. On Oct 1, 2019 happened to be a fifth day of Navaratri Temple offered performed Durga worship and Shri Durga Saptasati recitation in presence of Pujya Shri Swamiji Maharaj that lasted for about five hours. Shri Swamiji Maharaj is a regular visitor of Atlanta for about twenty years invited by Shakti Mandir, Sanatan Temple, Gujarati Samaj & Hindu Temple of Atlanta.
On October 2 marks the special day in Indian calendar for It is of Mahatma Gandhiji's Birth Anniversary. It happened to be 150 th Gandhi Jayanti this year. It was celebrated with great love and devotion at Consulate General of India at Atlanta, GA.
In the simple and solemn function that was held in the morning at Consulate, Dr. Swati Kulkarni, CGI Atlanta, Pujya Swami Adhyatmananda Ji, the chief guest of 150 th Birth Anniversary celebrations of Mahatma Gandhi in Atlanta and representatives of various community organizations paid rich floral tributes in prayerful mood to the "father of the nation" at the newly unveiled bust of Mahatma Gandhi in front of the consulate premises. For the last few years the whole world observes October 2 not only as Gandhi's birthday but also as International Day of Non-Violence, the ideal that Gandhi fought for throughout his life. In the evening, dignitaries and community members of diverse cultures gathered around a life-size bronze statue of Gandhiji at Dr. Martin Luther King Jr., Historical site. Guest of honors Pujya Swami Adhyatmananda Ji, Dr. Swati Kulkarni, CGI Atlanta, Isaac Farris Jr. garlanded the statue with fresh flower garlands followed by the peace walk in silence to Kings Crypts by the community. Then the gathering moved to the commemoration of Gandhi that was held at Knowles Conference Center, College of law, Georgia state University. In four-hour long program at Knowles Conference Center, College of law, Georgia state University, Revered Swamiji conducted all religion prayer and addressed the gathering. He said "We need Gandhiji, not only in India but around the globe. Unfortunately, we are losing the values and value-based educations. No plane can fly without 2 wings as well as wheels to run on runway for takeoff and landing. With Truth and Non-violence supported by loyalty towards the nation and backed by a sincere prayer only, we can live the life of peace and integrity. Parents of Gandhiji Res. Mother Putalibai, father Karamchand, chest wife and life- long partner Kasturba, they all need applause because of making Gandhiji life sublime. Today there is also a Happy Birthday of Shri Lal Bahadur Shastri, Shri Nelson Mandela, Martin Luther King (Jr), they all lived for the nation or community. There was no selfish motive and because of that only, they are adored after so many years. Before going to the UK for higher education Gandhi was given vow by his mother. "No meat, woman or wine" midst of in all temptation Gandhi stuck to these vows. Because he had a high aim in his life. Years will roll Gandhiji would be known as incarnate divinity. In case we need peace, harmony, love, no- hate, non-violence… we need Gandhi… Now and forever…<< More>>
Spiritual Retreat at Happiness Yoga Center, Lorton (VA) (Oct 3, 2019 - Oct 7, 2019): Smt. Sunita & Shri Shaishav Shah are Founder President and Director of Happiness Yoga Centre. They have undertaken Yoga Teachers Training Course from Sivananda Ashram, Ahmedabad. They organized 3 days Spiritual Retreat. Pujya Swamiji enlightened yoga enthusiasts on important spiritual subjects namely,
Wake up and get moving for a vibrant beginning,

Kundalini – The Treasure within the mystic Serpent Power,

Anatomy and Physiology in Yoga ,) Yogic Bandhas and Mudras , Raja Yoga, an ascent to purity and Path to Summit, Improve your resistance power, Prana, The Saviour – Feel the magnitude and majesty, Love your internal visceras – The ultimate key of healthy body
Swamiji satsang was also arranged at Sri Durga temple on the occasion of "Mataki Chowki'. About three thousand devotees attended this sacred event. pujya Swamiji was honored by the Chairman of the Temple, Sri Mahendrakumar and Smt. Shardadevi with Poojan, Shawl and Offerings. Entire program was well coordinated by Smt. Sunita and Sri Shaishav. Also, Pujya Swamiji was invited for home satsang.
Charlotte, NC (Oct 7, 2019 to Oct 10, 2019): Sri Swamiji has been regularly visiting Charlotte. Satsang were organized by Smt. Bhavaniben & Sri Shantanu Sarkar, Smt. Rohiniben and Sri Paresh Patel at their home.
Houston (TX) : Oct 10, 2019 - Oct 14, 2019: Report by Sri Dhaval Trivedi
Swamiji arrived on the afternoon of October 10th 2019. Swamiji visited BAPS Swaminarayan temple that evening and had Satsang with Shevtmuni Swami (Kothari Swami of BAPS Houston) remembering life experiences with Pramukh Swamiji and Gurumaharaj Swami Chidanandaji.

On October 11th 2019, Swamiji gave discourse on Stress Management through Yoga at the Unique Group of Industries. We are thankful to Sri Nimishbhai Sheth for supporting Swamiji's mission year after year with arranging lectures or Yoga classes. There were about 40 employees took benefit of Swamiji's rich knowledge and experience of Yoga techniques that can help lead stress less life.

Swamiji talked about Divine Life and key events of Gurudev Swami Sivanandaji and Gurumaharaj Swami Chidanandaji's life story at the home Satsang in the evening of Oct 11, 2019. On Oct 12, 2019, Swamiji was invited at Shri Krishnakant bhai Pandya's residence for Satsang for mid-morning followed by lunch prasad for all attendees.

Swamiji talked about "Manasik Shanti Na Sachot Upay" - a discourse in Gujarati - at the ISSO Swaminarayan Temple in the evening of Oct 12, 2019 followed by Aarati and Mahaprasad. About 300 devotees were blessed with Swamiji's wisdom talk. Swamiji conducted Yoga class in the morning of October 13, 2019 at ISSO Swaminarayan temple which benefited about 35 devotees. Swamiji expresses on importance of Pranayam and some simple exercises that can help maintain good digestion and healthy lifestyle. The afternoon of Oct 13, 2019 was spent discussing Success of Student Life with the young children of Bal Sanskaran Sala (weekend school at Gayatri Consciousness Center). In the evening, Swamiji talked about "Jivan Sandhya Ki Swarnaprabha" - a discourse in Hindi with the devotees of Gayatri Parivar. The event was followed by Arati and Mahaprasad.

All the attendees of the Houston events were delighted and have requested Swamiji to shower his blessings on all of us every year. At every event, we conducted mass chanting for the healthy and long life of H H Swamiji as part of celebration of his 75th birth anniversary year. We are blessed to have his grace and presence with us.
Sri Dhaval Trivedi & his father Sri Divakarbhai coordinated great program in Houston. Sri Divakarbhai is a ardent devotee of Guru Bhagvan Sri Swami Chidanandaji Maharaj and has taken the mantra Diksha from GuruMaharaj. Sri Divakarbhai served as one of the trustee of Gujarat Divya Jivan Sangh in the past.
Chicago (Oct 14 & Oct 15, 2019): As always, Pujya Swamiji was received in great love & honor by Naik's. Pujya Swamiji has blessed them with a life size photo of Holy Master Sri Swami Sivanandaji Maharaj and ever since then, He shows HIS Living presence time & again. We pray for HIS good health, long life and many more years of His Satsang and Blessings.
On Oct 14, 2019 a special evening satsang was organized at Sri Yogi Divine society upon the humble invitation of Acharya Sri Dinkarbhai Patel. With the Grace of the Divine, Amrut Mahaotsv of Pujya Swamiji Maharaj & Revered Sri Dinkarbhai Patel, Acharya & head of Yogi Divine Society, Chicago was celebrated. It was a joyful moments for all the devotees to be a part of Amrut Mahotsav -75 th Birth Anniversary of both the Mahatams.
Pujya Swamiji's tour got wrapped by a several devotees' visits before HIS departure to UK in the evening of Oct 15, 2019 from Chicago O'Hare airport.
London, UK : (Oct 16, 2019 to Oct 22, 2019): Credit goes to Sri Jogendrabhai Patel for organizing London program. Satsangs were arranged by Sri Anoopam Mission at Ax Bridge, Sri Datt family at Wellington , Sri Dharmendrabhai Tailor at Bristol, Smt. Kantaben Rajdev family at Hero Midax and Sri Pravin Kataria at Northern Hith. Pujya Swamiji is grateful to Revered Sri Himmat Swami of Anoopam Mission for their love and honor showered on HIM.
Mumbai (Oct 23, 2019): Pujya Swamiji arrived Mumbai at 11.10 am. Satsang of Swamiji was held at noon at Parmanand Bhandar, Khar and in the evening He left for Ahmedabad. Group of devotees received Pujya Swamiji at the Ashram and had satsang & prasad.

OM Shanti !
Latest Additions.........

Please subscribe to Divyajivan Mailing List. We will update you with new uploads of spiritual literature on the web of Holy Master Sri Swami Sivanandaji Maharaj, saints of his lineage and other saints. We will also update you about the Sivananda Ashram, Ahmedabad website and facilitate communication with Sri Swami Adhyatmanandaji Maharaj.

Please enter your email address and click Subscribe button
To manage your subscription, please visit Subscription Page. You can also subscribe and unsubscribe from this page. You may unsubscribe by yourself anytime you wish. You will be required to send confirmation link that you will get in your e-mail to complete this subscription.

[ Home ] [ News ] [ Upcoming Events ] [ What's New? ] [ Services ] [ Swami Adhyatmananda ] [ Multimedia ] [ Publications ] [ Administration ] [ Saints and Sages ] [ Photo Gallery ] [ Contact ] [ Guestbook ] [ Important Links ] Webmaster: webmaster@divyajivan.org