Sri Chidananda Birth Centenary Celebrations
September 24, 2015 - September 24, 2016
Sivananda Ashram, Ahmedabad.
Worshipful and Revered Guru Bhagawan Sri Swami Chidanandaji Maharaja's Birth Centenary Year Celebration (Sept 24, 2015 - Sept 24, 2016) has been inspiration and joy of "Chidananda Chintan", "Chidananda Mananam", "Chidananda Darshan" through planning, thinking, watching TV programs (live & recorded) of various branches of Divine Life Society, Head Quarter Risikesh, video clips (live & through Youtubes), documentaries (must watch of one brought out by Swami Chidananda Sevashram) & reading through website of various centers, organizing programs & being a part of it and more...... for countless devotees all over the globe.
The grand culmination of celebration was a absolute joy here at Sivananda Ashram, Ahmedabad. A Spiritual Presence of Gurumaharaj Swami Chidanandaji Maharaj was experienced by one and all - even the birds, squirrels and peacock rejoiced HIS presence and joined in the celebration at the Ashram. On the morning of Gurumaharaj's Birthday Sept 24, 2016, a peacock danced in all its grace (got caught in video recording) in lawn garden of the Ashram and birds were singing glories of Gurumaharaj in their own tunes with the devotional bhajans & kirtans. Adding to that...... GuruMaharaj gave Darshan! What is not possible for Gurumaharaj ? a devotee (from USA) called and shared with Pujya Swamiji her darshan of GuruMaharaj in dream on Sept 24th morning. How wonderful ! it is all GURU KRUPA. Glories to Gurudev !
It was a week (Sept 17, 2016 - Sept 24, 2016) of spiritual feast for all. Highlight of the celebration : A Grand GURU Paduka Pujan, Sunderkand Parayan, daily satsang in the company of learned scholars & Mahatmas delivering enlightening spiritual discourses, feeding to Daridra Narayanas, Sadhu bhojan, devotional sangeet, sharing of thoughts filled with love & devotion by one who has lived with & served GuruMaharaj - H. H. Sri Swami Ramswarupanandaji Maharaj from Uttarkashi, H. H. Sri Swami Brahmanishthanandaji Maharaj from Delhi, H. H. Sri Adhyatmanandaji Maharaj narrating life incidences and their own experiences with Guru Bhagawan Sri Swami Chidanandaji Maharaj were beyond these finite words can express............... On Sept 24, 2016 in the evening two Acharyas from Juna & Nirvani Akhada and H.E. Governor of Gujarat, Mr. Om Prakash Kohli dedicated The "CHIDANANDAM' by unveiling the curtain of Granite plaque engraved in golden letters in holy presence of Juna Peethadhishwar Sri Swami Avadheshanandaji Maharaj, Nirvan Peethadhishwar Srimat Swami Vishokanandaji Maharaj, Mahamandleshwar Sri Swami Vishwambhar Bhartiji, Mahamandleshwar Srimat Swami Kalyanananda Bhartiji, Srimat Swami Parmatmanandaji, Arch Bishop Mekwan. The new satsang Hall at Chidanandam was packed with devotees to its maximum capacity. All Saints and H.E. Governor spoke praising Gurumaharaj Swami Chidanandaji Maharaj as a divine incarnation.......and the beautiful Souvenir "CHIDANANDAM" was released.
More details of Centenary Culmination Celebration << More>>
Now, to follow the words of wisdom (that have been in the forefront) of Holy Master Gurudev Sri Swami Sivanandaji Maharaj, all through the year - the very purpose of the centenary celebration,
"Celebration of Swami Chidanandaji's Birthday is really worship of God."...........................
Let us continue our spiritual journey onward and forward to realize the goal of Life "God Realiztion"
In The Words of Holy Master Sri Swami Sivanandaji Maharaj, .................. "Celebration of Swami Chidanandaji's Birthday is really worship of God."
"During the celebrations of the Birthdays of great men you hear of their actions, their thoughts and their instructions, and the way in which they led their life. You imbibe several good qualities from their glorious example. You try to emulate them. You put those qualities into practice in your daily life. Frequent Birthday celebrations are necessary.".....

"Practise compassion, service, humility and other virtues. Then shine like our Chidanandaji. This is my fervent prayer ! Chidananda is a Jeevanmukta, a great saint, an ideal Yogi, a Para Bhakta and a great sage. Swami Chidananda is all this and much more".
And Sri Swami Adhyatmannda on HIS Master.............. " How fortunate we are! How blessed are we to be born in the same era! Glories to Gurumaharaj! In Bhagawad Gita Lord Sri Krishna has described the characteristics of "Sthitha Prajna", but it is rare to see & meet the one! but we have lived with the ONE.
Let us imbibe virtues and teachings from the Life Divine of GuruMaharaj and that is the Celebration of Chidananda Birth Centenary, in a True Sense" !
And, listen to these words of Guru Maharaj for HIS Adhyatm ...............(Video Clip) How Wonderful! and, what could be a better time than now to cherish those blessed moments that got caught in the recording tool!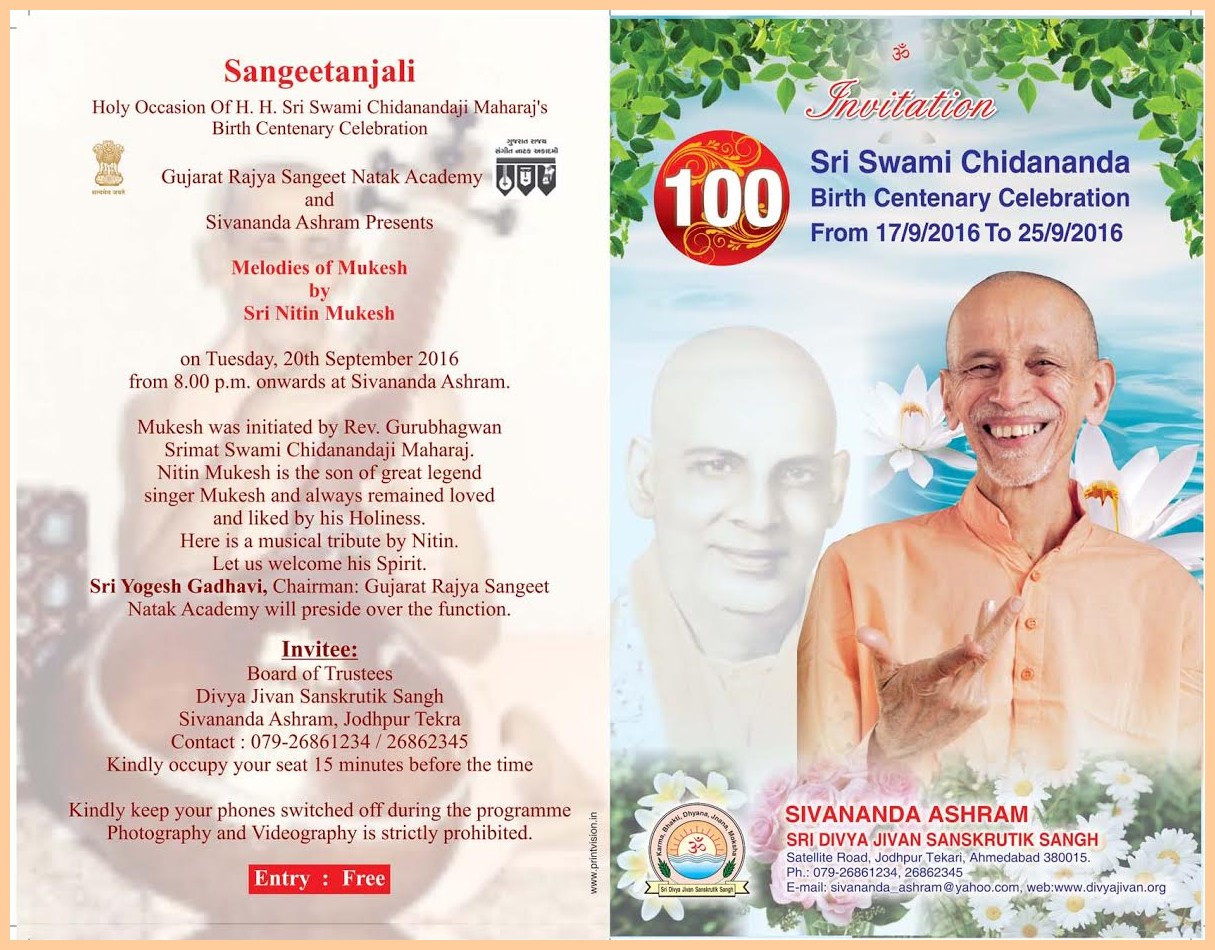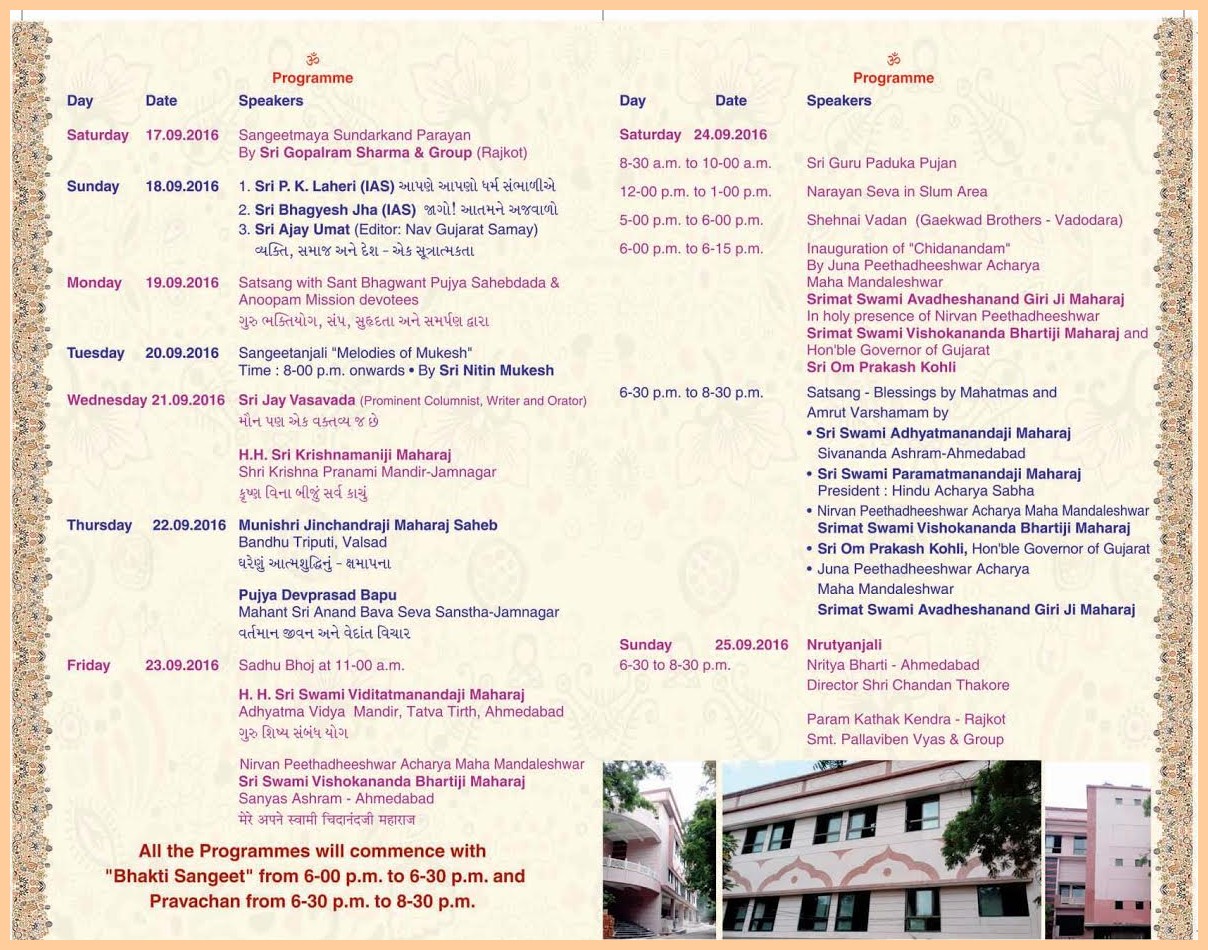 On Sept 24, 2015 Sri Chidananda Birth Centenary Celebrations commenced with three days satsang programs in holy company of Mahatmas. Large number of devotees joined satsang and Paduka pujan in the morning which followed a ground breaking ceremony by Pujya Sri Swami Adhyatmanandaji Maharaj to commence construction of Swami Chidananda Centenary Memorial Yoga Bhawan at Sivananda Ashram, Ahmedabad.
The highlight of the evening satsang was the release of the book "Prakash Punj" a Gujarati translation (by Pujya Swami Adhyatmanandaji Maharaj) of book "Light Fountain" by H. H. Sri Swami Chidanandaji Maharaj. The book originally priced Rs.100/ but it was distributed for token price of Rs.10/- only and 1900 copies were purchased out that evening alone.
All India Radio and vividha bharti program of Indian broadcasting station Telecasted Pujya Swamiji's thoughts on this occasion and Tribute to Revered Sri Swami Chidanandaji Maharaj. D D Girnar TV channel of Government of India also telecasted special tribute to GuruMaharaj Sri Swami Chidanandaji Maharaj.
On Sept 25, 2015 Sri Navchandi Yagna was performed through out the day at pandal in front of Sri Vishwanath Temple of Ashram. Today Smt. Mayurikaben Oza sang bhakti sangeet. Revered Swamini Ananta Nanda Mataji of Anantananda Ashram, Velad and H. H. Sri Swami Asanganandaji Maharaj of Jnan Sadhana Vihar, Heranj shared the thoughts of "Greatness of Guru"
On Sept 26, 2015, three days Jnan Yajna concluded with holy presence the galaxy of Saints from reputed ashrams of Ahmedabad, Gandhinagar and nearby cities. Mr. Chandan Thakor, director of Nrutya Bharati presented very spectacular classical dance performance with his large group of performing arts students. Well known poet, artists and scholar Sri Madhav Ramanuj Ji graced the occasion today.

On Sept 28, 2015 in the evening Holy Sri Sunderkand Parayan by Sri Ajay Yagnik Ji of Delhi filled divine vibrations. H. H. Sri Swami Vidhitatmanandaji Maharaj of Tattva Tirth Ashram blessed the audience.
"Jnan Yajna" (November 25, 2015 - December 6, 2015)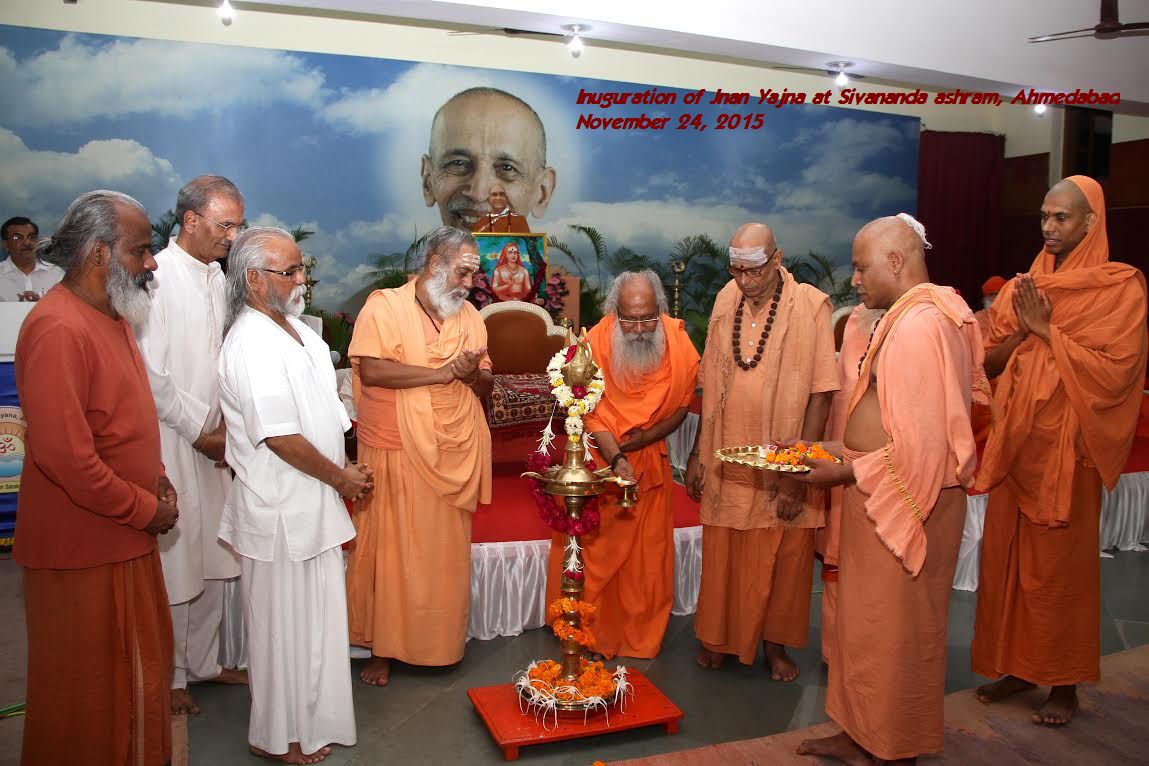 Inauguration of Prashthan Trayee Parayan (Nov 24, 2015)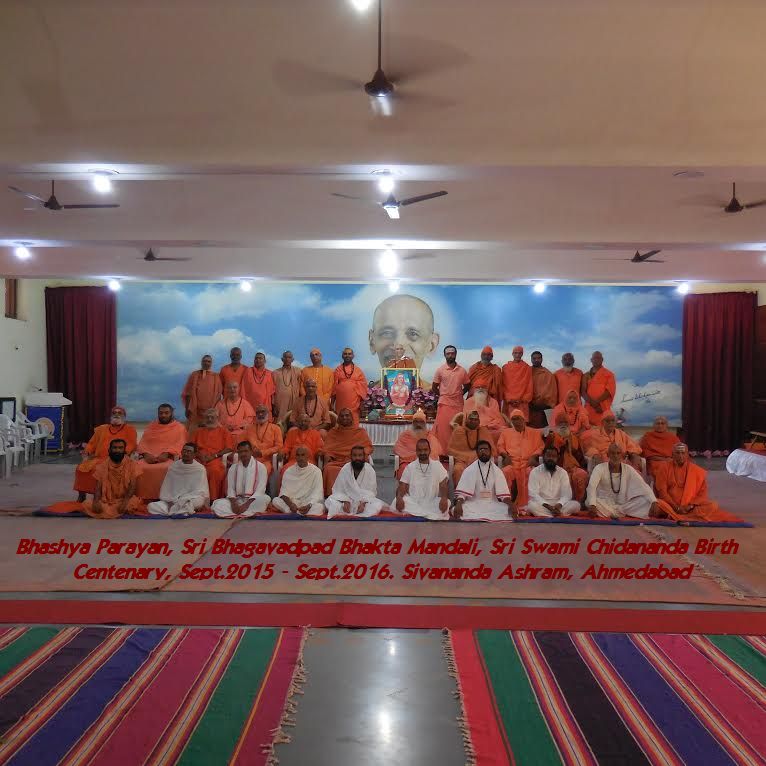 Jnana Yajan ( November 25, 2015 to December 6, 2015): Saints from all over India graced the ashram for "Bhashya Parayan - Prasthan Trayee Parayan" and so did the devotees in mammoth crowd joined in this sacred events. Ashram has become a pilgrimage place.
About forty learned Saints, Sages, Scholars and Mandleshwars from all over India have commenced Jnan Yajna encompassing Prasthan Trayaee Parayan (Brahma Sutra, Ten Principal Upanishads and Srimad Bhagavad Gita discourses) nine hours every day for Twelve days (108 hours). Inaugural function on eve of Nov 24, 2015 was graced by Maha Mandaleshwar Sri Swami Kalyanandaji Maharaj of Bharati Ashram, Sri Swami Ram Swaroopanandaji Maharaj of Koteshwar Mahadev, Niranjani Akhada, Gandhinagar and H. H. Sri Swami Medhanandaji Maharaj from Kailash Ashram, Rishikesh and Mahatmas from Uttarkashi, Rishikesh, Haridwar, Delhi, Mumbai, Kolkata, Chennai, Bangalore, Thiruvananthapuram have joined this sacred event. Concluding was grand on December 6, 2015.
Sri Chidananda Birth Centenary Yoga DVD is a creation of Divya Jivan Sanskrutik Sangh to commemorate Birth Centenary celebration of Guru Maharaj Sri Swami Chidanandaji Maharaj. It is a complete guide for the beginners as well as experts. It contains 84 Yoga postures. It is like Yoga Teachers comes to your home. A "must possess" treasure for not only Yoga lovers but for everyone. It is filled with systemic, scientific and yet simple methods of yoga teaching by Sri Swami Adhyamanandaji Maharaj.

Chidananda Memorial Yoga Bhawan; It is a joy indeed to share with you all that foundation stone is laid by Pujya Swami Adhyatmanandaji Maharaj after special Havan performed on Ninth day of Navaratri (October 22, 2015) and construction of Sri Chidananda Yoga Bhavan has began as per the floor plan. Working committee at the ashram thanks to all for the generous donation and seeking continued support for this Divine project Join us for the programs, activities, satsangs and more.... during the Chidananda Birth Centenary Year (Sept 24, 2015 - Sept 24, 2016). "Be a part of it and Be benefited"
Youth program continued in the month of Feb 28, 2016 : As a part of Chidananda Birth Centenary Celebration, Elocution contest was organized for students from all the Universities of Gujarat. After screening from various levels, about 120 boys and girls participated in the contest. Competition continued from 9.00 am to 4.00 pm. Best first three and best college were presented cash prize of Rs.7500, Rs.5100 and Rs.3100. Sri Swami Adhyatmanandaji Maharaj motivated the youth for valued based education. Program was co-coordinated by Sri Arun Oza, a trustee, Dr. Chirag Pandya, a member of Board and Ms. Sangeeta Thawani, a dedicated Yoga teacher of the Ashram.
Srimad Bhagawat Katha by H. H. Sri Swami Adhyatmanandaji Maharaj on Vyasa Asan( Feb 29, 2016 - March 6, 2016) with daily discourses (from 3.30 pm to 7.00pm) impregnated with wisdom of Karma Bhakti & Jnana by Pujya Swamiji Maharaj - was indeed a spiritual feast for the Devotees at the ashram. Pujya Swamiji narrating the glories of Lord's Vishnu, Lord Rama Avatara, Sri Krishna Janmotasav, Sudama Akhyan, the Bhagawat dharma, Sri Lallaji's Sringar darshan, daily Kirtan, Lord Krishna's departure, Uddhav Gita and more......... all were wonderful.
We bring you video clip of Sri Lallaji's daily Sringar darshan during Srimad Bhagawat Katha.........the most enlightening Meerbai's bhajan ("Kaisi lagan lagai prabhu tose..........Teri pooja Jeevan mera") by Mrs. Upali Kar, an ardent devotee of Gurumaharaj Sri Swami Chidanandaji Maharaj !
And, Sri Nitin Mukesh (a son of Sri Mukesh - an ardent devotee of GuruMaharaj Swami Chidanandaji Maharaj) visited the ashram and paid his homage during Srimad Bhagawat Katha - organized as a part of Chidananda Centenary celebration. Such a humble soul ! Listen to his melodious singing........
"Bhakti Shakti hey, Karma Dharma hey, Jnan Mukti ka path hey" - whole spirituality wrapped in a few lines, his heart melting singing from the core of his heart, soaking the listener in divine bhav. Wonderful to see how Gurumaharaj calls HIS devotees! How that Nitin Mukesh chose to sing this bhajan seeking to one, who is "VILIN in VIRAT"- as the last line of the bhajan states..... It is all GURU KRUPA!
Centenary Celebration Tour 2016: The Devotee Group in the USA, Toronto & UK joined in the celebrations and brought Centenary Tour 2016 itinerary to Pujya Swami Adhyatmanandaji Maharaj ( June 22, 2016 - July 23, 2016)
Celebration continued ......................................
Under the the guidance of H. H. Sri Swami Adhyatmanandajij one after the other the planned programs, Satsangs, Jnan Yajana, distribution of Sivananda & Chidananda literature - new book release "Prakash Punj", Yoga & Meditation camps, "Chidananda Smruti Pravachan" series in India and abroad by Pujya Swamiji Maharaj, Chidananda Yoga DVD release, Youth programs, Seva projects, Construction of Chidananda Yoga Bhawan, Medical camp, food & grain distribution, feeding to under privileged, Srimad Bhagawat Katha, Shiva-Puran Katha, Gita Jnan Yajna (All 18 chapters of Bhagawd Gita) by Pujya Swamiji Maharaj on Vyasa Asan and more...... went on in great enthusiasm through out the year here at the Ashram.

And, now the grand culmination of celebration in the holy company of Sant -Mahatma & Honorable Governor of Gujarat Sri Om Prakash Kohili ....... Satsang programs starting from Sept 17, 2016 - Sept 24, 2016 and the inauguration of "Chidananda Yoga Bhawan" with release of "Chidanandam", a souvenir on this occasion. Be a part of this historic & memorable event and feel blessed ! All are humbly invited............

Latest Additions.........

Please subscribe to Divyajivan Mailing List. We will update you with new uploads of spiritual literature on the web of Holy Master Sri Swami Sivanandaji Maharaj, saints of his lineage and other saints. We will also update you about the Sivananda Ashram, Ahmedabad website and facilitate communication with Sri Swami Adhyatmanandaji Maharaj.

Please enter your email address and click Subscribe button
To manage your subscription, please visit Subscription Page. You can also subscribe and unsubscribe from this page. You may unsubscribe by yourself anytime you wish. You will be required to send confirmation link that you will get in your e-mail to complete this subscription.

[ Home ] [ News ] [ Upcoming Events ] [ What's New? ] [ Services ] [ Swami Adhyatmananda ] [ Multimedia ] [ Publications ] [ Administration ] [ Saints and Sages ] [ Photo Gallery ] [ Contact ] [ Guestbook ] [ Important Links ] Webmaster: webmaster@divyajivan.org