OM Namo Bhagawate Sivanandaya!
OM Namo Bhagawate Chidanandaya!
OM Namo Narayanaya!
==================================================================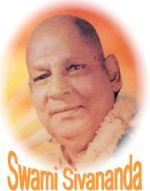 Deepavali - A Festival of Joy, Light & Illumination (November 9, 2015 - November 12, 2015)

"The sun does not shine there, nor do the moon and the stars, nor do lightnings shine and much less fire. All the lights of the world cannot be compared even to a ray of the inner light of the Self. Merge yourself in this light of lights and enjoy the supreme Deepavali.

He who Himself sees all but whom no one beholds, who illumines the intellect, the sun, the moon and the stars and the whole universe but whom they cannot illumine, He indeed is Brahman, He is the inner Self. Celebrate the real Deepavali by living in Brahman, and enjoy the eternal bliss of the soul.

Many Deepavali festivals have come and gone. Yet the hearts of the vast majority are as dark as the night of the new moon. The house is lit with lamps, but the heart is full of the darkness of ignorance. O man! wake up from the slumber of ignorance. Realise the constant and eternal light of the Soul which neither rises nor sets, through meditation and deep enquiry.

May you all attain full inner illumination! May the supreme light of lights enlighten your understanding! May you all attain the inexhaustible spiritual wealth of the Self! May you all prosper gloriously on the material as well as spiritual planes! " - Swami Sivananda
As we perform Laxmi Pujan on Dhanteras & Deepavali, Let us understand the meaning of Sri Yantra Puja- Hymns of Goddess Lakshami,
Sri. Ashtalaxmi Darshan, Sri Mahalaxmi Stuti and "Sri Suktam (audio clips)

==================================================================
Chidananda Darshan - through Life incidence of Guru Maharaj
Birth Centenary Celebration of Guru Bhagawan Sri Swami Chidanandaji Maharaj at Sivananda Ashram, Ahmedabad.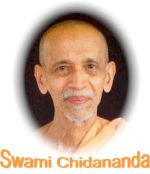 Once Swamiji reached the Ashram of Ma Anandamayi at Brindavan to attend a Samyam Saptaha. When the news of his arrival was carried to the worshipful Mother, she instantly came out to receive him personally. When Swamiji saw her advancing towards him, he at once prostrated himself on the ground. The mother appeared to be taken aback for a brief moment and tenderly protested by saying, "Baba, what are you doing!" Swamiji said nothing, for there was nothing to say. He was merely his usual self-a personification of humility and Sadachara.
The mother then continued to outline the program of the function and wanted to know from Swamiji whether he felt it to be "all right". Meekly Swamiji replied, "When Mother is there everything is bound to be all right". At this, Ma burst into a peal of laughter and then in a solemn tone declared. "If there is any deficiency, Baba himself will please set it right. After all, this Ashram also belongs to Baba." In course of their talk she reminded him that the next day was Ekadasi, Swamiji politely said that being a participant in the Samyama Saptaha he had already enrolled himself in the Vrat. The mother intoned, "Oh! Baba is in the eternal state of spiritual discipline." This pithy statement of a God-realized soul of the stature of Ma Anandamayi speaks volumes about Swamiji's inner state of perennial penance. Being what he is, Swamiji does not need to observe fasts and other austerities, Yet he always observes the proper external discipline by way of being an example to other seekers and keeping the physical frame under the permanent rigours of discipline.

==================================================================
Deepavali Blessings from Sri Swami Adhyatmanandaji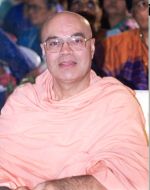 Radiant Immortal Divinities!
Most Beloved and Blessed Children of the Divinity!
Spiritual Brothers and Sisters in the Spirit! Loving Pranams !
Om Namo Narayanaya !
May the light of the Deepavali enlighten your entire being ! May you all realize that Light is within you ! May you all rejoice in the Lord, Sing His divine name and abide in Him alone!
Diwali comes and goes, year ends and begins, to analyze our own self and dive deep in the recesses of heart to find the pearls of everlasting peace.
This perishable and ever-changing world is not the place of happiness, peace or joy. Accept it like that and then there will be no stress and strain. Whatever we get, may that be taken as a grace of God and PRASAD of HIS blessings; then there will be no pain, sorrow or unhappiness and you will rejoice in Him.
Our prayers to almighty Lord, Bhagawan Sri Vishwanath Mahadev, Goddess mother Sri Sri Sri Ashtalakshmij and Most beloved Gurudev H.H. Sri Swami Sivanandaji Maharaj to bestow and shower their choicest blessings upon all of us to live and lead the life Divine with excellent health, long life, eternity, mutual love, affection and reverence.
May you ever feel His divine presence and rejoice in Him. May He behold you with lots of love, joy and peace ! May you attain spiritual illumination in this very Birth !!
Thy Own Self,
In the Service of Sri Gurudev,
Sevak
Swami Adhyatmananda
==================================================================
Yoga Learning from Sri Swami Adhyatmananda

Pujya Swami Adhyatmanandaji, on the subject of " Yoga for Maintaining Health & Wellness" at 23 rd AMA week 2015, October 6, 2015 - Video Clip ( must watch). Enlightening talk on Yoga way of Living with spectacular demonstration of Yoga Asana (all main stream yoga posture) at the end.
"Yoga way of Life brings Happiness of sound mind in sound body. Yogic living implies discriminative living. Yoga is equanimity, equipoise or equilibrium. It is skill in the performance of actions.Yoga is disconnection from union with pain and freedom from attachment and desires it is turning away of the senses from the objective universe and concentrating of the mind within.

"Yoga is eternal life in the soul or spirit. It transmutes a man into divinity. It brings a message of hope to the forlorn, joy to the depressed, strength to the weak and knowledge to the ignorant. It is the secret master-key to open the realms of eternal bliss and deep abiding peace". -Swami Adhyatmananda

Sivananda Yoga DVD : Sri Chidananda Birth Centenary Yoga DVD is a creation of Divya Jivan Sanskrutik Sangh to commemorate Birth Centenary celebration of Guru Maharaj Sri Swami Chidanandaji Maharaj. It is a complete guide for the beginners as well as experts. It contains 84 Yoga postures. It is like Yoga Teacher comes to your home.

Yoga, A way of Life ( DVD's, set of two )
For purchase of Yoga DVD-contact Ashram # 079-2686234 or sivanandaashram@gmail.com
==================================================================
Highlighting the News & Upcoming events

Chidananda Birth Centenary Celebrations continues..... "Jnan Yajna" from Nov 25, 2015 to Dece 6, 2015: About 60 learned Saints, Sages, Scholars and Mandleshwars from all over India will perform Jnan Yajna everyday for eight hours encompassing Prasthan Trayaee Parayan ( Brahma Sutra, Ten Principal Upanishads and Srimad Bhagavad Gita)
Please join us for the programs, activities, satsangs and more.... during the Chidananda Birth Centenary Year (Sept 24, 2015 - Sept 24, 2016). "Be a part of it and feel Blessed"
Join us for upcoming Diwali festival starting with Laxmi Pujan on Dhanteras day, Sri Maa Annakoot darshan on Diwali day & receiving prasad blessings on New Year. Please refer to upcoming event page for the details. If, you plan to stay at the ashram, please contact the ashram # 079-26861234 email : sivananda_ashram@yahoo.com
Upcoming 35 th Yoga Teachers Training course ( Dec 11, 2015 - Dec 30, 2015): . Yoga Teachers Training Course (YTCC) at Sivananda Ashram, Ahmedabad is organized under the guidance and leadership of Yogacharya Pujya Sri Swami Adhyatmanandaji has conducted over 680 Yogasana Camps over the globe. Our comprehensive Yoga Teachers Training Course provide a strong foundation for personal and spiritual development.
for further details, contact Sivananda_ashram@yahoo.com / # 079- 26861234 / Registration form
News & Activity Report for the month of October 2015
Divya Jivan / October 2015

==================================================================
Gitamrutam

He who knows Me as unborn and beginningless, as the great Lord of the worlds, he, among mortals, is undeluded; he is liberated from all sins.(10:3)

He who in truth knows these manifold manifestations of My Being and (this) Yoga-power of Mine, becomes established in the unshakeable Yoga; there is no doubt about it.(10:7)

I am the source of all; from Me everything evolves; understanding thus, the wise, endowed with meditation, worship Me.(10:8)


With their minds and lives entirely absorbed in Me, enlightening each other and always speaking of Me, they are satisfied and delighted.(10:9)

To them who are ever steadfast, worshipping Me with love, I give the Yoga of discrimination by which they come to Me.( 10:10)




Out of mere compassion for them, I, dwelling within their Self, destroy the darkness born of ignorance by the luminous lamp of knowledge. (10:11)