Home
News
Upcoming Events
What's New?
Services
Multimedia
Publications
Administration
Saints and Sages
Photo Gallery
Contact

"Start Sadhana Now" - Sri Swami Sivananda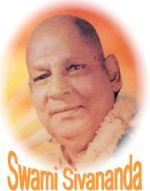 "Act now. Live now. Know now. Realize now. Be happy now.

Every death is a reminder. Every bell that rings says, "The end is near". Every day robs off from you one part of your precious life. Therefore, you should be very earnest in plunging yourself in constant Sadhana.

"Waver not. Fear not. Doubt not. Do something substantial in the path of Sadhana instead of wasting your time in idle pursuits and lethargy. You have infinite strength within you. There is a vast reservoir of power within you. Therefore, do not lose heart. Obstacles are stepping stones to success. They will develop your will. Do not allow yourself to be crushed by them. Defects remind you of perfection. Sin reminds you of virtue. Chose the positive path"............

Sadhana is spiritual movement consciously systematized. Sadhana is the purpose for which we have come to this place. Abhyasa and Sadhana are synonymous terms. The object of Sadhana is to release life from the limitations with which it is bound. Sadhana is a lifelong process. Every day, every hour, every minute, is an onward march. Obstacles are innumerable in this great voyage. But, so long as you hold God as thy guide, there is nothing to worry about. You are sure to reach the other shore." - Swami Sivananda << More>>

GURUDEV'S TWENTY SPIRITUAL INSTRUCTIONS


Early Morning Meditation talks from" Ponder These Truths" by Sri Swami Chidananda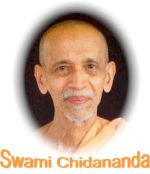 Purusharth -Self Effort : " purushartha is the key to realisation. You may know only a little, but you put it into practise. Gurudev said Twenty Spiritual Instructions are enough to grant you Self-realisation, and when he said that he knew what he was saying. And he was saying the truth. Not that he discouraged studies, but he wanted to emphasise action, not dry studies.
If you want to become a professor, a lecturer, then studies are very necessary, absolutely indispensable, very important indeed. But if you want to become a dynamic Yogi, more important than tons of knowledge is practice, action, purushartha, sadhana, yoga abhyasa. Spiritual life means engaging in active spiritual endeavour, it means purushartha." - Swami Chidananda << More>>
On "Health Topics" from a book " Yoga and Health " By Swami Adhyatmananda
"Backache"
Principle causes of Backache, Treatment & Precautions .......
Bhujangasana, Baddha-Naukasana, Kati -Utthanasana, Ushtrasana, Bharmari Pranayama & Shavasana are very helpful.
Practice of Shalabhasana at the end of Bhujang­asana and practice of Dhanurasana on completion of Ushtrasana are found very beneficial for the backache. Therefore, without any type of hurry, with perfect quiet attitude & balance state of mind, practise Asanas, Bhramari as well as Omkar Pranayamas. <<More>>
Yoga, A way of Life( DVD's , set of two)
For purchase of Yoga DVD-contact Ashram # 079-26861234 or sivanandaashram@gmail.com

Highlighting upcoming event and news

25th Yoga Teachers Training Course (Dec 11, 2011- Dec 30, 2011)

Yoga Teachers Training Course (YTCC) at Sivananda Ashram, Ahmedabad is organized under the guidance and leadership of Yogacharya Pujya Sri Swami Adhyatmanandaji has conducted over 680 Yogasana Camps over the globe. Our comprehensive Yoga Teachers Training Course provide a strong foundation for personal and spiritual development.

YTTC offers a wonderful opportunity to experience the benefits of Yoga practices, including Hatha Yoga, yogic breathing, deep relaxation, meditation, yogic diet, all these in a beautiful and holy ashram environment. It is design to further develop yoga student's skill in the science of Yoga and prepare them to teach yoga to others. During your stay, you will absorb yourself in the Yogic lifestyle and transform your body, mind and spirit.You will receive diploma certificate recognized by Gujarat University For details, contact

Sivananda_ashram@yahoo.com

/ # 079- 26861234

News & Activity Report for the Month of October 2011


Divya Jivan (Gujarati)

/

November 2011

Sadhana -The secret of Success. Persevere. Plod on in your Sadhana.
Through introspection, analysis, discrimination, vigilance, enquiry and prayer, you can understand the tricks and jugglery of the mind and escape from its deception.
To make the mind obey you, is Spiritual discipline.
Still the mind. Here in lies freedom and bliss eternal.
Where there are kindness, humility and purity, there spirituality springs up, saintliness shines, divinity descends and perfection manifests itself.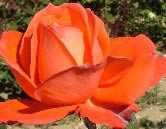 Guurudevarpanstu!