Biography of Sri Gaurang Mahaprabhu by Swami Sivananda
Sri Gauranga Jayanti ( March 11, 2009)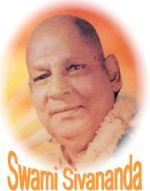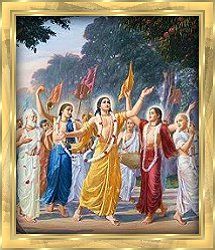 "Listen Swaroopa and Ramananda Raj! The chanting of Krishna's Name is the chief means of attaining Krishna's feet in the Kali Yuga. Sankirtan of the Name is the supreme healer in the Iron Age. Sankirtan tantamounts to Vedic sacrifice. Sankirtan destroys sins and purifies the heart and creates Bhakti. Chant the name while sitting, standing, walking, eating, in bed and everywhere. The Name is omnipotent. You can repeat the Name at any place, at any time. "Listen, Swaroopa and Ramananda! I tell you about the mental attitude with which the Name should be recited.
"Hari's Name should always be chanted by him who must be humbler than a blade of grass (which is trodden upon); who is more patient, forbearing and charitable than a tree (which does not cry out even when it is cut down, and which does not beg for water even when scorched to death, but on the contrary, offers its treasure to whosoever seeks it, bears the sun and rain itself but protects those who take shelter under it from rain and sunshine); who, however worthy of esteem should, instead of claiming respect for himself, give respect to all (from a sense of God's immanency in all beings). He who thus takes Krishna's Name gets Krishna-prem".
"Glorified above all is the chanting of the various names of Krishna which cleanses the mirror of Chitta (sub-conscious), which extinguishes the great forest fire of the succession of births and rebirths, which operates like the moonbeam upon the white lily of spiritual well-being, which is the elixir of life of the bride Vidya, which makes the ocean of bliss swell, which gives the chanter the fullest enjoyment of that divine love at the utterance of each word, and which bathes the mind and the senses in divine bliss.".......Lord Gauranga << More>>
Holi - Celebration (March 11, 2009)

"Festivals like Holi have their own spiritual value. Apart from the various amusements, they create faith in God if properly observed. Hindu festivals always have a spiritual significance. They wean man away from sensual pleasures and take him gradually to the spiritual path and divine communion. People perform havan and offer the new grains that are harvested to the gods before using them.
There should be worship of God, religious gatherings and Kirtan of the Lord's Names on such occasions, not merely the sprinkling of coloured water and lighting of bonfires. These functions are to be considered most sacred and spent in devotional prayers, visiting holy places, bathing in sacred waters, and Satsang with great souls. Abundant charity should be done to the poor. Then only can Holi be said to have been properly celebrated. The devotees of the Lord should remember the delightful pastimes of the Lord on such happy occasions." - Swami Sivananda << More>>.
Early Morning Meditation talks from "Ponder These Truths" by
Sri Swami Chidananda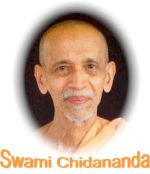 Cultivate Peace
"Radiant Divinities! Beloved Atman! Cultivate santi (peace) within your heart. Cultivate the habit of peace and serenity which is a covetable possession, that is a positive force to take you towards your supreme Goal. Cultivate santi in your mind and in your heart, for it is a condition prerequisite for the inward process of bringing the mind to rest upon the Eternal and the Divine. There can be no concentration for one who does not cultivate the habit of peace. The Lord poses this question in the Bhagavad Gita: "asantasya kutah sukham?—How can happiness come to one who is not at peace?"
The Supreme Reality, Atman-Brahman, is immeasurable peace, profound, boundless, indescribable peace. The great transcendental experience of your ancestors and of the supreme mystics of all times and climes is that the Reality pervades everywhere, which means that peace fills all existence. From their transcendental experience our ancestors declared boldly that the Supreme Reality dwells in the core of your own heart. One divine Reality dwells hidden in all beings, which means that peace dwells within you permanently as the innermost center of your being.
When peace pervades all existence and when peace ever dwells within you, why this injunction to cultivate peace? Why are great books written on how to find peace, the way to peace? Does it not seem a contradiction that when peace is everywhere, when peace dwells at the center of your being, that there is even a possibility of people being without peace and therefore being deprived of happiness? << More>>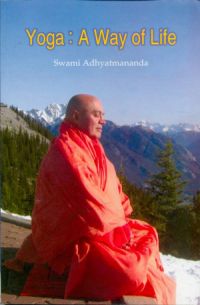 OMKAR - "Omkar Sadhana is the Prana of Spiritual Sadhana. Omkar is the best Pranayam."

"We do Omkar for four times in a minute. So the pronunciation of one Omkar takes fifteen seconds.It will be excellent if we practise Omkar for five minutes to start with and gradually increase it to twenty minutes in the morning after waking up. Because during each Omkar we get extra oxygen for eleven seconds in comparison to routine breathing; so within five minutes we can get extra oxygen for 220 seconds. If we practise prolonged pronunciation of Omkar for three times in a day in the morning, afternoon and evening (each for fifteen minutes) we can get extra oxygen for 33 minutes in a day.The purification of blood occurs by oxygen. The brightness of the eyes, beauty of the face, the shining of the skin, hearing and breathing capacity, speech, digestion power as well as our nervous system will function systematically. Our liver, kidneys, pancreas, intestine, adrenal glands, spleen, bladder, the vital organs like cerebrum, cerebellum, pituitary gland, heart, lungs etc. can function systematically and healthily due to this oxygen. The blood gets purified in the lungs. So, the only key of good health, long life and balanced life is the regular practice of Omkar...The practice of Omkar helps the seekers of meditation to concentrate the mind. There is a great contri­bution of Omkar to lead the mind on the spiritual path."
"The practice of Omkar destroys Tamasik thoughts and converts the Rajasik thoughts into Sattvik thoughts. In long term if the people living in all four directions on the earth start practising Omkar regularly, the mental conflicts can be eliminated. Selfishness will retire. Benevo­lence will be originated. The whole world can become a family. The contradiction will decrease and smooth conversation will be possible. The wind of pure selfless life will flow. Omkar is the highway of world peace and welfare. Let us practise Omkar and make our life suc­cessful".......- Swami Adhyatmananda << More>>.
For the purchase of the book contact
Sivananda Ashram # 079-26861234
sivananda_ashram@yahoo.com
For all the Books on Yoga by Swami Adhytamananda

Announcing "Divya Tour 2009" of H.H.Sri Swami Adhyatmanandaji Maharaj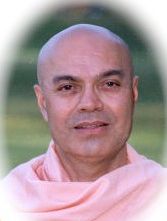 Divya Jivan Sanskrutik Sangh, Sivananda Ashram (Ahmedabad) humbly announces upcoming "Divya Tour 2009" of H. H. Sri Swami Adhyatmanandaji Maharaj to USA, Canada & UK commencing from June 7, 2009.
Earnest requests from organizers at Kerney Mandir (New Jersey), Milwaukee, Calgary, Toronto, Chicago and few others have made Pujya Swamiji give green flag for "Divya Tour 2009" to the West in Summer 2009. In fact, Pujya Swamiji's wish was to withdraw from all public activities and go in "Mouna" for some times in seclusion. But, Holy Master Sri Swami Sivanandaji Maharaj and Gurumaharaj Sri Swami Chidanandaji Maharaj have planned for Him to go to the West instead, to fulfill Their Mission. With Their Grace and Blessings "Divya Tour 2009" has unfolded and all of us here in the West will be blessed with Pujya Shree's satsang & darshan soon.
We are sure that there are many more devotees wishing to have Satsang and Darshan of Sri Swamiji Maharaj at various places. So, involved yourself in organizing the program in your area and get benefited from His holy presence and wisdom teachings. Join in His Mission of Service to Mankind and evolve in your Spiritual Sadhana to achieve higher Goal in Life.

Swamiji's Program Schedule is getting prepared, so please communicate through divya.tour@gmail.com with your preferences & convenience. You can find Tour related information on "Divya Tour 2009" website.
>>>>>>>>>>>>>>>>>>>>>>>>>>>>>>>>>>>>>>>
17th YTTC was organized through SIVA( Sivananda International Vedanta and Yoga Academy )at Sivananda Ashram, Ahmedabad from Feb 12, 2009 – March 3, 2009. This was for a special group of dedicated and committed yoga teachers from Taiwan and Japan. The entire group consisted of 34 participants of senior yoga teachers from Taiwan.<< More>>.
Upcoming Satsang at Sivananda Ashram, Ahmedabad
Chaitra Navratri (March 27, 2009 -April 2, 2009) Sri Ramcharit Manas Parayan Daily from 4.00pm -7.00pm
Ramnavami Utsav ( April 3, 2009) & Sri Hanuman Jayanti (April 9, 2009)
Srimad Bhagwat Saptah (April 9, 2009 -April 16, 2009) by Pujya Swami Adhyatmanandaji (daily discourses from 3.00pm -7.00pm)
News & Activity Report for the Month of February 2009
Divya Jivan (Gujarati)//March 2009
News in Slide Show
"Always do good to others. Be selfless. Mentally remove everything and be free. This is divine life. This is the direct way to Moksha or salvation." - Swami Sivananda
"Serve all. Love all. Service of humanity is worship of God. There is no greater yoga than service of mankind." These are the sterling utterances of Gurudev. He was an embodiment of karma yoga."- Swami Chidananda
"Through selfless work, love of God grows in the heart. Then through his grace one realize him in course of time. God can be seen. One can talk to him as I am talking to you."- Ramkrishna Paramhamsa
"The best way to find yourself is to lose yourself in the service of others". "Selfless action is a source of strength" - Mahatma Gandhiji
"All the work you do, is done for your own salvation, is done for your own benefit." - Swami Vivekananda

"When faith replaces doubt, when selfless service eliminates selfish striving, the power of God brings to pass His purposes." - Thomas S. Monson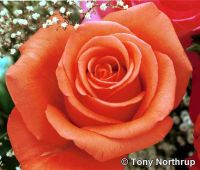 "Gurudevarpanmastu"
|Subscribe
|
Unsubscribe
|
Manage Subscription
|