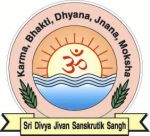 Home
News
Upcoming Events
What's New?
Services
Multimedia
Publications
Administration
Saints and Sages
Photo Gallery
Contact

Worship to Lord Shiva on " Shivaratri"- (March 6, 2008)
Swami Sivananda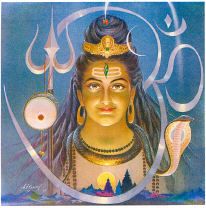 ......"Abhisheka is a part of Siva Puja. Without Abhisheka, worship of Siva is incomplete. During Abhisheka Rudra, Purushasukta, Chamaka, Maha-mrityunjaya Japa, etc., are chanted in a particular rhythm and order. Monday is very important day for Lord Siva and the thirteenth day of the fortnight (Pradosha) is very sacred. On these days, devotees of Siva worship Him with special Puja, Abhisheka with Ekadasa-Rudra, Archana, offering plenty of Prasad and illumination."
"The greatest and the highest Abhisheka is to pour the waters of pure love on the Atmalinga of the lotus of the heart. The external Abhisheka with various objects will help the growth of devotion and adoration for Lord Siva and eventually lead to internal Abhisheka with pure abundant flow of love." - Swami Sivananda <<More>>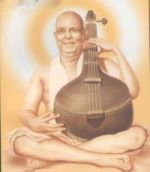 "Sankirtan is the easiest, surest, safest, quickest way to attain God consciousness.
Sankirtan is singing God's name with Bhava, Prem or divine feeling. Sankirtan is the Svarupa (essential nature) of God. Dhvani is Sankirtan. Sankirtan is the essence of the Vedas. Sankirtan removes the impurities of the mind (Mala); it steadies the mind and checks its tendency to vacillate (Vikshepa); and ultimately it tears the veil of ignorance too (Avarana), and brings the Sadhaka (aspirant) face to face with God." - Swami Sivananda
Audio Clips
OM Namah Sivaya - Sri Swami Adhyatmanandaji
Maha Mrutyum Jaya Mantra- continuous chanting
"Mana Ek Bar Hari-Bol", - soul elevating Sankirtan by Sri Swami Adhyatmanandaji from audio cassette "Hari-Bol"
Early Morning Meditation talks from "Ponder These Truths" by
Sri Swami Chidananda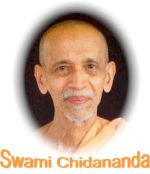 A Positive Mind-your Greatest Asset
Mind, is your greatest asset, your greatest wealth. It has been given to you to be utilised as the greatest thing that has ever been given to a being, for it throws wide open the portals to liberation and perfection. Mind is the one great endowment of the Universal Soul to the individual being. Mind is the endowment that makes man God. May you use it in a wise and positive way and become blessed! .......Swami Chidananda <<More >>
"Health Topics" from a Book " Yoga & Health " by Swami Adhyatmananda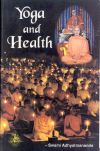 "Addiction" Is there a hope for Addict?
Certainly, Systemic approach through Yogic Treatment could cure the addiction.
Yogic Treatment
The addict gets a wonderful help from Yoga. Yoga has really proved very helpful. It releases an addict from his addiction gradually that too, this is achieved with such an ease that the addict hardly comes to know where from he has inherited the new life. Spring follows the winter slowly and adorns the whole world. Similarly in the life of an addict Yoga-abhyas instills new consciousness, new enthusiasm, fullness and the most important matter is that Yoga-abhyas creates an irrepressible desire to live his life fully......Swami Adhyatmananda << More>>

Highlighting the Upcoming Events

Upcoming YTTC (May 11, 2008 - May 30, 2008)
Transform your life to Yoga way of Living. Enhance your skill in Yoga, be a teacher and spread the knowledge to others. Ashram's holy atmosphere is ideal for enhancing your spiritual growth as well as.You can accomplish all that by joining YTTC at Sivananda Ashram, Ahmedabad. It is organized under the guidance & leadership of H. H. Sri Swami Adhyartmanandaji Maharaj. Swamiji is a Yogacharya of international repute who has conducted more than 690 Yoga training camps around the world. He is author of number of books on yoga and philosophy. He is a born teacher and his teaching methods are simple but effective.
On completion of three weeks residential YTTC and successfully passing the test including theory and practical, the graduate will receive a diploma certificate recognized by Gujarat University and will be able to teach Yogasana and Pranayama to others. During your stay at the Ashram, you will be provided a comfortable room and yogic diet ( three meals / day). The donation for the course is Rs. 6000.00/ $ 200.
Please download the registration form
News & Activity Report for the Month of February 2008
News in Slide Shaw
Divya Jivan (Gujarati) March 2008


SIVA , the Lord of Universe - Swami Adhyatmananda

"

Siva is Universe. Lord Siva is the Lord of the Universe. He is known as Jagat Pati. He is Jagat Guru (Universal Teacher) also. He is the destroyer of Tripura (three cities) which symbolizes with Anger, Lust and Greed. He is known as Uma Shankar, Gauri Shankar. He is full of light power and wisdom (Jyoti, Shakti and Jnana). Siva is Bliss." - Swami Adhyatmananda......<<More>>
Mahashivaratri Utsav at Sivananda Ashram, Ahmedabad (March 6, 2008) -

Please join us in continuous twenty four hours Worship to the Lord Siva on Mahashivatratri

Utsav

. If you wish to sponsor puja, please contact the ashram for details

sivananda_ashram@yahoo.com

/ call # 079 26861234