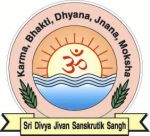 Home
News
Upcoming Events
What's New?
Services
Multimedia
Publications
Administration
Saints and Sages
Photo Gallery
Contact

Lord Sri Ganesha - " Embodiment of Wisdom"
Ganesh Chaturthi ( Sept 3, 2008 )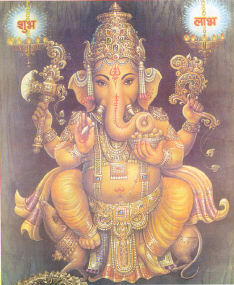 "Remover of all obstacles,
Pranava Swaroopi,
Embodiment of wisdom,
Devata of Muladhara Chakra!
O Lord Vinayaka,
The bestower of happiness
Who has Modaka in hand!
O Elephant-headed Lord!
Salutations unto Thee.
Om Gam Ganapataye Namaha."

Lord Ganesha is an embodiment of wisdom and bliss. He is the Lord of Brahmacharins. He is the foremost among Brahmacharins or celibates. He is the Lord who removes all obstacles on the path of the spiritual aspirant, and bestows upon him worldly as well as spiritual success. Hence He is called Vigna Vinayaka. His Bija Akshara (root syllable) is Gung, pronounced to rhyme with the English word "sung". He is the Lord of harmony and peace. - Swami Sivananda..... <<More>>


Remembering Birth Anniversary (121st) of Holy Master Sri Swami Sivananadaji Maharaj ( Sept 8, 2008)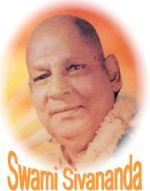 Swami Sivananda - "The Man for the Mankind"
"Gurudev Sri Swami Sivanandaji Maharaj was the Man for the Mankind. Each breath of his life He breathed to serve, love and give the best what He could give or the best He could do for the Mankind. He was a Godman, filled with wonderful love in his heart. From head to toe he was oozing with divine nectar of love, love and love only. He lived all his life for the good of mankind and He became a person beloved by countless people all over the world. He was himself a personification of joy and enjoyed to laugh and make other people laugh too. He was a man of wit and radiated cheerfulness, made visitors forget all their sorrows and troubles and brought joy and hope into their lives. He did not discriminate between East and West, this country or that country, this race or that race, this religion or that religion. He was also a person of great compassion, understanding and sympathy. His personality was such that He immediately made everyone feel that they belonged to Him and He belonged to them."
- Swami Adhyatmananda << More>>


Early Morning Meditation talks from "Ponder These Truths" by
Sri Swami Chidananda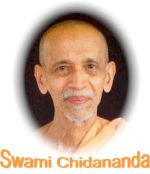 Worship God as Virtue
"Have no other God. You can contemplate God, you can contemplate eternity, infinity, ocean of bliss, Light of lights beyond all darkness—all these things you can contemplate, think about, reflect over, but you cannot love and worship peace, or ananda, or jnana. Because they are abstruse, abstract concepts, and you want something more, something for which you can live and something for which you can be prepared to die also. That is virtue.
Read the sixteenth chapter of the Bhagavad Gita, you will understand. You may want, you may desire, peace, joy, light, but you cannot love them, you cannot worship them. But twenty-four hours of the day and night, with every breath, you can worship virtue, you can live to fulfil virtue. That you can do. That is sadhana; that is supreme Yoga. Thus worship. God will reveal Himself in His transcendental, concealed form.
Therefore, this great message, this great sadhana that Gurudev left for us, this inner secret of the spiritual life that he bestowed upon us as his special legacy, is that through virtue one can attain the source of all virtue, which is God. God dwells within your heart and is the source of all goodness. He is your indwelling reality, the source of your conduct and character, the source of your virtue and goodness, the source of your truth, purity and compassion, the source of the divine living of your life.

Worship God as Virtue. Worship virtue by practising virtue. This is a way to spiritual transformation and realisation." - Swami Chidananda << More>>
Health Topics" from a Book " Yoga & Health " by
Swami Adhyatmananda

Osteoporosis
What Is Oseoporosis ? How Does the Osteoporosis Treated & Prevented? Does Practice of Flexibility exercises & Yogasana help ? Which Yogasana is recommended?
Osteoporosis is a condition characterized by the loss of the normal density of bone, resulting in fragile bone. Osteoporosis leads to literally abnormally porous bone that is more compressible like a sponge, than dense like a brick. This disorder of the skeleton weakens the bone causing an increase in the risk for breaking bones (bone fracture).

Here the importance of proper nutrition can't undermined. Regular practice of flexibility exercises, Yogasana and Pranayama is essential for prevention and treatment of Osteoporosis. <<More>>
Highlighting Upcoming Events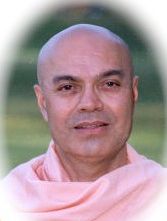 "Divya Tour 2008"of H. H. Sri Swami Adhyatmnandaji Maharaj to UK, USA & Canada ( July 29, 2008 -November 22, 2008).


With The Grace & Blessings of Holy Master Sri Swami Sivanandaji Maharaj & Gurumaharaj Sri Swami Chidannadaji Maharaj, Pujya Swamiji's Divya Tour 2008 has commenced on July 29, 2008 from UK and programs at various centers concluded on August 18, 2008.


Arrival in USA - Chicago (August 19, 2008 to August 24, 2008))

Pujya Swamiji's Divya Tour 2008 in USA has commenced on August 19, 2008 from Chicago, a mother center of His visits to the United States and Canada since 1995. People of this city have a special bonding with Swamiji. Swamiji was received by Naik's at the airport. In the evening a traditional reception was given to Swamiji at the Hindu Temple of Greater Chicago. Sri Subramanyam Vemuri, a president of the temple, accompanied by number of devotees and Priest led Swamiji to the holy darshan of all the shrines of the temple. In the Rama auditorium, devotees gathered and Mr.Vemuriji gave welcome speech. Sri Swamiji gave a short speech about his holy mission of spreading spiritual knowledge of Most Worshipful and Revered Gurudev Swami Sivanandji Maharaj.

Swamiji stresses the need for maintaining self-discipline and following a regular daily Sadhana. He stresses the Yoga way of Living to reach the Goal of Life - "The God Realization."

Morning Yoga sessions & evening satsangs are being organized all across. Contact your local organizer for the details of the program in your area and get benefited from Swamiji's Wisdom Teachings. You can find Swamiji's tour related informations @ " Divya Tour 2008

India Tribune Article (August 2008) - Chicago

News & Activity Report for the Month of August 2008
News in Slide Show

O Adorable Lord of Mercy and Love !
Salutations and prostrations unto Thee.
Thou art Omnipresent, Omnipotent and Omniscient.
Thou art Existence-Consciousness-Bliss Absolute.
Thou art the Indweller of all beings.

Grant us an understanding heart,
Equal vision, balanced mind,
Faith, devotion and wisdom.
Grant us inner spiritual strength
To resist temptation and to control the mind.
Free us from egoism, lust, greed, hatred, anger and jealousy.
Fill our hearts with divine virtues.

Let us behold Thee in all these names and forms.
Let us serve Thee in all these names and forms.
Let us ever remember Thee.
Let us ever sing Thy glories.
Let Thy Name be ever on our lips.
Let us abide in Thee for ever and ever.
Swami Sivananda