News Report for the Month of September 2020
Sivananda Ashram, Ahmedabad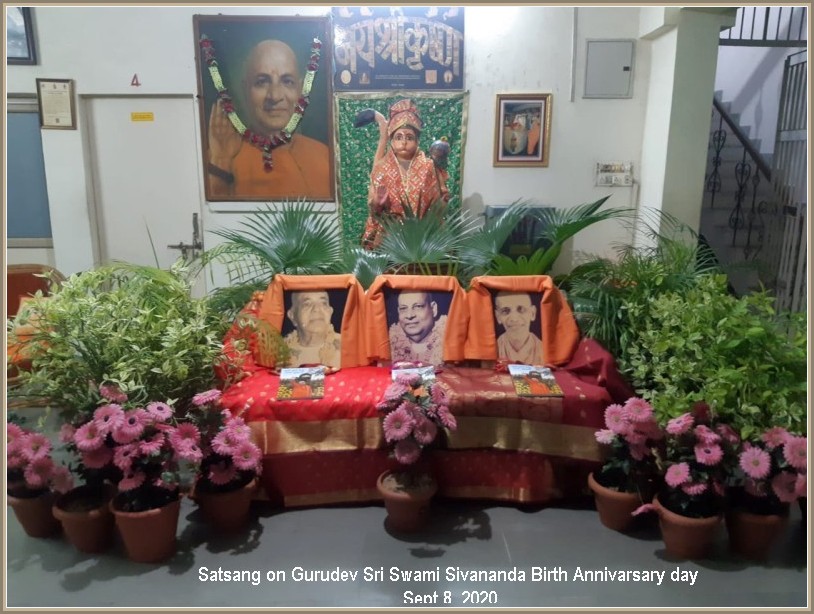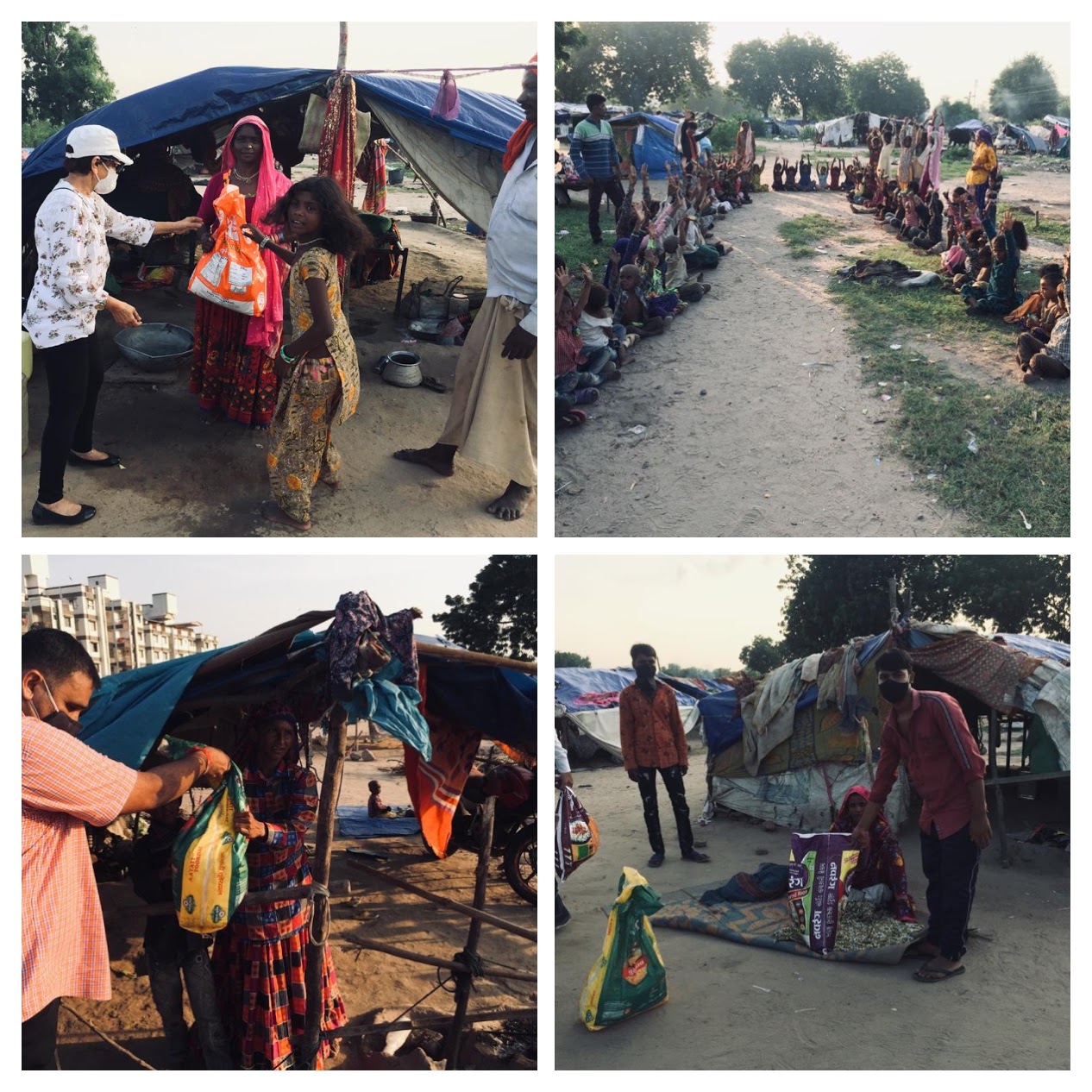 Narayan Seva by the Ashram
On Sept 8, 2018 134 st Birth Anniversary of Gurubhagwan Sri Swami Sivanandaji Maharaj was celebrated with Paduka Poojan, Satsang, and Narayana Seva. About 155 families who are living 35 to 40 km far from the ashram were given the packages of rice 5 kg, lentil 2 kg, potatoes 3 kg, Oil 1 liter & a spice package. These families are unregistered on Govt. office roaster so they don't have ration card and don't receive Governmental aid. They don't stay in one place, they are moving colony and migrate place to place as per the labor job that they get.
The final version of Amrut Mahotsav Souvenir "Jit Jit Dekhu Chabi Tumhari", the book which is compiled by Smt. Rupaben was released on this memorable day. It contains the core sentiments of love & gratitude by devotees of Pujya Swamiji Maharaj from the East & the West. Simply Heart touching.....will be remembered for ever.
On Sept 24, 2018 105th Happy Birth Anniversary of Most Worshipful and Revered Gurudev Srimat Swami Chidanandaji Maharaj was celebrated with Paduka Poojan, and in remembrance of GuruMahraj.
Sivananda Seva Smiti organized "CHIDANANDA KATHAMRUTAM" - a Spiritual Retreat on Life & Teachings of Gurumaharj from Sept 18, 2020 to Sept 24, 2020 at Uttarkashi. It was a spiritual feast to listen to the Glories of Gurumaharaj from Revered Sri Swami Premanandaji Maharaj, Reveres Sri Swami Ramswarupanandaji Maharaj, Revered Sri Swami Adhyatmanandaji Maharaj, Revered Sri Swami Yatidharmanandaji Maharaj, Saints, Mahatmas, and so many close Devotees of GuruMaharaj. It was an outpouring of their core sentiments of love, devotion & deepest gratitude. Devotees from all over the World attended through TV media.
Shiv Katha (July 21, 2020 - Aug 19, 2020) by Pujya Sri Swami Adhyatmanandaji Maharaj on Vyasapeeth was organized during the Shravan month through Sivananda Ashram in collaboration with Amadavadtak Facebook TV media. It was concluded on Aug 19, 2020.
At present two Satsang discourse series are going on, one on the subject of "Upanishad Amrutam" on "Kathopnishad" (started from Aug 20, 2020 ) and the second on "Srimad Bhagavatam Kathamrutam". Devotees take benefits of satsang online sitting at their own home!

Revered Sri Swami Adhyatmanandaji Maharaj is regularly contributing His satsang service to the Divine Life Society Bhubaneswar branch also.
Temples of the ashram are open now with strict rules abidance of COVID -19. Yoga classes are not opened yet.

Upcoming Navaratri (Oct 17, 2020 - Oct 24, 2020), a festival of Durga Puja will be celebrated through TV media. Singing the Glories of the Maa, Mother principle, Garba (Sitting) is organized. Please join with us.
Amdavadtak - Home | Facebook
Visit " Sivananda Ashram Ahmedabad - Home | Facebook" for the daily satsang
Tribute to Brahmleen Sri Swami Subhodhanandaji Maharaj who attained Mahasamdhi on Sept 27, 2020
Latest Additions.........

Please subscribe to Divyajivan Mailing List. We will update you with new uploads of spiritual literature on the web of Holy Master Sri Swami Sivanandaji Maharaj, saints of his lineage and other saints. We will also update you about the Sivananda Ashram, Ahmedabad website and facilitate communication with Sri Swami Adhyatmanandaji Maharaj.

Please enter your email address and click Subscribe button
To manage your subscription, please visit Subscription Page. You can also subscribe and unsubscribe from this page. You may unsubscribe by yourself anytime you wish. You will be required to send confirmation link that you will get in your e-mail to complete this subscription.

[ Home ] [ News ] [ Upcoming Events ] [ What's New? ] [ Services ] [ Swami Adhyatmananda ] [ Multimedia ] [ Publications ] [ Administration ] [ Saints and Sages ] [ Photo Gallery ] [ Contact ] [ Guestbook ] [ Important Links ] Webmaster: webmaster@divyajivan.org