News & Activity Report for the Month of October 2019
Sivananda Ashram, Ahmedabad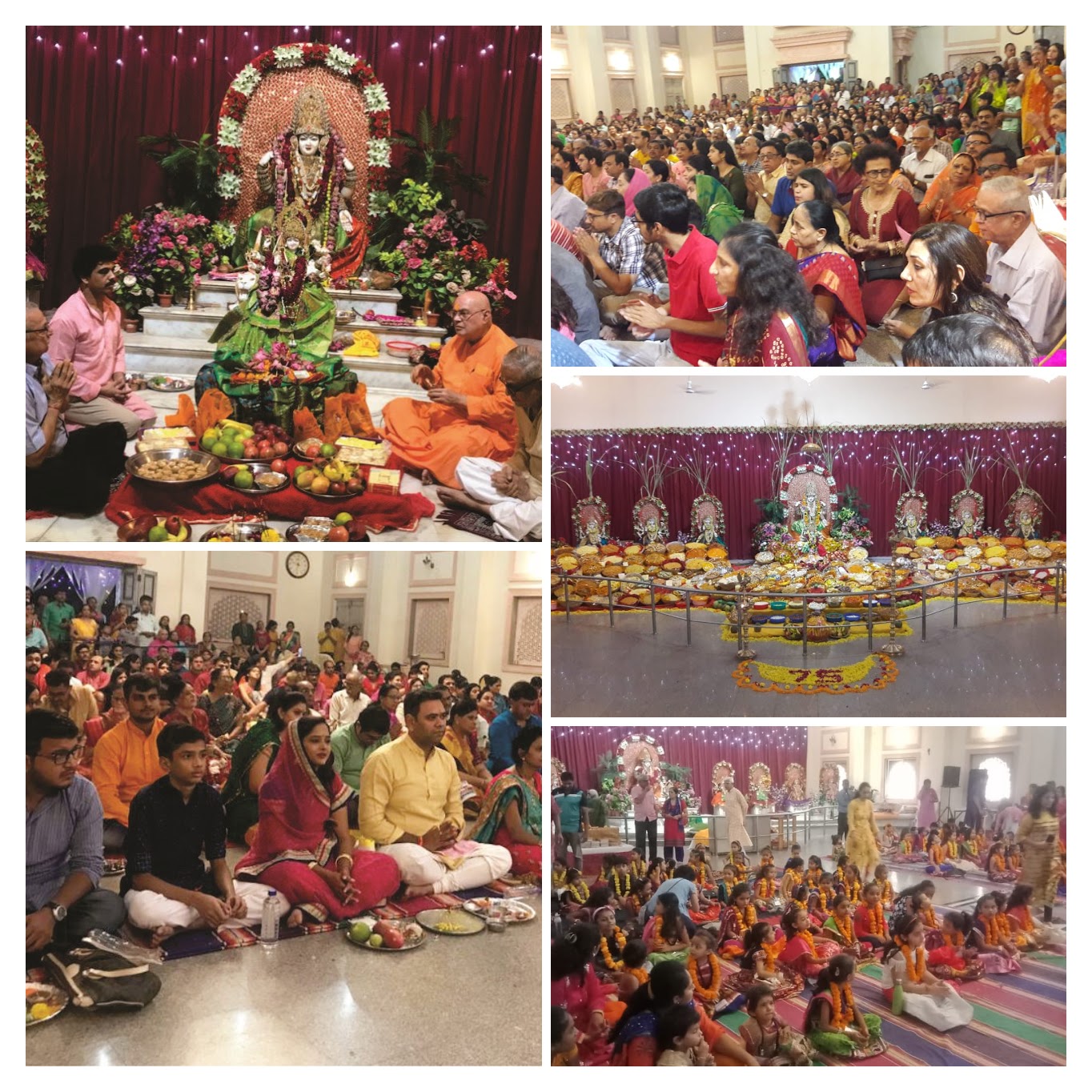 All the activities of the ashram, mainly Spiritual, Yoga and Seva projects are based on the ideals and teachings of Holy Master Sri Swami Sivanandaji Maharaj. Daily worship services at Lord Vishvanath Temple and at Sri Sri Maa Ashtalakshmi Bhavan create Divine vibrations at the Ashram. Prayers & Meditation at Sri Chidananda Dhyan Mandir bring peace & joy to countless Sadhakas. Daily Evening Satsang (9 pm - 9.45pm), Sunday satsang (8.30 am -10.00 am) and 'Paduka Pujan' on Thursday, Satyanarayan Puja on Purnima day, Gayatri Yajana on first Sunday, Lalita Shashra Nama & Yoga activities: all these have made Sivananda Ashram, Ahmedabad a pilgrimage place (Yatra Dham).
Navaratri Festival or Devi worship (Sept 29, 2019 - Oct 7, 2019): Navaratri festival is a spiritual feast for the devotees at the Ashram. Ten days of Devi worship commenced on Sept 29, 2019. About 300 devotees joined in a group chanting of Bhagavad Gita all eighteen chapter in the forenoon from 9.30 am to 11.30 am and Sri Durga Saptasati parayan in the afternoon from 4.00 pm to 7.30 pm followed by grand "Sitting Garba" at night in from 8.30pm to 10.30 pm at Sri Sri Ashtalaxmi Bhavan lead by Sri Jayantbhai Vasavada, at Sri Kutch Saurasthra Vadnagar Nagar Mandal, Ahmedabad, Jay Hatkesh Nagar parivar, Swar Gunjan Hatkesh Group and artists of Sivananda Ashram. Devotees in good numbers participated and took benefit of this grand "Sitting Garba worship". Healthy prasad was served on all the eight days and traditional Jalebi/ fafda was served on the ninth day. On Oct 6, 2019, "Ashtami day" Kanya Pujan was performed of 121 girls & boys of 3 to 8 years old and prasad was served & gifts for them were arranged. Nine days worship culminated on Oct 8, 2019 on Dassera day with "Vidya Arambha" ceremony, puja and prasad.
Deepavali Festival" (Oct 25, 2019 - Oct 28, 2019): We had joyous Deepavali Celebrations and Annakoot darshan at the Ashram. Deepavali is a special time, it brings such joy & festive spirit to all. Here at the Ashram, a grand group Lakshmi Poojan was organized at Sri Ashta Lakshmi Bhawan on the evening of Lakshmi Trayodashi (Dhanteras) on Oct 25, 2019. Sri Sri Sri Ashta Laxmi Bhavan was decorated with lighting, rangoli, pushpamala during Deepavali and group Laxmi (Sri Yantra) Pujan was performed by 108 couples at Sri Sri Ashta Laxmi Bhavan. On Diwali day grand Annkoot was offered to Maa Ashtalakshmi. A few weeks of planning and preparations of about thousand varieties of food items by so many devotees culminated in Grand Annakoot offering to Sri Ashtalaxmi Maa on Deepavali day. Entire day over thousands of people came to the ashram for the Annakoot Darshan and evening aarti. At night about 1600 devotees were serve dinner and about thousand prasad packages of sweets, snacks, chocolates & other goodies were made to be distributed to under served families in slum area of the town, the next morning. On Oct 28, 2019 the New Year day (as per Indian calendar) a continuous flow of devotees for the darshan & receiving blessings of Sri Maa Ashta Laxmi from morning till night.
On Oct 28, 2019 Pujya Swamiji left for the Haridwar for Bhagawat Saptah to commence on Oct 31, 2019 and will conclude on Nov 6, 2019. The Bhagawat Saptah at Rishikesh is a part of Amrut Mahotsav 75th birth anniversary of Revered Sri Swami Adhyatmanandaji Maharaj, Pujya Swamiji will be on the Vyaspeeth. Devotees from the Ashram and all over India and abroad are attending this sacred occasion.
Satsang & Tour of H. H. Sri Swami Adhyatmanandaji Maharaj During the Month of October 2019
Adhyatma Tour 2019 to USA, Canada & UK (Sept 10, 2019 to Oct 22, 2019)
Adhyatma Tour 2019 ( USA, Canada & Toronto) photos
Pujya Swami Adhyatmanandaji's Amrut Mahotsav tour to the West commenced on Sept 10, 2019, from Chicago. Organizers group at various centers expresses their deepest gratitude and love to Swamiji for receiving Pujya Swamiji's Satsang and blessings again this year. It is all the Grace of the Holy Master Sri Swami Sivanandaji Maharaj & Gurumaharaj Sri Swami Chidanandaji Maharaj!
Pujya Swamiji's wisdom teaching has inspired sincere spiritual seekers to go within, do daily Swadhyaya, do regular Japa, and concentrate on their personal Sadhana in their upward, forward and Godward journey in the path of GOD realization. Pujya Swamiji's holy presence and yoga teaching have brought peace & joy to the spiritual aspirants & yoga enthusiasts. His prayers have brought solace & healing touch to the sick ones.
The Highlights of Adhyatma Tour 2019........ Amrut Mahotsav Celebrations of Pujya Swamiji Maharaj at Chicago in a small, simple and special, Pujya Swamiji attended a grand celebration of 150th Birth Anniversary of Pujya Bapuji, Mahatma Gandhi Ji at Atlanta (Great coverage in "India Tribune" by Ravi Ponangi), Pujya Swamiji's august presence at Hindu Mandir Executives' Conference at New Jersey, Spiritual Retreat at Kula Kamala Yoga School, Yoga Retreat at Hindu Temple of Greater Chicago (HTGC), Spiritual Retreat at Happiness Yoga Center and more……The Tour took (Sept 10, 2019 – Oct 22, 2019 ) him to Chicago, Madison, Milwaukee, Kul-Kamala Foundation & Yoga center, New Jersey & vicinity area centers, Toronto- Windsor (Canada), Detroit, Toledo, Tampa(FL), Atlanta, Lorton, ( VA), Charlotte, Houston, Chicago and to the UK. Swamiji is back to the Ashram on Oct 23, 2019.
Atlanta, GA: Atlanta community joined in large number in the celebrations of Mahatma Gandhi's 150 th birth anniversary, Gandhi Jayanti hosted by the Gandhi Foundation of USA (GFUSA) and Indian Consulate, Southeast in Atlanta that was held on Wednesday, October 2, 2019. 150 th Birth Anniversary of Mahatma Gandhi was celebrated in three parts. One in the morning at consulate, the second at The Gandhi statue located in Dr. Martin Luther King jr., Historical site in down town, Atlanta and the commemoration celebration of Gandhi at Knowles Conference Center, College of law, Georgia state University. Pujya Swami Adhyatmananda from India who is not only a staunch believer and follower of Mahatma Gandhi's principles but also experienced the touch of Bapuji whose grandparents were companions of Mahatma Gandhi in Dandi march, Isaac Farris Jr. nephew of Dr. Martin Luther King Jr., and Dr. Swati Kulkarni, Consul General of India in Atlanta graced the Gandhi Jayanti celebrations and shared their wisdom words. 150 th Birth Anniversary celebrations of Mahatma Gandhi in Atlanta included all religion prayers, paying rich floral tributes and garlanding with natural flowers at newly installed Gandhi bust and at Gandhi statue in King Center, Peace walk from Gandhi statue to Kings crypts, singing of Gandhi's favorite bhajans, patriotic songs and a unique theatrical presentation " Gandhi to Mahatma" by Dhoop Chaoon, Hindi theatre group, Atlanta. << Read complete report >>
Latest Additions.........

Please subscribe to Divyajivan Mailing List. We will update you with new uploads of spiritual literature on the web of Holy Master Sri Swami Sivanandaji Maharaj, saints of his lineage and other saints. We will also update you about the Sivananda Ashram, Ahmedabad website and facilitate communication with Sri Swami Adhyatmanandaji Maharaj.

Please enter your email address and click Subscribe button
To manage your subscription, please visit Subscription Page. You can also subscribe and unsubscribe from this page. You may unsubscribe by yourself anytime you wish. You will be required to send confirmation link that you will get in your e-mail to complete this subscription.

[ Home ] [ News ] [ Upcoming Events ] [ What's New? ] [ Services ] [ Swami Adhyatmananda ] [ Multimedia ] [ Publications ] [ Administration ] [ Saints and Sages ] [ Photo Gallery ] [ Contact ] [ Guestbook ] [ Important Links ] Webmaster: webmaster@divyajivan.org