Divya Jivan Newsletter
Sivananda Ashram, Ahmedabad
April 2020
====================================

OM Namo Bhagawate Sivanandaya!
OM Namo Bhagawate Chidanandaya!
OM Namo Narayanaya!
==================================================================
Key to Bliss - "Meditation on OM" from Mandukya Upnishad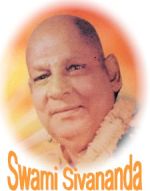 "The first quarter is Vaisvanara whose sphere is the state of waking, who is conscious of the external objects, who has seven limbs and nineteen mouths and who enjoys the gross objects."

"The text now begins to explain how Om is made up of four quarters. Through the force of Avidya or ignorance, the Visva, the individual soul in the waking state enjoys the gross objects of the external visible world".............."whatever exists in one's own body also exists in the universe." Physical body of the Jiva is also the body of the Virat. The whole world is the body of the Virat-purusha. The sum total of the physical bodies is Virat. The totality of the gross universe is Virat. The human body is a miniature universe."
"From a study of the waking state, you will have to proceed to the study of dream and deep sleep states. When you begin to analyze this universe for the sake of realizing the Atman, you will have to deal with the wakeful state first. Therefore, this is called the first quarter or the first condition. To begin with, you will have to understand the nature of the gross objects. Then you can gradually go to the subtle and causal nature of things."

"You will have to render the mind sharp and subtle through meditation and discipline it in order to comprehend the subtle and causal nature of things."- Swami Sivananda
<< Read complete>>
==================================================================
Early Morning Meditation talks from" Ponder These Truths"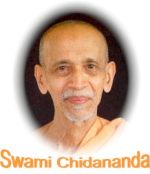 "The Divine Name " : God is intangible. Whatever we know of God in temples and mosques, synagogues and churches is only created by man, conceptual. We have to superimpose upon the symbols and images our imagination, our ideas of the higher Being. However, this intangible Being is present with us in one tangible aspect, which we can actually create, experience, feel and practise. That is Name, which we ourselves can articulate very clearly. It has a sound we can hear with our ear, and we can write it with our hand.
"What is it that can link us with that which is beyond thought, speech and mind, beyond the grasp of the intellect? The path of the Divine Name in this Kali Yuga is the supreme, the least complicated, the most efficacious, unfailing, simple and powerful path."- Swami Chidananda
<< Read Complete >>

==================================================================
Learning of "Jeevan Yog" from a Yogacharya Sri Swami Adhyatmananda
Through TV episodes of
"Jeevan Yoga" Serie
s by Doordarshan Girnar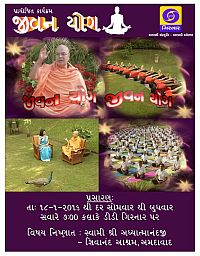 Obesity : Yes, one can surely control hunger, thirst, sleep, behavior, thoughts and work by performance of Yogasanas and Pranayama. One can live with least consumption of food, water and sleep by practice of Shitali and Shitkari Pranayama. Practice of Bhujangasana reduces hunger.

Action taken to reduce the weight by compulsory dieting makes the body tired, sorrowful and depressed, whereas food con­sumed with proper understanding and practice of regular exercise as well as Yoga-abhyasa endows one with a balanced life. -Swami Adhyatmananda
==================================================================
Sivananda Ashram, Ahmedabad announces.......At this unprecedented time of Global Crisis due to Corona Virus Pandemic, all the regular Yoga & spiritual activities are canceled at the Ashram until further notice. Also, the planned upcoming Satsang programs, Yoga camp and scheduled Mangal Utsav celebrations from April 13, 2020, to May 31, 2020, all are canceled.

Ashram has started relief efforts in the distribution of food packages to the needy in the underprivileged area of the town and joined in helping hands, whatever best possible under the circumstances. Each food package contains Pou-roti, a pouch of Milk, two bananas, cooking spices, Grains potatoes, onions & oil pouch, etc...

In a time like this people go through emotional stress, panic, sadness.......Feel free to call ashram If, you wish to receive Pujya Swamiji's blessings & support. Also, Ashram's priest will provide worship services on request & perform a special Pooja on your behalf.

Once again, please note,
All yoga classes at the Ashram are closed.
Chaitra Navratra Retreat & Parayan (group recitation) of Sri Ramcharit Manas at Sri Sri Ashtalaxmi Bhavan has been canceled.
Sri Ramnavami Utsav, Sri Hanuman Jayanti (Maruti Yajana) are canceled.
Ashram's Priest performs daily worship at all the shrines but all the temples are closed for casual visitors.
We regret to announce that all the ASHRAM'S Satsang programs from April 13, 2020, to May 4, 2020, are canceled.

Be safe, stay healthy and play your part in the whole to prevent the spread of Corona Virus!
While humanitarian relief efforts are active all over, it is time for us to do our part at individual level to overcome this crisis and think about what can I do to prevent the Coronavirus disease at home and people around you ?....... Avoid close contact with people who are sick. Stay home when you are sick, except to get medical care. Cover your coughs and sneezes with a tissue. Clean frequently touched surfaces and objects daily (e.g., tables, countertops, light switches, doorknobs, and cabinet handles) using regular household detergent and water.

News & Activity Report for the Month of March 2020
Divya Jivan/
March 2020
==================================================================
Parables of Sri Swami Sivananda

"The Philosopher And The Broken Mirror" : Once there lived two friends, Ram and Gopal. They were both philosophers. By Vichara and Anvaya-vyatireka, Ram learned to see the Glory of the Supreme Self reflected in and through all the universe. But Gopal continued to remain a theoretical philosopher, condemning the universe as an illusion and dream containing nothing but evil and vice.
One day, after a long time, Ram called on his friend. Gopal discussed for a long time, as usual, the evil in this universe, and in the end asked Ram what present he had brought for his friend. Ram, after thinking a while, produced a broken piece of mirror from his pocket and handing it over to Gopal, said, "This is my little and humble present. It will help you to understand your own beauty and charm, which you cannot otherwise see."
Gopal learnt a lesson, and from that moment began to visualize and understand the Glory of the Supreme Self reflected in all the universe.

Nothing is useless in this world. The non-self exists to reflect and glorify the Self. Otherwise how can you know the existence of the Self? Verily, the non-self is the mirror that truly reflects the Self for us to cognize.
So, too, evil is the mirror for good. 'The presence of sages and saints is easily cognized amidst an assembly of ignorant men. Learn to see the good reflected by the evil, and say, "Evil exists to remind me of good, the perishable exists to remind me of the Imperishable," and so on.

Truly, this universe is a mirror that reminds us of God. Learn not to condemn it as an illusion and dream, but to utilize it to feel the presence of God.

"Rama Nama burns ignorance, passion and sin. With knowledge or without knowledge, correctly or incorrectly, when the word "Rama" is pronounced, it showers a rain of good on the devotee. Sri Rama Brahma Tarakam: Sri Rama is Brahman who takes one across Samsara. Rama is one in whom yogins sport (Ramante) i.e., the Self within. Once you take refuge in Him, your welfare becomes His responsibility."- Swami Sivananda
Learning from Ramayan (Video clip) - Discourse by Swami Adhyatmananda
"Hanuman was the living embodiment of the power of Ram-Nam. He was an ideal selfless worker, a true Karma Yogi who worked desirelessly. He was a great devotee and an exceptional Brahmachari or celibate. He served Sri Rama with pure love and devotion, without expecting any fruit in return. He lived only to serve Sri Rama." - Swami Sivananda
Maa Sri Ashtalaxmi Sringar Darsha & Poojan /Aarti during Chaitra Navratri ( March 25, 2020 - April 2, 2020)
On significance of Navaratri - Sri Swami Adhyatmanandaji (Video Clip)