"Song Celestial"- Bhagavad Gita
Gita Jayanti (December 20, 2007)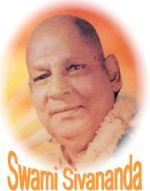 "The Gita is not merely a book or just a scripture. It is a living voice carrying an eternally indispensable and vital message to mankind. Its verses embody words of wisdom coming from the infinite ocean of knowledge, the Absolute Itself."

"The Gita is a source of power and wisdom. It strengthens you when you are weak, and inspires you when you feel dejected and feeble. It teaches you to embrace righteousness and to resist unrighteousness." - Swami Sivananda << More>>


"From a clear knowledge of the Bhagavad-Gita all the goals of human existence become fulfilled. Bhagavad-Gita is the manifest quintessence of all the teachings of the Vedic scriptures." - Adi Sankara

"All that can be learned by going through the whole of the Gita can be as well accomplished b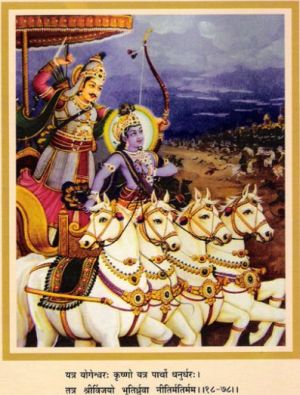 y repeating "Gita", "Gita" – Gita-gi-ta-gita, ten times; it virtually comes to be "Ta-gi" "Ta-gi" – a modification of "Tyagi", "Tyagi", which means one who has given up the world both outwardly and from the mind."- Sri Ramkrishna Parmhansadev

"The Gita is the most beautiful and the only truly philosophical song. It contains sublime lessons on wisdom and philosophy. It is the "Song Celestial". It is the universal gospel. It contains the message of life that appeals to all, irrespective of race, creed, age or religion. The Gita contains the divine nectar. It is the wish-fulfilling gem, tree and cow. You can milk anything from it. It is a book for eternity. It is a vade-mecum for all. Peace, bliss, wisdom, Brahman, Nirvana, Param Padam and Gita are all synonymous terms." - Sri Swami Sivananda

"When I read the Bhagavad Gita and reflect about how God created this universe everything else seems so superfluous"- Albert Einstein

"In the morning I bathe my intellect in the stupendous and cosmogonal philosophy of the Bhagavad-Gita, in comparison with which our modern world and its literature seems puny and trivial." - Henry David Thoreau
"I owed a magnificent day to the Bhagavad-Gita. It was the first of books; it was as if an empire spoke to us, nothing small or unworthy, but large, serene, consistent, the voice of an old intelligence which in another age and climate had pondered and thus disposed of the same questions which exercise us." - Ralph Waldo Emerson

"The Bhagavad-Gita is where God Himself talks to His devotee Arjuna." - Paramahansa Yogananda

"When doubts haunt me, when disappointments stare me in the face, and I see not one ray of hope on the horizon, I turn to Bhagavad-Gita and find a verse to comfort me; and I immediately begin to smile in the midst of overwhelming sorrow. Those who meditate on the Gita will derive fresh joy and new meanings from it every day."- Mahatma Gandhiji
<< More Quotes on Bhagvad Gita>>
Lord Sri Dattatreya - "The Greatest of Avadhuta"
Dattatreya Jayanti ( December 23, 2007)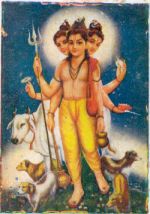 Lord Sri Dattatreya - "He was a supreme Yogi. Like Dakshinamurti, He was the
adi guru,
the primal World Teacher. Contemplate His life. Meditate upon Him. Feel His divine presence. Evoke in your mind the sacred memory of Sati Anasuya and Atri Maharshi, the power of chastity, and divine grace in the form of Divinity taking birth at the earnest supplication and prayer of a heart filled with devotion. The earnest prayer of a heart filled with devotion never goes unanswered or unfulfilled. This is what the advent, the
avatara
of Dattatreya represents or proves.-Swami Chidananda
<< More>>.
Dattatreya Jayanti
- Swami Sivananda
Sri Datta Namsankirtan
(audio)- composed by
Brahmleen Sri. Sri. Sri. Rang Avadhut Maharaj of Nareshvar in praise of Guru Sri.Dattatreya.
More on
Lord Sri Dattatreya & Dattavatara
Early Morning Meditation talks from "Ponder These Truths" by Sri Swami Chidananda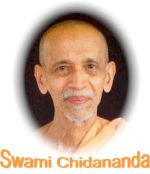 Enthusiasm- God In You
"Radiant Immortal Atman! Beloved and blessed children of Light! Do not lose opportunities. Each day is a opportunity. Each moment of each day is an opportunity. Never stop moving towards the Goal. Ever keep on.
We have to reckon with the mind. And if there is one quality which can help you, if there is one quality which can ensure and guarantee to you what is due to you by sustained effort, it is enthusiasm, the enthusiasm that brings about all achievement, all attainments. Enthusiasm, utsaha, is Lakshmi, it is all auspiciousness, all blessedness. It is a manifestation of Goddess Bhagavati's vidya maya, the auspicious aspect of maya, the helpful aspect of maya—enthusiasm, utsaha, as well as viveka and vichara (discrimination and right inquiry)."- Swami Chidananda << More>>
On "Health Topics" from a Book " Yoga & Health " by Swami Adhyatmananda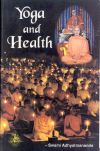 Can those having High Blood Pressure practice Asanas?
"Yes, they can practice Asanas; in fact they must surely practice them. All the Asanas excepting Shirsasana can be practiced. All the Asanas can be performed without any fear. But the special Asanas and Pranayama that can offer benefits are: Shashankasana and Shavasana and Pranayama carried out with ease.<< More>>.

Yoga, A Way of Life - DVD, (available in set of Two)
Highlights of Upcoming Events
Yoga Teachers Training Course (YTTC) starting from Dec 11, 2007 - Dec 30, 2007 at Sivananda Ashram( A'bad).
On completion of three weeks residential YTTC and successfully passing the test including theory and practical, the graduate will receive a diploma certificate recognized by Gujarat University and will be able to teach Yogasana and pranayama to others.During your stay at the Ashram, you will be provided a comfortable room and yogic diet ( three meals / day). Ashram's holy atmosphere is ideal for enhancing your spiritual growth as well as the skill in the field of science of Yoga.The donation for the course is Rs. 6000.00/ $ 200.
You can still enroll. Please Download the Registration Form. If you need any help in transportation to & from the airport / train station etc, contact directly. Ashram phone # 079- 26861234 / Sivananda_ashram@yahoo.com

News & Activity Report for the Month of November 2007
Highlighting Deepavali Celebration - While devotees received "Adhyatama- Amrut", a Diwali gift; Prasad booklet containing spiritual thoughts & Blessings of H. H. Sri Swami Adhyatmanandji Maharaj, families in underprivileged area of the town received "Diwali Annakoot prasad" of Maa Sri Ashtalaxmi from Sivananda Ashram, Ahmedabad. One thousand and fifty prasad packages, each containing about three pound of sweets were distributed on New Year day to poor families.
Divya Jivan Magazine (Gujarati)
News In Slide Show
"Gitamrutam" - Glimpses
Nectar Divine from Srimad Bhagvad Gita
For certain is death for the born, And certain is birth for the dead; Therefore over the inevitable, Thou shouldst not grieve. - Bhagavad Gita, (2:27)
Thy right is to work only, but never with its fruits; let not the fruits of action be thy motive, nor let thy attachment be to inaction.- Bhagavad Gita,(2:47)

"There has never been a time when you and I have not existed, nor will there be a time when we will cease to exist. As the indweller in the body experiences childhood, youth, and old age in the body, he also passes on to another body. The serene one is not affected thereby." (2:12:13)

"He who hates no single being, is friendly and compassionate, free from self-regard and vanity, the same in good and evil, patient; Contented, ever devout, subdued in soul, firm in purpose, fixed on Me in heart and mind, and who worships Me, is dear to Me." -Bhagavad Gita (12:13-14)
"And I am seated in the hearts of all; from Me are memory and knowledge, as well as their absence. I am verily that which has to be known by all the Vedas; I am indeed the author of Vedanta, and the knower of the Vedas am I".(15:!5)

"To those men who worship Me alone , thinking of no other, who are devout, I provide gain and security."Bhagavad Gita (9 :22)
"Fix thy mind on Me; be devoted to Me; sacrifice to Me; bow down to Me; having thus united thy whole Self with Me, taking Me as the Supreme Lord, thou shalt verily come to Me".( 9:34)

"Renounce all dharmas and take refuge in Me alone. I shall liberate you from all sins; grieve not" - Bhagavad Gita (18:66)