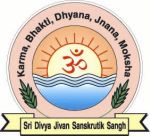 Home
News
Upcoming Events What's New?
Services Swami Adhyatmananda Multimedia
Publications Administration Saints and Sages Photo Gallery
Contact

"Life Sketch of Lord Gauranga on Sri Chaitnaya Mahaprbhu Jayanti (March 14, 2006) by Swami Sivananda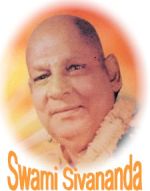 "Gauranga was an embodiment of love. He lived, moved and had his being in love. His speech was full of love. He radiated love to all. His touch was a magnetism of love. He sang in love. He breathed in love. He walked in love. He showed by practice how God should be loved. He taught little by precept, but more by example. If he simply uttered one word, "You will be blessed with Bhakti", it was quite sufficient to throw a man into Samadhi and fill his heart with Prem (love). Such was Gauranga's power.
When Gauranga passed along the streets and roads, his powerful Prem current influenced and overpowered thousands. They uttered irresistibly "Hari Bol! Hari Bol!" and danced in ecstasy"
His Last Words
Lord Gauranga said, "Listen Swaroopa and Ramananda Raj! The chanting of Krishna's Name is the chief means of attaining Krishna's feet in the Kali Yuga. Sankirtan of the Name is the supreme healer in the Iron Age. Sankirtan tantamounts to Vedic sacrifice. Sankirtan destroys sins and purifies the heart and creates Bhakti. Chant the name while sitting, standing, walking, eating, in bed and everywhere. The Name is omnipotent. You can repeat the Name at any place, at any time.<< More>>

"Holi"- A Spring Festival of Hope, Joy & New Life - Swami Sivananda (March 15, 2006)
"It begins about ten days before the full moon of the month Phalgun (February-March), but is usually only observed for the last three or four days, terminating with the full moon. This is the spring festival of the Hindus. In the spring season all the trees are filled with sweet-smelling flowers. They all proclaim the glory and everlasting beauty of God. They inspire you with hope, joy and a new life, and stir you on to find out the creator and the Indweller, who is hiding Himself in these forms".
"Holi also means "sacrifice". Burn all the impurities of the mind, such as egoism, vanity and lust, through the fire of devotion and knowledge. Ignite cosmic love, mercy, generosity, selflessness, truthfulness and purity through the fire of Yogic practice. This is the real spirit of Holi. Rise from the mire of stupidity and absurdity and dive deep into the ocean of divinity.
The call of Holi is to always keep ablaze the light of God-love shining in your heart. Inner illumination is the real Holi. The spring season is the manifestation of the Lord, according to the Bhagavad Gita. Holi is said there to be His heart." <<More>>

Early Morning Meditation talks from Ponder These Truth By Swami Chidananda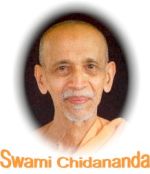 "Never Forget Your Divinity"
"Radiant Immortal Atman! Beloved and blessed children of the Divine! Never, never forget that you are radiant immortal Atman, you are the radiant, immortal, spiritual Light. You are a radiant spark of the Divine, a ray of the great Light of lights which is beyond all darkness."

"Make your prayer creative and powerful. Prayer should be understood as asking the Lord to keep you constantly in a state of inner awareness, of inner spiritual relationship and communion with Him; not to ask for anything He has created, but to ask for Himself and a continuous, unbroken, living, inner spiritual relationship with Him, so that the channel of power and light between Him and you is never blocked, never closed, never switched off; it is always open; there is always a constant inflow of His divinity, and all that it implies, into your own consciousness. This is the thing to ask, so that prayer also is something that enhances this awareness and infuses you constantly with that greater power. Thus make your prayer creative, constructive and progressive." <<More>>


News & Activity Report for the Month of February 2006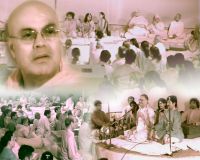 Maha Shivratri Festival- More than 25, 000 devotees thronged the Lord Vishwanath Temple to pray and seek the blessings of Lord Shiva on Maha Shivratri ( February 26, 2006) at Sivananda Ashram, Ahmedabad. Fasting devotees were immersed in prayers and thoughts of the Deity who conquers death. Ashram's Holy Shri Vishwanath Temple was agog with worship of Lord Shiva. The Siva Lingam was worshipped by washing it with milk, curd, honey and rose water as the chants of Vedic Hymns, Namakam, Chamakam, Rudram and "Om Namah Shivaya" in praise of Siva continued. <<More>>
"I had attended many functions and lectures in the past, but this one was simply unique. It was eye opener and challenging too." Said Honorable Justice Mr. V.N. Krishnana, who presided over the function of International Bar Association Club,

Delhi

, after listening to Swami Adhyatmanandaji's lecture on the subject of "Law beyond the Law". Upon the invitation of Mr. Parekh, President of Bar Association of Supreme Court,

Delhi

, Sri Swami Adhyatmanandaji Maharaj graced the gathering of International Bar association club, where very prominent lawyers attended the function on

Feb 3, 2006.

<<More>>
Upcoming Yoga Teachers Training Course(May 1, 2006 - May 20, 2006)
Yoga Teachers Training Course at Sivananda Ashram, Ahmedabad is organized under the guidance and leadership of Yogacharya H. H .Swami Adhyatmanandaji, who has been teaching Yoga over thirty years and has conducted over 650 Yoga Camps. He has been a monk for over thirty years and sharing the teaching of Holy Master Swami Sivanandaji Maharaj. The YTTC will provide you a wonderful opportunity to further develop your skill in the science of Yoga and expand your abilities to teach yoga to others.You will be learning from a Master. Ashram's serene atmosphere is ideal for enhancing your spiritual growth as well as the skill in the field of Science of Yoga. <<More>>
Divine Grace"- "Divya krupa"
Divine Grace - Divya Krupa - A booklet with teachings of Sri Sadgurudev Swami Chidanandaji Maharaja's in HIS own handwritings.( Dec 27, 2005). pdf file of about 4 Mgb, it will take long time to download.
May I Answer That? - Swami Sivananda
Q & A on Spiritual Life and Sadhana from "May I Answer That?"- by Holy Master Sri Swami Sivanandaji Maharaj.
Why should I—the Brahman, I—the Cosmic Consciousness, the Existence without another, the Infinite, the All-pervading and the Omniscient, at all project Prakriti? Why must I be bound by the laws of Prakriti and be limited by the phenomena of time, space, causation and substance, and above all, why must I get involved in this process of evolution and involution?
The eye cannot perceive itself. A man cannot stand on his own shoulders. Even so, all enquiry into the Ultimate Cause, the causeless Cause of all creation, is first confronted with a formidable wall of primordial ignorance. He who annihilates his ego to nothing at this point, and who thus obtains the grace of Isvara, gets through this wall and enters the Kingdom of the Infinite. Then he knows. But this knowledge cannot be communicated to others, as this great wall is obstructing others from perceiving the Truth. Therefore the ancient sage termed it an Ati-prasna or transcendental question.
Suffice it to know that God has created this world in order to enable you to evolve and realize the Self, in order to serve all and love all as His manifestations. The dacoit of ignorance has kidnapped man from his palace of Self-awareness and brought him to a thick forest; when the man wakes up, he does not brood over how he came there, but tries to get out of the forest. Even so, the earnest Sadhak tries to break the chain of transmigration by attaining Self-realization.
Incidence from H. H. Swami Chidanandaji Maharaj's Life
Swami Chidanandaji does identify all well meaning devotees. But his vision and perception could be different and deeper than ours. One fine evening Swamiji was descending the stairs of Vishvanath temple at Sivananda Ashram, Rishikesh. One aged and senior devotee offered loving Pranams to Swamiji and anxiously looked at the Swamiji in anticipation of a few words from His Holiness. Swamiji greeted the devotee with a pleasant smile and gently folded hands. The devotee could not contain himself and broke his silence by saying that Swamiji, did you not recognise me? True to his genuine divine being, Swamiji replied at once "I definitely know you as an immortal atman, but if you want identification of this body, you would have to tell me." The atmosphere all around was rent with divine vibrations and joy.